Abstract
High pressure synthesis of Diels-Alder adduct of 1,1-dimetyl-2,3,4,5-tetraphenylgermole and 6,7-dibromo-1,4-epoxy-1,4-dihydronaphthalene is described. The X-ray crystallography analysis of the so obtained adduct indicated that the adduct has exo,endo-structure in agreement with our earlier proposal for the stereochemistry of the structurally related germa analogue, 11,11-dimethyl-9,10-epoxy-1,4-germa-1,2,3,4-tetraphenyl-1,4,4a,9,9a,10-hexahydroanthracene based on NMR analysis.
This is a preview of subscription content, log in to check access.
Access options
Buy single article
Instant access to the full article PDF.
US$ 39.95
Price includes VAT for USA
Subscribe to journal
Immediate online access to all issues from 2019. Subscription will auto renew annually.
US$ 99
This is the net price. Taxes to be calculated in checkout.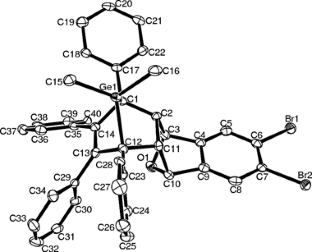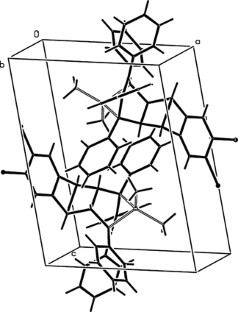 References
1.

Kirin SI, Vikić-Topić D, Meštrović E, Kaitner B, Eckert-Maksić M (1998) J Organomet Chem 566: 85

2.

Kirin SI, Klärner FG, Eckert-Maksić M (1999) Synlett:351

3.

Kirin SI, Eckert-Maksić M, (1999) Kem. Ind. 48: 335

4.

Schriever M, Ph.D. Thesis, Dortmund University, Germany (1981) supervisor Neumann WP

5.

Eckert-Maksić M, Kazazić S, Kazazić S, Kirin SI, Klasinc L, Srzić D, Žigon D, (2001) Rapid Commun Mass Spect 15: 462

6.

Mochida K, Akazawa M, Goto M, Sekine A, Ohashi Y, Nakadira Y (1998) Organometallics 17: 1782

7.

Hart H, Bashir-Hashemi A, Luo J, Meador MA (1986) Tetrahedron 42: (6) 1641

8.

Oxford Diffraction (2003) Oxford Diffraction Ltd., Xcalibur CCD system, CrysAlis Software system, Version 1.170

9.

Sheldrick GM (1997) SHELXS Program for the Solution of Crystal Structures, University of Göttingen, Germany

10.

Sheldrick GM (1997) SHELXL97 Program for the Refinement of Crystal Structures, University of Göttingen, Germany

11.

Farrugia LJJ (1999) Appl Crystallogr 32P: 837–838

12.

Spek AL (1990) Acta Cryst. A, 46 C-34

13.

Nardelli MJ (1995) Appl Crystallogr 28: 659

14.

Farrugia LJJ (1997) Appl Crystallogr 30: 565

15.

Koch W, Holthausen MCA (2002) Chemist's Guide to Density Functional Theory 2nd ed.; WILEY-VCH: Weinheim

16.

Gaussian 03, Revision C.02, Frisch MJ, Trucks GW, Schlegel HB, Scuseria GE, Robb MA, Cheeseman JR, Montgomery Jr JA, Vreven T, Kudin KN, Burant JC, Millam JM, Iyengar SS, Tomasi J, Barone V, Mennucci B, Cossi M, Scalmani G, Rega N, Petersson GA, Nakatsuji H, Hada M, Ehara M, Toyota K, Fukuda R, Hasegawa J, Ishida M, Nakajima T, Honda Y, Kitao O, Nakai H, Klene M, Li X, Knox JE, Hratchian HP, Cross JB, Bakken V, Adamo C, Jaramillo J, Gomperts R, Stratmann RE, Yazyev O, Austin AJ, Cammi R, Pomelli C, Ochterski JW, Ayala PY, Morokuma K, Voth GA, Salvador P, Dannenberg JJ, Zakrzewski VG, Dapprich S, Daniels AD, Strain MC, Farkas O, Malick DK, Rabuck AD, Raghavachari K, Foresman JB, Ortiz JV, Cui Q, Baboul AG, Clifford S, Cioslowski J, Stefanov BB, Liu G, Liashenko A, Piskorz P, Komaromi I, Martin RL, Fox DJ, Keith T, Al-Laham MA, Peng CY, Nanayakkara A, Challacombe M, Gill PMW, Johnson B, Chen W, Wong MW, Gonzalez C, Pople JA (2004) Gaussian, Inc., Wallingford CT

17.

Williams RV, Colvin ME, Tran N, Warrener RN, Margetić DJ (2000) Org. Chem. 65: 562

18.

Kawahata M, Yamaguchi K (2005) Ishikawa T. Cryst. Growth & Design 5: 373

19.

Maslennikova OS, Nosov KS, Faustov VI, Egorov MP, Nefedov OM, Aleksandrov GG, Eremenko IL (2000) Nefedov SE. Izv. Akad. Nauk SSSR, Ser. Khim. (Russ.): 1278

20.

Mochida K, Shimizu H, Kugita T, Nanjo MJ (2003) Organomet Chem 673, 84–94
Acknowledgments
The authors acknowledge the Croatian Ministry of Science, Education and Sport for financial support (grants 0098056, 0098147 and 0119632).
About this article
Cite this article
Margetić, D., Prugovečki, B., Đilović, I. et al. Structure of Diels-Alder adduct of phenylated germole and 1,4-epoxy-1,4-dihydronaphthalene revisited. Struct Chem 17, 301–306 (2006). https://doi.org/10.1007/s11224-006-9036-y
Received:

Accepted:

Published:

Issue Date:
Keywords
Diels-Alder reaction

High pressure

X-ray analysis

Organometallic

DFT calculations