Aluminum alloy A356-T6 and automotive steel sheet SAPH440 were joined using friction stir spot welding and self-piercing riveting. The maximum tensile shear strength values in weld joints were approximately 3.5 kN at a rotation speed of 500 rpm and plunge depth of 1.0 mm. It was confirmed that the intermetallic compound layer of weld joints below 9.23 μm did not exceed the permissible thickness 10 μm of Al–Fe joints. The self-piercing riveting joints exhibited maximum tensile-shear strength of 7.9 kN, which was higher than that of the weld joints. However, during the riveting process, cracking appeared in the joint on the aluminum side, which was caused by lack of ductility of cast aluminum. In addition, it was observed that the cracks on the aluminum side were getting larger, as the radius of the lower mold increased.
This is a preview of subscription content, log in to check access.
Access options
Buy single article
Instant access to the full article PDF.
US$ 39.95
Price includes VAT for USA
Subscribe to journal
Immediate online access to all issues from 2019. Subscription will auto renew annually.
US$ 199
This is the net price. Taxes to be calculated in checkout.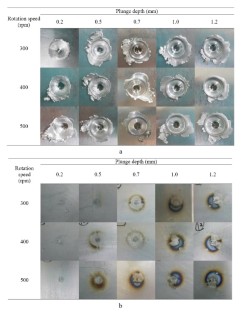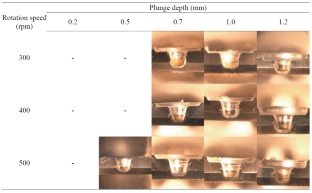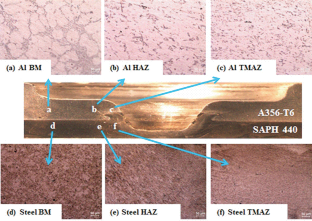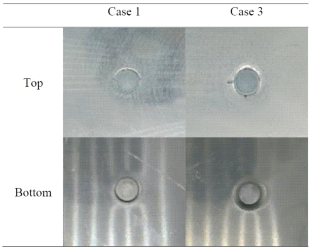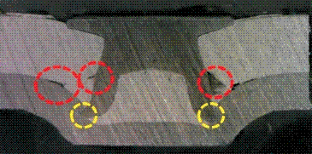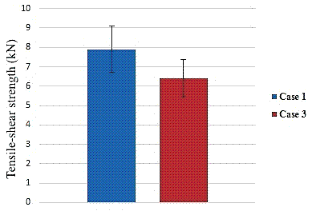 References
1.

Y. S. Kim, "Future of the friction stir spot welding technology for non-ferrous metal," J. Weld. Join., 30, No. 3, 4–14 (2012).

2.

S. H. Chowdhury, D. L. Chen, S. D. Bhole, et al., "Lap shear strength and fatigue behavior of friction stir spot welded dissimilar magnesium-to-aluminum joints with adhesive," Mater. Sci. Eng. A, 562, 53–60 (2013).

3.

H. S. Bang, H. S. Bang, and G. H. Jeon, "Recent Studies on hybrid friction stir welding," J. Weld. Join., 28, No. 5, 35–37 (2010).

4.

S. H. Kim, S. W. Kim, S. J. Park, and W. S. Chang, "Dissimilar friction spot joining: A5052-H32/A6022-T4," RIST J. R&D, 21, No. 2, 153–159 (2007).

5.

C. K. Chun, H. J. Kim, and W. S. Chang, "Friction stir spot joining on aluminum alloy for transportation," J. Weld. Join., 26, No. 6, 23–29 (2008).

6.

Y. Abe, T. Kato, and K. Mori, "Self-piercing riveting of high tensile strength steel and aluminium alloy sheets using conventional rivet and die," J. Mater. Process. Technol., 209, 3914–3922 (2009).

7.

Y. M. Yeon, C. Y. Lee, W. B. Lee, et al., "Spot friction stir welding and characteristics of joints in aluminium alloys," J. Weld. Join., 23, No. 3, 16–20 (2005).

8.

E. H. Kim, K. J. Lee, and K. H. Song, "Evaluation of mechanical properties on friction stir lap jointed Al6061/HT590 alloys," J. Weld. Join., 33, No. 2, 8–13 (2015).

9.

Y. Kim, K. Y. Park, and S. B. Kwak, "Mechanical fastening and joining technologies to using multi mixed materials of car body," J. Weld. Join., 33, No. 3, 12–18 (2015).

10.

Y. H. Yin, N. Sun, T. H. North, and S. S. Hu, "Hook formation and mechanical properties in AZ31 friction stir spot welds," J. Mater. Process. Technol., 210, 2062–2070 (2010).

11.

S. J. Lee, S. K. Lee, and N. I. Baik, "A study on the microstructure and hardness of Al–Si–Mg alloys upon heat treatments," J. Korean Soc. Heat Treat., 13, No. 2, 108–114 (2000).

12.

D. Horstmann, "Formation and growth of iron-zinc alloy layers," in: Proc. of the 14th Int. Galvanizing Conf., Munish (1985), pp 18/1–18/5.

13.

A. A. Hershman, "Alloy formation in hot dip galvanizing: a short review," in: Proc. of the 8th Int. Conf. on Hot Dip Galvanizing (Intergalva 67), London (1967), pp. 3–29.

14.

Metals Handbook, 3rd edn, Japan Institute of Metal, Maruzen, Tokyo (1993).

15.

K. S. Kim, Microstructures and Mechanical Properties of A356 Semisolid Metal Fabricated by Cooling Plate, Master Thesis, Gyeongsang National University (2000).
Acknowledgments
This work was supported by the Korea Science and Engineering Foundation (KOSEF) grant funded by the Korea Government (MOST) (No. 2016R1D1A3B03935978).
Additional information
Translated from Problemy Prochnosti, No. 1, pp. 74 – 83, January – February, 2018.
About this article
Cite this article
Bang, H.S., Lee, W.R., Hong, S.M. et al. Mechanical Properties of Dissimilar A356/SAPH440 Lap Joints by the Friction Stir Spot Welding and Self-Piercing Riveting. Strength Mater 50, 63–71 (2018). https://doi.org/10.1007/s11223-018-9943-3
Received:

Published:

Issue Date:
Keywords
dissimilar material

friction stir spot welding

self-piercing rivet

intermetallic compound

tensile-shear strength