Abstract
Inspection Capability Maturity Model (ICMM) is a new tool for the assessment and improvement of software inspection practices in an organization. This paper presents the first experiences in using ICMM. The model structure and usability is evaluated based on the data collected from eight case organizations. The major findings support the conclusion that ICMM worked well in identifying weaknesses in the current inspection practices. First, the perceived inspection quality in the organizations was compared with the assessment results. Second, the identified weaknesses appear to be related to the problems faced in inspection practices. Finally, the collected experiences provided some useful improvement suggestions for ICMM.
This is a preview of subscription content, log in to check access.
Access options
Buy single article
Instant access to the full article PDF.
US$ 39.95
Price includes VAT for USA
Subscribe to journal
Immediate online access to all issues from 2019. Subscription will auto renew annually.
US$ 99
This is the net price. Taxes to be calculated in checkout.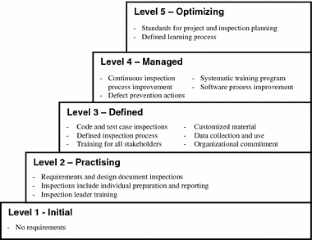 References
April, A, Abran, A., & Dumke, R. (2004). SMcmm model to evaluate and improve the quality of the software maintenance process. Proceedings of the 8th European conference on software maintenance and re-engineering Tampere, Finland (pp. 243–248).

Basili, V., & Selby, R. (1987). Comparing the effectiveness of software testing strategies. IEEE Transactions on Software Engineering, 13(12), 1278–1296.

Burnstein, I., Homeyen, A., Suwanassart, T., Saxena, G., & Grom, R. (1999). A testing maturity model for software test process assessment and improvement. Software Quality Professional, 1(4), 8–21.

Ciolkowski, M., Laitenberger, O., & Biffl, S. (2003). Software reviews, the state of the practice. IEEE Software, 20(6), 46–51.

Doolan, E. (1992). Experience with Fagan's inspection method. Software—Practice and Experience, 22(2), 173–182.

Fagan, M. (1976). Design and code inspection to reduce errors in program development. IBM Systems Journal, 15(3), 182–211.

Gilb, T., & Graham, D. (1993). Software inspection. Wokingham, England: Addison-Wesley.

Grady, R., & Van Slack, T. (1994). Key lessons in achieving widespread inspection use. IEEE Software, 11(4), 46–57.

Harjumaa, L., Hedberg, H., & Tervonen, I. (2001) A path to virtual software inspection. Proceedings of Asia-Pacific conference on quality software, Hong Kong.

Johnson, P. (1998). Reengineering inspection. Communications of the ACM, 41(2), 49–52.

Kerzner, H. (2002). Strategic planning for project management using a project management maturity model. Wiley.

Kollanus, S. (2005a). ICMM—inspection capability maturity model. Proceedings of the IASTED international conference on software engineering, Innsbruck, Austria (pp. 372–277).

Kollanus, S. (2005b) Issues in software inspection practices. Proceedings of the PROFES 2005 conference. LNCS, Vol. 3547 (pp 429–442). Oulu, Finland: Springer.

Kollanus, S., & Koskinen, J. (2006). Software inspections in practice: Six case studies. Proceedings of PROFES 2006 Conference. LNCS, Vol. 4034 (pp. 377–382). Amsterdam, Netherlands: Springer.

MacGarry, F., & Decker, B. (2002). Attaining level 5 in CMM process maturity. IEEE Software, 19(6), 87–96.

Porter, A., & Johnson, M. (1997). Assessing software review meetings: Results of a comparative analysis of two experimental studies. IEEE Transactions on Software Engineering, 23(3), 129–145.

Porter, A., & Votta, L. (1998). Comparing detection methods for software requirements inspections: A replication using professional subjects. Empirical Software Engineering, 3(4), 355–379.

Russell, G. W. (1991). Experience with inspection in ultra large-scale developments. IEEE Software, 8(1), 25–31.

SEI. (2006). Capability maturity model integration version 1.2. Software Engineering Institute. (URL: http://www.sei.cmu.edu/cmmi/).
About this article
Cite this article
Kollanus, S. Experiences from using ICMM in inspection process assessment. Software Qual J 17, 177–187 (2009). https://doi.org/10.1007/s11219-008-9067-2
Keywords
 Software inspection

Maturity model

Inspection Capability Maturity Model (ICMM)