The Radiation Belt Storm Probes (RBSP) and Space Weather
Abstract
Following the launch and commissioning of NASA's Radiation Belt Storm Probes (RBSP) in 2012, space weather data will be generated and broadcast from the spacecraft in near real-time. The RBSP mission targets one part of the space weather chain: the very high energy electrons and ions magnetically trapped within Earth's radiation belts. The understanding gained by RBSP will enable us to better predict the response of the radiation belts to solar storms in the future, and thereby protect space assets in the near-Earth environment. This chapter details the presently planned RBSP capabilities for generating and broadcasting near real-time space weather data, discusses the data products, the ground stations collecting the data, and the users/models that will incorporate the data into test-beds for radiation belt nowcasting and forecasting.
Keywords
Space weather 
Radiation Belt Storm Probes 
RBSP 
Geomagnetic storms 
1

Introduction

Space weather is the state of the plasma, radiation, and magnetic environment in space driven by changes originating at the Sun and carried through interplanetary space by the solar wind. Space weather encompasses the solar environment where changes are initiated in the chromosphere or corona through to the near space environment above Earth (or any magnetized body). Space weather can cause large variations in Earth's upper atmosphere and ionosphere, and in Earth's radiation belts, and can prevent the reliable operation of technologies in space as well as on the ground. Our society is increasingly dependent on these technologies, and their vulnerabilities to space weather need careful assessment, monitoring, and mitigation. Lanzerotti (2001, 2004) provide excellent reviews that describe the effects of space weather on past and current technologies.

The National Space Weather Program (NSWP) began in 1994 to help coordinate space weather activities and promote an increased awareness of space weather. An interagency working group within NSWP recognized early that modeling would play a key role in interpreting space weather data. The interagency working group recommended a modeling center that could transition research models to operations, as well as provide testing and validation. This recommendation led to the founding of the Community Coordinated Modeling Center (CCMC) (Robinson and Behnke 2001). Today the CCMC supports over 20 space weather models. NOAA's Space Weather Prediction Center (SWPC) is the U.S. official source for space weather forecasts, working with the CCMC and others to get the latest, most robust models enabling space weather prediction.

Recent interest at NOAA has focused on identifying space weather impacts to satellite infrastructure and defining services to mitigate those impacts. Figure 

1

shows the locations of hazards within the operational space environment (courtesy of Aerospace, T.P. O'Brien). Single event effects predominate at low

L

shell in the inner belt due to solar particle events, but can also be found from

L

=4 to 7 due to quiet time galactic cosmic rays. Internal charging and subsequent electrostatic discharges (ESD) can be found over a broad range of

L

shells with a peak around

L

=4.2, likely where and when penetrating electron fluxes are high. Surface charging and ESD effects are largest in the outer belt with a peak at about

L

=5.5, probably due to intense field-aligned currents. At very low 

L

, surface charging is also observed, but no explanation has yet been found.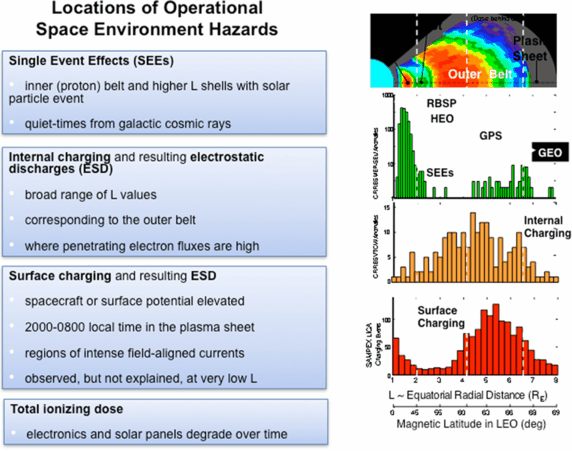 NASA's Radiation Belt Storm Probes (RBSP) mission, launched on 30 August 2012, targets one part of the space weather chain: Earth's radiation belts of magnetically trapped, very high-energy electrons and ions. The unusual orbit of the RBSP spacecraft will provide great insight into many regions of the radiation belts. The highly elliptical orbit of RBSP (600 km altitude×5.8R E geocentric; and 10∘ inclination) is non-traditional—most communication and monitoring satellites operate at fixed radial distance, for example at or near geosynchronous orbit at ∼6.7R E geocentric. For 3-D specification models, the altitude-varying profiles returned by RBSP will provide greater sampling of Earth's radiation environment. For RBSP this orbit is occupied by two identical spacecraft that lap each other every ∼2.5 months. Detailed information about the RBSP science, mission and spacecraft design is described elsewhere in this special issue (Mauk et al. 2012; Stratton et al. 2012, and Kirby et al. 2012).
In addition to scientific data (provided at a mean rate of about 100 kilo bits per second—kbps), each RBSP spacecraft will provide a continuous 1 kbps of space weather broadcast data in support of near real time space weather modeling, forecast and prediction efforts. The real-time data from RBSP also will be available to monitor and analyze current environmental conditions, forecast natural environmental changes and support anomaly resolution. RBSP real-time data will be input into the DREAM model (Sect. 4.4), the output of which will be made available through NOAA (Sect. 4.3). This will provide a simple and very quick visual for displaying the current state of the inner and outer radiation belts and the spacecraft charging environment.
Following the commissioning of RBSP in 2012, the RBSP instruments will generate real-time space weather observations to be broadcast by both RBSP spacecraft. This chapter describes presently planned RBSP capabilities for generating and broadcasting the real-time space weather data (Sect. 2). These data will be collected by ground station partners (Sect. 4.1), and gathered and processed at the Johns Hopkins University Applied Physics Laboratory (Sect. 3). The RBSP Science Gateway website (http://rbspgway.jhuapl.edu) will host and continuously update the Space Weather products that will be used to feed into models and assess space weather conditions. Modeling capabilities are discussed in Sect. 4, and concluding remarks are provided in the final section.
2

Generation and Broadcast of Space Weather Data

Each spacecraft will broadcast space weather data in real-time through the primary spacecraft radio frequency (RF) science downlink system, whenever it is not engaged in a primary mission-related ground contact. The data will be received by users who maintain and fund their own ground station antennas. This scenario is limited by the availability of space weather ground stations and antenna coverage. The real time coverage will be reduced by an average of 2.5 hours for each spacecraft per day due to primary mission contacts, or about 10 % of the time. Often when one of the spacecraft is broadcasting the primary science data, and therefore not broadcasting space weather data, the other spacecraft will still be broadcasting space weather data because many of the contacts with each spacecraft do not overlap in time.

Each of the RBSP payload instruments will participate in the real-time space weather broadcast. The data will include particle intensities at a variety of energies, as well as magnetic and electric field data. In addition to the real-time products, it is a goal for the project to create "quick look" products to be produced by each of the individual instrument Science Operations Centers (SOC). These products will essentially "fill in the gaps" caused by times when the broadcast data cannot be received and also provide a more complete data set for use in diagnosing anomalies in low (LEO) and mid (MEO) Earth orbit.
3

RBSP Space Weather Data Products and Services

The energies within the space weather data by the particle detectors span the ranges expected for the two belts, 25 eV to >400 MeV for protons, 25 eV–10 MeV for electrons. ECT/HOPE (Funsten et al. 2012—this issue) provides the lower range of both the inner belt ions and outer belt electrons, and the ion composition for the lower energy ions. ECT/MagEIS (Blake et al. 2012—this issue) provides the mid and upper range of outer belt electrons. ECT/REPT (Baker et al. 2012—this issue) provides the upper range of inner belt protons and high range of outer belt electrons, while PSBR/RPS (Mazur et al. 2012—this issue) cover the extreme upper range of inner belt protons. RBSPICE (Lanzerotti et al. 2012—this issue) provides the mid-energy protons intensities.

The space weather processing system will periodically ping on the MOC telemetry archive and when new data is available; it will retrieve that data from the archive, decommutate the data and then apply calibration algorithms to generate space weather data products for all of the RBSP instruments. The current space weather data products will be publicly available at http://rbspgway.jhuapl.edu/weather_currentdata. The space weather products will be archived; the most recent 15 days will be publicly available on the RBSP Science Gateway at http://rbspgway.jhuapl.edu/weather_archive.
4

Partners and Customers

The RBSP mission will provide space weather parameters to the user community for integration into nowcast and forecast models. In order to collect these data, a network of ground stations needs to be identified.
5

Concluding Remarks

The two spacecraft that comprise NASA's LWS RBSP mission will continuously broadcast space weather data, except during prime science download and maneuvers. These data were selected to monitor the state of the radiation belts and will be incorporated into models such as DREAM that could lead to better space weather forecasts.

Currently two international partners have agreed to download this data and make it available for space weather data products. With only two ground stations, portions of the data stream will be lost, but NASA is actively pursuing other ground station partners to fill in the gaps.

RBSP has been designed to operate throughout the worst conditions expected in the hazardous radiation belt environment (Stratton et al. 2012 and Kirby et al. 2012—this issue). By design, the mission will make observations over the full range of particle energy levels and frequencies needed to decipher the mysteries described elsewhere in this volume (Mauk et al. 2012—this issue). RBSP is poised to significantly enhance our understanding of radiation belt dynamics with changing solar wind conditions. RBSP will enable the prediction of extreme and dynamic space conditions, and will provide the understanding needed to design satellites to survive in space for future missions.
Notes
Acknowledgements
The authors gratefully acknowledge contributions from M. Hesse, G. Reeves, W. Kurth, J. Green, and T.P. O'Brien.
Copyright information
© The Author(s) 2012
Open Access This article is distributed under the terms of the Creative Commons Attribution License which permits any use, distribution, and reproduction in any medium, provided the original author(s) and the source are credited.