Abstract
The article addresses the special conditions in Soviet society during the Stalin period that contributed to the emergence of latent ideas about the unique position of the USSR on the map of the world, of Europe in particular. The focus is on pedagogical methods, the theory and practice of cartography, literary and journalistic texts, cinematography, and pop music, all of which present an image of the USSR as the "center of world civilization" and thereby sustain its inculcation in public consciousness. An interesting and significant example is the second edition of the Great Soviet Encyclopedia, launched on Stalin's initiative and carried out under his patronage (1947). In this context, the logic and the rhetoric of encyclopedia articles on the physical and political geography of Europe must be analyzed as a kind of territorial "crowding out" (vytesnenie) of Europe to the periphery of the Soviet Union. "Crowding out," not only by geographical but also by ideological illusions of space, which emphasize and reproduce fairy-tale and epic orientations of social self-knowledge, brings the illusory space clearly into view. These means motivate the cyclical movement from centre to periphery and from periphery to centre.
This is a preview of subscription content, log in to check access.
Access options
Buy single article
Instant access to the full article PDF.
US$ 39.95
Price includes VAT for USA
Subscribe to journal
Immediate online access to all issues from 2019. Subscription will auto renew annually.
US$ 99
This is the net price. Taxes to be calculated in checkout.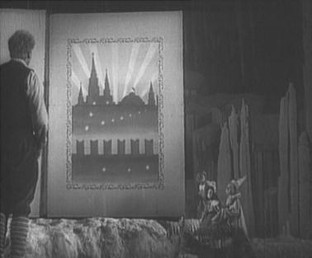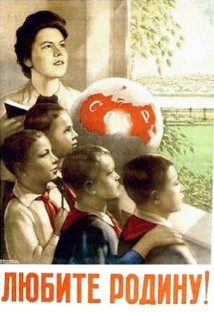 Notes
1.

See in this respect the characteristic representation of travel in Soviet propaganda which used to limit space of virtual movement to the territory of the USSR and often failed to mention foreign countries at all (Gorsuch 2003: 760–785).

2.

The apposition of the concept of "civilisation" to Soviet culture and Soviet reality goes back to the book by the English economists and public figures Sidney and Beatrice Webb "Soviet Communism: A New Civilisation". Majskij lobbied for the publication of the book in Russian translation and found Stalin's support: in December 1935 the Politbureau issued a decree about "the Webbs' book 'Soviet Communism'", which aimed for having it translated into Russian (Maksimenkov 2005: 404–405). The translation was published in 1937 (Webb, Webb 1937). The copy in Stalin's library had a dedication by the authors themselves which read: "To Joseph Stalin from the authors with respectful esteem" (Maksimenkov 2004).

3.

4.

5.

On the significant "gaps" between Collodi's original fairy tale and Tolstoj's adaptation: Lipoveckij 2003.
References
Aleksandrov, A. (Ed.). (1991). Vanna Arkhimeda. Leningrad: Lenizdat.

Dobrenko, E. (2000). Iskusstvo social'noj navigacii (Očerki kul'turnoj topografii stalinskoj epokhi). Wiener Slawistischer Almanach, 45, 93–134.

Filippov, A. A. (2003). Teoretičeskie osnovanija sociologii prostranstva. Moscow: Kanon-Press.

Golubev, A. V. (1996). Zapad glazami sovetskogo obščestva (Osnovnye tendencii formirovanija vnešnepolitičeskikh stereotipov v 30-h godakh). Otečestvennaja istorija, 1, 104–120.

Gorsuch, A. E. (2006). Time travellers: Soviet tourists to Eastern Europe. In A. E. Gorsuch & D. P. Koenker (Eds.), Turizm. The Russian and East European tourist under capitalism and socialism (pp. 205–226). Ithaca: Cornell University Press.

Groys, M., & Hollein, M. (2003). Dream factory communism: The visual culture of the Stalin era. Frankfurt: Schirn Kunsthalle Frankfurt.

Harley, J. B. (2001). The new nature of maps: Essays in the history of cartography. Baltimore: The Johns Hopkins University Press.

Harvey, D. (1990). Between space and time: Reflections on the geographical imagination. Annals of the Association of American Geographers, 80(3), 418–434.

Kutaf'ev, S. (1935). Bol'šoj sovetskij atlas mira. Geografija v škole, 3, 68.

Lipoveckij, M. (2003). Utopija svobodnoj marionetki, ili Kak sdelan arkhetip (Perečityvaja "Zolotoj ključik" A.N.Tolstogo). Novoe literaturnoe obozrenie, 66, 252–268.

Majakovskij, V. V. (1958). Polnoe sobranie sočinenij v 13 tomakh (Vol. 10). Moscow: Goslitizdat.

Maksimenkov, L. (2004). Očerki nomenklaturnoj istorii sovetskoj literatury. Zapadnye pilgrimy u stalinskogo prestola. Voprosy literatury, 3, 242–291.

Maksimenkov, L. (Ed.). (2005). Bol'šaja cenzura. Pisateli i žurnalisty v strane Sovetov. 1917–1956. Moscow: Materik.

Nevežin, V. A. (1997). Sindrom nastupatel'noj vojny. Sovetskaja propaganda v preddverii "svjaščennykh boev", 1939–1941 gg. Moscow: AIRO-XX.

Nežinskij, L. N., & Čelyšev, I. A. (1995). O doktrinal'nykh osnovakh vnešnej politiki v gody "kholodnoj vojny". Otečestvennaja istorija, 1, 3–27.

Orlova, G. A. (2004). Ovladet' prostranstvom: Fizičeskaja geografija v sovetskoj škole (1930–1960-e gg.). Voprosy istorii estestvoznanija i tekhniki, 4, 163–185.

Phillips, R. (1997). Mapping men and empire: A geography of adventure. London: Routlegde.

Popov, V. P. (1995). Pasportnaja sistema v SSSR (1932–1976 gg.). Sociologičeskie issledovanija, 8, 3–14.

Šmidt, O. J. (Ed.). (1929). Bol'šaja sovetskaja ėnciklopedija (Vol. 15). Moscow: Sovetskaja ėnciklopedija.

Šmidt, O. Ju. (Ed.). (1932). Bol'šaja sovetskaja ėnciklopedija (Vol. 24). Moscow: Sovetskaja ėnciklopedija.

Smith, N. (1994). Geography, empire and social theory. Progress in Human Geography, 8, 491–500.

Stalin, I. V. (1947). Sočinenija (Vol. 7). Moscow: Politizdat.

Valentinov, N. (1991). Nasledniki Lenina. Moscow: Terra.

Webb, S., & Webb, B. (1937). Sovetskij kommunizm–novaja civilizacija? (Vol. 2). Moscow: Socekgiz.

Widdis, E. (2003). Visions of a New Land: Soviet film from the revolution to the second world war. Yale: Yale University Press.

Wood, D. (1992). The power of maps. NewYork: The Guilford Press.
Additional information
Translated from the Russian by Josephine von Zitzewitz.
About this article
Cite this article
Bogdanov, K.A. The USSR instead/inside of Europe: Soviet political geography in the 1930s–1950s. Stud East Eur Thought 62, 401–412 (2010). https://doi.org/10.1007/s11212-010-9124-9
Keywords
Physical and political geography

Encyclopedia

USSR

Europe