Abstract
Two sets of radio-frequency interference (RFI) measurements in the 45 – 870 MHz band are compared. The first set was taken in 2012 at various sites in the province of Guadalajara (Spain) as part of a worldwide site-testing campaign for the deployment of an international network of solar radio-spectrometers, the Compound Astronomical Low-cost Low-frequency Instrument for Spectroscopy and Transportable Observatory (e-CALLISTO) array. Peralejos de las Truchas was found to be an ideal location, even for high-sensitivity non-solar observations, with the lowest interference levels ever measured in the framework of e-CALLISTO. The same set of measurements have been repeated seven years later using the same experimental setup at the same locations. The results presented in this article show that the RFI levels after seven years have notably increased, at some places by a factor of two, thereby placing at risk broadband spectroscopic radio-astronomy studies from the ground.
This is a preview of subscription content, log in to check access.
Access options
Buy single article
Instant unlimited access to the full article PDF.
US$ 39.95
Price includes VAT for USA
Subscribe to journal
Immediate online access to all issues from 2019. Subscription will auto renew annually.
US$ 199
This is the net price. Taxes to be calculated in checkout.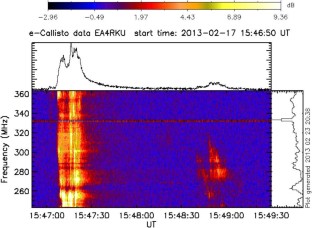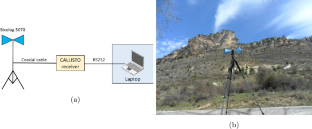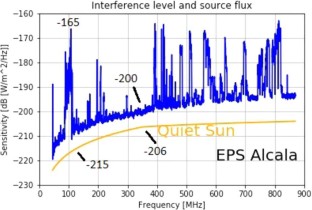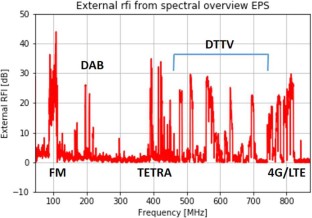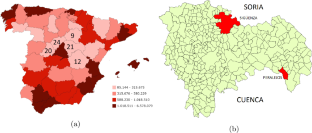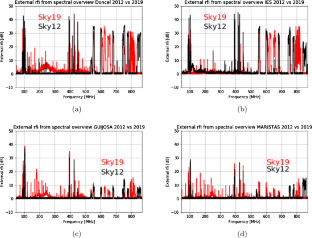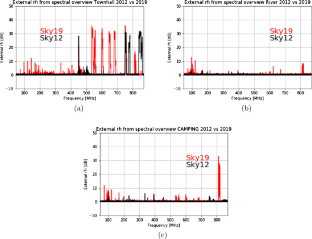 References
Benz, A.O.: 2009, Radio emission of the quiet Sun. In: Datasheet from Landolt-Börnstein, Group VI Astron. Astrophys.4B, 123, SpringerMaterials. DOI .

Benz, A.O., Monstein, C., Meyer, H.: 2005, Callisto – a new concept for solar radio spectrometers. Solar Phys.226(1), 143. DOI .

Cairns, I.H., Knock, S.A., Robinson, P.A., Kuncic, Z.: 2003, Type II solar radio bursts: theory and space weather implications. Space Sci. Rev.107(1), 27. DOI .

Díaz, J., Monstein, C., Cañete, D., Gómez-Tornero, J.L.: 2017, Set-up of an e-Callisto solar spectrometer ground station at the Technical University of Cartagena. In: Proceedings of the XXXII URSI (Union Radio-Scientifique Internationale) Symposium.

IEEE: 1979, IEEE standard test procedures for antennas. In: ANSI/IEEE Std 149-1979, 135. DOI .

INE: 2017, Spain in Figures, Instituto Nacional de Estadística, Spanish Statistical Office, Madrid, 58. ISSN: 2255-0249.

ITU: 1995, ITU-R RA.769-1. Protection criteria used for radioastronomical measurements. In: International Telecommunication Union, 8.

ITU: 2008, ITU-R53.HDB. Supplement to handbook on spectrum monitoring. In: International Telecommunication Union, 202.

ITU: 2012, ITU-R SM.1753-2. Methods for measurements of radio noise. In: International Telecommunication Union, 38.

Reeve, W.D.: 2012, CALLISTO-NA Construction Manual. http://www.reeve.com/Documents/CALLISTO/CALLISTOConstruction.pdf .

Reid, H.A.S., Ratcliffe, H.: 2014, A review of solar type III radio bursts. Res. Astron. Astrophys.14(7), 773. DOI .

Russu, A., Gómez-Herrero, R., Prieto, M., R-Pacheco, J., Monstein, C., Blanco, J.J.: 2013, EA4RKU-SRT, the first e-Callisto Solar Radio Telescope operational in Spain. In: Proceedings of the 33rd International Cosmic Ray Conference, Rio de Janeiro.

Russu, A., Gómez-Herrero, R., Prieto, M., Monstein, C., Ivanov, H., Rodríguez-Pacheco, J., Blanco, J.J.: 2015, A year of operation of Melibea e-Callisto Solar Radio Telescope. J. Phys. Conf. Ser.632, 012078. DOI .

Wild, J.P., Smerd, S.F.: 1972, Radio bursts from the solar corona. Annu. Rev. Astron. Astrophys.10(1), 159. DOI .
Acknowledgements
Our special thanks to the local authorities of Peralejos de las Truchas, the Castilla-La Mancha Science and Technological Park, and the University of Alcalá for supporting this work. We thank SSAA for travel support to carry out the first evaluation of a CALLISTO spectrometer host site in Spain. We thank Jonas Voit of D-PHYS/ETH for manufacturing and testing the spectrometer electronics and preparing the high frequency cabling. Finally, our sincere gratitude to Abel Moreno, our most valuable point of contact in Peralejos de la Truchas. This research work was partially funded by Ministerio de Economía y Competitividad (Spain), grant number ESP2017-88436-R.
Ethics declarations
Disclosure of Potential Conflicts of Interest
The author declares that there are no conflicts of interest.
Additional information
Publisher's Note
Springer Nature remains neutral with regard to jurisdictional claims in published maps and institutional affiliations.
About this article
Cite this article
Prieto, M., Gordo, J.B., Rodríguez-Pacheco, J. et al. Increase in Interference Levels in the 45 – 870 MHz Band at the Spanish e-CALLISTO Sites over the Years 2012 and 2019. Sol Phys 295, 11 (2020). https://doi.org/10.1007/s11207-019-1577-5
Received:

Accepted:

Published:
Keywords
e-CALLISTO

Solar radio-astronomy

Solar radio-burst

Spectrometer

RFI