Abstract
This paper presents the latest observations from the newly built solar radio spectrograph at the Chashan Solar Observatory. On July 18, 2016, the spectrograph records a solar spike burst event, which has several episodes showing harmonic structures, with the second, third, and fourth harmonics. The lower harmonic radio spike emissions are observed later than the higher harmonic bands, and the temporal delay of the second (third) harmonic relative to the fourth harmonic is about 30 – 40 (10) ms. Based on the electron cyclotron maser emission mechanism, we analyze possible causes of the temporal delay and further infer relevant coronal parameters, such as the magnetic field strength and the electron density at the radio source.
This is a preview of subscription content, log in to check access.
Access options
Buy single article
Instant access to the full article PDF.
US$ 39.95
Price includes VAT for USA
Subscribe to journal
Immediate online access to all issues from 2019. Subscription will auto renew annually.
US$ 199
This is the net price. Taxes to be calculated in checkout.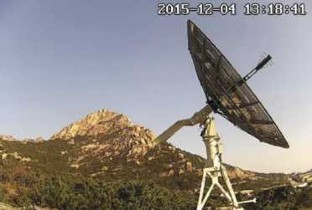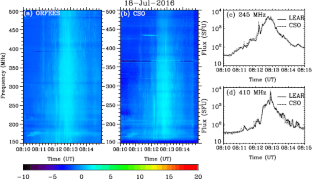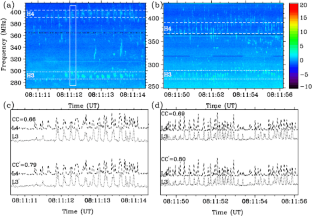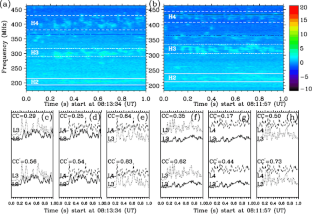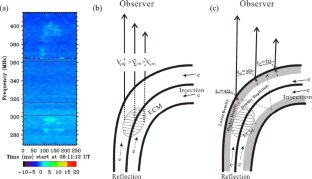 Acknowledgements
We thank Valentin Melnik for valuable suggestions made to improve the quality of this manuscript. The authors gratefully acknowledge the teams of RSTN and ORFEES for making their data available to us. This work was supported by grants NNSFC-CAS U1431103, and NNSFC 41331068, 11790303 (11790300), 11503014, 41504131, 11703017, NSF of Shandong Province (ZR201702100072, ZR2016AP13), and was supported by the Specialized Research Fund for the State Key Laboratories.
Ethics declarations
Conflict of interest
The authors declare that they have no conflicts of interest.
About this article
Cite this article
Feng, S.W., Chen, Y., Li, C.Y. et al. Harmonics of Solar Radio Spikes at Metric Wavelengths. Sol Phys 293, 39 (2018). https://doi.org/10.1007/s11207-018-1263-z
Received:

Accepted:

Published:
Keywords
Radio burst

Dynamic spectrum

Radio spike

Electron cyclotron maser emission