Abstract
We investigate solar activity by focusing on double maxima in solar cycles and try to estimate the shape of the current solar cycle (Cycle 24) during its maximum. We analyzed data for Solar Cycle 24 by using Learmonth Solar Observatory sunspot-group data collected since 2008. All sunspot groups (SGs) recorded during this time interval were separated into two groups: The first group includes small SGs [A, B, C, and H classes according to the Zurich classification], the second group consists of large SGs [D, E, and F]. We then calculated how many small and large sunspot groups occurred, their sunspot numbers [SSN], and the Zurich numbers [Rz] from their daily mean numbers as observed on the solar disk during a given month. We found that the temporal variations for these three different separations behave similarly. We also analyzed the general shape of solar cycles from Cycle 1 to 23 by using monthly International Sunspot Number [ISSN] data and found that the durations of maxima were about 2.9 years. Finally, we used the ascending time and SSN relationship and found that the maximum of Solar Cycle 24 is expected to occur later than 2011. Thus, we conclude that i) one possible reason for a double maximum in solar cycles is the different behavior of large and small sunspot groups, and ii) a double maximum is expected for Solar Cycle 24.
This is a preview of subscription content, log in to check access.
Access options
Buy single article
Instant access to the full article PDF.
US$ 39.95
Price includes VAT for USA
Subscribe to journal
Immediate online access to all issues from 2019. Subscription will auto renew annually.
US$ 199
This is the net price. Taxes to be calculated in checkout.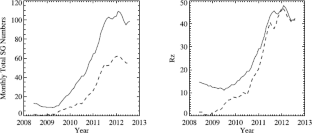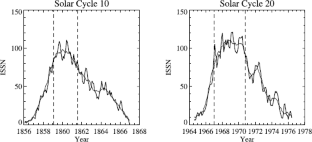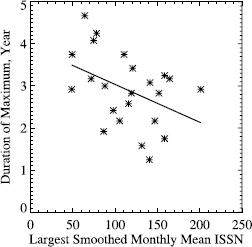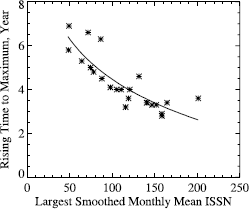 References
Deng, L.H., Li, B., Zheng, Y.F., Cheng, X.M.: 2013, New Astron. 23, 1. doi: 10.1016/j.newast.2013.01.004 .

Du, Z.: 2011, Solar Phys. 273, 231. doi: 10.1007/s11207-011-9849-8 .

Ferminella, F., Storini, M.: 1997, Astron. Astrophys. 322, 311.

Gnevyshev, M.N.: 1963, Soviet Astron. 7, 311.

Gnevyshev, M.N.: 1967, Solar Phys. 1, 107. doi: 10.1007/BF00150306 .

Hathaway, D.H., Wilson, R.M., Reichmann, E.J.: 2002, Solar Phys. 211, 357. doi: 10.1023/A:1022425402664 .

Javaraiah, J.: 2012, Solar Phys. 281, 827. doi: 10.1007/s11207-012-0106-6 .

Kakad, B.: 2011, Solar Phys. 270, 393. doi: 10.1007/s11207-011-9726-5 .

Kane, R.P.: 2008, Solar Phys. 248, 203. doi: 10.1007/s11207-008-9125-8 .

Kilcik, A., Anderson, C.N.K., Rozelot, J.P., Ye, H., Sugihara, G., Ozguc, A.: 2009, Astrophys. J. 693, 1173. doi: 10.1088/0004-637X/693/2/1173 .

Kilcik, A., Yurchyshyn, V.B., Abramenko, V., Goode, P., Ozguc, A., Rozelot, J.P., Cao, W.: 2011, Astrophys. J. 731, 30. doi: 10.1088/0004-637X/731/1/30 .

Lefevre, L., Clette, F.A.: 2011, Astron. Astrophys. 536, L11. doi: 10.1051/0004-6361/201118034 .

McIntosh, P.S.: 1981, In: Cram, L.E., Thomas, J.H. (eds.) The Physics of Sunspots 7, Sacramento Peak National Solar Observatory.

McIntosh, P.S.: 1990, Solar Phys. 125, 251. doi: 10.1007/BF00158405 .

Passos, D.: 2012, Astrophys. J. 744, 172. doi: 10.1088/0004-637X/744/2/172 .

Pishkalo, M.I.: 2008, Kinemat. Phys. Celest. Bodies 24, 242. doi: 10.3103/S0884591308050036 .

Schatten, K.: 2009, Solar Phys. 255, 3. doi: 10.1007/s11207-008-9308-3 .

Usoskin, I.G., Mursula, K.: 2003, Solar Phys. 218, 319. doi: 10.1023/B:SOLA.0000013049.27106.07 .

Uzal, L.C., Piacentini, R.D., Verdes, P.F.: 2012, Solar Phys. 279, 551. doi: 10.1007/s11207-012-0030-9 .

Vitinskii, Yu.I.: 1965, Solar-Activity Forecasting (Israel Program for Scientific Translations Jerusalem), NASA-TT-F-289.

Waldmeier, M.: 1935, Astron. Mitt. 14, 133.

Wolf, R.: 1850, Astron. Mitt. Eidgenöss. Sternwarte Zür. 1, 27.
Acknowledgements
The authors are grateful to an anonymous referee for suggestions and helpful comments. This study was supported by the Akdeniz University Research Fund.
About this article
Cite this article
Kilcik, A., Ozguc, A. One Possible Reason for Double-Peaked Maxima in Solar Cycles: Is a Second Maximum of Solar Cycle 24 Expected?. Sol Phys 289, 1379–1386 (2014). https://doi.org/10.1007/s11207-013-0407-4
Received:

Accepted:

Published:

Issue Date:
Keywords
Sunspot classification

Solar cycle