This article examines the factors shaping the formation and longevity of labor–community coalitions through comparative case studies of campaigns for workfare justice in Los Angeles, Milwaukee, and New York. Interviews with organizational staff and leaders reveal that their decisions to form and sustain these coalitions were shaped by their collective identities, especially their commitment to social movement unionism, and their context, particularly the sectoral distribution of workfare workers. We also highlight the role of two factors previously overlooked by labor scholars: (1) ecological processes of niche-formation, which determined if and how inter-organizational competition was overcome, and (2) authorities' social-control strategies, which shaped coalition endurance.
This is a preview of subscription content, log in to check access.
Access options
Buy single article
Instant access to the full article PDF.
US$ 39.95
Price includes VAT for USA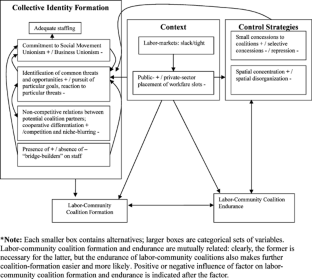 Notes
1.

The difficulties of building community–labor coalitions have been especially marked in the history of welfare-rights organizing. Although some unions supported the efforts to organize unemployed workers in the 1930s and supported the National Welfare Rights Organization in the 1960s, most ignored these campaigns. Some unions even opposed the NWRO's demands (Reese and Newcombe, 2003; West, 1981).

2.

The figure, 19.18%, is calculated from county and national caseload data presented in Allen and Kirby (2000).

3.

These groups were the Fifth Avenue Committee, a tenant rights and community development organization in Brooklyn; Community Voices Heard, a membership-based group composed mainly of women on welfare; and the Urban Justice Center, which had recently become a decentralized base for organizing and legal advocacy projects, having begun in 1984 as the Legal Action Center for the Homeless.

4.

Tait (2005:90–94) also details differences between DC 37 and a workfare-organizing project headed by welfare-rights organizer, Gary Delgado, in the 1970s. The crux of the tension lay in whether to integrate workfare participants into existing locals or to create a separate local within the District Council for workfare workers. The latter strategy, which would have maintained workfare worker solidarity, would also have given workfare workers enormous power within the District Council under its election rules, and was therefore resisted by DC 37 leadership.

5.

Jobs with Justice is a union-sponsored group whose mission is to build labor–community solidarity.

6.

These jobs would pay at least $7.50 an hour with benefits, and with time for skills enhancement, education, and training.

7.

The CWA and ACORN were major forces behind a growing third party in New York State, and the speaker of the council was running for governor at the time.

8.

He claimed that the City Council did not have the authority to legislate the program under the strong-mayor city charter.

9.

These factors included reduced state and federal pressure on the city to increase workfare participation, labor market recovery, and union- and welfare-rights lawsuits.

10.

General Relief is the name given to California's welfare program for adults without dependent children; CalWORKS is the name for the program for families.

11.

12.

There was high turnover in New York, too. Stability for organizing, such as there was, depended on the fact that WEP worksites remained WEP worksites for years.

13.

As we finished revisions on this article, the National Labor Relations Board was considering regulations that might strip as many as 8 million workers of their right to collectively bargain by redesignating them as "management." The NLRB has taken up this task while refusing to entertain oral arguments.
REFERENCES
Administration for Children and Families2003 "Temporary Assistance for Needy Families Program information memo." Memorandum number TANF-ACF-IM-2003-02. Department of Health and Human Services, September 17, 2003. Online at http://www.acf.hhs.gov/programs/ofa/2002/im2003-2.htm. Accessed September 2006.

Allen, Katherine, and Maria Kirby2000 "Unfinished business: Why cities matter to welfare reform." Report. Brookings Institution Center on Urban and Metropolitan Policy. Online at http://www.brookings.edu/es/urban/welfarecaseloads/wfrstdy.pdf. Accessed September 2005.

Ansell, Christopher2001 Schism and Solidarity in Social Movements: The Politics of Labor in the French Third Republic. Cambridge: Cambridge University Press.

Arnold, Gretchen1995 "Dilemmas of feminist coalitions: Collective identity and strategic effectiveness in the battered women's movement." In Myra Max Ferree and Patricia Yancey Martin (eds.), Feminist Organizations: Harvest of the New Women's Movement: 276–290. Philadelphia, PA: Temple University Press.

Barnett, William P., and Michael Woywode2004 "From Red Vienna to Anschluss: Ideological competition among Viennese newspapers during the rise of National Socialism." American Journal of Sociology 109(6):1452–1499.

Beaumont, Phil B.1992 Public Sector Industrial Relations. London, New York: Routledge.

Boris, Eileen1999 "When work is slavery." In Gwendolyn Mink (ed.), Whose Welfare?: 36–55. Ithaca, NY: Cornell University Press.

Brecher, Jeremy, and Tim Costello (eds.)1990 Building Bridges: The Emerging Grassroots Coalition between Labor and Community. New York: Monthly Review Press.

Bronfenbrenner, Kate, Sheldon Friedman, Richard W. Hurd, Rudolph A. Oswald, and Ronald L. Seeber (eds.)1998 Organizing to Win: New Research in Union Strategies. Ithaca, NY: ILR Press.

Burawoy, Michael1991 "Reconstructing theories," and "The extended case method." In Michael Burawoy (ed.), Ethnography Unbound: Power and Resistance in the Modern Metropolis: 8–27, 271–287. Berkeley and Los Angeles: University of California Press.

Citizens for Workfare Justice1998 "When work doesn't pay: 'Workfare' in Los Angeles County." (February 13).

Clawson, Dan2003 The Next Upsurge: Labor and New Social Movements. Ithaca, NY: ILR Press.

Department of Public Social Services GAIN Division2000 "Grounds maintenance helper pilot program. Design and implementation plan." Memo, May 25.

Dreiling, Michael1998 "From margin to center: Environmental justice and social unionism as sites for intermovement solidarity." Race, Gender and Class 6(1):51–69.

Eimer, Stuart1999 "From 'business unionism' to 'social movement unionism': The case of the AFL-CIO Milwaukee County Labor Council." Labor Studies Journal 24(2):63–81.

Estabrook, Thomas, Carlos Eduardo Siqueira, and Eduardo Paes Machado2000 "Labor–community alliances in petrochemical regions in the United States and Brazil: What does it take to win?" Capitalism, Nature, and Socialism 11(3):113–145.

Fantasia, Rick, and Kim Voss2004 Hard Work: Remaking the American Labor Movement. Berkeley and Los Angeles: University of California Press.

George, Alexander1979 "Case studies and theory development: The method of structured, focused comparisons." In Paul Gordon (ed.), Diplomacy: New Approaches in History, Theory, and Policy: 43–68. New York: Free Press.

Goldfield, Michael1987 The Decline of Organized Labor in the United States. Chicago: University of Chicago Press.

Greenhouse, Steven1997 "Labor leaders seek to unionize welfare recipients who must go to work." New York Times, February 20:A18.

Greenhouse, Steven1998a "Many participants in workfare take the place of city workers." New York Times, April 13:A1.

Greenhouse, Steven1998b "Union officer is said to admit vote fixing." New York Times, December 3:A1.

Greenhouse, Steven1999 "Vowing to go from scandal to strength, city union looks for a fight." New York Times, July 12:B1.

Hathaway, Will, and David S. Meyer1997 "Competition and cooperation in movement coalitions: lobbying for peace in the 1980s." In Thomas R. Rochon and David S. Meyer (eds.), Coalitions and Political Movements: The Lessons of the Nuclear Freeze: 61–79. Boulder, CO: Lynne Rienner Publishers.

Heckscher, Charles, and David Palmer1993 "Associational movements and employment rights: An emerging paradigm?" Research in the Sociology of Organizations 12:279–309.

Heuler Williams, Lisa1998 "Study and evaluation of W-2 workers and temporary employment in Milwaukee, Wisconsin." Prepared for Nine to Five by the University of Wisconsin-Milwaukee Center for Economic Development.

Hill, Stanley1996 Testimony Before the City Council Committees on General Welfare and Civil Service and Labor. March 26.

Holcomb, Pamela A., Kimura Flores, Carla Herbig, Karen C. Tumlin, Christopher Botsko, Laura K. Kaye, and Kristin S. Seefeldt1997 "Income support and social services for low-income people in Wisconsin." A paper produced for the State Reports for the Assessing the New Federalism Series. The Urban Institute. http://newfederalism.urban.org

Hughes, Charles1996 Testimony before the City Council Committees on General Welfare and Civil Service and Labor. March 26.

Independent Budget Office, City of New York2000 "Welfare and work." Inside the Budget Newsfax 72 (November 1).

Independent Budget Office, City of New York2001 "The municipal workforce: Big as a decade ago, But composition has changed." Inside the Budget Newsfax 92 (December 11).

Institute for Wisconsin's Future1998 "The W-2 job path: An assessment of the employment trajectory of W-2 participants in Milwaukee, July 1998." Milwaukee, WI: IWF.

Institute for Wisconsin's Future1999 "The growing crisis among Wisconsin's poorest families: A comparison of welfare caseload declines and trends in the state's poverty population, 1986–1997." Milwaukee, WI: IWF.

Isaac, Larry, and Lars Christiansen2002 "How the civil rights movement revitalized labor militancy." American Sociological Review 67(5):722–746.

Johnston, Paul1994 Success While Others Fail: Social Movement Unionism and the Public Workplace. Ithaca, NY: ILR Press.

Johnston, Paul2000 "The resurgence of labor as citizenship movement in the new labor relations environment." Critical Sociology 26:139–160.

Jonas, Andrew E. G.1995 "Labor and community in the deindustrialization of urban America." Journal of Urban Affairs 17(2):183–199.

Katznelson, Ira1981 City Trenches: Urban Politics and the Patterning of Class in the United States. Chicago: University of Chicago Press.

Katznelson, Ira2005 When Affirmative Action was White: An Untold History of Racial Inequality in Twentieth-Century America. New York: W. W. Norton.

Keil, Roger1994 "Green work alliances: The political economy of social ecology." Studies in Political Economy 44:7–38.

Krinsky, John2004 "ACORN." In Alice O'Connor and Gwendolyn Mink (eds.), The Encyclopedia of Poverty and Social Welfare: 107–108. Santa Barbara, CA: ABC-CLIO.

Levi, Margaret2001 "Capitalizing on labor's capital." In Susan Saegert, J. Phillip Thompson, and Mark R. Warren (eds.), Social Capital and Poor Communities: 246–266: New York: Russell Sage Foundation.

Massey, Douglas S., and Nancy A. Denton1993 American Apartheid: Segregation and the Making of the Underclass. Cambridge, MA: Harvard University Press.

Matejka, Michael2000 "Not in our town: A community-wide anti-racism program, labor's response, and the community's response to labor within it." Labor Studies Journal 25(1):66–78.

Mayor's Office of Operations1998 Mayor's Management Report. New York: City of New York.

McAdam, Doug1982 Political Process and the Development of Black Insurgency, 1930–1970. Chicago: University of Chicago Press.

McAdam, Doug, Sidney Tarrow, and Charles Tilly2001 Dynamics of Contention. New York: Cambridge University Press.

McCammon, Holly J., and Karen E. Campbell2002 "Allies on the road to victory: Coalition formation between the Suffragists and the Woman's Christian Temperance Union." Mobilization: An International Journal 7(3):231–251.

McFadden, Robert D.1998 "Union chief calls workfare 'slavery.'" New York Times, April 19:1, 37.

Mead, Lawrence M.2004 Government Matters: Welfare Reform in Wisconsin. Princeton, NJ: Princeton University Press.

Meyer, David S.2004 "Protest and political opportunities." Annual Review of Sociology 30:125–145.

Milkman, Ruth, and Kent Wong2000 "Organizing the wicked city: The 1992 southern California drywall strike." In Ruth Milkman (ed.), Organizing Immigrants: The Challenge for Unions in Contemporary California: 169–198. Ithaca, NY: ILR Press.

Milwaukee ACORN (Association of Community Organizations for Reform Now) and CWA (Communication Workers of America)1998 Organizing Partnership Agreement [contract].

Milwaukee Jobs Initiativen.d. "The Milwaukee Jobs Initiative: A New Type of Job Connection Project." http://www.cows.org

Milwaukee Women and Poverty Public Education Initiative2000 "The status of employment opportunity for W-2 participants in central city Milwaukee." Milwaukee, MWPPEI: July.

Ness, Immanuel1998 Trade Unions and the Betrayal of the Unemployed: Labor Conflicts During the 1990s. New York: Garland Publishing.

Ness, Immanuel2002 "Community labor alliances: A new paradigm in the campaign to organize greengrocery workers in New York city." In Benjamin Shepard and Ronald Hayduk (eds.), From ACT UP to the WTO: Urban Protest and Community Building in the Era of Globalization: 57–73. London: Verso.

Ness, Immanuel, and Stuart Eimer2001 Central Labor Councils and the Revival of American Unionism: Organizing for Justice in Our Communities. Armonk, NY: M. E. Sharpe.

Nightingale, Demetra Smith and Kelly S. Mikelson2000 An overview of research related to Wisconsin Works (W-2). Washington, DC: Urban Institute.

Nissen, Bruce1995 Fighting for Jobs: Case Studies of Labor–Community Coalitions Confronting Plant Closings. Albany: State University of New York.

Nissen, Bruce2003a "Contemporary affairs: What are scholars telling the U.S. labor movement to do?" Labor History 44(2):158–165.

Nissen, Bruce2003b "Alternative strategic directions for the U.S. labor movement: Recent scholarship." Labor Studies Journal 28(1):133–155.

Nissen, Bruce2004 "The effectiveness and limits of labor–community coalitions: Evidence from south Florida." Labor Studies Journal 29:67–89.

Obach, Brian K.2004 Labor and the Environmental Movement: The Quest for Common Ground. Cambridge, MA: MIT Press.

Pavy, Gordon R.1994 "Winning NLRB elections and establishing collective bargaining relationships." In Sheldon Friedman, Richard W. Hurd, Rudolph A. Oswald, Ronald L. Seeber (eds.), Restoring the Promise of American Labor Law: 110–121. Ithaca, NY: ILR Press.

Peck, Jamie2001 Workfare States. New York: Guilford Press.

Perrin, Andrew J., and Rachel Sherman1996 "Toward a theory of social movement unionism: Strategy, mobilization and knowledge in two American unions." Paper presented at the Annual Meeting of the Pacific Sociological Association, San Diego, CA, April 19.

Polletta, Francesca, and James M. Jasper2001 "Collective identity and social movements." American Review of Sociology 27:283–305.

Reese, Ellen2002 "Resisting the workfare state: ACORN's campaign to improve general relief in Los Angeles." Race, Gender, and Class 9(1):72–95.

Reese, Ellen, and Garnett Newcombe2003 "Income rights, mothers' rights, or workers' rights? Collective action frames, organizational ideologies, and the American welfare rights movement." Social Problems 50(2):294–318.

Reynolds, David1999 "Coalition politics: Insurgent union political action builds ties between labor and the community." Labor Studies Journal 24(3):54–76.

Robinson, Ian2000 "Neoliberal restructuring and U.S. unions: Toward social movement unionism." Critical Sociology 26:109–138.

Rose, Fred2000 Coalitions Across the Class Divide: Lessons from the Labor, Peace, and Environmental Movements. Ithaca, NY: Cornell University Press.

Scipes, Kim1992 "Understanding the new labor movements in the 'third world': The emergence of social movement unionism." Critical Sociology 19:81–101.

Service Employees International Union Local (SEIU) 660n.d. "GR Workfare Project report by county/non-county sponsor: Report month of 3/94." Unpublished report located in SEIU 660's files.

Service Employees International Union Local (SEIU) 6601997 "Prospects for workfare in Los Angeles County." Memo, February 21. SEIU 660's files.

Service Employees International Union Local (SEIU) 6601998a "GAIN participants in Work Experience in LA County." Unpublished report located in SEIU 660's files.

Service Employees International Union Local (SEIU) 6601998b "Welfare reform a threat to public employees and recipients." Flyer.

Service Employees International Union Local (SEIU) 6601999 "Organizing workfare = Protecting jobs." 660 Voice. January/February edition.

Service Employees International Union Local (SEIU) 6602001 SEIU Local 660 30th Anniversary Celebration [booklet]. Los Angeles: SEIU 660.

Silas-Green, Debra1997 "Testimony to Workers' Rights Board hearing." December. Milwaukee, WI.

Simons, Tal and Paul Ingram2004 "An ecology of ideology: Theory and evidence from four populations." Industrial and Corporate Change 13:33–59.

Simmons, Louise2002 "Unions and welfare reform: Labor's stake in the ongoing struggle over the welfare state." Labor Studies Journal 27(2):65–83.

Squires, Gregory D.1994 Capital and Communities in Black and White: The Intersections of Race, Class and Uneven Development. Albany, NY: SUNY Press.

Staggenborg, Suzanne1986 "Coalition work in the pro-choice movement: Organizational and environmental opportunities and obstacles." Social Problems 33(5):374–390.

Stepan-Norris, Judith, and Maurice Zeitlin2003 Left Out: Reds and America's Industrial Unions. New York: Cambridge University Press.

Tait, Vanessa2005 Poor Workers' Unions: Rebuilding Labor From Below. Cambridge: South End Press.

Thornthwaite, Louise1997 "Union strategy and labor–community alliances: The Telephonists' Exchange closure campaign, Queensland, 1978." Journal of Industrial Relations 39(2):244–62.

Tilly, Charles1984 Big Structures, Large Processes, Huge Comparisons. New York: Russell Sage Foundation.

Tufts, Steven1998 "Community unionism in Canada and labor's (re)organization of space." Antipode 30(3):227–250.

United States Bureau of Labor Statistics1999a Local Area Unemployment Sta-tistics. http://146.142.4.24/cgi-bin/surveymost.

United States Bureau of Labor Statistics1999b Geographic Profile of Employment and Unemployment, 1998. Section III, Table 23. http://stats.us.gov/opub/gp/gpsec3.htm

Urban Institute1998 "Sanctions, 1998." In Welfare Rules Database: A Longitudinal Database Tracking State AFDC/TANF Policies. Online at http://www.anfdata.urban/org. Data extracted April 19, 2003.

Van Dyke, Nella2003 "Crossing movement boundaries: Factors that facilitate coalition protest by American college students, 1930–1990." Social Problems 50(2):226–250.

Voss, Kim, and Rachel Sherman2000 "Breaking the Iron Law of Oligarchy: Union revitalization in the American labor movement." American Journal of Sociology 106(2):303–349.

Walters, Jonathan1997 "Why unions hate workfare." Governing Magazine, November: 35.

Wernick, Laura, John Krinsky, Paul Getsos, Community Voices Heard2000 WEP: New York City's Public Sector Sweat Shop Economy. New York: Community Voices Heard.

West, Guida1981 The National Welfare Rights Movement: The Social Protest of Poor Women. New York: Praeger.

Wisconsin Department of Workforce Development1999 Milwaukee County: Regional Workforce Profile. Division of Workforce Excellence, Bureau of Workforce Information. Online at http://www.dwd.state.wi.us/dwelmi/

Wiseman, Michael1999 "In the midst of reform: Wisconsin in 1997." Assessing the New Federalism Discussion Paper no. 99-03. Urban Institute. Online at http://www.urban.org

Zabin, Carol2000 "Organizing Latino workers in the Los Angeles manufacturing sector: The case of American Racing Equipment." In Ruth Milkman (ed.), Organizing Immigrants: The Challenge for Unions in Contemporary California: 150–168. Ithaca, NY: ILR Press.

Zald, Mayer N., and John D. McCarthy1980 "Social movement industries: Competition and cooperation among movement organizations." Research in Social Movements, Conflicts and Change 3:1–20.
About this article
Cite this article
Krinsky, J., Reese, E. Forging and Sustaining Labor–Community Coalitions: The Workfare Justice Movement in Three Cities. Sociol Forum 21, 623–658 (2006). https://doi.org/10.1007/s11206-006-9036-0
KEY WORDS:
labor–community coalitions

social movement unionism

niche-formation

inter-organizational relations

collective identity