Abstract
Innovations of information and communication technologies (ICTs) have influenced human life through time-saving, diffusion of knowledge, easy communication, and networks, access to information and automation with artificial intelligence. They not only increase productivity, cut-down hardship, improve transparency and governance, build social capital and empower individuals but also raise risks of cyber threats and insecurity of private life, displace labours, encourage sedentary life-style and digitally divide individuals in the society etc. These together do not seem to have unambiguous impacted on the aggregate wellbeing and progress (WPI) of a nation, and thus this paper empirically examined their resultant relationship at the aggregate level. An index of WPI has been prepared to account for the aggregate level of satisfaction derived from six sources, namely economic, human, progress, cultural, environmental wellbeing and happiness. Similarly, an index of ICT exposure has been constructed by combining access to mobile, internet and telephone connections, and internet security. Using a panel database for 67 countries representing all subcontinents during 2000–2014, we find that ICT exposure positively improves the aggregate level of WPI. The net impact is marginally lower in less-developed and developing countries (e.g., Africa, Asia, and the Middle East) than the rest (e.g., Europe and North America).
This is a preview of subscription content, log in to check access.
Access options
Buy single article
Instant unlimited access to the full article PDF.
US$ 39.95
Price includes VAT for USA
Subscribe to journal
Immediate online access to all issues from 2019. Subscription will auto renew annually.
US$ 199
This is the net price. Taxes to be calculated in checkout.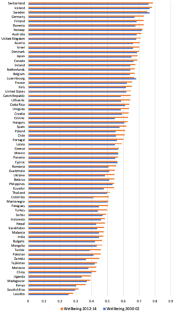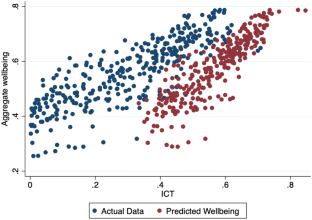 References
Acemoglu, D. & Restrepo, P. (2018). Artificial intelligence, automation and work. Technical report. National Bureau of Economic Research.

Arsovski, S., Putnik, G., Moljevic, S., & Durovic, D. (2016). Sustainable quality of life: is it possible in transition economics. In Arsovski, S., Tadic, D., Stefanovic, M. (Eds,), First international conference on quality of life (pp. 107–122).

Bayes, A. (2001). Infrastructure and rural development: Insights from a grameen bank village phone initiative in bangladesh? Agricultural Economics,25(2–3), 261–272.

Berger, L. M., & Houle, J. N. (2016). Parental debt and children's socio emotional wellbeing. Pediatrics,137(2), e20153059.

Biggs, P., Garrity, J., La Salle, C., Polomska, A., & Pepper, R. (2015). Harnessing the internet of things for global development, a contribution to the UN broadband commission for sustainable development. Available at SSRN 2588129.

Binder, M. (2013). Innovativeness and subjective wellbeing. Social Indicators Research,111(2), 561–578.

Brynjolfsson, E., & Hitt, L. (1996). Paradox lost? Firm-level evidence on the returns to information systems spending. Management Science,42(4), 541–558.

Castellacci, F. & Tveito, V. (2016). The effects of ICTs on wellbeing: A survey and a theoretical framework. Technical report, Centre for Technology, Innovation and Culture, University of Oslo.

Chinn, M. D., & Fairlie, R. W. (2006). ICT use in the developing world: An analysis of differences in computer and internet penetration. Review of International Economics,18(1), 153–167.

Clark, A. E., Frijters, P., & Shields, M. A. (2008). Relative income, happiness, and utility: An explanation for the Easterlin paradox and other puzzles. Journal of Economic Literature,46(1), 95–144.

Connolly, M., Lee, C., & Tan, R. (2017). The digital divide and other economic considerations for network neutrality. Review of Industrial Organization,50(4), 537–554.

Crafts, N. (2004). Steam as a general purpose technology: A growth accounting perspective. The Economic Journal,114(495), 338–351.

D'Acci, L. (2011). Measuring wellbeing and progress. Social Indicators Research,104(1), 47–65.

Danowski, J. A., & Sacks, W. (1980). Computer communication and the elderly. Experimental Aging Research,6(2), 125–135.

Dolan, P., & Metcalfe, R. (2012). Measuring subjective wellbeing: Recommendations on measures for use by national governments. Journal of Social Policy,41(2), 409–427.

Duncan, G. (2005). What do we mean by happiness? The relevance of subjective wellbeing to social policy. Social Policy Journal of New Zealand,25, 16.

Easterlin, R. A. (1974). Does economic growth improve the human lot? Some empirical evidence. In Nations and households in economic growth (pp. 89–125). Elsevier.

Ellison, N. B., Steinfield, C., & Lampe, C. (2007). The benefits of Facebook friends: Social capital and college students use of online social network sites. Journal of Computer-Mediated Communication,12(4), 1143–1168.

Epstein, D., Nisbet, E. C., & Gillespie, T. (2011). Whos responsible for the digital divide? Public perceptions and policy implications. The Information Society,27(2), 92–104.

Franzen, A. (2003). Social capital and the internet: Evidence from swiss panel data. Kyklos,56(3), 341–360.

Frey, B. S., Benesch, C., & Stutzer, A. (2007). Does watching tv make us happy? Journal of Economic Psychology,28(3), 283–313.

Frey, B. S., & Stutzer, A. (2002). What can economists learn from happiness research? Journal of Economic Literature, 40(2), 402–435.

Ganju, K. K., Pavlou, Paul A., & Banker, Rajiv D. (2016). Does information and communication technology lead to the wellbeing of nations? A country-level empirical investigation. MIS Quarterly,40(2), 417–430.

Ghali, K. H., & El-Sakka, M. I. T. (2014). Energy use and output growth in Canada: A multi-variate cointegration analysis. Energy Economics,26(2004), 225–238.

Goldfarb, A., & Tucker, C. (2019). Digital economics. Journal of Economic Literature,57(1), 3–43.

Greenstein, S., & McDevitt, R. C. (2011). The broadband bonus: Estimating broadband internets economic value. Telecommunications Policy,35(7), 617–632.

Gui, B., & Stanca, L. (2010). Happiness and relational goods: Well-being and interpersonal relations in the economic sphere. International Review of Economics,57(2), 105–118.

Head, A. J., & Eisenberg, M. B. (2009). Lessons learned: How college students seek in-formation in the digital age. Project Information Literacy First Year Report with Student Survey Findings, University of Washington's Information School.

Headey, B., & Wearing, A. J. (1992). Understanding happiness: A theory of subjective well-being. Melbourne: Longman Cheshire.

Hicks, J. R., & Allen, R. G. (1934). A reconsideration of the theory of value. Part I. Economica,1(1), 52–76.

Hjort, J., & Poulsen, J. (2019). The arrival of fast internet and employment in Africa. American Economic Review,109(3), 1032–1079.

House, F. (2014). Freedom in the world 2014: The annual survey of political rights and civil liberties. Lanham: Rowman & Littlefield.

Hunt, T. D., Rajendran, D., Nikora, M., Bennett, S., & Fendall, A. (2014). A minimally intrusive monitoring system that utilizes electricity consumption as a proxy for wellbeing. Journal of Applied Computing and Information Technology, 18(2).

Innis, D. E., & La Londe, B. J. (1994). Modelling the effects of customer service performance on purchase intentions in the channel. Journal of Marketing Theory and Practice,2(2), 45–60.

Jorgenson, D. W., & Stiroh, K. J. (2000). Us economic growth at the industry level. American Economic Review,90(2), 161–167.

Juster, F. T., Courant, P. N., & Dow, G. K. (1981). A theoretical framework for the measurement of wellbeing. Review of Income and Wealth,27(1), 1–31.

Kahneman, D., & Deaton, A. (2010). High income improves evaluation of life but not emotional wellbeing. Proceedings of the National Academy of Sciences,107(38), 16489–16493.

Kahneman, D., & Krueger, A. B. (2006). Developments in the measurement of subjective wellbeing. Journal of Economic Perspectives,20(1), 3–24.

Kahneman, D., Krueger, A. B., Schkade, D. A., Schwarz, N., & Stone, A. A. (2004). A survey method for characterizing daily life experience: The day reconstruction method. Science,306(5702), 1776–1780.

Kakwani, N., & Son, H. H. (2016). Social welfare functions and development. Basingstoke: Palgrave Macmillan.

Kawai, A., Wangdi, T., Galay, P., Dorji, C., Miwa, M., & Yamada, T. (2017). Project report ICT-enhanced GNH Society in Bhutan. Journal of the Open University of Japan,34, 137–152.

Layard, R. (2011). Happiness: Lessons from a new science. London: Penguin.

Lin, C. H. A., Lin, H. S., & Hsu, C. P. (2017). Digital divide and income inequality: A spatial analysis. Review of Economics and Finance,8, 31–43.

Liu, Y. (2017). Internet and income inequality: A research note. Economics Bulletin,37(4), 2846–2853.

Liverpool, L. S. O., & Winter-Nelson, A. (2010). Poverty status and the impact of formal credit on technology use and wellbeing among Ethiopian small-holders. World Development,38(4), 541–554.

Martin, J. G., & Rale, D. (2008). Temperament, risk assessment and habituation to novelty in eastern chipmunks, Tamias striatus. Animal Behaviour,75(1), 309–318.

Maurseth, P. B. (2018). The effect of the internet on economic growth: Counter-evidence from cross-country panel data. Economics Letters,172, 74–77.

Mazur, A. (2011). Does increasing energy or electricity consumption improve quality of life in industrial nations? Energy Policy,39(5), 2568–2572.

McConatha, D., McConatha, J. T., & Dermigny, R. (1994). The use of interactive computer services to enhance the quality of life for long-term care residents. The Gerontologist,34(4), 553–556.

McConatha, J. T., McConatha, D., Deaner, S. L., & Dermigny, R. (1995). A computer-based intervention for the education and therapy of institutionalized older adults. Educational Gerontology: An International Quarterly,21(2), 129–138.

Mitra, A. (2012). Insights into inclusive growth, employment and wellbeing in India. Berlin: Springer.

Norton, S. W. (2003). Economic institutions and human well-being: A cross-national analysis. Eastern Economic Journal,29(1), 23–40.

Norton, S. W. (2005). Population, institutions, and human well-being.

OECD. (2013). OECD guidelines on measuring subjective wellbeing. Paris: OECD Publishing. https://doi.org/10.1787/9789264191655-en.

OECD. (2017). What's Life? 2017 Measuring Wellbeing. Paris: OECD Publishing.

Oliner, S. D., & Sichel, D. E. (2000). The resurgence of growth in the late 1990s: Is information technology the story? Journal of Economic Perspectives,14(4), 3–22.

Oulton, N. (2012). How to measure living standards and productivity. Review of Income and Wealth,58(3), 424–456.

Pea, R., Nass, C., Meheula, L., Rance, M., Kumar, A., Bamford, H., et al. (2012). Media use, face-to-face communication, media multitasking, and social well-being among 8-to 12-year-old girls. Developmental Psychology,48(2), 327.

Pnard, T., & Poussing, N. (2010). Internet use and social capital: The strength of virtual ties. Journal of Economic Issues,44(3), 569–595.

Quibria, M. G., & Tschang, T. (2001). Information and communication technology and poverty: An Asian perspective (No. 12). ADBI Research Paper Series.

Rivas, M. G. (2011). Trade openness, infrastructure, and the wellbeing of Mexico's South. Mexican Studies/Estudios Mexicanos,27(2), 407–429.

Robbins, L. (1932). The nature and significance of economic science. The Philosophy of Economics: An Anthology,1, 73–99.

Ryan, R. M., & Deci, E. L. (2001). On happiness and human potentials: A review of research on hedonic and eudaimonic well-being. Annual Review of Psychology,52(1), 141–166.

Sala-i-Martín, X., Bilbao-Osorio, B., Blanke, J., Crotti, R., Hanouz, M. D., Geiger, T., et al. (2012). The global competitiveness index 2012–2013: Strengthening recovery by raising productivity. The Global Competitiveness Report,2012–2013, 49–68.

Samuelson, P. A. (1938). A note on the pure theory of consumer's behaviour. Economica,5(17), 61–71.

Sen, A. K. (1987). On ethics and economics. Oxford: Basil Blackwell.

Sen, A. (1993). Capability and wellbeing. In M. Nussbaum & A. Sen (Eds.), The quality of life. Oxford: Clarendon Press.

Sheldon, K. M., Ryan, R. M., Deci, E. L., & Kasser, T. (2004). The independent effects of goal contents and motives on well-being: Its both what you pursue and why you pursue it. Personality and Social Psychology Bulletin,30(4), 475–486.

Sherer, M. (1996). The impact of using personal computers on the lives of nursing home residents. Physical and Occupational Therapy in Geriatrics,14(2), 13–31.

Sirgy, M. J., Lee, D. J., & Rahtz, D. (2007). Research on consumer well-being (CWB): Overview of the field and introduction to the special issue. Journal of Macromarketing,27(4), 341–349.

Sirirachatapong, P., & Pooparadai, K. (2007, July). ICT for happiness in Thailand: Revisiting past, understanding present and envisioning future roles of NECTEC. In International conference on happiness and public policy, Bangkok. Retrieved January (vol. 23, p. 2008).

Stiglitz, J. E., Sen, A., & Fitoussi, J. P. (2009). Commission on the measurement of economic performance and social progress. Report by the commission on the measurement of economic performance and social progress.

Thome, S., Hrenstam, A., & Hagberg, M. (2011). Mobile phone use and stress, sleep disturbances, and symptoms of depression among young adults: A prospective cohort study. BMC Public Health,11(1), 66.

Tsai, M. C. (2009). Market openness, transition economies and subjective wellbeing. Journal of Happiness Studies,10(5), 523–539.

Uzawa, H. (1960). Preference and rational choice in the theory of consumption. Stanford: Stanford University Press.

Van Ark, B., O'Mahoney, M., & Timmer, M. P. (2008). The productivity gap between Europe and the United States: Trends and causes. Journal of Economic Perspectives,22(1), 25–44.

Varian, H. R., Farrell, J., & Shapiro, C. (2004). The economics of information technology: An introduction. Cambridge: Cambridge University Press.

White, H., McConnell, E., Clipp, E., Branch, L. G., Sloane, R., Pieper, C., et al. (2002). A randomised control trial of the psychological impacts of providing internet training and access to older adults. Aging and Mental Health, 6(3), 213–221.

White, H., McConnell, E., Clipp, E., Bynum, L., Teague, C., Navas, L., et al. (1999). Surfing the net in later life: A review of the literature and pilot study of computer use and quality of life. Journal of Applied Gerontology,18(3), 358–378.

Wolfers, J. (2002). Is business cycle volatility costly? Evidence from surveys of subjective wellbeing. Stanford: Graduate School of Business, Stanford University.

World Economic Forum. (2012). The global competitiveness index 2012–2013: Strengthening recovery by raising productivity. The Global Competitiveness Report 2012–2013. www3.weforum.org.

Zhang, S., Yang, H., & Singh, L. (2014). Increased information leakage from text. Workshop on privacy-preserving IR. Collection permanent link: http://hdl.handle.net/10822/761529.
Acknowledgements
We acknowledge a part of the research grant received from Research Council of Norway on ICT, Responsible Innovation and Wellbeing (Project No. 247921) to conduct this research and thank NUPI for the hospitality provided during Dr Maiti's visit in Summer 2017. We thank Arne Melchior and Fulvio Castelacci for giving insightful comments on the earlier draft. We are also indebted to the Editor and anonymous referees for useful comments. We thank Prakash Singh for research support. Usual disclaimers apply.
Additional information
Publisher's Note
Springer Nature remains neutral with regard to jurisdictional claims in published maps and institutional affiliations.
About this article
Cite this article
Maiti, D., Awasthi, A. ICT Exposure and the Level of Wellbeing and Progress: A Cross Country Analysis. Soc Indic Res 147, 311–343 (2020). https://doi.org/10.1007/s11205-019-02153-5
Accepted:

Published:

Issue Date:
Keywords
Wellbeing

ICT

Progress

Digital divide
JEL Classification