Abstract
We analyse the Life Satisfaction trajectories of respondents in three long-running, national panel surveys: the Household, Income and Labour Dynamics Australia Survey (HILDA), the British Household Panel Survey (BHPS) and the German Socio-Economic Panel (SOEP). Previous research has shown that substantial minorities of respondents in all three countries recorded long term changes in LS (Fujita and Diener in J Personal Soc Psychol 88:158–64, 2005; Headey in Soc Indic Res 76:312–317, 2006; Headey et al. in Proc Natl Acad Sci 107:17922–7926, 2010; Headey et al. Soc Indic Res 112:725–48, 2013). In a recent SIR paper based on the German data (Headey and Muffels in Soc Indic Res, 2015. doi:10.1007/s11205-015-1146-8), we showed graphs of LS trajectories which suggested—and subsequent statistical analysis confirmed—that respondents typically spend multiple consecutive years above and, in other periods, below their own long term mean level of LS. Here we extend the analysis to Australia and Britain, showing that results replicate in two more Western countries. It appears that most people go through relatively happy periods of life, and relatively unhappy periods. The evidence runs counter to set-point theory which views adult LS as stable, except for short term fluctuations due to life events. In the second half of the paper we try to contribute to a theory of medium term life satisfaction. We estimate structural equation models with two-way causation between LS and variables usually treated as causes of LS, including health, social support, frequency of social activities, and satisfaction with one's work, partner and family life. In all three countries we find that there are positive feedback loops between these variables and LS, which partly account for extended periods of high or low LS. The two-way causation models are based on a modified concept of 'Granger-causation' (Granger in Econometrica 37(3):424–38, 1969). The main intuition behind Granger-causation is that if x can be shown to be statistically significantly related to y in a model which includes multiple lags of y, then it can be inferred that x is one cause of y.
This is a preview of subscription content, log in to check access.
Access options
Buy single article
Instant access to the full article PDF.
US$ 39.95
Price includes VAT for USA
Subscribe to journal
Immediate online access to all issues from 2019. Subscription will auto renew annually.
US$ 199
This is the net price. Taxes to be calculated in checkout.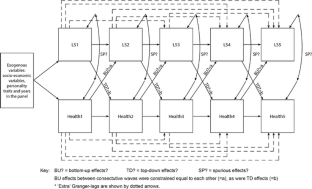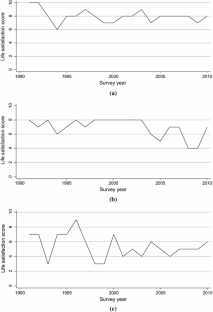 Notes
1.

Disability status was not included in models in which the health scale was the x variable.

2.

Regression analysis is essentially a single equation technique. Regression estimates derived from multi-equation systems are likely to be biased, due to correlations between explanatory variables and error terms in some or all equations. A key assumption of OLS regression is that such correlations are zero.

3.

ML estimates are usually consistent and asymptotically normal under the (not very restrictive) assumption of conditional normality (StataCorp 2013).

4.

Model 'stability' is here used as a technical term. We previously used the term in a different sense to refer to Scherpenzeel and Saris's (1996) claim that two-way causation models of LS are unstable because apparently small differences in model specification can lead to substantially different estimates.

5.

Another limitation is that covariances between the error terms of equations cannot be estimated, so it becomes difficult to assess whether relationships are spurious.

6.

It is accepted, of course, that differing long-term trajectories can have the same mean and standard deviation. Our inspection of a very large number of trajectories indicated that few panel members recorded continuous long-term declines or continuous long-term increases in LS. The majority recorded trajectories with multi-year periods of both relatively high and relatively low LS, as shown in Fig. 2a–c. The statistical analyses below confirm this point.

7.

However, given the relatively small size of the coefficients, there are certain to be many individuals who do not remain above (or below) their own mean for all of the 6 years.

8.

In the final run of these models, the equality constraints on the BU and TD estimates for the equations for Health2 and LS2 were dropped. The reason is that these are not 'Granger' equations in that no 'extra' (2nd, 3rd, etc) lags are available. Consequently, as Granger would predict, the estimates of the BU and TD links from these equations are considerably higher than from the equations with multiple lags, and are probably biased (Granger and Newbold 1974).

9.

Results for sub-sets of the population are not printed here; available from the authors.

10.

There are five of these correlated error terms: one for each wave of data. The tables report correlations for the fifth wave. Among the omitted variables which may account for the high SP coefficients are the other x variables included in later analyses. We partially deal with this issue in multivariate models estimated later in the paper.

11.

Again, no statistically significant differences in these relationships were found between men and women, or between older and younger people.

12.

For example, the German data yield the following estimates: in the full Granger model the first BU lag (standardized) = 0.059 (p < 0.001) and the second BU lag = 0.019 (p < 0.001). The first TD = 0.045 (p < 0.001) and the second lag = 0.010 (p < 0.05).

13.

As was the case for models with only one x variable, some imposed equality constraints in these multivariate models (in fact, 2 out of 18 in each dataset) were diagnosed as not strictly justified. Again, however, the measures of fit which reward parsimony—the TLI and RMSEA—provided countervailing evidence in favour of retaining the constraints. On grounds of theory we preferred to keep them.
References
Andrews, F. M., & Withey, S. B. (1976). Social indicators of well-being. New York: Plenum.

Argyle, M. (2001). The pyschology of happiness. London: Routledge.

Australian Bureau of Statistics (ABS). (1996). National health and nutrition survey, 1995. Canberra: ABS.

Beck, N., & Katz, J. N. (2011). Modelling dynamics in time-series cross-section political economy data. Annual Review of Political Science, 14, 331–352.

Bentler, P. M. (1990). Comparative fit indices in structural models. Psychological Bulletin, 107, 238–246.

Bentler, P. M., & Freeman, E. H. (1983). Tests for stability in linear structural equation systems. Psychometrika, 48, 143–45.

Brickman, P. D., & Campbell, D. T. (1971). Hedonic relativism and planning the good society. In M. H. Appley (Ed.), Adaptation level theory (pp. 287–302). New York: Academic Press.

Browne, M. W., & Cudeck, R. (1993). Alternative ways of assessing model fit'. In K. A. Bollen & J. S. Long (Eds.), 'Testing structural equation models (pp. 136–162). Newbury Park, CA: Sage.

Costa, P. T., & McCrae, R. R. (1991). NEO PI-R. Odessa, FL: PAR.

Deeg, D., & van R Zonneveld, (1989). Does happiness lengthen life? In R. Veenhoven (Ed.), How harmful is happiness? chap. 5. Rotterdam: Erasmus University Press.

Diener, E. (1984). Subjective Well-Being. Psychological Bulletin, 95, 542–575.

Diener, E., & Seligman, M. E. P. (2004). Beyond money: Toward an economy of well-being. Psychological Science in the Public Interest, 5, 1–31.

Diener, E., Suh, E. M., Lucas, R. E., & Smith, H. L. (1999). Subjective well-being: Three decades of progress. Psychological Bulletin, 25, 276–302.

Dunn, E. W., Aknin, L. B., & Norton, M. I. (2008). Spending money on others promotes happiness. Science, 319, 1687–1688.

Easterlin, R. A. (2003). Explaining happiness. Proceedings of the National Academy of Sciences, 100(19), 11176–11183. doi:10.1073/pnas.1633144100.

Finkel, S. E. (1995). Causal analysis with panel data. Thousand Oaks, CA: Sage.

Frey, B. S., & Stutzer, A. (2002). What can economists learn from happiness research? Journal of Economic Literature, 40, 402–435.

Frick, J. R., Schupp, J., & Wagner, G. G. (2007). Enhancing the power of the German socio-economic panel study (SOEP)—evolution, scope and enhancements. Schmollers Jahrbuch, 127, 139–169.

Frijters, P., Haisken-DeNew, J. P., & Shields, M. A. (2004). Money does matter! Evidence from increasing real income and life satisfaction in East Germany following reunification. American Economic Review, 94, 730–740.

Fujita, F., & Diener, E. (2005). Life satisfaction set-point: Stability and change. Journal of Personality and Social Psychology, 88, 158–164.

Granger, C. W. J. (1969). Investigating causal relations by econometric models and cross-spectral methods. Econometrica, 37(3), 424–438.

Granger, C. W. J., & Newbold, P. (1974). Spurious regressions in econometrics. Journal of Econometrics, 2(2), 111–120.

Gremeaux, V., Gayda, M., Lepers, R., Sosner, P., Juneau, M., & Nigam, A. (2012). Exercise and longevity. Maturitas, 73, 312–317.

Headey, B. W. (2006). Subjective well-being: revisions to dynamic equilibrium theory using national panel data and panel regression methods. Social Indicators Research, 79, 369–403.

Headey, B. W. (2008). Life goals matter to happiness: A revision of set-point theory. Social Indicators Research, 86, 213–231.

Headey, B. W., Hoehne, G., & Wagner, G. G. (2014). Does religion make you healthier and longer lived? Evidence for Germany. Social Indicators Research, 119, 1335–1361.

Headey, B. W., & Muffels, R. J. A. (2015). Towards a theory of medium term life satisfaction: Two-way causation partly explains persistent satisfaction or dissatisfaction. Social Indicators Research, 124, 2. doi:10.1007/s11205-015-1146-8.

Headey, B. W., Muffels, R. J. A., & Wagner, G. G. (2010a). Long-running German panel survey shows that personal and economic choices, not just genes, matter for happiness. Proceedings of the National Academy of Sciences, 107(42), 17922–17926.

Headey, B. W., Muffels, R. J. A., & Wagner, G. G. (2013). Choices which change life satisfaction: Similar results for Australia, Britain and Germany. Social Indicators Research, 112, 725–748.

Headey, B. W., Schupp, J., Tucci, I., & Wagner, G. G. (2010b). Authentic happiness theory supported by impact of religion on life satisfaction: A longitudinal analysis with data for Germany. Journal of Positive Psychology, 5, 73–82.

Headey, B. W., Veenhoven, R., & Wearing, A. J. (1991). Top-down versus bottom-up theories of subjective well-being. Social Indicators Research, 24, 81–100.

Henderson, S., Byrne, D. G., & Duncan-Jones, P. (1981). Neurosis and the social environment. New York: Academic Press.

Kessler, R. C., & Greenberg, D. F. (1981). Linear panel analysis. New York: Academic Press.

Kuskova, V. A. (2011). A longitudinal analysis of the relationship between life satisfaction and employee volunteerism. Academy of Management Proceedings, 1, 1–6.

Lance, C. E., Mallard, A. G., & Michalos, A. C. (1995). Tests of the causal directions of global-life facet satisfaction relationships. Social Indicators Research, 34, 69–92.

Lucas, R. E. (2008). Personality and subjective well-being. In M. Eid & R. J. Larsen (Eds.), The science of subjective well-being (pp. 171–194). New York: Guilford Press.

Lucas, R. E., Clark, A. E., Georgellis, Y., & Diener, E. (2003). Reexamining adaptation and the set point model of happiness: Reactions to change in marital status. Journal of Personality and Social Psychology, 84, 527–539.

Luhmann, M., & Eid, M. (2009). Does it really feel the same? Changes in life satisfaction following repeated life events. Journal of Personality and Social Psychology, 97, 363–381.

Luhmann, M., Hoffman, W., Eid, M., & Lucas, R. E. (2012). Subjective well-being and adaptation to life events: A meta-analysis. Journal of Personality and Social Psychology, 102, 592–615.

Lykken, D., & Tellegen, A. (1996). Happiness is a stochastic phenomenon. Psychological Science, 7, 186–189.

Lynn, P. (2006). Quality profile: BHPS version 2.0: waves 1 to 13 1991–2003. Colchester: Institute for Social Research, University of Essex.

Lyubomirsky, S., Sheldon, K. M., & Schkade, D. (2005). Pursuing happiness: The architecture of sustainable change. Review of General Psychology, 9, 111–131.

Mathison, L., Andersen, M. H., Veenstra, M., Wahl, A. K., Hanestad, B. R., & Fosse, E. (2007). Quality of life can both influence and be an outcome of general health perceptions after heart surgery. Health and Quality of Life Outcomes, 5, 27. doi:10.1186/1477-7525-5-27.

Mehnert, T., Kraus, H. H., Nadler, R., & Boyd, M. (1990). Correlates of life satisfaction in those with a disabling condition. Rehabilitation Psychology, 35, 3–17.

Meier, S., and Stutzer, A. (2004). Is volunteering rewarding in itself? IZA Discussion Paper No 1045 (March) IZA, Bonn.

Nagazato, N., Schimmack, U., & Oishi, S. (2011). Effect of changes in living conditions on well-being: A prospective top-down bottom-up model. Social Indicators Research, 100, 115–135.

Nickerson, C., Schwarz, N., Diener, E., & Kahneman, D. (2003). Zeroing in on the dark side of the American dream: A closer look at the negative consequences of the goal for financial success. Psychological Science, 14, 531–536.

Pearl, J. (2009). Causality: Models, reasoning and inference. Cambridge: Cambridge University Press.

Scherpenzeel, A., & Saris, W. E. (1996). Causal direction in a model of life satisfaction: the top-down/bottom-up controversy. Social Indicators Research, 38, 161–180.

Schwarze, J., Andersen, H., and Silke, A. (2000). Self-rated health and changes in self-rated health as predictors of mortality—first evidence from the German panel data, DIW Discussion Paper No. 203, Berlin, DIW.

Sheldon, K. M., & Lucas, R. E. (2014). The stability of happiness. Amsterdam: Elsevier.

StataCorp. (2013). Structural equation modelling reference manual, release 13. College Station, TX: Stata Press.

Thoits, P. A., & Hewitt, L. N. (2001). Volunteer work and well-being. Journal of Health and Social Behavior, 42, 115–131.

Ware, J. E., Snow, K., & Kosinski, M. (2000). SF-36 health survey: Manual and interpretation guide. Lincoln, RI: QualityMetric Inc.

Watson, N., & Wooden, M. (2004). Assessing the quality of the HILDA survey wave 2 data. Melbourne: Melbourne Institute of Applied Economic and Social Research.

Wilkins, A. S. (2014). To lag or not to lag: Re-evaluating the use of lagged dependent variables in regression analysis. Working Paper, Stanford University Department of Political Science. Downloaded July 4, 2014.

Wooldridge, J. M. (2010). Econometric analysis of cross-section and panel data (2nd ed.). Cambridge, Mass: MIT Press.
Acknowledgments
We would like to thank Ulrich Schimmack of the University of Toronto at Mississauga and Derek Headey of the International Food Policy Research Institute (IFPRI) for helpful suggestions on modelling reciprocal causation.
About this article
Cite this article
Headey, B., Muffels, R. Towards a Theory of Medium Term Life Satisfaction: Similar Results for Australia, Britain and Germany. Soc Indic Res 134, 359–384 (2017). https://doi.org/10.1007/s11205-016-1430-2
Accepted:

Published:

Issue Date:
Keywords
Trajectories of life satisfaction

Set-point theory

Two-way causation

Granger-causation

Positive feedback loops

Medium term change