Abstract
Fuel poverty has become a more prescient issue in recent years, both due to harsher winters and the economic downturn, which has made heating the home more difficult for many. Fuel poverty is sensitive to energy prices and also has a capital component linked to the energy efficiency of the home and its appliances. In 2013, 16 % of Irish individuals were recorded as being deprived of heating in the previous year, while 10 % were recorded as being unable to keep the home adequately warm. The data shows that fuel poverty has increased markedly since 2009. In this article, we review the literature on fuel poverty including the definition and measurement of fuel poverty, as well as the impacts on health and well-being. We also examine current policy initiatives aimed at alleviating fuel poverty and this is undertaken with a special focus on Ireland.
This is a preview of subscription content, log in to check access.
Access options
Buy single article
Instant access to the full article PDF.
US$ 39.95
Price includes VAT for USA
Subscribe to journal
Immediate online access to all issues from 2019. Subscription will auto renew annually.
US$ 199
This is the net price. Taxes to be calculated in checkout.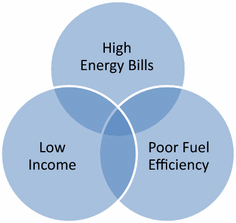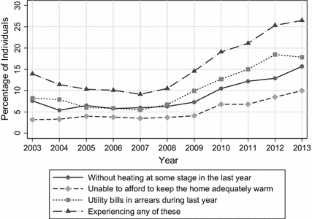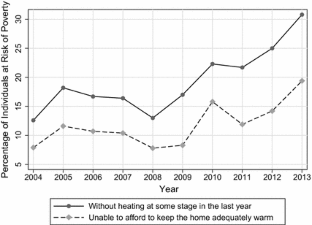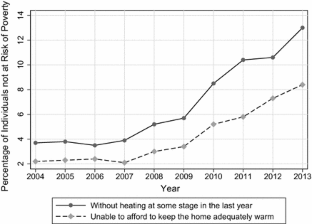 Notes
1.

2.

3.

4.

5.

6.

7.

Delivery a Sustainable Energy Future for Ireland—Energy Policy Framework 2007–2020. Government White Paper. Department of Communications, Energy and Natural Resources. See: www.dcenr.gov.ie.

8.

Maximising Ireland's Energy Efficiency—National Energy Efficiency Action Plan, 2009–2020. Department of Communications, Energy and Natural Resources. May 2009. See: www.dcenr.gov.ie.

9.

10.

11.

12.

13.

14.

15.

16.

The Supplementary Welfare Allowance (SWA) Scheme came into operation on 1 July 1977. It was introduced to replace the home assistance service for persons whose means are insufficient to meet their needs and those of their dependants. SWA can consist of a basic payment and/or a supplement in respect of certain expenses a person may not be able to meet. In order to qualify for a heating supplement the claimant must live alone or only with a qualified adult or child/children and must have exceptional heating needs due to ill-health or infirmity. See: http://www.welfare.ie/EN/OperationalGuidelines/pages/swa.aspx.

17.

For the upgrades to be eligible for the grant, certain standards must be met. For example, it is necessary for any upgraded boiler to be of at least 90 % efficiency. In addition, landlords and owners of multiple properties may also apply, however they must submit a separate application form for each property. A SEAI-registered/approved contractor must complete works.

18.

19.

20.

21.

22.

23.
References
Baker, W. (2001). Fuel poverty and ill health: A review. Bristol: Centre for Sustainable Energy. http://www.cse.org.uk/pdf/pub11.pdf.

Barnes, M., Butt, S., & Tomaszewski, W. (2008). The dynamics of bad housing: the impact of bad housing on the living standards of children. London: National Centre for Social Research.

Boardman, B. (1991). Fuel poverty: From cold homes to affordable Warmth. London: Bellhaven Press.

Boardman, B. (2010). Fixing fuel poverty: Challenges and solutions. London: Earthscan.

Buildings Performance Institute Europe (BPIE) (2014). Alleviating fuel poverty in the EU. http://bpie.eu/uploads/lib/document/attachment/60/BPIE_Fuel_Poverty_May2014.pdf.

Department of Communications, Energy and Natural Resources (DCENR) (2011). Warmer homes: A strategy for affordable energy in Ireland. http://www.dcenr.gov.ie/NR/rdonlyres/53F3AC25-22F8-4E94-AB73-352F417971D7/0/AffordableEnergyStrategyFINAL.pdf.

Department of Communications, Energy and Natural Resources (DCENR) (2015). Towards a new affordable energy strategy for Ireland. http://www.dcenr.gov.ie/NR/rdonlyres/1045379C-F07C-4D78-BFE1-7674FA3AFF67/0/AffordableEnergyConsultationPaper.pdf.

Department of Energy and Climate Change (DECC) (2013). Annual Report on Fuel Poverty Statistics 2013. https://www.gov.uk/government/uploads/system/uploads/attachment_data/file/199833/Fuel_Poverty_Report_2013_FINALv2.pdf.

Eurostat. (2010). Income poverty and material deprivation in European countries—Eurostat methodologies and working papers. Luxembourg: Eurostat.

Green, G., & Gilbertson, J. (2008). Health impact evaluation of the warm front scheme. Sheffield Hallam University: Centre for Regional Social and Economic Research.

Healy, J. D., & Clinch, J. P. (2002). Fuel poverty, thermal comfort and occupancy: results of a national household survey in Ireland. Applied Energy, 73, 329–343.

Hills, J. (2012). 'Getting the measure of fuel poverty: Final report of the fuel poverty review' London: Department of energy and climate change (DECC). http://sticerd.lse.ac.uk/dps/case/cr/CASEreport72.pdf.

Howden-Chapman, P., Matheson, A., Crane, J., Viggers, H., Cunningham, M., & Blakely, T. (2007). Effect of insulating existing houses on health inequality: Cluster randomised study in the community. British Medical Journal, 334, 460–464.

Institute for Public Health in Ireland (IPH). (2009). Annual update on fuel poverty and health 2009 http://www.publichealth.ie/files/file/Annual%20Update%20on%20Fuel%20Poverty%20and%20Health%202009.pdf.

Liddell, C., & Morris, C. (2010). Fuel poverty and human health: A review of recent evidence. Energy Policy, 38, 2987–2997.

McAvoy, H. (2007). All Ireland poverty paper on fuel poverty The Institute of Public Health in Ireland. http://lenus.ie/hse/bitstream/10147/45784/1/9138.pdf.

Romero-Ortuno, R., Tempany, M., Dennis, L., O'Riordan, D., & Silke, B. (2013). Deprivation in cold weather increases the risk of hospital admission with hypothermia in older people. Irish Journal of Medical Science, 182, 513–518.

Scott, S., Lyons, S., Keane, C., McCarthy, D., & Tol, R. J. (2008). 'Fuel poverty in Ireland: Extent, affected groups and policy issues' working paper 262, Dublin: Economic and Social Research Institute. https://www.esri.ie/UserFiles/publications/20081110114951/WP262.pdf.

Watson, D., & Maître, B. (2015). 'Is fuel poverty in Ireland a distinct type of deprivation?' Economic and Social Review, 46(2), 267–291.
About this article
Cite this article
O'Meara, G. A Review of the Literature on Fuel Poverty with a Focus on Ireland. Soc Indic Res 128, 285–303 (2016). https://doi.org/10.1007/s11205-015-1031-5
Accepted:

Published:

Issue Date:
Keywords
Fuel poverty

Health

Welfare

Public policy