Abstract
Sustainable development is a priority area of research in many countries and regions nowadays. This paper illustrates how a multi-stakeholders engagement process can be applied to identify and prioritize the local community's concerns and issues regarding sustainable development in Hong Kong. Ten priority areas covering a wide range of community's concerns in relation to the economic growth, societal development and environmental protection have been identified. An index is then constructed based on these priority areas to track the public's views on the progress of Hong Kong towards a more sustainable city.
This is a preview of subscription content, log in to check access.
Access options
Buy single article
Instant access to the full article PDF.
US$ 39.95
Price includes VAT for USA
Subscribe to journal
Immediate online access to all issues from 2019. Subscription will auto renew annually.
US$ 199
This is the net price. Taxes to be calculated in checkout.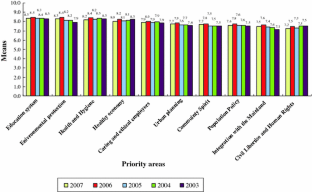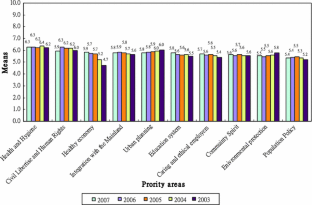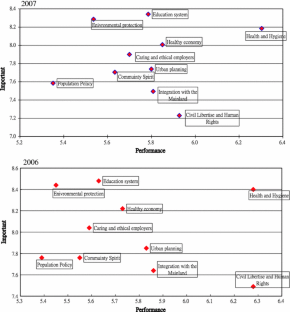 Notes
1.

"Fist five" is a consensus-building tool that enables group members to indicate the extent to which they support a decision, e.g. five fingers indicates unwavering support and a fist indicates absolute disagreement with the way forward. Depending on the number of fingers shown, from none to five, the group can effectively gauge the level of support for an outcome and then discuss it until the group agrees on or accepts the outcome or decision.
References
Barrios, E., & Komoto, K. (2006). Some approaches to the construction of a sustainable development index for the Philippines. International Journal of Sustainable Development and World Ecology, 13, 277–288.

Chiu, L. H. (2000). Environmental sustainability of Hong Kong's housing system and housing process model. International Planning Studies, 5(1), 45–64.

Chiu, L. H. (2002). Social equity in housing in the Hong Kong special administrative region: A social sustainability perspective. Sustainable Development, 10, 155–162.

Chua, H. W., Wong, A. K. W., & Shek, D. T. L. (2010). Social Development in Hong Kong: Development issues identified by Social Development Index (SDI). Social Indicators Research, 95, 535–551.

Daly, H. E., & Cobb, J. B, Jr. (1989). For the common good. Boston: Beacon Press.

Herrera-Ulloa, A. F., Charles, A. T., Lluch-Cota, S. E., Ramirez-Aguirre, H., Hernandez-Vazquez, S., & Ortega-Rubio, A. F. (2003). A regional-scale sustainable development index: The case of Baja California Sur, Mexico. International Journal of Sustainable Development and World Ecology, 10, 353–360.

Hills, P. (2002). Environmental policy and planning in Hong Kong: An emerging regional agenda. Sustainable Development, 10, 171–178.

Ho, D. C. W., Leung, H. F., Wong, S. K., Cheung, A. K. C., Lau, S. S. Y., Wong, W. S., et al. (2004). Assessing the health and hygiene performance of apartment buildings. Facilities, 22, 58–69.

Hoballah, A. (2006). Sustainable development in the Mediterranean region. Natural Resources Forum, 30(2), 157–167.

Hoffman, J. (2000). The roots index: Exploring indices as measures of local sustainable development, New York City: 1990–95. Social Indicators Research, 52(2), 95–134.

Kizilaslan, N., Gurler, A. Z., & Kizilaslan, H. (2007). An analytical approach to sustainable development in Turkey. Sustainable Development, 15(4), 254–266.

Lai, W. C., Chau, K. W., Ho, C. W., & Lorne, T. (2006). A "Hong Kong" model of sustainable development. Property Management, 24(3), 251–271.

Law, K. Y., & Lee, K. M. (2006). Citizenship, economy and social exclusion of mainland Chinese immigrants in Hong Kong. Journal of Contemporary Asia, 36, 217–242.

Lawn, P. A. (2003). A theoretical foundation to support the index of sustainable economic welfare (ISEW), Genuine progress indicator (GPI), and other related indexes. Ecological Economics, 44(1), 105–118.

Ledoux, L., Mertens, R., & Wolff, P. (2005). EU sustainable development indicators: An overview. Natural Resources Forum, 29(4), 392–403.

Lu, W. M., & Lo, S. F. (2007). A benchmark-learning roadmap for regional sustainable development in China. The Journal of the Operational Research Society, 58(7), 841–849.

Luken, R. A., & Hesp, P. (2007). The contribution of six developing countries' industry to sustainable development. Sustainable Development, 15(4), 242–253.

Munday, M., & Roberts, A. (2006). Developing approaches to measuring and monitoring sustainable development in Wales: A review. Regional Studies, 40(5), 535–554.

Ng, M. K. (2007). Sustainable development and governance in East Asian World Cities. Journal of Comparative Policy Analysis, 9(4), 321–336.

Nordhaus, W. D., & Tobin, J. (1973). Is growth obsolete. Studies in Income and Wealth, 38, 509–532.

Roberts, P. (2006). Evaluating regional sustainable development: Approaches, methods and the politics of analysis. Journal of Environmental Planning and Management, 49(4), 515–532.

Roberts, P., & Hills, P. (2002). Sustainable development: Analysis and policy in east and west–the cases of Hong Kong and Scotland. Sustainable Development, 10, 117–121.

Shek, D. T. L. (2010). Introduction: Quality of life of Chinese people in a changing world. Social Indicators Research, 95, 357–361.

Short, T. (2008). Sustainable development in Rwanda: Industry and government. Sustainable Development, 16(1), 56–69.

Tarabusi, E. C., & Palazzi, P. (2004). An index for sustainable development. Banca Nazionale del Lavoro Quarterly Review, 57(229), 185–206.

Wong, O. W. (2003). Analysing the contribution of continuing education and leadership empowerment to sustainable development. International Journal of Sustainability in Higher Education, 4, 364–374.

Zavadskas, E. K., Kaklauskas, A., & Kaklauskiene, J. (2007). Modelling and forecasting of a rational and sustainable development of Vilnius: Emphasis on pollution. International Journal of Environment and Pollution, 30(3/4), 485–500.
Acknowledgments
The authors would like to thank the reviewer for constructive and helpful comments. The development of HKSDI is a joint project conducted by the Canadian Chamber of Commerce in Hong Kong and the City University of Hong Kong. The authors would like to thank the Canadian Chamber of Commerce for providing the financial sponsorship on data collection and valuable advice on the interpretation of results. The project is partially sponsored by the Scientific Research Foundation for the Returned Overseas Chinese Scholars, State Education Ministry, P. R. China.
About this article
Cite this article
Tso, G.K.F., Yau, K.K.W. & Yang, C.Y. Sustainable Development Index in Hong Kong: Approach, Method and Findings. Soc Indic Res 101, 93–108 (2011). https://doi.org/10.1007/s11205-010-9638-z
Accepted:

Published:

Issue Date:
Keywords
Economic growth

Environmental protection

Societal development

Sustainable development