Abstract
Based on three surveys carried out for studying living conditions of youth, women and elderly living in six remote areas (Tuen Mun, Yuen Long, Tin Shui Wai, Sheung Shui, Fan Ling and Tai Po) in the New Territories of Hong Kong, this paper reports the poverty and social exclusion of these three groups of people. The quality of life of youth, women and elderly is adversely affected by limited job opportunities, high cost of travel for employment, and poor neighbourhoods in the community. However, perceptions of reasons for their problems are different for the three groups, due to differences in bonding and bridging social capital they have, as well as the differences in perceptions on social exclusion and discrimination directed upon them.
This is a preview of subscription content, log in to check access.
Access options
Buy single article
Instant access to the full article PDF.
US$ 39.95
Price includes VAT for USA
Subscribe to journal
Immediate online access to all issues from 2019. Subscription will auto renew annually.
US$ 199
This is the net price. Taxes to be calculated in checkout.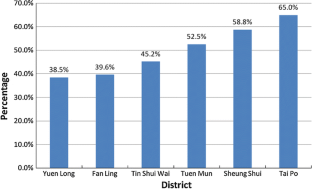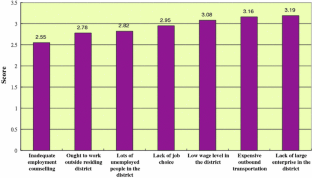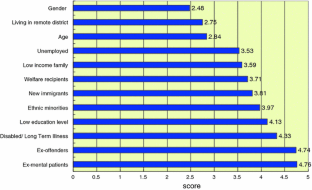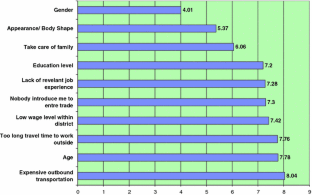 Notes
1.

The percentage sum of all choices is higher than 100% as interviewees could select more than one option in their answers.

2.

The percentage sum is higher than 100% as interviewees could select more than one income source.

3.

This item is not included in the youth survey.
References
Berghman, J. (1995). Social exclusion in Europe: Policy context and analytical framework. In G. Room (Ed.), Beyond the threshold: The measurement and analysis of social exclusion (pp. 10–28). Bristol: The Policy Press.

Central Intelligence Agency (CIA) (2008). World Fact Book: Rank Order—GDP—per capita (PPP). Retrieved November 1, 2008, from https://www.cia.gov/library/publications/the-world-factbook/rankorder/2004rank.html.

Coleman, J. S. (1988). Social capital in the creation of human capital. American Journal of Sociology, 94, 95–120.

Evans, P. (Ed.). (1997). State-society synergy: Government and social capital in development. Berkeley: University of California at Berkeley.

Gore, C. (1995). Introduction: Markets, citizenship and social exclusion. In G. Rodgers, C. Gore, & J. B. Figueiredo (Eds.), Social exclusion: Rhetoric, reality, responses (pp. 1–42). Geneva: International Labour Organization.

MacPherson, S., & Lo, O. Y. (1997). A measure of poverty. Hong Kong: Department of Public and Social Administration, City University of Hong Kong.

Mok, T. K. H., & Leung, S. O. (1997). Hong Kong Poverty Rate, Series on Social Security Research #15. Hong Kong: Hong Kong Social Security Society.

Putnam, R. D. (2000). Bowling alone: The collapse and revival of American community. New York: Simon & Schuster.

Room, G. J. (1999). Social exclusion, solidarity and the challenge of globalization. International Journal of Social Welfare, 8(3), 166–174.

Saegert, S., Thompson, J. P., & Warren, M. R. (Eds.). (2001). Social capital and poor communities. New York: Russell Sage Foundation.

UN-Habitat. (2008). State of the World's Cities 2008/2009: Harmonious cities. Nairobi: UN-Habitat.

Wilson, W. J. (1996). When work disappears: The world of the new urban poor. New York: Knopf.

Wong, H. (2007). Employed, but Poor: Poverty among Employed People in Hong Kong. Oxfam Briefing Paper. Hong Kong: Oxfam Hong Kong.

Wong, H., & Chua, H. W. (1996). Research on expenditure pattern of low expenditure households in Hong Kong: Research on poverty in Hong Kong. Series No. 1. Hong Kong: Hong Kong Council of Social Services and Oxfam Hong Kong.

Woolcock, M. (1998). Social capital and economic development: Toward a theoretical synthesis and policy framework. Theory and Society, 27, 151–208.
About this article
Cite this article
Wong, H. Quality of Life of Poor People Living in Remote Areas in Hong Kong. Soc Indic Res 100, 435–450 (2011). https://doi.org/10.1007/s11205-010-9622-7
Accepted:

Published:

Issue Date:
Keywords
Poverty

Discrimination

Exclusion

Remote area