Abstract
To understand the role that Mexican origin parents play in their children's academic success, this study used structural equation modeling to evaluate the associations of parents' parenting practices (warmth, monitoring, harshness, and academic involvement) and cultural orientations (enculturation and acculturation) with their adolescents' grades, classroom behavior, and association with peers who get into trouble at school. Data were obtained from teachers, mothers, fathers, and male and female adolescents in 560 Mexican origin families living in the southwest USA. Results indicated that mothers' and fathers' parenting practices and cultural orientations were linked to adolescents' academic outcomes. However, there were differences for boys and girls. Results are discussed in relation to parent and adolescent gender roles and implications for intervention.
This is a preview of subscription content, log in to check access.
Access options
Buy single article
Instant access to the full article PDF.
US$ 39.95
Price includes VAT for USA
Subscribe to journal
Immediate online access to all issues from 2019. Subscription will auto renew annually.
US$ 199
This is the net price. Taxes to be calculated in checkout.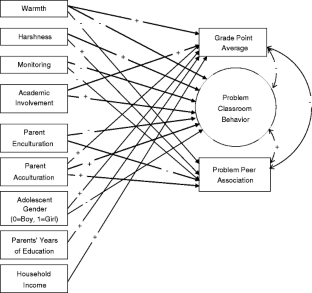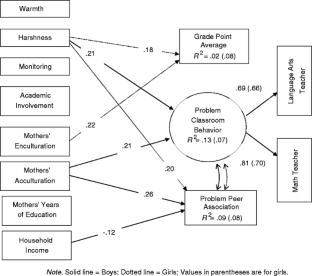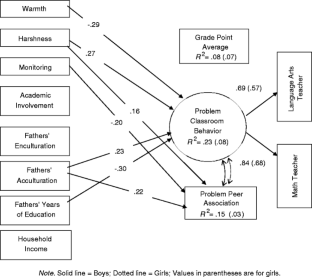 References
Armsden, G. C., & Greenberg, M. T. (1987). The inventory of parent and peer attachment: Individual differences and their relationship to psychological well-being in adolescence. Journal of Youth and Adolescence, 16, 427–454.

Azmitia, M., & Brown, J. R. (2002). Latino immigrant parents' beliefs about the "Path of Life" of their adolescent children. In J. M. Contreras, K. A. Kerns, & A. M. Neal-Barnett (Eds.), Latino children and families in the United States: Current research and future directions (pp. 77–105). Westport, CT: Praeger.

Azmitia, M., Cooper, C. R., Garcia, E. E., & Dunbar, N. (1996). The ecology of family guidance in low-income Mexican-American and European-American families. Social Development, 5, 1–23.

Bandura, A. (1985). Social foundations of thought and action: A social cognitive theory. NY: Prentice-Hall.

Bulcroft, R. A., Carmody, D. C., & Bulcroft, K. A. (1996). Patterns of parental independence giving to adolescents: Variations by race, age and gender of child. Journal of Marriage and the Family, 58, 866–883.

Caples, H., & Barrera Jr., M. (2006). Conflict, support, and coping as mediators of the relation between degrading parenting and adolescent adjustment. Journal of Youth and Adolescence, 35, 603–615.

Catsambis, S. (2001). Expanding knowledge of parental involvement in children's secondary education: Connections with high school seniors' academic success. Social Psychology of Education, 5, 149–177.

Crouter, A. C., Manke, B., & McHale, S. M. (1995). The family context of gender intensification in early adolescence. Child Development, 66, 317–329.

Cuellar, I., Arnold, B., & Maldonado, R. (1995). Acculturation rating scale for Mexican Americans-II: A revision of the original ARSMA scale. Hispanic Journal of Behavioral Sciences, 17, 275–303.

DeBaryshe, B. D., Patterson, G. R., & Capaldi, D. M. (1993). A performance model for academic achievement in early adolescent boys. Developmental Psychology, 29, 795–804.

DeGarmo, D. S., & Martinez, C. R. (2006). A culturally informed model of academic well-being for Latino youth: the importance of discriminatory experiences and social support. Family Relations, 70, 1231–1245.

Dishion, T. J., Patterson, G. R., Stoolmiller, M., & Skinner, M. L. (1991). Family, school, and behavioral antecedents to early adolescent involvement with antisocial peers. Developmental Psychology, 27, 172–180.

Dornbusch, S. M., Ritter, P. L., Leiderman, H., Roberts, D. F., & Fraliegh, M. J. (1987). The relation of parenting style to adolescent school performance. Child Development, 58, 1244–1257.

Dumka, L., Roosa, M., & Jackson, K. (1997). Risk, conflict, mothers' parenting, and children's adjustment in low-income Mexican immigrant and Mexican American families. Journal of Marriage and the Family, 59, 309–323.

Fan, X., & Chen, M. (2001). Parental involvement and students' academic achievement: A meta-analysis. Educational Psychology Review, 13, 1–22.

Finn, J. D., Folger, J., & Cox, D. (1991). Measuring participation among elementary grade students. Educational and Psychological Measurement, 51, 393–402.

Flores, E., Tschann, J. M., VanOss Marin, B., & Pantoja, P. (2004). Marital conflict and acculturation among Mexican American husbands and wives. Cultural Diversity & Ethnic Minority Psychology, 10, 39–52.

Formoso, D., Ruiz, S., & Gonzales, N. A. (1997, April). Parent–adolescent conflict: Resolution strateties within African American, Mexican American, and Anglo-American families. Poster presented at the Biennial Meeting of the Society for Research in Child Development, Washington, D.C.

Foster, S. L., & Martinez Jr., C. M. (1995). Ethnicity: Conceptual and methodological issues in child clinical research. Journal of Clinical Child Psychology, 24, 214–226.

Fridrich, A. H., & Flannery, D. J. (1995). The effects of ethnicity and acculturation on early adolescent delinquency. Journal of Child and Family Studies, 4, 69–87.

Fuligni, A. J. (2001). Family obligation and the academic motivation of adolescents from Asian and Latin American, and European backgrounds. In A. Fuligni (Ed.), Family obligation and assistance during adolescence: Contextual variations and developmental implications, (New Directions in Child and Adolescent Development Monograph) (pp. 61–76). San Francisco: Jossey-Bass.

Fuligni, A. J., & Fuligni, A. S. (2007). Immigrant families and the educational development of their children. In J. E. Lansford, K. Deater-Deckard, & M. H. Bornstein (Eds.), Immigrant families in contemporary society (pp. 231–249). NY: Guilford.

Fuligni, A. J., & Yoshikawa, H. (2003). Socioeconomic resources, parenting, poverty, and child development among immigrant famlies. In M. Bornstein, & R. Bradley (Eds.), Socioeconomic status, parenting, and child development (pp. 107–124). Mahwah, NJ: Erbaum.

Gonzales, N. A., Knight, G. P., Morgan-Lopez, A., Saenz, D., & Sirolli, A. (2002). Acculturation and the mental health of Latino youths: An integration and critique of the literature. In J. M. Contreras, K. A. Kerns, & A. M. Neal-Barnett (Eds.), Latino children and families in the United States: Current research and future directions (pp. 45–74). Westport, CT: Praeger.

Gray, M. R., & Steinberg, L. (1999). Unpacking authoritative parenting: Reassessing a multidimensional construct. Journal of Marriage and the Family, 61, 574–587.

Hess, R. S. (2000). Dropping out among Mexican American youth: Reviewing the literature through and ecological perspective. Journal of Education for Students Placed at Risk, 5, 267–289.

Hill, N., Bush, K., & Roosa, M. (2003). Parenting and family socialization strategies and children's mental health: Low-income Mexican-American and Euro-American mothers and children. Child Development, 74, 189–204.

Huizinga, D., Esbensen, F., & Weiher, A. W. (1991). Are there multiple paths to delinquency? Journal of Criminal Law and Criminology, 82, 83–118.

Jeynes, W. H. (2003). A meta-analysis: The effects of parental involvement on minority children's academic achievement. Education and Urban Society, 35, 202–218.

Keith, P. B., & Lichtman, M. V. (1994). Does parental involvement influence the academic achievement of Mexican-American eighth graders?: Results from the national Educational Longitudinal Study. School Psychology Quarterly, 9, 256–272.

Lerner, R. M., Castellino, D. R., Terry, P. A., Vilarruel, F. A., & McKinney, M. H. (1995). Developmental contextual perspective on parenting. In M. Bornstein (Ed.), Handbook of parenting vol. 2 (pp. 285–309). Mahwah, NJ: Erlbaum.

Meredith, W. (1993). Measurement invariance, factor analysis and factorial invariance. Psychometrika, 58, 545–553.

Muthén, L. K., & Muthén, M. O. (1998). Mplus user's guide (3rd ed.). Los Angeles, CA: Muthén & Muthén.

Parke, R. D., & Buriel, R. (1998). Socialization in the family: Ethnic and ecological perspectives. In N. Eisenberg (Ed.), Handbook of child psychology: Social, emotional and personality development (pp. 463–552). New York: Wiley.

Patterson, G. R., Reid, J. B., & Dishion, T. J. (1992). Antisocial boys. Eugene, OR: Castalia.

Pew Hispanic Center. (2007). Hispanics at mid-decade. Available at http://pewhispanic.org/files/other/middecade/complete.pdf.

Phinney, J. S. (1990). Ethnic identity in adolescents and adults: Review of research. Psychological Bulletin, 108, 499–514.

Pleck, J. H. (1997). Paternal involvement: Levels, sources, and consequences. In M. E. Lamb (Ed.), The role of the father in child development (pp. 67–103). New York: Wiley.

Raffaelli, M., Carlo, G., Carranza, M., & Gonzalez-Kruger G. (2005). Understanding Latino children and adolescents in the mainstream: Placing culture at the center of developmental models. In R. Larson & L. Arnette Jensen (Eds.), New horizons in developmental theory and research. New Directions for Child and Adolescent Development, No. 109 (pp. 23–32). San Francisco, CA: Jossey-Bass.

Rodriguez, J. L. (2002). Family environment and achievement among three generations of Mexican American high school students. Applied Developmental Science, 6, 88–94.

Rumberger, R. W. (1995). Dropping out of middle school: A multilevel analysis of students and schools. American Educational Research Journal, 32, 583–625.

Samaniego, R. Y., & Gonzales, N. A. (1996). Multiple mediators of the effects of acculturation status on delinquency for Mexican American adolescents. American Journal of Community Psychology, 27, 189–210.

Santor, D. A., Messervey, D., & Kusumakar, V. (2002). Measuring peer pressure, popularity, and conformity in adolescent boys and girls: Predicting school performance, sexual attitudes, and substance abuse. Journal of Youth and Adolescence, 29, 163–182.

Schaefer, E. S. (1965). Children's reports of parental behavior: An inventory. Child Development, 36, 413–424.

Schumacker, R. E., & Lomax, R. G. (1996). A beginners guide to structural equation modelling. New Jersey: Lawrence Erlbaum Associates, Inc.

Small, S. A., & Kerns, D. (1993). Unwanted sexual activity among peers during early and middle adolescence: Incidence and risk factors. Journal of Marriage and the Family, 55, 941–952.

Stattin, H., & Kerr, M. (2000). Parental monitoring: A reinterpretation. Child Development, 71, 1072–1085.

Suarez-Orozco, C., & Suarez-Orozco, M. (1995). Transformations: Immigration, family life, and achievement motivation among Latino adolescents. Palo Alto, CA: Stanford University Press.

Sui-chu Ho, E., & Willms, J. D. (1996). Effects of parental involvement on 8th grade achievement. Sociology of Education, 69, 126–141.

Szapocznik, J., & Kurtines, W. M. (1993). Family psychology and cultural diversity: Opportunities for theory, research and application. The American Psychologist, 48, 400–407.

Toth Jr, J. F., & Xu, X. (1999). Ethnic and cultural diversity in fathers' involvement. A racial/ethnic comparison of African American, Hispanic, and White fathers. Youth & Society, 31, 76–99.

Updegraff, K. A. (2000). Gender socialization in Mexican American families (Grant submitted for funding to the Department of Health and Human Services). Tempe, AZ: Arizona State University, Family Resources and Human Development.

Updegraff, K. A., McHale, S. M., Whiteman, S. D., Thayer, S. M., & Crouter, A. C. (2006). The nature and correlates of Mexican-American adolesents' time with parents and peers. Child Development, 77, 1470–1486.

US Census Bureau. (2002). The Hispanic population in the United States: March 2002. Retrieved March 15, 2007 from http://www.census.gov/prod/2003pubs/p20–545.pdf

US Department of Education. (2007). The condition of education: 2007 (NCES 2007–094). Washington DC: US Government Printing Office.

Valenzuela, A. (1999). Gender roles and settlement activities among children and their immigrant families. American Behavioral Scientist, 42, 720–742.
About this article
Cite this article
Dumka, L.E., Gonzales, N.A., Bonds, D.D. et al. Academic Success of Mexican Origin Adolescent Boys and Girls: The Role of Mothers' and Fathers' Parenting and Cultural Orientation. Sex Roles 60, 588 (2009). https://doi.org/10.1007/s11199-008-9518-z
Received:

Accepted:

Published:
Keywords
Mexican American

Parenting

Adolescents

Acculturation

Enculturation

Academic performance