Abstract
Recent trends in academic and professional legal communication worldwide have promoted significant changes to aim at operating successfully under current multilingual and multilegal contexts. The aim is to consider a kind of supranational legal discourse so as to minimize socio-cultural variants and to promote the pragmatic conditions for harmonized and 'common sense' legal practices without excluding potential reciprocal influences of or resistance to one hegemonic legal system upon others. In Brazil, the traditional 'thinking like a civil lawyer' culture still prevails against a more global approach constraining the consolidation of the country's role of major player in most global legal areas. In addition, the key tool required for achieving some sort of global legal status—Brazilian legal operators' proficiency in legal English—has been barely considered in both academic and professional settings, particularly in legal translation. This study resorts to the linguistic anthropology concept of 'entextualization' (Bauman and Briggs in Ann Rev Anthropol 19:59–88, 1990 and others) to discuss the process of official (or sworn) translation in Brazil to render (or not) global legal genres. The comparative analysis between the original text in English and its official version in English focus on drafting consistency, the translator's choice of some formal entextualization elements used in the process of translation and his/her authority as the entextualizing agent to legitimate text.
This is a preview of subscription content, log in to check access.
Access options
Buy single article
Instant access to the full article PDF.
US$ 39.95
Price includes VAT for USA
Subscribe to journal
Immediate online access to all issues from 2019. Subscription will auto renew annually.
US$ 99
This is the net price. Taxes to be calculated in checkout.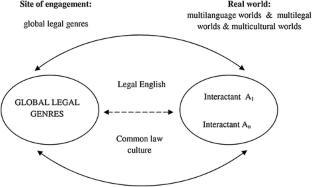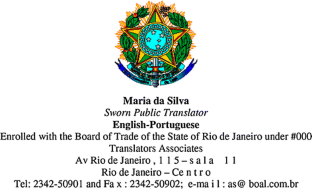 Notes
1.

Harvard School on International Legal Studies, accessed through http://www.law.harvard.edu/ in 2010. See also curricula offered in this area by major American Law schools such as Harvard, Yale and Columbia in their respective websites.

2.

3.

Bauman and Briggs [2, p. 72] use interchangeably the concepts of 'contextualization' v. 'centering'; 'decontextualization' v. 'decentering' and 'recontextualization' v. 'recentering'.

4.

5.

Legislative sources related to this matter include Brazilian Code of Civil Procedure 2002 (article 157), Commercial Code, Decree 13609/1943 (articles 16, 62, 64 and 125); Code of Penal Procedure 1940 (articles 193, 223 and 236) and Code of Labor Law 1943 (article 819). They also rule for commercial interpreters. Decree in Portuguese accessed through http://www.dnrc.gov.br/Legislacao/decreto/dec13609.htm.

6.

7.

Figure 2 is based on original public translators' credential with fictitious information.

8.

9.

10.

The term "pre-salt" makes reference to an aggregation of rocks located offshore in a large portion of the Brazilian coast and with potential to generate and accumulate oil. It was called pre-salt because it forms a rock interval that ranges under an extensive layer of salt which, in certain areas of the coast, can be as much as 2,000 m thick. The "pre" expression is used because, through time, these rocks were deposited before the salt layer. The total depth of these rocks, i.e., the distance between the surface of the sea and the oil reservoirs under the salt layer, can be as much as 7,000 m. Access through http://www.petrobras.com/en/energy-and-technology/sources-of-energy/pre-salt/.
References
1.

Atkinson, Dwight. 1991. Discourse analysis and written discourse conventions. Annual Review of Applied Linguistics 11: 57–76.

2.

Bauman, Richard, and Charles L. Briggs. 1990. Poetics and performance as critical perspectives on language and social life. Annual Review of Anthropology 19: 59–88.

3.

Cao, Deborah. 2007. Translating law. Clevedon: Multilingual Matters Ltd.

4.

Child, Barbara. 1992. Drafting legal documents: Principles and practices, 2nd ed. St. Paul, MN: West Publishing Co.

5.

van Dijk, Teun A. 1977. Context and cognition: Knowledge frames and speech act comprehension. Journal of Pragmatics 1: 211–232.

6.

Dilley, R.M. 2002. The problem of context in social and cultural anthropology. Language & Communication 22: 437–456.

7.

Dorsey, Tobias A. 2006. Legislative drafter's deskbook: A practical guide. Alexandria, VA: The Capitol. Net.

8.

Duranti, Alessandro, and Charles Goodwin. 1992. Rethinking context: Language as an interactive phenomenon. Cambridge: Cambridge University Press.

9.

Fillmore, Charles. 1985. Frames and the semantics of understanding. Quaderni di Semantica 6(2): 222–255.

10.

Frade, Celina. 2004. Generic variation across legislative writing: A contrastive analysis of the UNCITRAL Model Law and Brazil's arbitration law. Hermes, Journal of Linguistics 32: 45–75.

11.

Frade, Celina. 2010. Linguistic pathologies in arbitration clauses. In The discourses of dispute resolution, ed. V.K. Bhatia, C.N. Candlin, and M. Gotti, 145–164. Bern: Peter Lang.

12.

Garzone, Giuliana. 2000. Legal translation and functionalist approaches: A contradiction in terms? Tradulex.org. http://www.tradulex.org/Actes2000/Garzone.pdf.

13.

Garzone, Giuliana. 2008. International commercial arbitration rules as translated/re-written texts: An intercultural perspective. In Language, culture and the law: The formulation of legal concepts across systems and cultures, ed. V.K. Bhatia, C.N. Candlin, and P. EvangelistiAllori, 47–73. Bern: Peter Lang.

14.

Goodwin, Charles, and Alessandro Duranti. 1992. Rethinking context: An introduction. In Rethinking context language as an interactive phenomenon, ed. A. Duranti, and C. Goodwin, 1–42. Cambridge: Cambridge University Press.

15.

Gumperz, John J. 1982. Discourse strategies. Cambridge: Cambridge University Press.

16.

Gumperz, John J. 1992. Contextualization and understanding. In Rethinking context language as an interactive phenomenon, ed. A. Duranti, and C. Goodwin, 229–252. Cambridge: Cambridge University Press.

17.

Hamilton-Wieler, Sharon. 1988. The Fallacy of decontextualization. Educational Resources Information Center (ERIC). Viewpoints (120). Information Analyses (070). http://www.eric.ed.gov/PDFS/ED292125.pdf.

18.

Hanks, W.F. 1989. Text and textuality. Annual Review of Anthropology 18: 95–127.

19.

Linell, Per. 1998. Approaching dialogue. Amsterdam: John Benjamins.

20.

Mellinkoff, David. 1963. The language of the law. Boston: Little, Brown and Company.

21.

Mertz, Elizabeth. 1994. Legal language: Pragmatics, poetics and social power. Annual Review of Anthropology 23: 435–455.

22.

Mertz, Elizabeth. 1996. Recontextualization as socialization: Text and pragmatics in the law school classroom. In Natural histories of discourse, ed. M. Silverstein, and G. Urban, 229–249. Chicago and London: The Chicago University Press.

23.

Miller, Carolyn. 1984. Genre as social action. The Quarterly Journal of Speech 70(1): 151–167.

24.

Park, Joseph S., and Mark Bucholtz. 2009. Introduction. Public transcripts: Entextualization and linguistic representation in institutional contexts. Text and Talk 29(5): 485–502.

25.

Sarangi, Srikant. 1998. Rethinking recontextualization in professional discourse studies: An epilogue. Text 8(2): 301–318.

26.

Šarčević, Susan. 2008. Translation in international arbitration. In Legal discourse across cultures and systems, ed. V.K. Bhatia, C.N. Candlin, and J. Engberg, 291–308. Hong Kong: Hong Kong University Press.

27.

Scollon, Ron. 2001. Mediated discourse: The nexus of practice. London: Routledge.

28.

Silverstein, Michael. 1998. Contemporary transformations of linguistic community. Annual Review of Anthropology 27: 401–426.

29.

Tiersma, Peter M. 1999. Legal language. Chicago: Chicago University Press.

30.

Trosborg, Anna. 1994. Translation studies: Some recent developments. Hermes, Journal of Linguistics 12: 9–28.

31.

Trosborg, Anna. 1997. Rhetorical strategies in legal language. Discourse analysis of statutes and contracts. Tübingen: Gunter Narr Verlag Tübingen.

32.

Vigouroux, Cécile B. 2009. The making of a scription: A case study on authority and authorship. Text and Talk 29(5): 615–637.
About this article
Cite this article
Frade, C. Legal Translation in Brazil: An Entextualization Approach. Int J Semiot Law 28, 107–124 (2015). https://doi.org/10.1007/s11196-014-9357-x
Keywords
Legal translation

Entextualization

Global legal genres

Official (sworn) translators in Brazil