Abstract
It is widely held in translation studies that translation proper is not merely a process of linguistic transfer but also of cultural transfer. But how cultural transfer is effected or whether it can be effected is not at all clear. The study begins with a critical analysis of the problems relating to law translation in general and translating the common law into Chinese in particular. It then examines the nature of cultural transfer in law translation with special reference to the translation of common law terminology. The study purports to set out the framework for legal translation as cultural transfer, in particular, for translating the common law into Chinese in Hong Kong. It argues that successful transfer of the legal culture of foreign laws always requires the adjustment of translating language and the employment of metalanguage.
This is a preview of subscription content, log in to check access.
Access options
Buy single article
Instant access to the full article PDF.
US$ 39.95
Price includes VAT for USA
Subscribe to journal
Immediate online access to all issues from 2019. Subscription will auto renew annually.
US$ 99
This is the net price. Taxes to be calculated in checkout.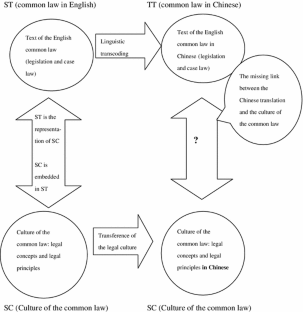 Notes
1.

English had been the language of the law since Hong Kong became a British colony in 1842 and remained so until Section 4 of the Official Language Ordinance as amended in 1987 stipulated that "[a]ll Ordinances shall be enacted and published in both official languages". The Interpretation and General Clauses Ordinance as amended in 1987 defined "official language" as "the English language and the Chinese language".

2.

The Interpretation and General Clauses Ordinance (Chap. 1) was amended in 1987 to accord both language texts of the law equal legal status. "Section 10B(1) states the fundamental principle of equality between the two language versions of our laws. It provides that both language texts of an Ordinance shall be equally authentic, and the Ordinance shall be construed accordingly. This means the Chinese text is neither subordinate to, nor a mere translation of, its English counterpart … The two authentic texts together make up the legislation … Cases that turn on the meaning of words in legislation are not uncommon. Interpreting modern legislation can be complicated and will be more so in a bilingual context. No particular rule of thumb may 'unlock all mysteries'. The courts have over the years developed many rules or criteria for statutory interpretation. These rules should apply to interpreting both language texts, whether or not a discrepancy in meaning between them is alleged. In each case involving construction of legislation, the particular rules and factors that may lead to different possible constructions of the enactment in issue will be gone through in a weigh and balance process, in order to arrive at a construction appropriate for application to the facts of the individual case."(BLIS website: A paper Discussing Cases Where the Two Language Texts of an Enactment are Alleged to Be Different. http://www.legislation.gov.hk/eng/inpr.htm).

3.

Curran [4] also noticed this fundamental nature of the common law but instead of conceptual "classification" she referred to conceptual "categorization". Curran observed:

… categorization is the process that underlies and determines differences in cultural contexts. Cultures differ from each other on the basis of the underlying categories in which members of that culture place the empirically observed data, categories whose own construction brings certain observed data into sharp delineation … Thus, cultural contexts result from sub-structural patterns of classification in each culture … in contradiction to the Common Law system of monetary remedies as the norm (normal remedies for breach of contract) and specific performance the exception. The Common Law's stark delineation between tort and contract law is alien to the civil law, with the concept of 'fault' indispensable to civil law contract analysis, while unfamiliar in the Common Law contract analysis" [4]: 59, 82.

4.

Farrar and Dugdale [5] created a vivid simile to illustrate the importance of concepts in the Common Law. They remark: "Indeed conceptual thinking came to dominate the English Common Law … Concepts are more like chess pieces. They can be maneuvered to produce certain results but the players have a choice as to the move. Similarly, lawyers and judges often have a choice as to how they will move the concepts. They way in which they are moved and are applied to facts involves a process of reasoning …".

5.

This case is well-known as it sets out "the circumstances under which a legal duty to take care will arise" [11].

6.

It is necessary to discuss linguistic problems since translation remains an act of linguistic transcoding. Without a thorough understanding of the linguistic problems posed by the differences between English and Chinese, we cannot discuss the problem of cultural transfer properly.
References
1.

Bowers, F. 1989. Linguistic aspects of legislative expression. Vancouver: University of British Columbia Press.

2.

Cao, D. 2004. Chinese law: A language perspective. Aldershot, Hants, England; Burlinton, VT: Ashgate.

3.

Cheung, F. 1991. In The other Hong Kong report, ed. Sung, Yun-wing, and Lee Ming-kwan, 302–309. Hong Kong: Chinese University Press.

4.

Curran, V.G. 1998. Cultural immersion, difference and categories in US comparative law. American Journal of Comparative Law 46: 43–91.

5.

Farrar, J.H., and A.M. Dugdale. 1990. Introduction to legal method. London: Sweet & Maxwell.

6.

Feyerabend, P. 1987. Farewell to reason. London: Verso.

7.

Hiller, J.A. 1978. Language, law, sports and culture; the transferability or non-transferability of words, life styles and attitudes through law. Valpraraiso University Law Review 12(3): 433–465.

8.

Jakobson, R. 1959. On linguistic aspects of translation. In On translation, ed. R. A. Brower. Cambridge, MA: Harvard University Press.

9.

Kischel, U. 2009. Language as barrier to comparative law. In Translation issues in language and law (Chapter 1, Part I), ed. Frances Olsen, Alexander Lorz, and Dieter Stein. London: Palgrave Macmillan.

10.

Pavlenko, A. 2008. The mental lexicon 3:1. USA: John Benjamins.

11.

Shum, C. 1992. General principles of Hong Kong law. Hong Kong: Longman.

12.

Sin, K.K. 1989. Meaning, translation and bilingual legislation. In Proceedings of the first international conference on language and law, ed. P. Pupier and J. Woehrling, 509–515. Sv. Vlas.

13.

Sin, K.K. 1992. The translatability of law. In Chinese linguistics in Hong Kong, ed. H.T. Lee, 87–101. The Linguistics Society of Hong kong: Hong Kong.

14.

Sin, K.K., and D. Roebuck. 1996. Language engineering for legal transplantation: Conceptual problems in creating common law Chinese. Language & Communication 16(3): 235–254.

15.

Sin, K.K. 1998. The missing link between language and law: Problems of legislative translation in Hong Kong. Proceedings from the Sixth International Conference on Law and Language 36: 193–206.

16.

Sin, K.K. 1998. The common law in uncommon Chinese: Linguistic anomalies and cultural shocks. Journal of Translation Studies 2: 127–140.

17.

Vinay, J., and J. Darbelnet. 2004. In The translation studies reader (Chapter 11), ed. Lawrence Venuti, 2nd ed. New York and London: Routledge.

18.

Williams, J. 1848. Principles of the law of personal property: Intended for the use of students in conveyancing. London: Sweet.
About this article
Cite this article
Wang, L., Sin, K.K. Legal Translation and Cultural Transfer: A Framework for Translating the Common Law into Chinese in Hong Kong. Int J Semiot Law 26, 883–896 (2013). https://doi.org/10.1007/s11196-012-9286-5
Keywords
Legal translation

Cultural transfer

Metalanguage