Abstract
This essay examines the iconography and role of animals in medieval and early modern bestiaries. In being without original sin "God's creatures" were deemed proximate to divine perfection and to salvation. Animals, whether symbolic or actual, both instructed man's moral behaviour and ushered man towards salvation. Bestiaries, it will be argued, are keys to understanding how modern law would eventually co-ordinate itself in relation to the concept of a future salvic moment.
This is a preview of subscription content, log in to check access.
Access options
Buy single article
Instant access to the full article PDF.
US$ 39.95
Price includes VAT for USA
Subscribe to journal
Immediate online access to all issues from 2019. Subscription will auto renew annually.
US$ 99
This is the net price. Taxes to be calculated in checkout.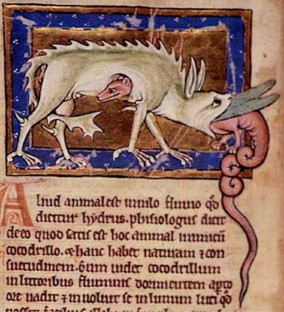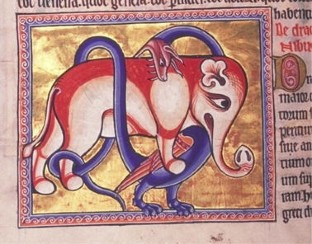 Notes
1.

"And he never shuts his eyes however often he sleeps", 'De Leone', in Theobaldi 1972: 27.

2.

A full range of animals, along with their primary sources and their allegorical messages is to be found at http://www.bestiary.ca.

3.

One such example might be the short-lived punishment under Roman law known as the Poena Culleo. Here the crime of patricide, conceived of as a crime against nature (even the crime against nature), was punished by placing the perpetrator in a leather sack with a cock, and a monkey. The sack was then hurled into the sea.

4.

5.

Omnis mundi creatura

Quasi liber et pictura:

Nobis est et speculum

Cited in the Latin in Curtius, 1953, pp. 319–326. My translation.

6.

The word pedigree from pied du gru is already loaded with animal symbolism and refers to the idea that the forked branches on a genealogical chart resembled the foot of a crane.
References
1.

Aelian. 1958. On animals. Cambridge: Loeb Classical Library, Harvard University Press.

2.

Aesop. 1998. Aesop, the complete fables (trans: Taylor, Olivia and Robert). New York: Penguin.

3.

Alciato, Andrea. 2010. Emblematum liber, Emblem 34. In Alciato's book of emblems (the Memorial Web Edition in Latin and English). http://www.mun.ca/alciato/e034.html. Accessed in 28 September 2010.

4.

Aristotle. 1991 History of animals (Trans. D.M. Balm) Cambridge: Loeb Classical Library, Harvard University Press.

5.

Atterton, Peter., and Matthew. Calarco. 2004. Animal philosophy: Ethics and identity. London: Continuum.

6.

Augustine. 1998. City of god against the pagans. Cambridge: Cambridge University Press.

7.

Calvino, Italo. 1987. Man, the sky and the elephant: On pliny's natural history. In On nature: Nature, landscape, natural history, ed. Daniel. Halpern. San Francisco: North Point Press.

8.

Camille, Michael. 1999. Bestiary or biology? Aristotles Animals in Oxford, Merton College MS 271. In Aristotles animals in the middle ages and renaissance, ed. Carlos Steel, et al. 355 Leuven: Leuven University Press.

9.

Cavallar, Osvaldo, Susanne Degenring and Julius Kirshner. 1994. A Grammar of signs: Bartolo da sassoferrato's Tract on Insignia and Coats of Arms. Berkeley.

10.

Codex Exoniensis. 1919. The old english elene, phoenix and physiologus, ff55b-65b (reprinted in Albert Stanburrrough Cook).

11.

Cohen, Esther. 1986. Law, folklore and animal lore. Past and Present 110: 6–37.

12.

Curtius, Ernst Robert. 1953. European literature and the latin middle ages (trans: Trask, R.) New York: Harper Row, Publishers.

13.

de Cobham, Thomas. 1988. Summa de arte praedicandi, ed. Franco Morenzoni. Turnholti: Brepols.

14.

de Fournival, Richard. 1986. Bestiaire d'amour In master richard's bestiary of love and response (trans: Beer, Jeanette). London: University of California Press.

15.

Epiphanius. Sancti Epiphianii ad Physiologum, http://bestiary.ca/etexts/migne/migne%20-%20epiphanius%20ad%20physiologum.pdf (last accessed 28 September 2010).

16.

Evans, Edward Paysan. 1896. Animal symbolism in ecclesiastical architecture. London: W. Heinemann.

17.

Friedman, John. 1981. The monstrous races in medieval art and thought. Cambridge: Harvard University Press.

18.

Friedman, John. 1989. The-marvels-of the-East-tradition in Anglo-Saxon art and thought. In Sources of anglo-saxon culture,, ed. Paul. Szarmach. Michigan: Kalamazoo.

19.

Gauchet, Marcel. 1999. The disenchantment of the world: A political history of religion (trans: Burge, Oscar). Princeton: Princeton University Press.

20.

Goodrich, Peter., Lior. Barshack, and Anton. Schütz (ed.). 2006. Law text terror: Essays for Pierre Legendre. London: Glasshouse. Introduction.

21.

Goodrich, Peter. 2006. A theory of the nomogram. In Law Text Terror: Essays for Pierre Legendre, ed. Peter. Goodrich, Lior. Barshak, and Anton. Schutz. London: Glasshouse.

22.

Gravestock, Pamela. 1999. Did imaginary animals exist. In The mark of the beast: The medieval bestiary in art, life, literature, ed. Debra. Hassig. New York: Garland Publishing.

23.

Hadot, Pierre. 2006. The veil of isis: An essay on the history of the idea of nature (trans: Chase, Michael). Harvard University Press.

24.

Haldar, Piyel. 2007. Law, orientalism, postcolonialism: The jurisdiction of the lotus eaters. New York: Routledge-Cavendish.

25.

Haldar, Piyel. 2009. Law and animalities. Law and Humanities 3 (1): 69–85.

26.

Hugh of St Victor. 2002. De Triebus Diebus. Turnhout: Brepols.

27.

Isidore of Seville. 2006. Etymologiae. Cambridge University Press: Cambridge.

28.

James, M.R. 1928. The medieval bestiary. Oxford: Roxburghe Club.

29.

Jaspers, Karl. 1953. The origin and goal of history (trans: Bullock, Michael). London: Routledge and Keegan Paul.

30.

Legendre, Pierre. 1943. La penetration du droit romain dans le droit canonique classique de Gratien à Innovent IV, 1140–1254. Paris: Imprimiere Jouve.

31.

Nietszche, Friedrich. 1887. On the genealogy of morals. Oxford University Press 1996 version.

32.

Nietzsche, Friedrich. 1986. Human, all too Human (trans. Hollingdale, R.J.). Cambridge.

33.

Ovid. 2008. Metamorphosis. (Trans. E.J. Kennedy) Oxford: Oxford University Press.

34.

Peacham, Thomas. 1612. Minerva Brittana.

35.

Pliny the Elder. 2008 Natural history Penguin Books.

36.

Prudentius. 1993. Psychomachia. In Prudentius. Volume 1, 274–344. Harvard: Loeb.

37.

Ripa, Cesare. 1593. Iconologia or moral emblems, http://emblem.libraries.psu.edu/Ripa/Images/ripatoc.htm (last accessed 28 September 2010).

38.

Stanburrough Cook, Albert. 1919. The Old english elene, phoenix and physiologus. New Haven: Yale University Press; London: Humphrey Milford.

39.

St Paul. Romans.

40.

The Aberdeen Bestiary. Aberdeen University Library MS 24, www.abdn.ac.uk/bestiary/.

41.

The Ashmole Bestiary. 1511. Bodleian ms ashmole.

42.

Theobaldus. 1972. Physiologus, ed. P.T. Eden. Leiden und Koln: EJ Brill.

43.

Topsell, Edward. 1967. ed. The history of four-footed beasts and serpents and insects, describing at large their true and lively figure, their several names, conditions, kinds, virtues (both Natural and Medicinal) Countries of their breed, their love and hatred to mankind, and the wonderful work of god in their creation, preservation and destruction taken principlaly from the historiae animalium of conrad gesner in three volumes. London: Frank Cass. The dedicatory epistle.

44.

Woodworth, Samuel. 1811. Beasts at law, or zoologian jurisprudence: A Poem, satirical, allegorical, and moral, in Three cantos, Translated from the Arabic of Sampfilius Philoerin, Z. Y. X. W. &c. &c. Whose Fables Have Made So Much Noise in the East, and Whose Fame Has Eclipsed That of Aesop. With Notes and Annotations. New York: J. Harmer & Co.
Acknowledgments
School of Law, Birkbeck College, University of London. Peter Goodrich, Valerie Kelley, Paul Raffield and Anton Schütz all provided comments. A second note of gratitude to Valerie Kelley who edited the drafts of this article. Portions of the research used in this paper have been published in the context of a different argument. See Haldar, 2009.
About this article
Cite this article
Haldar, P. Zoologian Jurisprudence. Int J Semiot Law 24, 291–306 (2011). https://doi.org/10.1007/s11196-010-9182-9
Keywords
Legal iconography

Emblems

Bestiary

Salvation

Ressentiment