Abstract
This article provides an overview on reproductive and sexual health of people with physical disabilities in developed and underdeveloped countries from 1995 to 2011. Based on the metasynthesis approach, the authors reviewed 15 qualitative studies. These studies were searched using Medline, CINAHL, CINAHL (health), ProQuest Central, Google Scholar, Cochrane, Embase, Informit Health, Sciences Direct, Pubmed, Pubmed Health, AAHD (abstracts), ProQuest Journal (sexuality and disability) and were also manually searched. All studies were judged on their qualities using the Critical Appraisal Skills Programme. Reproductive health, sexual attractiveness and experiences, reproductive and sexual health knowledge, and dealing with reproductive and sexual health issues were four main themes that emerged from these studies. This paper proposes a new model to explain the factors that impacted the reproductive and sexual life of people with physical disabilities: internal and external factors. Implications for health and social care are discussed in light of the findings.
This is a preview of subscription content, log in to check access.
Access options
Buy single article
Instant access to the full article PDF.
US$ 39.95
Price includes VAT for USA
Subscribe to journal
Immediate online access to all issues from 2019. Subscription will auto renew annually.
US$ 99
This is the net price. Taxes to be calculated in checkout.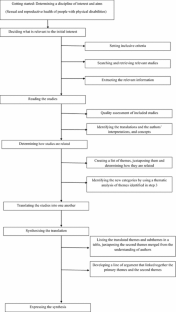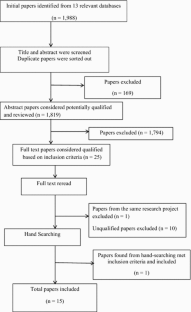 References
1.

Atkins, S., Lewin, S., Smith, H., Engel, M., Fretheim, A., Volmink, J.: Conducting a meta-ethnography of qualitative literature: lessons learnt. BMC Med. Res. Methodol. 8, 21 (2008). doi:10.1186/1471-2288-8-21

2.

Barroso, J., Gollop, C.J., Sandelowski, M., Meynell, J., Pearce, P.F., Collins, L.J.: The challenges of searching for and retrieving qualitative studies. West. J. Nurs. Res. 25(2), 153–178 (2003)

3.

Becker, H., Stuifbergen, A., Tinkle, M.: Reproductive health care experiences of women with physical disabilities. Arch. Phys. Med. Rehabil. 78(12), S26–S33 (1997)

4.

Bremer, K., Cockburn, L., Ruth, A.: Reproductive health experiences among women with physical disabilities in the Northwest Region of Cameroon. Int. J. Gynecol. Obstet. 108, 211–213 (2010). doi:10.1016/j.ijgo.2009.10.008

5.

Critical Appraisal Skills Programme. (2014). Critical Appraisal Skills Programme Checklist. Retrieved 2014, from http://media.wix.com/ugd/dded87_951541699e9edc71ce66c9bac4734c69.pdf

6.

Đỗ, T.T.T., Nguyễn, H.H., Gammeltoft, T., Wirght, P.: Cơ hội để có tình yêu, tình dục từ góc nhìn của phụ nữ khuyết tật. Chuyên san Giới Tình Dục và Sức khỏe Sinh sản 22, 1–32 (2011)

7.

Duggleby, W., Holtslander, L., Kylma, J., Duncan, V., Hammond, C., Williams, A.: Metasynthesis of the hope experience of family caregivers of persons with chronic illness. Qual. Health Res. 20(2), 148–158 (2010). doi:10.1177/1049732309358329

8.

Esmail, S., Darry, K., Walter, A., Knupp, H.: Attitudes and perceptions towards disability and sexuality. Disabil. Rehabil. 32(14), 1148–1155 (2010). doi:10.3109/09638280903419277

9.

Li, C.M., Yau, M.K.: Sexual issues and concerns—tales of Chinese women with spinal cord impairments. Sex. Disabil. 24, 1–26 (2006). doi:10.1007/s11195-005-9000-6

10.

Noblit, G.W., Hare, R.D.: Meta-Ethnography: Synthesizing Qualitative Studies. SAGE, California (1988)

11.

Nosek, M.A., Young, M.E., Rintala, D.H., Howland, C.A., Foley, C.C., Bennett, J.L.: Barriers to reproductive health maintenance among women with physical disabilities. J. Women's Health 4, 505–518 (1995)

12.

Nosek, M.A., Young, M.E., Rintala, D.H., Howland, C.A., Foley, C.C., Bennett, J.L., et al.: Sexuality issues among women with physical disabilities. J. Rehabil. Res. Dev. 34, 224–225 (1997)

13.

Parker, M.G., Yau, M.K.: Sexuality, identity and women with spinal cord injury. Sex. Disabil. 30, 15–27 (2011). doi:10.1007/s11195-011-9222-8

14.

Phillips, D.H., McNeff, E.: I thought I was less worthy—low sexual and body esteem and increased vulnerability to intimate partner abuse in women with physical disabilities. Sex. Disabil. 23, 227–240 (2005)

15.

Potgieter, C.A., Khan, G.: Sexual self-esteem and body image of south african spinal cord injured adolescents. Sex. Disabil. 23, 1–20 (2005). doi:10.1007/s11195-004-2076-6

16.

Richards, E., Tepper, M., Whipple, B., Komisaruk, B.R.: Women with complete spinal cord injury—a phenomenological study of sexuality and relationship experiences. Sex. Disabil. 15, 271–283 (1997)

17.

Sakellariou, D., Sawada, Y.: Sexuality after spinal cord injury—the Greek male's perspective. Am. J. Occup. Ther. 60, 311–319 (2006)

18.

Shakespeare, T.: The sexual politics of disabled masculinity. Sex. Disabil. 17, 53–64 (1999)

19.

Taleporos, G., McCabe, M.P.: The impact of physical disability on body esteem. Sex. Disabil. 19, 293–308 (2001)

20.

Yoshida, K.K., Li, A., Odette, F.: Cross-cultural views of disability and sexuality—experiences of a group of ethno-racial women with physical disabilities. Sex. Disabil. 17, 321–337 (1999)
About this article
Cite this article
Nguyen, T.T.A., Liamputtong, P. & Monfries, M. Reproductive and Sexual Health of People with Physical Disabilities: A Metasynthesis. Sex Disabil 34, 3–26 (2016). https://doi.org/10.1007/s11195-015-9425-5
Keywords
People with physical disabilities

Reproductive health

Sexual health

Reproductive health needs

Sexual health needs

Metasynthesis