Abstract
Premenstrual syndrome (PMS) is a group of psychological and somatic symptoms related to the menstrual cycle. These symptoms occur specifically during last half of the luteal phase of menstrual cycle and resolve by the end of menstruation. The aim of this study was to evaluate the effects of premenstrual and menstrual complaints on well-being and sexuality and their relation with analgesic use as a coping strategy in university students. This study focused on the experience of perimenstrual and menstrual complaints of university students with regular menstrual cycles and their coping strategy. The research data were collected by means of an introductory form with open-ended questions and the responses were assessed for the presence of premenstrual and menstrual complaints, their effects and coping strategies of the students. Of 202 participants enrolled in the study, the mean age was 20.5 ± 2.1 years. Fifty-seven participants (33.1 %) were adolescent girls while 115 (66.9 %) of them were adults. Among students, the five most common complaints reported were irritability (76.7 %), breast fullness (68.6 %), back pain (67.4 %), abdominal distension (60.5 %) and sentimentalism (56.4 %). Of participants, 102 (59.3 %) responded as having disability and 34 (19.4 %) were found as having impaired sexuality. Back pain and weakness were found to be related with disability. For impaired sexuality, headache and sentimentalism were found to be significant predictors. One hundred and thirty-three (77.3 %) subjects reported that they have been using some medication; however, 99 (57.6 %) students have never sought help. The most common medications reported were analgesics (n = 117, 68 %). Overall, we found comparable distribution of complaints and coping strategies in adolescent and adult students. A majority of women experience mild to severe physical and psychological discomfort during the perimenstrual period, which may affect their life quality. There is a need for a program to increase awareness about PMS and menstrual complaints and suitable coping strategies for its symptomatology in the university settings to improve quality of life and school performance of the students.
This is a preview of subscription content, log in to check access.
Access options
Buy single article
Instant access to the full article PDF.
US$ 39.95
Price includes VAT for USA
Subscribe to journal
Immediate online access to all issues from 2019. Subscription will auto renew annually.
US$ 99
This is the net price. Taxes to be calculated in checkout.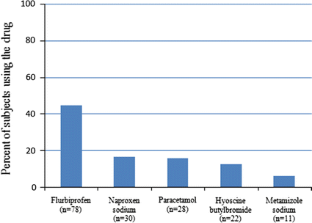 References
1.

Frye, G.M., Silverman, S.D.: Is it premenstrual syndrome? Keys to focused diagnosis, therapies for multiple symptoms. Postgrad Med. 107, (5), 151–4, 157–9 (2000)

2.

Campagne, D.M., Campagne, G.: The premenstrual syndrome revisited. Eur. J. Obstet. Gynecol. Reprod. Biol. 130(1), 4–17 (2007)

3.

Ismail, K., O'Brien, P.M.S.: Premenstrual syndrome. Curr Obstet Gynaecol 15(1), 25–30 (2005)

4.

Indusekhar, R., Usman, S.B., O'Brien, S.: Psychological aspects of premenstrual syndrome. Best Pract Res Clin Obstet Gynaecol. 21(2), 207–220 (2007)

5.

ACOG Practice Bulletin: Clinical management guidelines for obstetrician-gynecologists. Number 15. Premenstrual syndrome. Obstet. Gynecol. 95, 1–9 (2000)

6.

Rapkin, A.J., Mikacich, J.A.: Premenstrual syndrome and premenstrual dysphoric disorder in adolescents. Curr. Opin. Obstet. Gynecol. 20(5), 455–463 (2008)

7.

Halbreich, U., Borenstein, J., Pearlstein, T., Kahn, L.S.: The prevalence, impairment, impact, and burden of premenstrual dysphoric disorder (PMS/PMDD). Psychoneuroendocrinology 28(Suppl 3), 1–23 (2003)

8.

Weisz, G., Knaapen, L.: Diagnosing and treating premenstrual syndrome in five western nations. Soc. Sci. Med. 68(8), 1498–1505 (2009)

9.

Pinar, G., Colak, M., Oksuz, E.: Premenstrual syndrome in Turkish college students and its effects on life quality. Sex Reprod Healthc. 2(1), 21–27 (2011)

10.

Sharma, P., Malhotra, C., Taneja, D.K., Saha, R.: Problems related to menstruation amongst adolescent girls. Indian J. Pediatr. 75(2), 125–129 (2008)

11.

Yang, M., Gricar, J.A., Maruish, M.E., Hagan, M.A., Kornstein, S.G., Wallenstein, G.V.: Interpreting premenstrual symptoms impact survey scores using outcomes in health-related quality of life and sexual drive impact. J. Reprod. Med. 55(1-2), 41–48 (2010)

12.

Nowosielski, K., Drosdzol, A., Skrzypulec, V., Plinta, R.: Sexual satisfaction in females with premenstrual symptoms. Sex Med. 7(11), 3589–3597 (2010)

13.

Wong, L.P., Khoo, E.M.: Menstrual-related attitudes and symptoms among multi-racial Asian adolescent females. Int J Behav Med. 18(3), 246–253 (2011)

14.

Lete, I., Dueñas, J.L., Serrano, I., Doval, J.L., Martínez-Salmeán, J., Coll, C., Pérez-Campos, E., Arbat, A.: Attitudes of Spanish women toward premenstrual symptoms, premenstrual syndrome and premenstrual dysphoric disorder: results of a nationwide survey. Eur. J. Obstet. Gynecol. Reprod. Biol. 159(1), 115–118 (2011)

15.

Lodise, N., Shrimp, L.: Disorders related to menstruation. In: Berardi, R., Newton, G., McDermott, J.H., et al. (eds.) Handbook of nonprescription drugs, 16th edn, pp. 145–153. American Pharmacists Association, Washington DC (2009)

16.

Ozturk, S., Tanrıverdi, D.: ErciB. Premenstrual syndrome and management behaviours in Turkey [online]. Aust. J. Adv. Nurs. 28(3), 54–60 (2011)

17.

Jarvis, C.I., Lynch, A.M., Morin, A.K.: Management strategies for premenstrual syndrome/premenstrual dysphoric disorder. Ann. Pharmacother. 42(7), 967–978 (2008)

18.

Broe, G.A., Jorm, A.F., Creasey, H., Grayson, D., Edelbrook, D., Waite, L.M., Bennett, H., Cullen, J.S., Casey, A.: Impact of chronic systemic and neurological disorders on disability, depression and life satisfaction. Int J. Geriatr. Psychiatr. 14(6), 497–499 (1999)

19.

Grodman, I., Buskila, D., Arnson, Y., Altaman, A., Amital, D., Amital, H.: Understanding fibromyalgia and its resultant disability. Isr. Med. Assoc. J. 13(12), 769–772 (2011)

20.

Cady, R.K., Diamond, M.L., Diamond, M.P., Ballard, J.E., Lener, M.E., Dorner, D.P., Derosier, F.J., McDonald, S.A., White, J., Runken, M.C.: Sumatriptan-naproxen sodium for menstrual migraine and dysmenorrhea: satisfaction, productivity, and functional disability outcomes. Headache 51(5), 664–673 (2011)
Conflict of interest
The authors stated that did not have conflict of interests.
About this article
Cite this article
Guler, T., Yavuz, U., Özkum, D. et al. Effects of Perimenstrual Complaints on Sexuality and Disability and Coping Strategies of University Students. Sex Disabil 31, 93–101 (2013). https://doi.org/10.1007/s11195-012-9264-6
Keywords
Sexuality

Disability

Perimenstrual complaints

Analgesic