Abstract
Interdisciplinary research is vital in addressing complex real-world problems. To understand how the scientific workforce is being engaged in the interdisciplinary research, it is important to track the involvement of different research fields over time and the grants that drive the research endeavour. Unfortunately, there has been very little work in this understanding of interdisciplinary research and grant success. In this paper, we analysed the contribution of different disciplines within multidisciplinary research that secured grants. We tracked these contributions over a 10-year period to understand how different research fields evolved over time and played roles in interdisciplinary grant success. We followed a basic statistical approach and proposed a network-based approach to understand relative participation of different disciplines. We found disparities within different disciplines which showed that only few research fields contributed more in the interdisciplinary research grant success.
This is a preview of subscription content, log in to check access.
Access options
Buy single article
Instant access to the full article PDF.
US$ 39.95
Price includes VAT for USA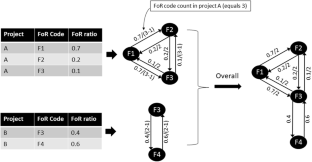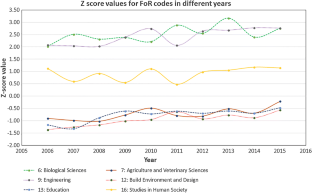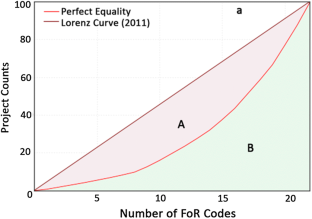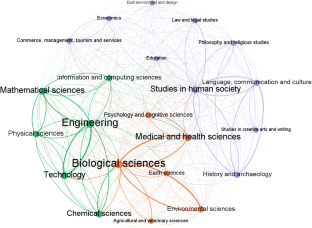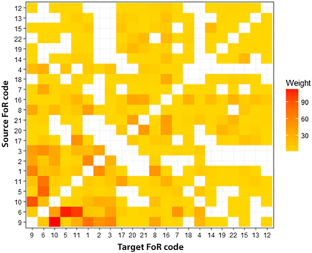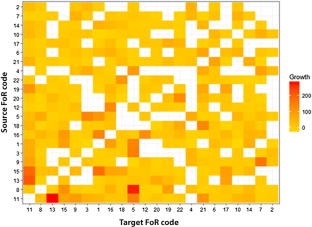 References
Anonymous (2015). Why interdisciplinary research matters. Nature, 525(7569), 305.

Australian Research Council (2016). Discovery program. http://www.arc.gov.au/discovery-program. Accessed March 13, 2018.

Australian Research Council (2017). Linkage program http://www.arc.gov.au/linkage-program. Accessed March 13, 2018.

Australian Research Council (2018a). ARC statement of support for interdisciplinary research. http://www.arc.gov.au/arc-statement-support-interdisciplinary-research. Accessed May 5, 2018.

Australian Research Council (2018b). Classification codes—FoR, RFCD, SEO and ANZSIC codes. http://www.arc.gov.au/rfcd-seo-and-anzsic-codes. Accessed March 13, 2018.

Australian Research Council (2018c). Excellence in Research for Australia. http://www.arc.gov.au/excellence-research-australia. Accessed March 13, 2018.

Australian Research Council (2018d). Grants dataset. http://www.arc.gov.au/grants-dataset. Accessed May 5, 2018.

Barthel, R., & Seidl, R. (2017). Interdisciplinary collaboration between natural and social sciences: Status and trends exemplified in groundwater research. PLoS ONE, 12(1), e0170754.

Bryant, K. (2006). Drilling into R&D expenditures: Chemistry research in perspective. Chemistry in Australia, 73(5), 14.

Ceriani, L., & Verme, P. (2012). The origins of the Gini index: extracts from Variabilità e Mutabilità (1912) by Corrado Gini. The Journal of Economic Inequality, 10(3), 421–443.

Cowell, F. A. (2000). Measurement of inequality. Handbook of income Distribution, 1, 87–166.

Dagum, C. (1980). The generation and distribution of income, the Lorentz curve and the Gini ratio. Economie Appliquée, 33(2), 327–367.

Gini, C. (1997). Concentration and dependency ratios. Rivista di politica economica, 87, 769–792.

Hook, D. & Szomszor, M. (2016). Examining Implications of Brexit for the UK Research Base–An analysis of the UK's competitive research funding. Digital Research Reports, May.

Khan, A., et al. (2016). Longitudinal trends in global obesity research and collaboration: A review using bibliometric metadata. Obesity Reviews, 17, 377–385.

Klein, J. T. (2008). Evaluation of interdisciplinary and transdisciplinary research: A literature review. American Journal of Preventive Medicine, 35(2), S116–S123.

Lee, W. C. (1999). Probabilistic analysis of global performances of diagnostic tests: interpreting the Lorenz curve-based summary measures. Statistics in Medicine, 18(4), 455–471.

Lopes, G. R., et al. (2012). Scientific Collaboration in Research Networks: A Quantification Method by Using Gini Coefficient. IJCSA, 9(2), 15–31.

Maddox, A., & Zhao, L. (2017). University library strategy development: A conceptual model of researcher performance to inform service delivery. New Review of Academic Librarianship, 23, 125–135.

Martín-Sánchez, F. & Gray, K. (2014). Recognition of health informatics in Australian standard classifications for research, occupation and education. In HIC.

Osipov, I. A., et al. (2016). International arctic research: Analyzing global funding trends. A pilot report. Technical Report. https://doi.org/10.6084/m9.figshare.3811224.

Van Eck, N. J., & Waltman, L. (2007). Bibliometric mapping of the computational intelligence field. International Journal of Uncertainty, Fuzziness and Knowledge-Based Systems, 15(05), 625–645.

Wang, X., et al. (2013). Experimental comparison of representation methods and distance measures for time series data. Data Mining and Knowledge Discovery, 26(2), 275–309.

World Economic Forum. (2017). The inclusive growth and development report. Cologny: World Economic Forum.

Wu, B., et al. (2012). Tourism knowledge domains: A keyword analysis. Asia Pacific Journal of Tourism Research, 17(4), 355–380.
Ethics declarations
Conflict of interest
The authors declare that they have no conflict of interest.
About this article
Cite this article
Khan, A., Choudhury, N. & Uddin, S. Few research fields play major role in interdisciplinary grant success. Scientometrics 119, 237–246 (2019). https://doi.org/10.1007/s11192-019-03043-w
Received:

Published:

Issue Date:
Keywords
Interdisciplinary research

Field of research code

Grant success