Abstract
This paper proposes to broaden by more than 10%—compared with the current practice—the set of applications for priority patents, which is used to compute worldwide patent indicators. This extension is made possible thanks to the inclusion in the corpus of documents used for the calculation of indicators of the first filing patent applications that are designated as "artificial priority patents" in the PATSTAT database and currently discarded for the production of indicators. This research aims to show how adding these "artificial" patent applications can modify the value of the worldwide patent indicators. Artificial patent applications have never been used before because they contain very scarce information in their original state. We present a methodology we have developed to, first, replenish the artificial patents with information retrieved from close patents belonging to the same INPADOC family. Then, we study in details a range of indicators characterising the trends in the internationalisation of corporate R&D inventive activities. We provide evidence that the internationalisation pattern can be modified when including replenished artificial corporate patents in the indicator calculation. At the world level, incorporating artificial priority patents does not affect the trends over time, nor introduce any significant changes in the values of the indicators. However, analyses performed at a smaller scale, such as the firms' continent level or the firms' sector, show significant changes of the level of the intercontinental internationalisation in particular for the US firms.
This is a preview of subscription content, log in to check access.
Access options
Buy single article
Instant access to the full article PDF.
US$ 39.95
Price includes VAT for USA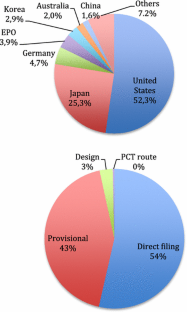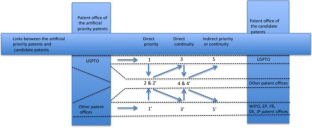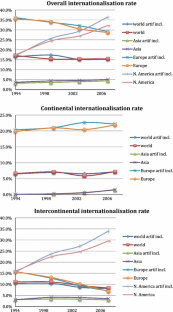 Notes
1.

According to de Rassenfosse et al. (2013), priority patents are filed in the home country in most of the large countries. By contrast, in small countries (Switzerland, the Netherlands or Belgium), first filings at EPO dominate. In Canada or Israel, priority patents are massively filed at the USPTO.

2.

Applicants can also ask for an optional "Supplementary International Search" and an "International preliminary examination".

3.

These reports are produced by one of the fifteen "International Search Authorities" (ISA) that have received the agreement by the International Bureau of WIPO. The choice of the patent office and of the ISA when filing a PCT application is strategic for many reasons: the price, the quality and the speed of production of the IS report vary.

4.

IPC codes define the technological classes to which the patent corresponds. They can be very detailed since, at the lowest level, there are around 75,000 categories.

5.

Rules for identifying the artificial applications are given in the PATSTAT database manual.

6.

"If we can not identify the application claimed as a priority with 100% certainty, we have created artificial entries in the table TLS201_APPLN for these prior applications assuming the priority data in the document is 100% accurate" (European Patent Office 2011).

7.

To be exhaustive, there is a second source of artificial patents: those mentioned in publications cited by patents but that cannot be retrieved, so called "artificial PATSTAT applications due to unknown cited publications". This paper does not cover this second source of artificial patents.

8.

Such a count is obtained using a simple query in table TLS201_APPLN.

9.

According to the figures given in the EPO Worldwide Patent Statistical Database 2016, the overall share of artificial priority patents has decreased from 10,7% in the PATSTAT 2011 to 9,8% in the PATSTAT 2016 (European Patent Office 2016).

10.

Patents of invention are patents with ipr_type = PI in PATSTAT.

11.

The share of artificial priority patents tends to decrease over time in most countries, except in Japan.

12.

12.5% of non provisional artificial patents filed in the US are priority parent patents followed by continuation patents and continuation in parts. Continuation patents permit to add new claims to the invention disclosed in the original application, while continuation in parts disclose new subject matter (Martinez 2011).

13.

Or published in the office but the information related to this filing was not transmitted by the office to the EPO.

14.

The ratio is only 44% when the EP priority is not artificial.

15.

This is why numerous US applicants often file both a US application and a PCT application choosing EPO as the ISA in order to benefit from a second opinion to complement the one originating from the US examiner.

16.

Type A refers to patent and W to PCT patents. We exclude all other type of documents such as utility models, design patents and any other type of documents.

17.

i.e. which have applied for at least 5 patents during each of the two periods of time, 1994–1996 and 2003–2005.

18.

The share of artificial patents decreases over time (from 24% in 1994 to 17% in 2009).
References
Alkemade, F., Heimeriks, G., Schoen, A., Villard, L., & Laurens, P. (2015). National and sectoral characteristics of the internationalization of the inventive activity of multinational corporations. Research Policy, 44, 1763–1772.

Chen, C. T., & Chen, D. Z. (2016). Who files provisional applications in the United States? Scientometrics, 107, 555–568.

Crouch, D. (2014). A first look at who files provisional patent applications. http://patentlyo.com/patent/2008/06/a-first-look-at.html. Accessed Nov 2017.

de Rassenfosse, G., Dernis, H., Guellec, D., Picci, L., & van Pottelsberghe de la Potterie, B. (2013). The worldwide count of priority patents: A new indicator of inventive activity. Research Policy, 42, 720–737.

Dernis, H., Dosso, M., Hervás, F., Millot, V., Squicciarini, M., & Vezzani, A. (2015). World corporate top R&D investors: Innovation and IP bundles. A JRC and OECD common report. Luxembourg: Publications Office of the European Union.

European Patent Office. (2011). Data catalog for the EPO worldwide patent statistical database.

European Patent Office. (2016). Data catalog for the EPO worldwide patent statistical database, 2016 distributed to EPO PATSTAT customers.

Frietsch, R., & Schmoch, U. (2010). Transnational patents and international markets. Scientometrics, 82(1), 185–200.

Griliches, Z. (1990). Patent statistics as economic indicators: A survey. Journal of Economic Literature, 28(4), 1661–1707.

Guellec, D., & van Pottelsberghe de la Potterie, B. (2000). Applications, grants and the value of patent. Economics Letters, 69, 109–114.

Hall, B. H., & Helmers, C. (2013). Innovation and diffusion of clean/green technology: Can patent commons help? Journal of Environmental Economics and Management, 66, 33–51.

Harhoff, D., Narin, F., & Scherer, F. M. (1999). Citation frequency and the value of patented inventions. Review of Economics and Statistics, 81, 511–515.

Harhoff, D., Scherer, F. M., & Vopel, K. (2003). Citations, family size, opposition and the value of patent rights. Research Policy, 32, 1343–1363.

Industrial R&D Investment Scoreboard Report. (2009). Institute for prospective technological studies of the European Commission IPTS. http://iri.jrc.ec.europa.eu/scoreboard12.html. Accessed Nov 2017.

IP5 Statistics Report. (2011). www.fiveipoffices.org/statistics/statisticaldata.html.

Jaffe, A. B., Trajtenberg, M., & Henderson, R. (1993). Geographic localization of knowledge spillovers as evidenced by patent citations. The Quarterly Journal of Economics, 108(3), 577–598.

Laurens, P., Le Bas, C., Schoen, A., Villard, L., & Larédo, P. (2015). The rate and motives of the internationalisation of large firm R&D (1994–2005): Towards a turning point? Research Policy, 44, 765–776.

Martinez, C. (2011). Patent families: When do different definitions really matter? Scientometrics, 86(39), 39–63.

OECD. (2009). OECD patent statistics manual (pp. 29–33). Paris: OECD Publishing.

Patel, P., & Pavitt, K. (1991). Large firms in the production of the world's technology: An important case of 'Non-Globalisation'. Journal of International Business Studies, 22(1), 1–21.

Patel, P., & Pavitt, K. (1997). The technological competencies of the world's largest firms: Complex and path-dependent, but not much variety. Research Policy, 26(2), 141–156.

Pavitt, K. (1985). Patent statistics as indicators of innovative activities: Possibilities and problems. Scientometrics, 7(1–2), 77–99.

Picci, L., & Savorelli, L. (2012). Internationalized R&D activities and technological specialization: An analysis of patent data. OECD paper. https://www1.oecd.org/site/stipatents/6-3-Picci-Savorelli.pdf. Accessed Nov 2017.

Scherer, F. M., & Harhoff, D. (2000). Technology policy for a world of skew distributed outcomes. Research Policy, 29, 559–566.

The 2014 US Global Patent & IP Trends Indicator. (2014). Inovia. www.inovia.com. Accessed July 2017.

The WIPO Patent Report. (2007). Edited by the World Intellectual Property Organisation. www.wipo.int/ipstats. Accessed Nov 2017.

World Intellectual Property Indicators. (2014). Economics and statistics series published by the World Intellectual Property Organisation.
Acknowledgements
This work was supported by RISIS, a project of the Infrastructure EU FP7 Programme. The authors would like to thank Jos Winnink from CWTS (Leiden University) for his careful reading and valuable comments.
Appendices
Appendix 1
Appendix 2
See Table 5.
Appendix 3
Share of artificial transnational priority patents in firms (priority applications: 2003–2005). See Tables 6 and 7.
About this article
Cite this article
Laurens, P., Villard, L., Schoen, A. et al. The artificial patents in the PATSTAT database: How much do they matter when computing indicators of internationalisation based on worldwide priority patents?. Scientometrics 114, 91–112 (2018). https://doi.org/10.1007/s11192-017-2578-5
Received:

Published:

Issue Date:
Keywords
R&D

Technology

Patents

Internationalisation

Indicators

Firms
Mathematics Subject Classification
JEL Classification