Abstract
In comparison to the many dozens of articles reviewing and comparing (coverage of) the Web of Science, Scopus, and Google Scholar, the bibliometric research community has paid very little attention to Microsoft Academic Search (MAS). An important reason for the bibliometric community's lack of enthusiasm might have been that MAS coverage was fairly limited, and that almost no new coverage had been added since 2012. Recently, however, Microsoft introduced a new service—Microsoft Academic—built on content that search engine Bing crawls from the web. This article assesses Microsoft Academic coverage through a detailed comparison of the publication and citation record of a single academic for each the four main citation databases: Google Scholar, Microsoft Academic, the Web of Science, and Scopus. Overall, this first small-scale case study suggests that the new incarnation of Microsoft Academic presents us with an excellent alternative for citation analysis. If our findings can be confirmed by larger-scale studies, Microsoft Academic might well turn out to combine the advantages of broader coverage, as displayed by Google Scholar, with the advantages of a more structured approach to data presentation, typical of Scopus and the Web of Science. If so, the new Microsoft Academic service would truly be a Phoenix arisen from the ashes.
This is a preview of subscription content, log in to check access.
Access options
Buy single article
Instant access to the full article PDF.
US$ 39.95
Price includes VAT for USA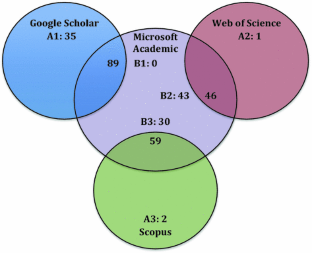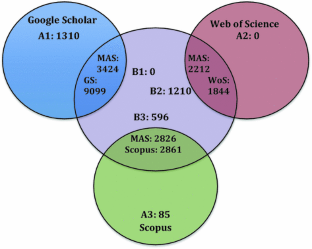 Notes
1.

Interestingly, this journal has been listed in Scopus since its first issue in 2001.

2.

This is likely to change as Scopus has recently made a firm commitment to further expand its coverage of pre-1996 publications and citations (Chrysomallis 2014).
References
Chrysomallis, M. (2014). Scopus continues to add pre-1996 citations (Web log post). http://blog.scopus.com/posts/scopus-continues-to-add-pre-1996-citations. Accessed 21 May 2016.

Delgado-López-Cózar, E., & Repiso-Caballero, R. (2013). El impacto de las revistas de comunicación: comparando Google Scholar Metrics Web of Science y Scopus. Comunicar: Revista Científica de Comunicación y Educación, 21(41), 45–52.

Haley, M. R. (2014). Ranking top economics and finance journals using Microsoft academic search versus Google scholar: How does the new publish or perish option compare? Journal of the Association for Information Science and Technology, 65(5), 1079–1084.

Harzing, A. W. (2007). Publish or Perish. Available from http://www.harzing.com/pop.htm.

Harzing, A. W., & Alakangas, S. (2016). Google Scholar, scopus and the web of science: A longitudinal and cross-disciplinary comparison. Scientometrics, 106(2), 787–804.

Harzing, A. W., Alakangas, S., & Adams, D. (2014). hIa: An individual annual h-index to accommodate disciplinary and career length differences. Scientometrics, 99(3), 811–821.

Jacsó, P. (2011). The pros and cons of Microsoft Academic Search from a bibliometric perspective. Online Information Review, 35(6), 983–997.

Orduña-Malea, E., Martín-Martín, A., Ayllon, J. M., & Delgado Lopez-Cozar, E. (2014). The silent fading of an academic search engine: the case of Microsoft Academic Search. Online Information Review, 38(7), 936–953.

Ortega, J. L. (2014). Influence of co-authorship networks in the research impact: Ego network analyses from Microsoft Academic Search. Journal of Informetrics, 8(3), 728–737.

Ortega, J. L., & Aguillo, I. F. (2014). Microsoft academic search and Google scholar citations: Comparative analysis of author profiles. Journal of the Association for Information Science and Technology, 65(6), 1149–1156.

Van Noorden, R. (2014). The decline and fall of Microsoft Academic Search (Web log post). http://blogs.nature.com/news/2014/05/the-decline-and-fall-of-microsoft-academic-search.html. Accessed 21 May 2016.

Wildgaard, L. (2015). A comparison of 17 author-level bibliometric indicators for researchers in Astronomy, environmental science, philosophy and public health in web of science and google scholar. Scientometrics, 104(3), 1–34.
About this article
Cite this article
Harzing, A. Microsoft Academic (Search): a Phoenix arisen from the ashes?. Scientometrics 108, 1637–1647 (2016). https://doi.org/10.1007/s11192-016-2026-y
Received:

Published:

Issue Date:
Keywords
Citation analysis

Microsoft Academic Search

Google Scholar

Scopus

Web of Science