Abstract
The aim of this paper is to extend our knowledge about the power-law relationship between citation-based performance and collaboration patterns for papers by analyzing its behavior at the level of a national science system. We analyzed 3012 Cuban articles on Natural Sciences that received 17,295 citations. The number of articles published through collaboration accounted for 94 %. The collaborative articles accounted for 96 % of overall citations. The citation-based performance and international collaboration patterns exhibit a power-law correlation with a scaling exponent of 1.22 ± 0.08. Citations to a field's research internationally collaborative articles in Natural Sciences tended to increase 2.1.22 or 2.33 times each time it doubles the number of internationally collaborative papers. The Matthew Effect is stronger for internationally collaborative papers than for domestic collaborative articles.
This is a preview of subscription content, log in to check access.
Access options
Buy single article
Instant access to the full article PDF.
US$ 39.95
Price includes VAT for USA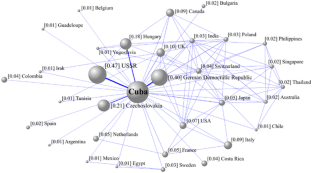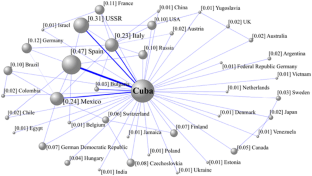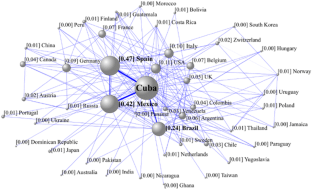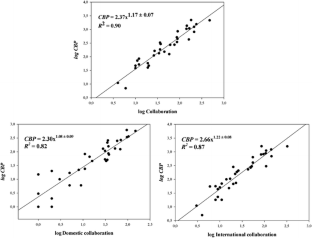 References
Adams, J., & Gurney, K. (2013). Leading research economies in a changing knowledge network. Spain. Global research digest. Retrieved from http:www.researchanalytics.thomsonreuters.com/grr.

Araujo Ruiz, J. A., van Hooydonk, G., Torricella-Morales, R. G., & Arencibia-Jorge, R. (2005). Cuban scientific articles in ISI citation indexes and CubaCiencias databases (1988–2003). Scientometrics, 65(2), 161–171. doi:10.1007/s11192-005-0265-4.

Arencibia-Jorge, R., & de Moya-Anegón, F. (2010). Challenges in the study of Cuban scientific output. Scientometrics, 83(3), 723–737. doi:10.1007/s11192-009-0150-7.

Ausloos, M. (2013). A scientometrics law about co-authors and their ranking: the co-author core. Scientometrics, 95(3), 895–909. doi:10.1007/s11192-012-0936-x.

Barabási, A. L., & Albert, R. (1999). Emergence of scaling in random networks. Science, 286(5439), 509–512. doi:10.1126/science.286.5439.509.

Bergstrom, C. T., West, J. D., & Wiseman, M. A. (2008). The eigenfactor metrics. Journal of Neuroscience, 28(45), 11433–11434. doi:10.1523/JNEUROSCI.0003-08.2008.

Clauset, A., Shalizi, C. R., & Newman, M. E. J. (2009). Power-law distributions in empirical data. SIAM Review, 51(4), 661–703.

de Bellis, N. (2009). Bibometrics and citation analysis: Fron the science citation index to cibermetrics. Toronto: The Scarecrow Press Inc.

de Solla-Price, D. (1976). A general theory of bibliometric and other cumulative advantage processes. Journal of the American Society for Information Science and Technology, 27(5), 292–306.

Dearenas, J. L., Valles, J., & Williams, D. (1994). Bibliometrics and agriculture—The Cuba case. International Forum on Information and Documentation, 19(1), 13–15.

Dewey, M. (2007). English as a lingua franca and globalization: An interconnected perspective. International Journal of Applied Linguistics, 17(3), 332–354.

Dorta-Contreras, A. J., Arencibia-Jorge, R., Marti-Lahera, Y., & Araujo-Ruiz, J. A. (2008). Productivity and visibility of Cuban neuroscientists: Bibliometric study of the period 2001–2005. Revista de Neurologia, 47(7), 355–360.

Drain, P. K., & Barry, M. (2010). Fifty years of U.S. Embargo: Cuba's health outcomes and lessons. Science, 328(5978), 572–573. doi:10.1126/science.1189680.

Gibrat, R. (1931). Les Inégalités économiques. Paris, France: Librairie du Recueil Sirey.

Merton, R. K. (1968). The matthew effect in science. Science, 159(3810), 56–63.

Merton, R. K. (1988). The Matthew effect in science, II: Cumulative advantage and the symbolism of intellectual property. Isis, 79(4), 606–623.

Newman, M. E. (2005). Power laws, Pareto distributions and Zipf's law. Contemporary Physics, 46(5), 323–325.

Pastrana, S. J. (2015). Science in U.S.-Cuba relations. Science, 348(6236), 735. doi:10.1126/science.aaa9542.

Roche, M. (1970). Notes on science in Cuba: Ample moral and financial support may soon overcome the immaturity of Cuban science and technology. Science, 169(3943), 344–349. doi:10.1126/science.169.3943.344.

Ronda-Pupo, G. A., & Diaz-Contreras, C. (2014). Relatonship between the impact of Latin American articles on management and the language in which they appear. Interciencia, 39(9), 1–9.

Ronda-Pupo, G. A., & Katz, J. S. (2015a). The power-law relationship between citation-based performance and collaboration in articles in management journals: A scale-independent approach. Journal of the Association for Information Science and Technology, in Early View.,. doi:10.1002/asi.23575.

Ronda-Pupo, G. A., & Katz, J. S. (2015b). The Scaling Relationship between Citation-Based Performance and Scientific Collaboration in Natural Sciences. Retrieved from http://arxiv.org/licenses/nonexclusive-distrib/1.0/.

Salager-Meyer, F. (2008). Scientific publishing in developing countries: Challenges for the future. Journal of English for Academic Purposes, 7(2), 121–132. doi:10.1016/j.jeap.2008.03.009.

van Raan, A. (2006). Performance-related differences of bibliometric statistical properties of research groups: Cumulative advantages and hierarchically layered networks. Journal of the American Society for Information Science and Technology, 57(14), 1919–1935. doi:10.1002/asi.20389.

van Raan, A., van Leeuwen, T. N., & Visser, M. S. (2011). Severe language effect in university rankings: particularly Germany and France are wronged in citation-based rankings. Scientometrics, 88(2), 495–498. doi:10.1007/s11192-011-0382-1.

Vidal, E. Q., Linares, M. J. P., Vera, J. A., & Sanchez, M. V. (1990). Contributions to the study of Cuban psychology and psychiatry—A bibliometric analysis of the revista hospital psiquiatrico de la habana. Revista Latinoamericana de Psicologia, 22(3), 343–356.
Acknowledgments
The authors thank Editor Glänzel and two anonymous reviewers for their constructive coments on a prevous version of the article.
About this article
Cite this article
Ronda-Pupo, G.A., Sylvan Katz, J. The scaling relationship between citation-based performance and international collaboration of Cuban articles in natural sciences. Scientometrics 107, 1423–1434 (2016). https://doi.org/10.1007/s11192-016-1939-9
Received:

Published:

Issue Date:
Keywords
Fractal

Power-law

Scale independent

Self-similar

Science system