Abstract
Despite much in-depth investigation of factors influencing the coauthorship evolution in various scientific fields, our knowledge about how efficiency or creativity is linked to the longevity of collaborative relationships remains very limited. We explore what Nobel laureates' coauthorship patterns reveal about the nature of scientific collaborations looking at the intensity and success of scientific collaborations across fields and across laureates' collaborative lifecycles in physics, chemistry, and physiology/medicine. We find that more collaboration with the same researcher is actually no better for advancing creativity: publications produced early in a sequence of repeated collaborations with a given coauthor tend to be published better and cited more than papers that come later in the collaboration with the same coauthor. Our results indicate that scientific collaboration involves conceptual complementarities that may erode over a sequence of repeated interactions.
This is a preview of subscription content, log in to check access.
Access options
Buy single article
Instant access to the full article PDF.
US$ 39.95
Price includes VAT for USA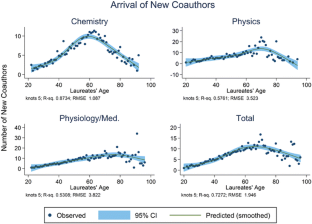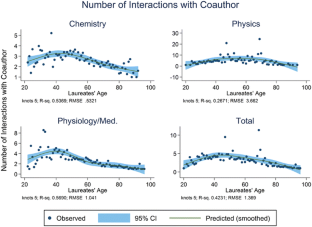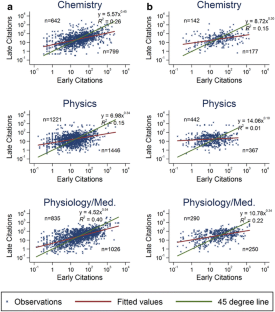 References
Adams, J. D., Black, G. C., Clemmons, J. R., & Stephan, P. E. (2005). Scientific teams and institutional collaborations: Evidence from U.S. universities, 1981–1999. Research Policy, 34, 259–285.

Biswal, A. K. (2013). An absolute index (Ab-index) to measure a researcher's useful contributions and productivity. PLoS ONE, 8(12), e84334.

Chan, H. F., Önder, A. S., & Torgler, B. (2015). Do Nobel laureates change their patterns of collaboration following the prize reception? Scientometrics, 105(3), 2215–2235.

Cronin, B. (2001). Hyperauthorship: A postmodern perversion or evidence of a structural shift in scholarly communication practices? Journal of the American Society for Information Science and Technology, 52(7), 558–569.

Greene, M. (2007). The demise of the lone author. Nature, 450, 1165.

Guimera, R., Uzzi, B., Spiro, J., & Amaral, L. A. N. (2005). Team assembly mechanisms determine collaboration network structure and team performance. Science, 308, 697–702.

Hollis, A. (2001). Co-authorship and the output of academic economists. Labour Economics, 8(4), 503–530.

Katz, J. S., & Martin, B. R. (1997). What is research collaboration? Research Policy, 26, 1–18.

Milojević, S. (2014). Principles of scientific research team formation and evolution. Proceedings of the National Academy of Sciences of the United States of America, 111, 3984–3989.

Newman, M. E. J. (2004). Who is the best connected scientist? A study of scientific coauthorship networks. In E. Ben-Naim, H. Frauenfelder, & Z. Toroczkai (Eds.), Complex networks (pp. 337–370). Berlin: Springer.

Stallings, J., Vance, E., Yang, J., Vannier, M. W., Liang, J., Pang, L., et al. (2013). Determining scientific impact using a collaboration index. Proceedings of the National Academy of Sciences of the United States of America, 110, 9680–9685.

Uzzi, B., Mukherjee, S., Stringer, M., & Jones, B. (2013). Atypical combinations and scientific impact. Science, 342, 468–472.

Whitfield, J. (2008). Group theory. Nature, 455, 720–723.

Wuchty, S., Jones, B. F., & Uzzi, B. (2007). The increasing dominance of teams in production of knowledge. Science, 316, 1036–1039.

Zuckerman, H. (1996). Scientific Elite: Nobel laureates in the united states. New Brunswick: Transaction Publishers.
Acknowledgments
For advice and suggestions, thanks are due to two anonymous referees. We acknowledge financial support from the Australian Research Council (FT110100463).
Appendix
Appendix
See Figs. 4, 5, 6, 7, 8, 9 and Tables 3, 4 and 5.
About this article
Cite this article
Chan, H.F., Önder, A.S. & Torgler, B. The first cut is the deepest: repeated interactions of coauthorship and academic productivity in Nobel laureate teams. Scientometrics 106, 509–524 (2016). https://doi.org/10.1007/s11192-015-1796-y
Received:

Published:

Issue Date:
Keywords
Innovation

Scientific collaboration

Team formation

Nobel laureates