Abstract
Increased competition due to rapid technological development pushes all participants in the market to focus on the prospect of New and Emerging Science & Technologies (NESTs). One promising NEST, dye-sensitized solar cells (DSSCs), has attracted attention in recent years. We focus on three research questions: how can we estimate DSSCs research activity trends; how can we identify DSSCs market expansion patterns; and, seeking to identify potential subsystems, what are the likely evolutionary paths of DSSCs development? In this paper, patent analysis is applied to help determine the developmental stage of a particular technology and trace its potential evolutionary pathways. In addition, since patent information can reflect commercial degree, we use patent transfer patterns to help evaluate market shift prospects.
This is a preview of subscription content, log in to check access.
Access options
Buy single article
Instant access to the full article PDF.
US$ 39.95
Price includes VAT for USA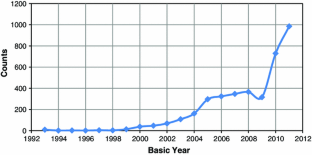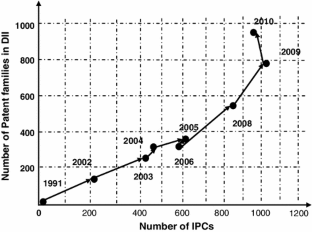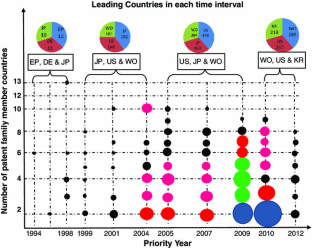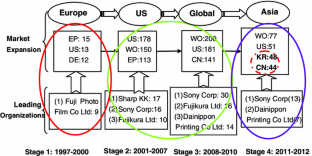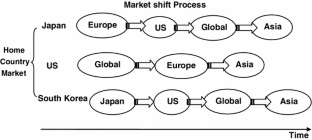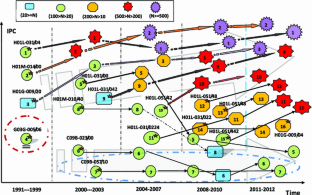 Notes
1.

Another reason to focus on multiple-country families is to avoid overemphasis on Japanese patents. The Japanese patent process differs in terms of deferred examination and more restricted scope patents. E.g. what might constitute one multi-claim EPO patent filing might be many single-claim Japanese Patent Office (JPO) patents.

2.

Reflecting the Patent Cooperation Treaty (PCT, 1970), the WIPO (a United Nations organization) does not itself grant a patent. An application to the WIPO establishes a filing date, providing time for the applicant to follow up by applying for patent protection with particular additional patent authorities. For our purposes, it serves to indicate interest (and perceived value) of seeking IP protection beyond a home country. Such patent policies change notably over time.
References
Aratani, F. (2005). The present status and future direction of technology development for photovoltaic power generation in Japan. Progress in Photovoltaics: Research and Applications, 13, 463–470.

Boyack, K. W., Borner, K., & Klavans, R. (2009). Mapping the structure and evolution of chemistry research. Scientometrics, 79(1), 45–60.

Boyack, K. W., Klavans, R., Small, H., & Ungar, L. (2012). Characterizing emergence using a detailed micro-model of science: Investigating two hot topics in nanotechnology. Technology Management for Emerging Technologies (PICMET). 2012 Proceedings of PICMET, pp. 2605–2611.

Chang, P. L., Wu, C. C., & Leu, H. J. (2010). Using patent analyses to monitor the technological trends in an emerging field of technology: A case of carbon nanotube field emission display. Scientometrics, 82, 5–19.

Conibeer, G. (2007). Third-generation photovoltaics. Materials Today, 10(11), 42–50.

Daim, T. U., Rueda, G., Martin, H., & Gerdsri, P. (2006). Forecasting emerging technologies: Use of bibliometrics and patent analysis. Technological Forecasting and Social Change, 73(8), 981–1012.

Grätzel, M. (2009). Recent advances in sensitized mesoscopic solar cells. Accounts of Chemical Research, 42(11), 1788–1798.

Green, M. A. (2003). Third generation photovoltaics: Ultra-high conversion efficiency at low cost. Progress in Photovoltaics, 9(1), 123–135.

Guo, Y., Hunag, L., & Porter, A. L. (2010). The research profiling method applied to nano-enhanced, thin-film solar cells. R&D Management, 40(2), 196–208.

Guo, Y., Ma, T. T., Porter, A. L., & Hunag, L. (2012a). Text mining of information resources to inform forecasting innovation pathways. Technology Analysis & Strategic Management, 24(8), 843–861.

Guo, Y., Xu, C., Hunag, L., & Porter, A. L. (2012b). Empirically informing a technology delivery system model for an emerging technology: Illustrated for dye-sensitized solar cells. R&D Management, 42(2), 133–149.

Jose, R., Thavasi, V., & Ramakrishna, S. (2009). Metal oxides for dye-sensitized solar cells. Journal of the American Ceramic Society, 92(2), 289–301.

Kajikawa, Y., Yoshikawa, J., Takeda, Y., & Matsushima, K. (2008). Tracking emerging technologies in energy research: Toward a roadmap for sustainable energy. Technological Forecasting and Social Change, 76(8), 1132–1133.

Ma, T., Porter, A. L., Ready, J., Xu, C., Gao, L., Wang, W., et al. (2014). A technology opportunities analysis model: Applied to dye-sensitized solar cells for China. Technology Analysis & Strategic Management, 26(1), 87–104.

Miller, D., & Friesen, P. H. A. (1984). Longitudinal study of the corporate life cycle. Management Science, 30(10), 1161–1183.

O'Regan, B., & Gratzel, M. (1991). A low-cost, high-efficiency solar-cell based on dye-sensitized colloidal TiO2 films. Nature, 353(6346), 737–740.

Robinson, D. K. R., Hunag, L., Guo, Y., & Porter, A. L. (2013). Forecasting innovation pathways (FIP) for new and emerging science and technologies. Technological Forecasting and Social Change, 80(2), 267–285.

Small, H. (1974). The structure of scientific literatures I: Identifying and graphing specialties. Science Studies, 4, 17–40.

Vernon, R. (1966). International investment and international trade in the product cycle. Quarterly Journal of Economics, 80(2), 190–207.

Winebrake, J. J. (2003). Alternate energy: Assessment and implementation reference book. Lilburn: Fairmont Press.

Yoon, J., & Kim, K. (2012). Detecting signals of new technological opportunities using semantic patent analysis and outlier detection. Scientometrics, 90, 445–461.

Zhang, Y., Zhou, X., Porter, A. L., & Gomila, J. (2013). How to combine term clumping and technology roadmapping for newly emerging science & technology competitive intelligence: The semantic TRIZ tool and case study. In 14th International Society of Scientometrics and Informetrics (ISSI) Conference Proceedings, Vienna.

Zheng, J., Zhao, Z. Y., Zhang, X., Chen, D. Z., Huang, M. H., Lei, X. P., et al. (2011). Industry evolution and key technologies in China based on patent analysis. Scientometrics, 87, 175–188.
Acknowledgments
We acknowledge support from the US National Science Foundation (Award #1064146—"Revealing Innovation Pathways: Hybrid Science Maps for Technology Assessment and Foresight" to Georgia Tech) and also from the "Center for Nanotechnology in Society" project centered at Arizona State University (Award #0937591). The findings and observations contained in this paper are those of the authors and do not necessarily reflect the views of the National Science Foundation.
About this article
Cite this article
Zhou, X., Zhang, Y., Porter, A.L. et al. A patent analysis method to trace technology evolutionary pathways. Scientometrics 100, 705–721 (2014). https://doi.org/10.1007/s11192-014-1317-4
Received:

Published:

Issue Date:
Keywords
Patent analysis

Technology evaluation

Market shift

Dye-sensitized solar cells (DSSCs)