Abstract
We introduce and evaluate a novel network-based approach for determining individual credit of coauthors in multi-authored papers. In the proposed model, coauthorship is conceptualized as a directed, weighted network, where authors transfer coauthorship credits among one another. We validate the model by fitting it to empirical data about authorship credits from economics, marketing, psychology, chemistry, and biomedicine. Also, we show that our model outperforms prior alternatives such as fractional, geometric, arithmetic, and harmonic counting in generating coauthorship credit allocations that approximate the empirical data. The results from the empirical evaluation as well as the model's capability to be adapted to domains with different norms for how to order authors per paper make the proposed model a robust and flexible framework for studying substantive questions about coauthorship across domains.
This is a preview of subscription content, log in to check access.
Access options
Buy single article
Instant access to the full article PDF.
US$ 39.95
Price includes VAT for USA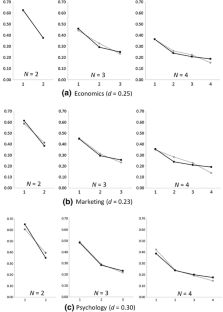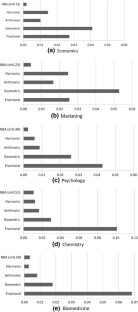 References
Beasley, B. W., & Wright, S. M. (2003). Looking forward to promotion: Characteristics of participants in the prospective study of promotion in academia. Journal of General Internal Medicine, 18(9), 705–710. doi:10.1046/j.1525-1497.2003.20639.x.

Blau, P. M. (1964). Exchange and power in social life. New York: Wiley.

Browne, M. W., Cudeck, R., Bollen, K. A., & Long, J. S. (1993). Alternative ways of assessing model fit. In K. A. Bollen & J. S. Long (Eds.), Testing structural equation models (pp. 136–162). Newbury Park, CA: Sage Publications.

Cole, J. R., & Cole, S. (1973). Social stratification in science. Chicago: University of Chicago Press.

Costas, R., & Bordons, M. (2011). Do age and professional rank influence the order of authorship in scientific publications? Some evidence from a micro-level perspective. Scientometrics, 88(1), 145–161. doi:10.1007/s11192-011-0368-z.

Egghe, L., Rousseau, R., & Van Hooydonk, G. (2000). Methods for accrediting publications to authors or countries: Consequences for evaluation studies. Journal of the American Society for Information Science, 51(2), 145–157.

Endersby, J. W. (1996). Collaborative research in the social sciences: Multiple authorship and publication credit. Social Science Quarterly, 77(2), 375–392.

Hagen, N. T. (2008). Harmonic allocation of authorship credit: Source-level correction of bibliometric bias assures accurate publication and citation analysis. PLoS ONE, 3(12), e4021.

Hagen, N. T. (2010). Harmonic publication and citation counting: Sharing authorship credit equitably—Not equally, geometrically or arithmetically. Scientometrics, 84(3), 785–793.

Hagen, N. T. (2013). Harmonic coauthor credit: A parsimonious quantification of the byline hierarchy. Journal of Informetrics, 7(4), 784–791.

He, B., Ding, Y., & Yan, E. J. (2012). Mining patterns of author orders in scientific publications. Journal of Informetrics, 6(3), 359–367. doi:10.1016/j.joi.2012.01.001.

Hodge, S. E., & Greenberg, D. A. (1981). Publication credit. Science, 213(4511), 950.

Hu, X. (2009). Loads of special authorship functions: Linear growth in the percentage of "equal first authors" and corresponding authors. Journal of the American Society for Information Science and Technology, 60(11), 2378–2381.

Hu, X., Rousseau, R., & Chen, J. (2010). In those fields where multiple authorship is the rule, the h-index should be supplemented by role-based h-indices. Journal of Information Science, 36(1), 73–85.

Hummon, N., & Doreian, P. (1989). Connectivity in a citation network: The development of DNA theory. Social Networks, 11(1), 39–63.

Jian, D., & Xiaoli, T. (2013). Perceptions of author order versus contribution among researchers with different professional ranks and the potential of harmonic counts for encouraging ethical co-authorship practices. Scientometrics, 96(1), 277–295.

Knoke, D., & Yang, S. (2008). Social network analysis. Los Angeles: Sage Publications.

Laband, D. N., & Tollison, R. D. (2000). Intellectual collaboration. Journal of Political Economy, 108(3), 632–662.

Lindsey, D. (1980). Production and citation measures in the sociology of science: The problem of multiple authorship. Social Studies of Science, 10(2), 145–162. doi:10.1177/030631278001000202.

Liu, X. Z., & Fang, H. (2012). Fairly sharing the credit of multi-authored papers and its application in the modification of h-index and g-index. Scientometrics, 91(1), 37–49. doi:10.1007/s11192-011-0571-y.

Lukovits, I., & Vinkler, P. (1995). Correct credit distribution: A model for sharing credit among coauthors. Social Indicators Research, 36(1), 91–98.

Maciejovsky, B., Budescu, D. V., & Ariely, D. (2008). The researcher as a consumer of scientific publication: How do name-ordering conventions affect inferences about contribution credits? Marketing Science, 28(3), 589–598. doi:10.1287/mksc.1080.0406.

Marušić, A., Bošnjak, L., & Jerončić, A. (2011). A systematic review of research on the meaning, ethics and practices of authorship across scholarly disciplines. PLoS ONE, 6(9), e23477.

Mattsson, P., Sundberg, C. J., & Laget, P. (2011). Is correspondence reflected in the author position? A bibliometric study of the relation between corresponding author and byline position. Scientometrics, 87(1), 99–105. doi:10.1007/s11192-010-0310-9.

Moody, J. (2004). The structure of a social science collaboration network: Disciplinary cohesion from 1963 to 1999. American Sociological Review, 69(2), 213–238.

Newman, M. E. J. (2001). The structure of scientific collaboration networks. Proceedings of the National Academy of Sciences of the United States of America, 98(2), 404–409. doi:10.1073/pnas.021544898.

Newman, M. E. J. (2004). Coauthorship networks and patterns of scientific collaboration. Proceedings of the National Academy of Sciences of the United States of America, 101, 5200–5205. doi:10.1073/pnas.0307545100.

Oppenheim, C. (1998). Fractional counting of multiauthored publications. Journal of the American Society for Information Science, 49(5), 482.

Price, D. D. (1981). Multiple authorship. Science, 212(4498), 986.

Retzer, V., & Jurasinski, G. (2009). Towards objectivity in research evaluation using bibliometric indicators—A protocol for incorporating complexity. Basic and Applied Ecology, 10(5), 393–400. doi:10.1016/j.baae.2008.09.001.

Riesenberg, D., & Lundberg, G. D. (1990). The order of coauthorship—Who's on 1st. Journal of the American Medical Association, 264(14), 1857. doi:10.1001/jama.264.14.1857.

Thomas, P. A., Diener-West, M., Canto, M. I., Martin, D. R., Post, W. S., & Streiff, M. B. (2004). Results of an academic promotion and career path survey of faculty at the Johns Hopkins University School of Medicine. Academic Medicine, 79(3), 258–264. doi:10.1097/00001888-200403000-00013.

Trueba, F. J., & Guerrero, H. (2004). A robust formula to credit authors for their publications. Scientometrics, 60(2), 181–204.

Tscharntke, T., Hochberg, M. E., Rand, T. A., Resh, V. H., & Krauss, J. (2007). Author sequence and credit for contributions in multiauthored publications. PLoS Biology, 5(1), 13–14. doi:10.1371/journal.pbio.0050018.

Van Hooydonk, G. (1997). Fractional counting of multiauthored publications: Consequences for the impact of authors. Journal of the American Society for Information Science, 48(10), 944–945.

Vinkler, P. (1993). Research contribution, authorship and team cooperativeness. Scientometrics, 26(1), 213–230.

Wager, E. (2009). Recognition, reward and responsibility: Why the authorship of scientific papers matters. Maturitas, 62(2), 109–112. doi:10.1016/j.maturitas.2008.12.001.

Waltman, L. (2012). An empirical analysis of the use of alphabetical authorship in scientific publishing. Journal of Informetrics, 6(4), 700–711. doi:10.1016/j.joi.2012.07.008.

Wan, J., Hua, P., & Rousseau, R. (2007). The pure h-index: Calculating an author's h-index by taking co-authors into account. COLLNET Journal of Scientometrics and Information Management, 1(2), 1–5.

Wray, K. B. (2002). The epistemic significance of collaborative research. Philosophy of Science, 69(1), 150–168. doi:10.1086/338946.

Wren, J. D., Kozak, K. Z., Johnson, K. R., Deakyne, S. J., Schilling, L. M., & Dellavalle, R. P. (2007). The write position—A survey of perceived contributions to papers based on byline position and number of authors. EMBO Reports, 8(11), 988–991. doi:10.1038/sj.embor.7401095.

Zbar, A., & Frank, E. (2011). Significance of authorship position: An open-ended international assessment. American Journal of the Medical Sciences, 341(2), 106–109. doi:10.1097/MAJ.0b013e3181f683a1.

Zhang, C. T. (2009). A proposal for calculating weighted citations based on author rank. EMBO Reports, 10(5), 416–417. doi:10.1038/embor.2009.74.

Zhao, D. (2006). Dispelling the myths behind first-author citation counts. Proceedings of the American Society for Information Science and Technology, 43(1), 1–16.
Acknowledgments
The authors are grateful to Professor Boris Maciejovsky for providing the dataset used in this paper and Professor Nils T. Hagen for invaluable advice on the reusable data collection. We also would like to thank anonymous reviewers who helped us to improve our paper with their insightful comments.
About this article
Cite this article
Kim, J., Diesner, J. A network-based approach to coauthorship credit allocation. Scientometrics 101, 587–602 (2014). https://doi.org/10.1007/s11192-014-1253-3
Received:

Published:

Issue Date:
Keywords
Coauthor order

Authorship credit

Coauthor networks

Bibliometrics