Abstract
This paper investigates the impact of burgeoning Chinese publication on academic alphabetical authorship in the 25 subject categories that have the highest percentage of intentionally alphabetical publications. The use of alphabetical authorship is common in the social sciences and humanities, mathematics, and in some physical disciplines. Chinese academic publication has increased rapidly in recent decades (Hong Kong and Macau were excluded from the study because Hong Kong and Macau are much more internationalized than mainland China). However, authors from mainland China do not prefer alphabetical authorship. The increase in publications from mainland China lowers the probability of intentional alphabetical authorship in the natural science and technology subject categories that we examined. In some natural science and technology categories, the influence is strong. But for the social sciences and humanities, the influence is weak, due to the lower share of world publications from mainland China. Yet, in some social science and humanities subject categories such as 'Economics', the relative share of publications from mainland China is increasing rapidly, and the results on alphabetical authorship trends will be felt in the near future.
This is a preview of subscription content, log in to check access.
Access options
Buy single article
Instant access to the full article PDF.
US$ 39.95
Price includes VAT for USA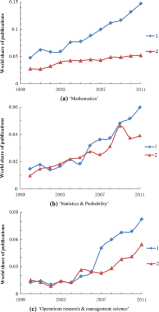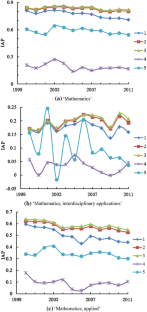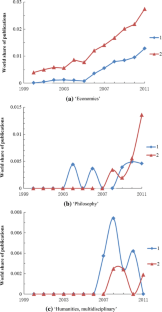 References
Birnholtz, J. P. (2006). What does it mean to be an author? The intersection of credit, contribution, and collaboration in Science. Journal of the American Society for Information Science and Technology, 57(13), 1758–1770.

Cronin, B. (2001). Hyperauthorship: A postmodern perversion or evidence of a structural shift in scholarly communication practices? Journal of the American Society for Information Science and Technology, 52(7), 558–569.

Drenth, J. P. H. (1998). Multiple Authorship. The contribution of senior authors. The Journal of the American Medical Association, 280(3), 219–221.

Egghe, L., Rousseau, R., & Van Hooydonk, G. (2000). Methods for accrediting publications to authors or countries: Consequences for evaluation studies. Journal of the American Society for Information Science, 51(2), 145–157.

Hagen, N. T. (2010). Harmonic publication and citation counting: Sharing authorship credit equitably–not equally, geometrically or arithmetically. Scientometrics, 84, 785–793.

He, B., Ding, Y., & Yan, E. (2012). Mining patterns of author orders in scientific publications. Journal of Informetrics, 6(3), 359–367.

IWCSA Report (2012). Report on the International Workshop on Contributorship and Scholarly Attribution, May 16, 2012. Harvard University and the Wellcome Trust.

Levitt, J. M., & Thelwall, M. (2013). Alphabetization and the skewing of first authorship towards last names early in the alphabet. Journal of Informetrics, 7(3), 575–582.

Liang, L., Liu, J., & Rousseau, R. (2004). Name order patterns of graduate candidates and supervisors in Chinese publications: A case study of three major Chinese universities. Scientometrics, 61(1), 3–18.

Liu, X. Z., & Fang, H. (2012). Fairly sharing the credit of multi-authored papers and its application in the modification of h-index and g-index. Scientometrics, 91(1), 37–49.

Shapiro, D. W., Wenger, N. S., & Shapiro, M. F. (1994). The contributions of authors to multiauthored biomedical research papers. The Journal of the American Medical Association, 271(6), 438–442.

Stallings, J., Vance, E., Yang, J., Vannierc, M. W., Liang, J., Pang, L., et al. (2013). Determining scientific impact using a collaboration index. PNAS, 110(24), 9680–9685.

Trueba, F. J., & Guerrero, H. (2004). A robust formula to credit authors for their publications. Scientometrics, 60(2), 181–204.

Waltman, L. (2012). An empirical analysis of the use of alphabetical authorship in scientific publishing. Journal of Informetrics, 6(4), 700–711.

Wang, X., Xu, S., Wang, Z., Peng, L., & Wang, C. (2013). International scientific collaboration of China: Collaborating countries, institutions and individuals. Scientometrics, 95(3), 885–894.

Wren, J. D., Kozak, K. Z., Johnson, K. R., Deakyne, S. J., Schilling, L. M., & Dellavalle, R. P. (2007). The write position. EMBO Reports, 8(11), 988–991.

Yank, V., & Rennie, D. (1999). Disclosure of researcher contributions: A study of original research articles in The Lancet. Annals of International Medicine, 130(8), 661–670.

Zhou, P., & Leydesdorff, L. (2008). China ranks second in scientific publications since 2006. ISSI Newsletter, 4(1), 7–9.
Acknowledgments
The authors thank Dr. Ludo Waltman and the anonymous referee for helpful suggestions. A Project Funded by the Priority Academic Program Development of Jiangsu Higher Education Institutions. This work was supported by the National Basic Research Program of China under Grant 2011CBA00107.
About this article
Cite this article
Liu, X.Z., Fang, H. The impact of publications from mainland China on the trends in alphabetical authorship. Scientometrics 99, 865–879 (2014). https://doi.org/10.1007/s11192-013-1219-x
Received:

Published:

Issue Date:
Keywords
Alphabetical authorship

Mainland China

Collaboration

World share of publications