Abstract
This article identifies scientific fields in Brazil that have been generating new knowledge, their evolution, tendencies and the relationship between scientific production and the National Postgraduate Program (Programa Nacional de Pós-Graduação—PNPG). It works with review articles and assesses: (a) articles published as reviews by international databases; (b) the growth of Brazilian participation in that context; (c) institutional participation; (d) the predominant fields of knowledge; (e) the most productive authors, and (f) periodicals that published the greatest number of review articles by Brazilian authors. The 5,348 review articles published between 2000 and 2009 were made available in 1,309 scientific publications, and the fields that published the most reviews were Pharmacology, Chemistry, Neurosciences, Biochemistry and Molecular Biology, Psychiatry, Neurology, Endocrinology and Internal Medicine. The reviews were produced by 27,096 authors under the auspices of 20 institutions which, together, answer for 95 % of the Brazilian production, and are public, excepting for the Pontifícia Universidade Católica do Rio Grande do Sul (PUC-RS). In the international scenario, we find that 31 countries are responsible for 90.11 % of the total scientific production and 94.08 % of the review articles. To establish a comparison between Brazil and its closest competitors, these countries can be classified arbitrarily in three groups: (1) countries with a large number of review articles (>3100), an average number of citations above 18, and an h-index greater than 95; (2) countries with a significant production of articles (between 2,000 and 3,000), average number of citations between 12 and 17, and an h-index below 95. Brazil is in the third group, (3) formed by countries with a lower level of production and the two qualitative indicators at opposite poles: the average of citations on a par with the first group (>18) and h-indexes like those of the second group (<95).
This is a preview of subscription content, log in to check access.
Access options
Buy single article
Instant access to the full article PDF.
US$ 39.95
Price includes VAT for USA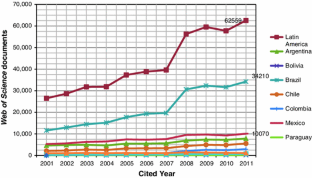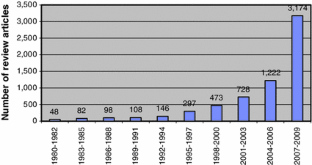 References
Almeida, E. C. E., Guimarães, J. A., & Alves, I. T. G. (2010). Dez anos do Portal de Periódicos da CAPES: histórico, evolução e utilização. RBPG. Revista Brasileira de Pós-Graduação, 7(13), 218–246.

Batovski, D. A. (2008). How to write a review article. Assumption University Journal of Technology, 11(4), 199–203.

Coutinho, R. X., Dávila, E. S., Santos, W. M., Rocha, J. B. T., Souza, D. O. G., Folmer, V., et al. (2012). Brazilian scientific production in science education. Scientometrics, 92(3), 697–710.

De Meis, L., Arruda, A. P., & Guimarães, J. A. (2007). The impact of science in Brazil. IUBMB Life, 59(4–5), 227–234.

Filgueiras, C. A. L. (1990). Origens da Ciência no Brasil. Quimica Nova, 13(3), 222–229.

GEOCAPES. (2012). http://geocapes.capes.gov.br/geocapesds/#(*).

Guimarães, J. A. (2004). A pesquisa médica e biomédica no Brasil. Comparações com o desempenho científico brasileiro e mundial. Ciência & Saúde Coletiva, 9(2), 303–327.

Guimarães, J. A., & Humann, M. (1995). Training of human resources in science and technology in Brazil: the importance of a vigorous post-graduate program and its impact on the development of the country. Scientometrics, 34(10), 101–119.

Guimarães, J. A., Oliveira, J. F. G, & Prata, A. T. (2007). Engenharia e desenvolvimento no Brasil: desafios e perspectivas. Parcerias Estratégicas, issue 25 December 2007.

King, D. A. (2004). The scientific impact of nations. Nature, 430, 311–316.

Luck, J. M. (1981). Confessions of a Biochemist. Annual Review of Biochemistry, 50, 1–23.

NATURE (2004). News in brief. Latin America records rapid rise in research publications. Nature, 432, 8.

Rapple, C. (2011). The role of the critical review article in alleviating: Information overload. Annuals Reviews white papers (14).

Taylor, D, Procter, M (2008). The literature review: a few tips on conducting it. Writing in the Health Sciences: a comprehensive guide 1(1).
Additional information
Jorge Almeida Guimarães, President of CAPES the Brazilian Federal Agency for Support and Evaluation of Graduate Education.
About this article
Cite this article
de Almeida, E.C.E., Guimarães, J.A. Brazil's growing production of scientific articles—how are we doing with review articles and other qualitative indicators?. Scientometrics 97, 287–315 (2013). https://doi.org/10.1007/s11192-013-0967-y
Received:

Published:

Issue Date:
Keywords
Brazilian science

Brazilian review articles

Scientific production

S&T qualitative data

Brazilian postgraduate programs

Growth of scientific production