Abstract
The seeking of evidence for revealing the research performance of Education in Taiwan, in response to the stimulus by the national research projects, is presented and interpreted. More than 70,000 publication records over the years 1990–2011 from Web of Science were downloaded and analyzed. The overview analysis by data aggregation and country ranking shows that Taiwan has significantly improved its publication productivity and citation impact over the last decade. The drill-down analysis based on journal bibliographic coupling, information visualization, and diversity and trend indexes, reveals that e-Learning and Science Education are two fast growing subfields that attract global interests and that Taiwan is among the top-ranked countries in these two fields in terms of research productivity. Implications of the analysis are discussed with an emphasis on the subfield characteristics from which more insightful interpretations can be obtained, such as the regional or cultural characteristics that may affect the performance ranking.
This is a preview of subscription content, log in to check access.
Access options
Buy single article
Instant access to the full article PDF.
US$ 39.95
Price includes VAT for USA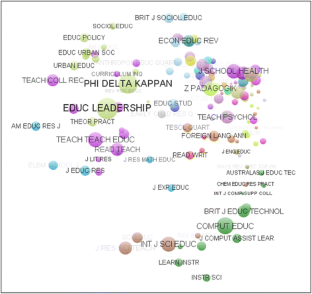 References
Ahlgren, P., & Jarneving, B. (2008). Bibliographic coupling, common abstract stems and clustering: A comparison of two document–document similarity approaches in the context of science mapping. Scientometrics, 76(2), 273–290. doi:10.1007/s11192-007-1935-1.

Archambault, É., Vignola-Gagne, É., Côté, G., Larivière, V., & Gingras, Y. (2006). Benchmarking scientific output in the social sciences and humanities: The limits of existing databases. Scientometrics, 68(3), 329–342.

Calkins, S. (1983). The new merger guidelines and the Herfindahl-Hirschman Index. California Law Review, 71(2), 402–429.

Chang, D.-f., Wu, C.-t., Ching, G., & Tang, C.-w. (2009). An evaluation of the dynamics of the plan to develop first-class universities and top-level research centers in Taiwan. Asia Pacific Education Review, 10(1), 47–57. doi:10.1007/s12564-009-9010-7.

Colman, A. M., Garner, A. B., & Jolly, S. (1992). Research performance of United Kingdom university psychology departments. Studies in Higher Education, 17(1), 97–103. doi:10.1080/03075079212331382796.

Edgar, F., & Geare, A. (2011). Factors influencing university research performance. Studies in Higher Education, 1–19. doi: 10.1080/03075079.2011.601811.

ERIC. (2012). Search & Browse the Thesaurus. Retrieved October 15, 2012, from http://www.eric.ed.gov/ERICWebPortal/thesaurus/thesaurus.jsp.

Franceschet, M., & Costantini, A. (2011). The first Italian research assessment exercise: A bibliometric perspective. [Article]. Journal of Informetrics, 5(2), 275–291. doi:10.1016/j.joi.2010.12.002.

Geuna, A., & Martin, B. R. (2003). University research evaluation and funding: An international comparison. Minerva, 41(4), 277–304. doi:10.1023/B:MINE.0000005155.70870.bd.

Hirschman, A. O. (1964). The paternity of an index. The American Economic Review, 54(5), 761.

Hou, A.-C., Ince, M., & Chiang, C.-L. (2012). A reassessment of Asian pacific excellence programs in higher education: the Taiwan experience. Scientometrics, 92(1), 23–42. doi:10.1007/s11192-012-0727-4.

Huang, M. H., & Chang, Y. W. (2008). Characteristics of research output in social sciences and humanities: From a research evaluation perspective. Journal of the American Society for Information Science and Technology, 59(11), 1819–1828. doi:10.1002/asi.20885.

Huang, M. H., Chang, H. W., & Chen, D. Z. (2006). Research evaluation of research-oriented universities in Taiwan from 1993 to 2003. Scientometrics, 67(3), 419–435. doi:10.1556/Scient.67.2006.3.6.

Kessler, M. M. (1963). Bibliographic coupling between scientific papers. American Documentation, 14(1), 10–25.

Kleiweg, P. (2008). Software for Dialectometrics and Cartography. Retrieved December 31, 2008, from http://www.let.rug.nl/~kleiweg/L04/.

Kruskal, J. B. (1997). Multidimensional scaling and other methods for discovering structure. In K. Enslein, A. Ralston, & H. S. Wilf (Eds.), Statistical methods for digital computers (pp. 296–339). New York: Wiley.

Linmans, A. J. M. (2010). Why with bibliometrics the Humanities does not need to be the weakest link—Indicators for research evaluation based on citations, library holdings, and productivity measures. Scientometrics, 83(83), 337–354.

Liston-Heyes, C., & Pilkington, A. (2004). Inventive concentration in the production of green technology: A comparative analysis of fuel cell patents. Science and Public Policy, 31(1), 15–25.

Ministry of Education. (2005). Normal University Transformation Project. Retrieved May 18, 2011, from http://www.edu.tw/files/site_content/b0037/3_8.doc.

Ministry of Education. (2006). Plan to Develop First-class Universities and Top-level Research Centers. Retrieved February 28, 2011, from http://english.moe.gov.tw/ct.asp?xItem=7131&ctNode=783&mp=1.

Moed, H. F. (2005). Citation analysis in research evaluation. The Netherlands: Springer.

Moed, H. F., Burger, W. J. M., Frankfort, J. G., & Van Raan, A. F. J. (1985). The use of bibliometric data for the measurement of university-research performance. Research Policy, 14(3), 131–149.

National Taiwan Normal University. (2005). Database of Research in Science Education. Retrieved April 1, 2011, from http://dorise.sec.ntnu.edu.tw/JCSE/.

Ni, C., & Sugimoto, C. R. (2011, October 9–12). Four-facets study of scholarly communities: artifact, producer, concept, and gatekeeper. Paper presented at the Annual Meeting of the American Society for Information Science and Technology, New Orleans, LA, USA.

OCLC. (2012). Dewey Decimal Classification summaries. Retrieved October 15, 2012, from http://www.oclc.org/dewey/resources/summaries/default.htm.

Rousseeuw, P. J. (1987). Silhouettes: A graphical aid to the interpretation and validation of cluster analysis. Journal of Computational and Applied Mathematics, 20, 53–65. doi:10.1016/0377-0427(87)90125-7.

Salton, G. (1989). Automatic text processing: The transformation, analysis, and retrieval of information by computer. Boston, MA: Addison-Wesley.

Shin, J. (2009). Building world-class research university: The brain Korea 21 project. Higher Education, 58(5), 669–688. doi:10.1007/s10734-009-9219-8.

Simpson, E. H. (1949). Measurement of diversity. Nature, 163, 688.

Small, H. G., & Koenig, M. E. D. (1977). Journal clustering using a bibliographic coupling method. Information Processing and Management, 13(5), 277–288.

Song, M–. M., & Tai, H–. H. (2007). Taiwan's responses to globalisation: Internationalisation and questing for world class universities. Asia Pacific Journal of Education, 27(3), 323–340. doi:10.1080/02188790701594067.

Spencer, R. W. (2012). Representing Trees with Dendrograms. Retrieved July 25, 2012, from http://scaledinnovation.com/analytics/trees/dendrograms.html.

TELDAP. (2008). Preface, Taiwan e-Learning and Digital Archives Program (TELDAP). Retrieved February 28, 2011, from http://teldap.tw/en/.

Tseng, Y.-H. (2010). Generic title labeling for clustered documents. Expert Systems with Applications, 37(3), 2247–2254.

Tseng, Y.-H., & Chang, C.-Y. (2010). Ranking of Taiwan's educational publications during 2005–2009. Evaluation Bimonthly, 28, 42–45.

Tseng, Y.-H., & Lin, Y.-I. (2011). The application of content mining techniques to the analysis of educational evaluation research trends. Journal of Research in Education Sciences, 56(1), 129–166.

Tseng, Y.-H., Lin, Y.-I., Lee, Y–. Y., Hung, W.-C., & Lee, C.-H. (2009). A comparison of methods for detecting hot topics. Scientometrics, 81(1), 73–90.

Tseng, Y.-H., Lin, C.-J., & Lin, Y.-I. (2007). Text mining techniques for patent analysis. Information Processing and Management, 43(5), 1216–1247.

Tseng, Y.-H., & Tsay, M.-Y. Journal clustering of library and information science for subfield delineation using the bibliometric analysis toolkit: CATAR. Scientometrics (in press).

Van Eck, N. J., & Waltman, L. (2009). VOSviewer: A computer program for bibliometric mapping. Paper presented at the the 12th International Conference on Scientometrics and Informetrics, Rio de Janeiro, Brazil.

Van Eck, N. J., & Waltman, L. (2010). Software survey: VOSviewer, a computer program for bibliometric mapping. Scientometrics, 84(2), 523–538.

Van Leeuwen, T. N., Moed, H. F., Tijssen, R. J. W., Visser, M. S., & Van Raan, A. F. J. (2001a). Language biases in the coverage of the Science Citation Index and its consequences for international comparisons of national research performance. Scientometrics, 51(1), 335–346.

Van Leeuwen, T. N., Van der Wurff, L. J., & Van Raan, A. F. J. (2001b). The use of combined bibliometric methods in research funding policy. Research Evaluation, 10(3), 195–201.

Vanecek, J., Fatun, M., & Albrecht, V. (2010). Bibliometric evaluation of the FP-5 and FP-6 results in the Czech Republic. Scientometrics, 83(1), 103–114. doi:10.1007/s11192-009-0028-8.

Zitt, M., & Bassecoulard, E. (1998). Internationalization of scientific journals: A measurement based on publication and citation scope. Scientometrics, 41(1–2), 255–271.
Acknowledgments
The authors would like to thank the anonymous reviewers for their valuable comments and helpful suggestions. This work is supported in part by the "Aim for the Top University Project" of National Taiwan Normal University (NTNU) sponsored by the Ministry of Education, Taiwan, ROC. This work is also supported in part by the National Science Council (NSC) of Taiwan under the grant NSC 100-2511-S-003-053-MY2.
Appendix
Appendix
Figure 2 lists 16 journal clusters resulted from the journal bibliographic coupling analysis. A dendrogram for each journal cluster is shown to reveal the similarity relationship among the journals. The cluster ID is followed by the number of journals in the parenthesis (e.g., cluster 1 has 13 journals), which is followed by the cluster title labeled by hand based on the cluster descriptors suggested by the analysis tool and the knowledge of the journal publishers.
About this article
Cite this article
Tseng, Y., Chang, C., Tutwiler, M.S. et al. A scientometric analysis of the effectiveness of Taiwan's educational research projects. Scientometrics 95, 1141–1166 (2013). https://doi.org/10.1007/s11192-013-0966-z
Received:

Published:

Issue Date:
Keywords
Journal clustering

Subfield identification

Research evaluation

Performance ranking

Educational research