Abstract
We evaluated earthquake research performance based on a bibliometric analysis of 84,051 documents published in journals and other outlets contained in the Scientific Citation Index (SCI) and Social Science Citation Index (SSCI) bibliographic databases for the period of 1900–2010. We summarized significant publication indicators in earthquake research, evaluated national and institutional research performance, and presented earthquake research development from a supplementary perspective. Research output descriptors suggested a solid development in earthquake research, in terms of increasing scientific production and research collaboration. We identified leading authors, institutions, and nations in earthquake research, and there was an uneven distribution of publications at authorial, institutional, and national levels. The most commonly used keywords appeared in the articles were evolution, California, deformation, model, inversion, seismicity, tectonics, crustal structure, fault, zone, lithosphere, and attenuation.
This is a preview of subscription content, log in to check access.
Access options
Buy single article
Instant access to the full article PDF.
US$ 39.95
Price includes VAT for USA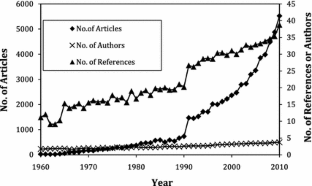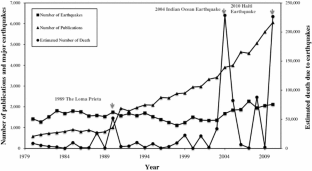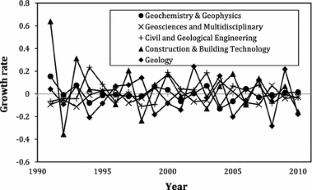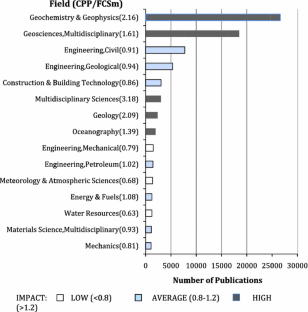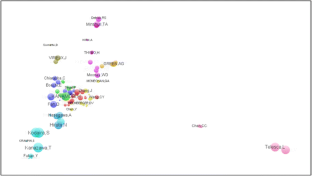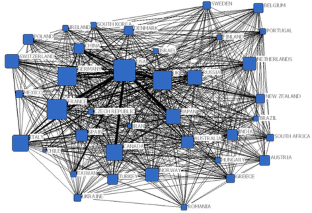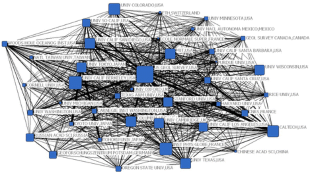 Notes
1.

Records in the SCI/SSCI databases were categorized as one of the thirty-two (32) ISI document types. A list of all document types can be found on ISI websites.
References
Andres, A. (2009). Measuring academic research: How to undertake a bibliometric study. Cambridge, UK: Chandos Publishing.

Brune, J. (1970). Tectonic stress and the spectra of seismic shear waves from earthquakes. Journal of Geophysical Research, 75, 4997–5009.

Chen, C. (2004). Searching for intellectual turning points: Progressive knowledge domain visualization. Proceedings of the National Academy of Sciences of the United States of America, 101, 5303–5310.

Chiu, W. T., & Ho, Y. S. (2007). Bibliometric analysis of tsunami research. Scientometrics, 73, 3–17.

Garfield, E. (1990). Keywords plus-ISIS breakthrough retrieval method. 1. Expanding your searching power on current-contents on diskette. Current Contents, 32, 5–9.

Geller, R. J. (1997). Earthquake prediction: A critical review. Geophysical Journal International, 131, 425–450.

Geller, R. J., Jackson, D., Kagan, Y., & Mulargia, F. (1997). Geoscience—Earthquakes cannot be predicted. Science, 275, 1616–1617.

Gokceoglu, C., Okay, A., & Sezer, E. (2008). International earth science literature from Turkey—1970–2005: Trends and possible causes. Scientometrics, 74, 409–423.

Hough, S. (2009). Predicting the unpredictable: The tumultuous science of earthquake prediction. Princeton, NJ: Princeton University Press.

Kostoff, R. N. (2000). The underpublishing of science and technology results. The Scientist, 14, 6.

Li, Y., Wen, J., Du, L., Gao, Z., Li, L., Chen, Q., et al. (2009). A comparative study on earthquake-related literature published in medical journals. Journal of Evidence-Based Medicine, 2, 252–257.

Lindell, M. (2000). Household adjustment to earthquake hazard: A review of research. Environment and Behavior, 32, 461–501.

Liu, X. J., Zhang, L., & Hong, S. (2011). Global biodiversity research during 1900–2009: A bibliometric analysis. Biodiversity Conservation, 20, 807–826.

McDonough, W., & Sun, S. (1995). The composition of the earth. Chemical Geology, 120, 223–254.

Mikki, S. (2010). Comparing google scholars and ISI web of science for earth sciences. Scientometrics, 82, 321–331.

Nederhof, A. J., Zwaan, R., De Bruin, R., & Dekker, P. (2005). Assessing the usefulness of bibliometric indicators for the humanities and the social and behavioural sciences: A comparative study. Scientometrics, 15, 423–435.

Okada, Y., Kasahara, K., Hori, S., Obara, K., Sekiguchi, S., Fujiwara, H., et al. (2004). Recent progress of seismic observation networks in Japan. Earth Planets Space, 56, xv–xxviii.

Pritchard, A. (1969). Statistical bibliography or bibliometrics. Journal of Documentation, 25, 348–349.

Rosas, S. R., Kagan, J., Schouten, J., Slack, P., & Trochim, W. (2011). Evaluating research and impact: A bibliometric analysis of research by the NIH/NIAID HIV/AIDS clinical trials networks. PLoS ONE, 6(3), e17428.

Sheeba, J., & Nithyanandam, K. (2011). Trend in earthquake research: A bibliometric analysis. International Journal of Action Research and Engineering to Eradicate Poverty, 2, 555–558.

Slyder, J., Stein, B., Sams, B., Walker, D., Beale, B., Feldhaus, J., et al. (2011). Citation pattern and lifespan: A comparison of discipline, institution, and individual. Scientometrics, 89, 955–966.

Taskin, Z. (2010). Contribution of Turkish scholars to earthquake literature: The impact of the Marmara earthquake. Communications in Computer and Information Science, 96, 222–230.

Thomson Reuter. (2010). Special topic: Earthquake > top 20 authors. Accessed December 1, 2011, from http://www.sciencewatch.com/ana/st/earthquakes2/authors/.

Tsay, M. (2011). A bibliometric analysis and comparison on three information science journals: JASIST, IPM, JOD, 1998–2008. Scientometrics, 89, 591–606.

Van Raan, A. F. J. (2000). R & D evaluation at the beginning of a new century. Research Evaluation, 8, 81–86.

Waltman, L., Van Eck, N., & Noyons, E. (2010). A unified approach to mapping and clustering of bibliometric networks. Journal of Informetrics, 4(4), 629–635.

Wells, D., & Coppersmith, K. (1994). New empirical relationships among magnitude, rupture length, rupture width, rupture area, and surface displacement. Bulletin of the Seismological Society of America, 84, 974–1002.

Wyss, M. (1997). Cannot earthquakes be predicted. Science, 278, 487–488.

Zhan, F., Zhu, Y., Ning, J., Zhou, J., Liang, W., & Wu, Y. (2011). Gravity changes before large earthquakes in China: 1998–2005. Geo-Spatial Information Science, 14, 1–9.

Zhu, Y., Zhan, F., Zhou, J., Liang, W., & Wu, Y. (2010). Gravity measurements and their variations before the 2008 Wenchuan Earthquake. Bulletin of the Seismological Society of America, 100, 2815–2824.
Acknowledgments
The authors are thankful to Prof. Yuh-Shan Ho (Peking University, China) for his pioneering work in the bibliometric methods that were employed in this study. The authors would like to thank funding support from National High-tech R&D Program of China (2009AA122001; 2011AA120304). Comments from the anonymous referees and the editor are also gratefully appreciated. All errors remain the authors' own.
About this article
Cite this article
Liu, X., Zhan, F.B., Hong, S. et al. A bibliometric study of earthquake research: 1900–2010. Scientometrics 92, 747–765 (2012). https://doi.org/10.1007/s11192-011-0599-z
Received:

Published:

Issue Date:
Keywords
Bibliometrics

Evaluation

Earthquake

Research performance