Abstract
Many forms of technology cycle models have been developed and utilized to identify new/convergent technologies and forecast social changes, and among these, the technology hype cycle introduced by Gartner has become established as an effective method that is widely utilized in the field. Despite the popularity of this commonly deployed model, however, the currently existing research literature fails to provide sufficient consideration of its theoretical frame or its empirical verification. This paper presents a new method for the empirical measurement of this hype cycle model. In particular, it presents a method for measuring the hype of the users rather than the hype cycle generated by research activities or by the media by means of analyzing the hype cycle using search traffic analysis. The analytical results derived from the case study of hybrid automobiles empirically demonstrated that following the introductory stage and the early growth stage of the life cycle, the positive hype curve and the negative hype curve, the representative figures of the hype cycle, were present in the bell curve for the users' search behavior. Based on this finding, this paper proposes a new method for measuring the users' expectation and suggests a new direction for future research that enables the forecasting of promising technologies and technological opportunities in linkage with the conventional technology life cycle model. In particular, by interpreting the empirical results using the consumer behavior model and the adoption model, this study empirically demonstrates that the characteristics of each user category can be identified through differences in the hype cycle in the process of the diffusion of new technological products discussed in the past.
This is a preview of subscription content, log in to check access.
Access options
Buy single article
Instant access to the full article PDF.
US$ 39.95
Price includes VAT for USA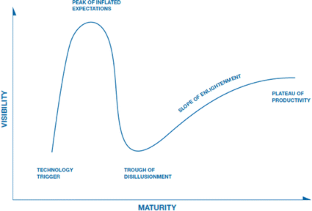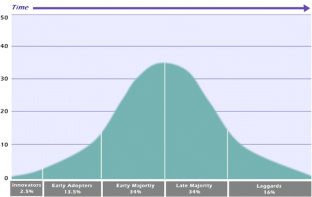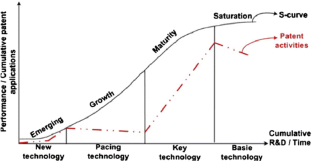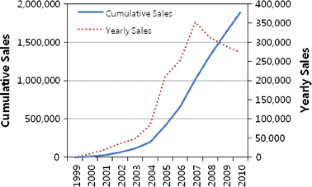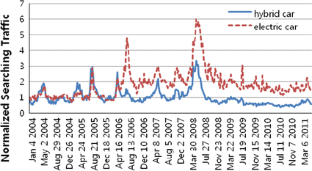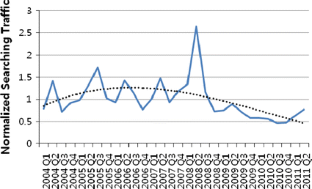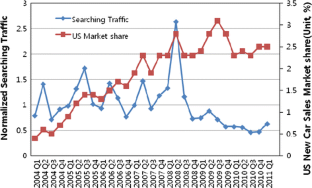 References
Bettencourt, L. M. A., Kaiser, D. A., & Kaur, J. (2008). Population modeling of the emergence and development of scientific fields. Scientometrics, 75, 495–518.

Chen, Y. H., Chen, C. Y., & Lee, S. C. (2011). Technology forecasting and patent strategy of hydrogen energy and fuel cell technologies. International Journal of Hydrogen Energy, 33, 6557–6969.

Dahlberg, T., & Hørlück, J. (2001). Internet hype overreaction—and what we can learn from it. Department of Information Systems Science, Helsinki School of Economics.

Daim, T. U., Rueda, G., Martin, H., & Gerdsri, P. (2006). Forecasting emerging technologies: Use of bibliometrics and patent analysis. Technological Forecasting and Social Change, 73, 981–1012.

Daim, T., & Suntharasaj, P. (2009). Technology diffusion: Forecasting with bibliometric analysis and Bass model. Foresight, 11(3), 45–55.

Ernst, H. (1997). The use of patent for technical forecasting: The diffusion of CNC-technology in the machine tool industry. Small Business Economics, 9(4), 361–381.

Fenn, J., & Raskino, M. (2008). Mastering the hype cycle: How to choose the right innovation at the right time. Boston: Harvard Business School Press.

Järvenpää, H. M., & Mäkinen, S. J. (2008a). An empirical study of the existence of the hype cycle: A case of DVD technology. In Engineering management conference, 2008 June (pp. 1–5).

Järvenpää, H. M., & Mäkinen, S. J. (2008b). Empirically detecting the hype cycle with the life cycle indicators: An exploratory analysis of three technologies. In Industrial engineering and engineering management conference, 2008 December

Järvenpää, H. M., Mäkinen, S. J., & Seppänen, M. (2011). Patent and publishing activity sequence over a technology's life cycle. Technical Forcasting and Social Change, 78, 283–293.

Kotler, P., & Keller, K. L. (2008). Marketing management (13th ed.). Toronto: Prentice Hall.

Lecocq, C., & Looy, B. V. (2009). The impact of collaboration on the technological performance of regions: Time invariant or driven by life cycle dynamics? Scientometrics, 80(3), 847–867.

Lee, Y. H. (2008). How to identify emerging research fields using scientometrics: An examples in the field of Information Security. Scientometrics, 76, 503–525.

Lind, J. (2004). Convergence: History of term usage and lessons for firm strategists. In: Presented at ITS 15th Biennial conference. Germany: Berlin.

Lv, P. H., Wang, G. -H., Liu, J., Liu, Q., & Ma, F. (2011). Bibliometric trend analysis on global grapheme research. Scientometrics, 88, 399–419.

Makovetskaya, O., & Bernadsky, V. (1994). Scientometric indicators for identification of technology system life cycle phase. Scientometrics, 30(1), 105–116.

Osterwalder, A. (2004). The business model ontology. A proposition in a design science approach (p. 172). Lausanne: Ecole des Hautes Etudes Commerciales.

Rogers, E. M. (2003). Diffusion of innovations (5th ed.). New York: Free Press.

Romiszowski, A. (2004). How's the E-learning baby? Factors leading to success or failure of an educational technology innovation. Educational Technology, 44, 5–27.

Shih, C., & Venkatesh, A. (2004). Beyond adoption: Development and application of a use-diffusion model. Journal off marketing, 68(1), 59–72.

Watts, R., & Porter, A. (1997). Innovation forecasting. Technical Forecasting and Social Change, 56, 25–47.

Xie, S., Zhang, J., & Ho, Y. -H. (2008). Assessment of world aerosol research trends by bibliometric analysis. Scientometrics, 77, 113–130.
About this article
Cite this article
Jun, S. An empirical study of users' hype cycle based on search traffic: the case study on hybrid cars. Scientometrics 91, 81–99 (2012). https://doi.org/10.1007/s11192-011-0550-3
Received:

Published:

Issue Date:
Keywords
Hype cycle model

Search traffic

Hybrid car

Users' hype cycle

Google trends
Mathematics Subject Classification (2000)
JEL Classification