Social comparison and risky choices
Abstract
Theories (and experiments) on decision making under risk typically ignore (and exclude) a social context. We explore whether this omission is detrimental. To do so we experimentally investigate the simplest possible situation with both social comparison and risk: participants choose between two lotteries while a referent faces a fixed payoff. Participants are more risk averse when they can earn at most as much as their referent (loss situation) than when they are ensured they will earn at least as much as their referent (gain situation). Prospect theory with a social reference point would predict the exact opposite behavior. These results show that straightforward extensions of existing theories to allow for social comparison do not provide accurate predictions.
Keywords
Decision making under risk 
Reflection effect 
Social comparison 
Social preferences 
Experiment 
JEL Classification
C91 
D81 
D03 
Using comparison to evaluate outcomes or possibilities is a regular feature of human decision making. We compare our own situation to those of others (e.g. Clark et al. 2008) and what is to what could have been (Loomes and Sugden 1982) or to what was (Kahneman and Tversky 1979) and these comparisons often affect our choices. The universal nature of comparison is emphasized by the importance of a reference point in two separate streams of research in behavioral economics: decision making under risk and social preferences. Reference points affect risk attitudes through loss aversion and probability weighting (Kahneman and Tversky 1979; Tversky and Kahneman 1992). People's social preferences, their willingness to pay to raise or lower the payoff of others, are likewise reference dependent as they are influenced by the decision maker's earnings relative to her social reference point, the earnings of a peer (Fehr and Schmidt 1999; Bolton and Ockenfels 2000).
Loss aversion features prominently both in the literature on decision making under risk and in social preference theories. In individual decision making "losses loom larger than gains" (Kahneman and Tversky 1979, p. 279) and, similarly, people care much more about being worse off than others than about being better off (e.g. Fehr and Schmidt 1999). This raises the question of whether a social reference point can also cause well-established behavioral effects of individual reference points, such as the reflection effect. This is not self evident; some studies have found that individual and social reference points have contrary effects. According to Bault et al. (2008), people may actually be gain seeking relative to a social reference point in some situations. Also, what little information there is about the effect of a social reference point on the shape of the utility function suggests that it is concave in both the gain and loss domain (Vendrik and Woltjer 2007) while for individual reference points utility is convex in the loss domain (Kahneman and Tversky 1979).
Although the previous paragraph refers to existing research that allows for some comparison between the effects of individual and social reference points, the extent of their similarity remains largely unexplored. A reason for this gap in understanding is the very different focus of the decision making under risk and social preference literatures. The focus of the first line of research on risk has led to theories that are concerned with the shape of the utility function and the effect of probabilities. Social preference researchers on the other hand are mainly concerned with factors that strengthen or weaken social preferences. Because of the different research agendas, there is not nearly enough empirical information to compare the behavioral effects of social and individual reference points.
In this paper we aim to fill some of this gap in empirical information. We explore whether a well known effect of a reference point, the reflection effect, is exhibited relative to a social reference point. The reflection effect is the behavioral regularity that when all outcomes are losses risk seeking is generally observed, while risk aversion is the norm when all outcomes are gains1 (Kahneman and Tversky 1979). If a social reference point has this effect, participants will make risk seeking choices when they know they will earn at most as much as a peer and risk averse choices when they know they will earn at least as much as a peer.
In our experiment participants are presented with such situations. Participants choose between lotteries which always yield positive earnings for the decision maker, but we manipulate the earnings of a matched participant, the referent. Particularly, we compare choices between lotteries in a loss setting (the referent earns more), a gain setting (the referent earns less) and a neutral setting (the referent earns the same). Figure 
1
gives an example of the three kinds of choice situations presented to participants. The decision maker can compare her own earnings to those of the referent but cannot affect her referent's earnings, nor does she receive any information about the decisions of others.
2
However, the decision maker's choice can be influenced by observing the earnings of another participant, her social reference point.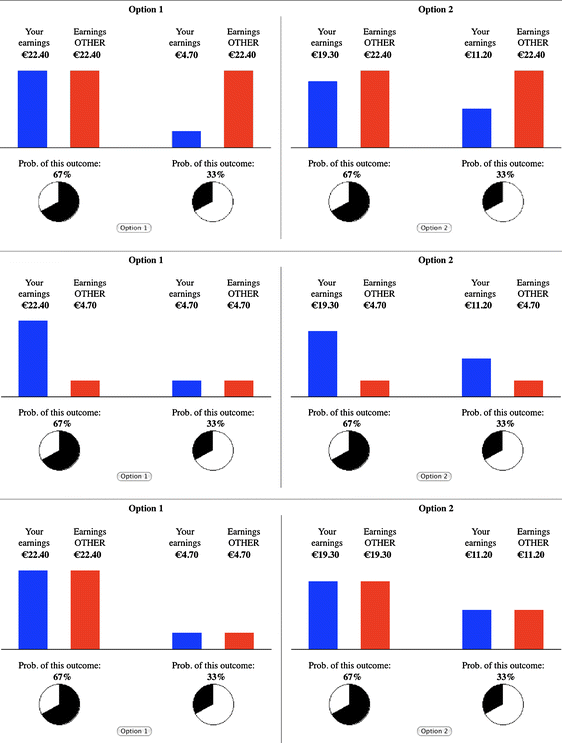 In order to make the referent more relevant, matched participants first play a Bertrand game and are shown each other's picture. The nature of the interaction between participants in the Bertrand game may affect the way they perceive the other. Participants who cooperated are likely to have a different relationship than participants who competed. Different relationships may in turn lead to a different effect of social comparison. We therefore measure the social tie between a participant and her referent.
We find that participants chose the safe lottery more often in the loss situation than in the gain situation. This result provides a clear rejection of the hypothesized reflection effect with respect to a social reference point. In fact participants were on average risk averse in all (loss, neutral and gain) situations, but more so in the loss situation. Behavior in the neutral situation is in between that in the loss and gain situations. Neither social ties nor the type of interaction in the Bertrand game mediate the social comparison effect.
The rest of this paper is structured as follows. Section 1 discusses relevant empirical and theoretical literature on both individual and social decision making and related research where both social influences and risk play a role. Section 2 explains the design of our experiment, Section 3 introduces our research questions and Section 4 provides the results. Section 5 concludes.
Notes
Open Access
This article is distributed under the terms of the Creative Commons Attribution Noncommercial License which permits any noncommercial use, distribution, and reproduction in any medium, provided the original author(s) and source are credited.