MIL-100(Fe) metal–organic framework catalyzed oxidation of phenol revisited: dark-Fenton activity of the catalyst
Abstract
This work presents the Fenton-type aqueous-phase oxidation of phenol with two MIL-100(Fe) catalysts prepared by hydrothermal and reflux methods. The catalysts were systematically characterized by infrared spectroscopy, X-ray powder diffraction, thermogravimetry, scanning electron microscopy, and surface analysis techniques. The influence of various experimental parameters on the course of the oxidation process conducted at room temperature was examined. The catalysts showed significant stability when phenol/H2O2 = 1:1 molar ratio was applied. In this case, 93% conversion was obtained with minimal iron leaching (ca. 0.2%). The hydrothermally prepared MIL-100(Fe) catalyst displayed higher catalytic activity due to its larger surface area. The results were also discussed to evaluate the "dark-Fenton" contribution of the system in "photo-Fenton" reactions previously reported with similar catalysts for phenol oxidation. This study has demonstrated that dark-Fenton reaction with MIL-100(Fe) catalysts has an important contribution to the mineralization of phenol without requiring irradiation or ZnO assistance.
Graphic abstract
A schematic illustration of the fabrication processes of MIL-100(Fe) catalysts and their use in Fenton-type phenol oxidation reaction.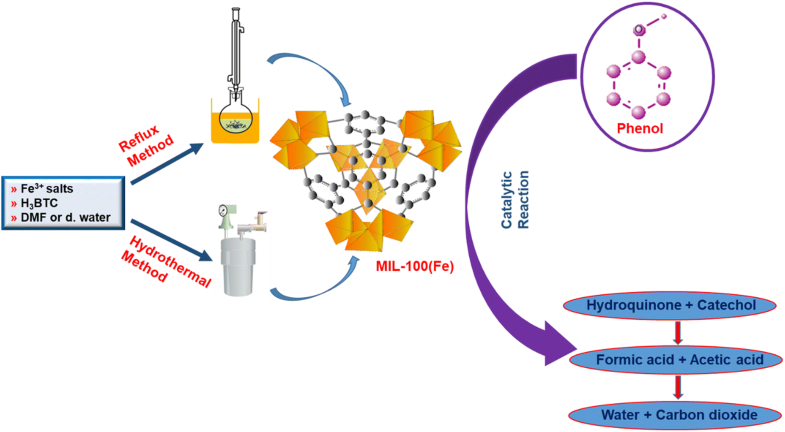 Keywords
Metal–organic framework 
MIL-100(Fe) 
Phenol oxidation 
Fenton reaction 
Hydrothermal synthesis 
BET surface area 
Notes
Acknowledgements
The authors thank the Scientific Research and Development Office of Hacettepe University (FHD-2018-16973) for financial support.
Copyright information
© Springer Nature B.V. 2019