LaFeO3 perovskite nanoparticles as high-performance reusable catalyst for convenient synthesis of β-amido ketones under mild conditions
Abstract
Perovskite-type LaFeO3 nanoparticles were successfully prepared by a simple sol–gel method and used as a highly active, heterogeneous, and reusable nanocatalyst. The prepared catalyst was characterized by scanning electron microscopy, powder X-ray diffraction analysis, energy-dispersive X-ray spectroscopy, and Fourier-transform infrared (FT-IR) spectroscopy. The catalytic activity of LaFeO3 nanocatalyst was investigated in synthesis of β-amido ketone derivatives by reaction of acetophenone, different substituted aldehydes, nitriles, and acetyl chloride. This method offers several advantages such as environmental sustainability, low catalyst loading, easy workup and purification of products, excellent yield, and catalyst reusability of at least four times without any remarkable change in catalytic activity.
Graphical abstract
Perovskite-type LaFeO
3
nanoparticles were prepared by a citric acid-based sol–gel route and successfully used as a heterogeneous and reusable nanocatalyst for convenient synthesis of β-amido ketones derivatives.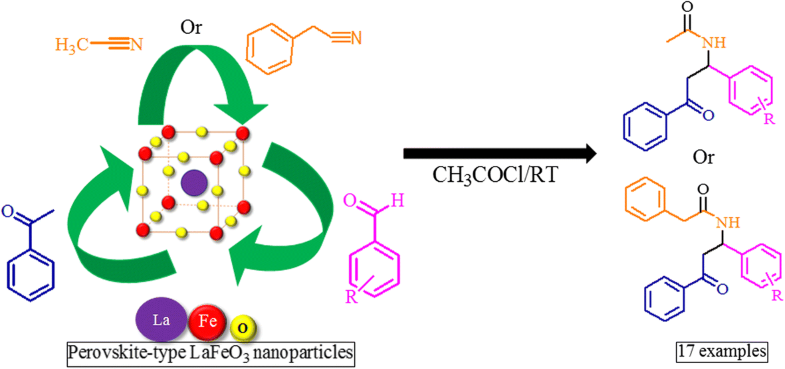 Keywords
β-Amido ketones 
Nanocatalyst 
Heterogeneous catalysis 
Perovskite-type LaFeO3 
Notes
Acknowledgements
The authors are grateful to the University of Kashan for supporting this work by grant no. 159148/69.
Copyright information
© Springer Nature B.V. 2019