Effects of climate change and fishing on the Pearl River Estuary ecosystem and fisheries
Abstract
Climate change poses a challenge to the management of marine ecosystems and fisheries. Estuarine ecosystems in particular are exposed to a broad range of environmental changes caused by the effects of climate change both on land and in the ocean, and such ecosystems have also had a long history of human disturbance from over-exploitation and habitat changes. In this study, we examine the effects of climate change and fishing on the Pearl River Estuary (PRE) ecosystem using Ecopath with Ecosim. Our results show that changes in net primary production and ocean warming are the dominant climatic factors impacting biomass and fisheries productivity in the PRE. Additionally, physiological changes of fishes and invertebrates that are induced by climate change were projected to be modified by trophic interactions. Overall, our study suggests that the combined effects of climate change and fishing will reduce the potential fisheries catches in the PRE. Reducing fishing efforts can reduce the impacts of climate change on selected functional groups; however, some prey fishes are expected to experience higher predation mortality and consequently decreases in biomass under low fishing intensity scenarios. Thus, our study highlights the non-linearity of the responses of estuarine ecosystems when climate change interacts with other human stressors.
Graphic abstract
In this study, the whole-ecosystem model (Ecopath with Ecosim) is used to examine the effects of climate change and fishing on a highly developed estuarine ecosystem (Pearl River Estuary, PRE) in the subtropical western Pacific. The oceans variables are extracted from the global earth system model (GFDL ESM2M), including changes in sea surface temperature (SST), hydrogen ion concentration (pH), dissolved oxygen (DO) concentration and net primary production (NPP) under the two scenarios RCP2.6 and RCP8.5. We developed a EwE model of the PRE ecosystem and simulated the effects of changing ocean conditions under alternative climate change scenarios as well as three fishing scenarios on the biodiversity and fisheries productivity of the PRE.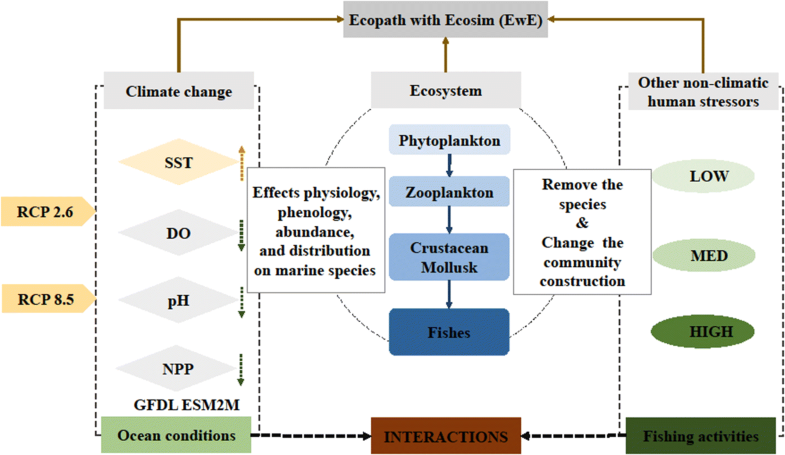 Keywords
Climate change 
Ocean warming 
Ocean acidification 
Net primary production 
Fishing effort 
Ecosim 
Pearl river estuary ecosystem 
Notes
Acknowledgements
This work is supported by the National Natural Science Foundation of China (Grant No. 41306105) and the Fundamental Research Funds for the Central Universities (Grant No. 17lgzd20) and supported by International Program for Ph.D. Candidates, Sun Yat-Sen University. We are grateful to Colette Wabnitz, Oai Li Chen, Vicky Lam, Yajie Liu, Lijie Duan and Shaotian Li, who provided very useful suggestions and comments. W. Cheung acknowledges funding support from the Nippon Founation-UBC Nereus Program and the Natural Sciences and Engineering Research Council of Canada.
Copyright information
© Springer Nature Switzerland AG 2019