The legal status of home education in post-communist countries of Central Europe
Abstract
As new laws on education were gradually adopted in post-communist states after 1989, the countries also dealt with the problem of how to include home education in their own legislation. This article investigates the development of legislation on home education in five states of post-communist Central Europe: the Czech Republic, Slovakia, Slovenia, Poland and Hungary. This analysis of the legal environment for home education confirms on the one hand that these countries' approach is similar in many aspects. Generally, laws tend to regulate home education rather strictly, all home-educated children must be enrolled at some school, and these schools are mandated by the state to serve as supervisory bodies for home-educated children. This legal arrangement puts the parents of home-schooled children in a very subordinate position in relation to the school. Despite these restrictions, however, the states have gradually opened up the option for home education to quite a broad pool of potentially interested people. On the other hand, the findings show that there are also significant differences between individual countries. These differences provide a good illustration of the fact that, despite historical, economic and cultural similarities, political institutions and state bureaucracies in individual states act autonomously, which leads to different policy outcomes.
Keywords
Home education 
Home schooling 
Alternative education 
Legislation 
Post-communist Central Europe 
Czech Republic, Hungary, Poland 
Slovakia 
Slovenia 
Résumé
Statut juridique de l'enseignement à domicile dans les pays post-communistes d'Europe centrale – En adoptant progressivement après 1989 de nouvelles lois relatives à l'éducation, les pays post-communistes se sont également penchés sur la question d'intégrer l'enseignement à domicile dans leurs législations. L'auteure de cet article examine l'élaboration des lois sur l'enseignement à domicile dans cinq États de l'Europe centrale post-communiste : la Hongrie, la Pologne, la République tchèque, la Slovaquie et la Slovénie. Cette analyse du cadre juridique de l'enseignement à domicile confirme d'une part le fait que les approches de ces pays se ressemblent à de nombreux points de vue. Ces lois ont généralement tendance à réglementer assez rigoureusement l'enseignement à domicile, tous les enfants concernés devant être inscrits dans une école, et ces établissements étant mandatés par l'État à titre d'organes de supervision. Cette disposition juridique met les parents concernés dans une position très subordonnée dans leurs relations avec l'établissement. Mais en dépit de ces restrictions, les États ouvrent progressivement l'option de l'enseignement à domicile à un nombre relativement important de personnes éventuellement intéressées. D'autre part, les résultats de cette analyse montrent qu'il existe aussi d'importantes différences entre certains pays. Ces dernières illustrent bien le fait que, malgré des similitudes historiques, économiques et culturelles, les institutions politiques et les bureaucraties des divers États agissent de manière autonome, et conçoivent des politiques distinctes.
Zusammenfassung
Der rechtliche Status von Hausunterricht in den postkommunistischen Ländern Mitteleuropas – Im Rahmen der sukzessiven Erneuerung der Bildungsgesetzgebung nach 1989 mussten sich die Gesetzgeber der postkommunistischen Staaten auch mit der Frage der rechtlichen Behandlung von Hausunterricht auseinandersetzen. Dieser Artikel untersucht die Entwicklung der rechtlichen Rahmenbedingungen für Hausunterricht in fünf Staaten des postkommunistischen Mitteleuropa: der Tschechischen Republik, der Slowakei, Slowenien, Polen und Ungarn. Das Ergebnis der Analyse bestätigt zum einen, dass die betroffenen Länder in vielerlei Hinsicht ähnliche Ansätze verfolgen. So wird der Hausunterricht im Allgemeinen streng reguliert: Alle zu Hause unterrichteten Kinder müssen in einer Schule angemeldet sein, und diese Schulen sind vom Staat ermächtigt, den häuslichen Unterricht zu überwachen. Eltern von zu Hause unterrichteten Kindern werden in ihrer Stellung den Schulen also klar untergeordnet. Trotz dieser Beschränkungen haben die Staaten schrittweise einer recht großen Zahl von potenziell Interessierten die Möglichkeit des Hausunterrichts eröffnet. Andererseits zeigen die Ergebnisse aber auch, dass es signifikante Unterschiede zwischen den untersuchten Ländern gibt. Diese Unterschiede zeigen anschaulich, dass die politischen Institutionen und staatlichen Verwaltungen in den einzelnen Staaten trotz historischer, wirtschaftlicher und kultureller Gemeinsamkeiten autonom agieren, was zu unterschiedlichen politischen Ergebnissen führt.
Resumen
El status legal de la educación en el hogar en países postcomunistas de Europa Central – Mientras se iban adoptando nuevas leyes sobre la educación en los Estados postcomunistas después de 1989, los países también tuvieron que tratar el problema de cómo incluir en sus respectivas legislaciones la educación en el hogar. En este artículo, la autora investiga el desarrollo de la legislación sobre educación en el hogar de cinco Estados en la Europa Central postcomunista: la República Checa, Eslovaquia, Eslovenia, Polonia y Hungría. Por una parte, este análisis sobre el entorno legal para la educación en el hogar confirma que el enfoque de estos países es similar en muchos aspectos. Por regla general, las leyes tienden a una regulación más bien estricta de la educación en el hogar: todos los niños educados en casa deben estar matriculados en alguna escuela, y a estas escuelas el Estado les asigna la función de ente supervisor de los niños educados en el hogar. Estas disposiciones legales colocan a los padres de niños educados en casa en una posición muy subordinada con respecto a la escuela. Pese a estas restricciones, sin embargo, los Estados han abierto gradualmente la opción de educación en el hogar para un grupo bastante amplio de personas potencialmente interesadas. Por otra parte, los resultados muestran que también existen diferencias significantes entre los países. Estas diferencias ilustran claramente el hecho de que pese a las similitudes históricas, económicas y culturales, las instituciones políticas y las burocracias de Estado en cada uno de los países actúan con autonomía, lo cual conduce a diferentes resultados en cuanto a las políticas aplicadas.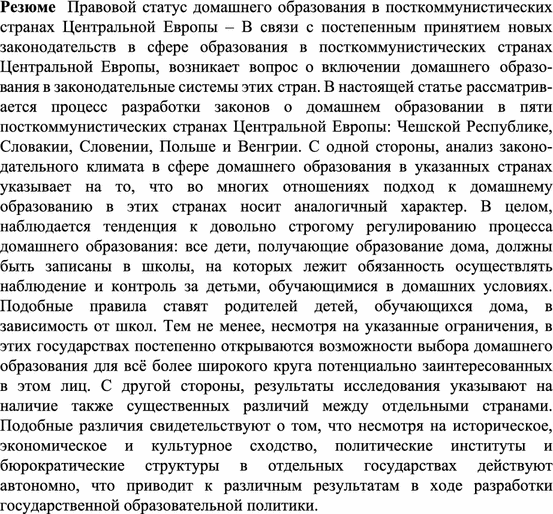 References
List of legal documents cited
Copyright information
© Springer Science+Business Media B.V. 2012