The new spatial politics of (re)bordering and (re)ordering the state-education-citizen relation
Abstract
One outcome of more than three decades of social and political transformation around the world, the result of processes broadly referred to as globalisation, has been the emergence of a complex (and at first glance, contradictory) conceptual language in the social sciences that has sought to grasp hold of these developments. Throughout the 1990s, theorists began to emphasise a world in motion, deploying concepts like "liquid modernity" (Zygmunt Bauman) to signal rapid and profound changes at work in the social structures, relations, and spatialities of societies (Neil Brenner) that were reconfiguring state-citizen relations (Saskia Sassen). Recently, however, researchers have concentrated on the study of borders and containers as a corrective to the preoccupation with mobility, arguing it is not possible to imagine a world which is only borderless and de-territorialised, because the basic ordering of social groups and societies requires categories and compartments. This paper focuses attention on processes of bordering and ordering in contemporary education systems, suggesting that comparative educators – whose main intellectual project is to understand how (different) education processes are re/produced within and across time, space and societies – would get much greater purchase on transformations currently under way.
Keywords
Globalisation 
Governance 
Bordering 
Space 
Education 
Citizenship 
Résumé
La nouvelle politique spatiale de (re)cadrage et de (ré)organisation de la relation État-éducation-citoyen – Plus de 30 ans de transformation sociale et politique dans le monde, résultat de phénomènes généralement désignés par le terme de mondialisation, ont vu l'émergence d'un langage conceptuel complexe (et à première vue contradictoire) au sein des sciences sociales, qui a tenté d'appréhender cette évolution. À partir des années 1990, les théoriciens ont commencé à mettre en avant un monde en mouvement, développant des concepts tels que « modernité fluide » (Zygmunt Bauman) pour signaler des changements rapides et profonds dans le monde du travail, les structures sociales et les relations, ou les « spatialités des sociétés » (Neil Brenner) qui reconfigurent les relations État-citoyen (Saskia Sassen). Mais ces derniers temps, les chercheurs se concentrent sur l'étude des frontières et des contenants pour compenser la préoccupation de la mobilité, avançant qu'un monde qui serait entièrement sans frontières et déterritorialisé n'est pas imaginable, puisque l'ordonnancement de base des groupes sociaux et des sociétés exige des catégories et des compartiments. L'auteure concentre ici l'attention sur les processus de définition des frontières et d'organisation dans les systèmes éducatifs contemporains, et soutient que les chercheurs en éducation comparée – dont le principal projet intellectuel consiste à saisir la manière dont les (différents) processus éducatifs sont produits et reproduits dans et à travers le temps, l'espace et les sociétés – exerceraient une influence beaucoup plus importante sur les transformations actuellement en cours.
Zusammenfassung
Die neue räumliche Politik der (Neu)abgrenzung und (Neu)ordnung der Beziehung zwischen dem Staat, der Bildung und dem Bürger – Eine Folge von mehr als drei Jahrzehnten des gesellschaftlichen und politischen Wandels auf der ganzen Welt, Ergebnis der Vorgänge, die gemeinhin als Globalisierung bezeichnet werden, ist die Herausbildung einer komplexen (und auf den ersten Blick gegensätzlichen) begrifflichen Sprache in den Sozialwissenschaften, mit der versucht wurde, diese Entwicklungen zu erfassen. Die gesamten 1990er-Jahre hindurch haben Theoretiker begonnen, eine Welt in Bewegung in den Vordergrund zu stellen. Sie setzten Begriffe wie "flüchtige Moderne"(Zygmunt Bauman) ein, um deutlich zu machen, dass sich in den gesellschaftlichen Strukturen, Beziehungen und Räumen der Gesellschaften (Neil Brenner) rasche und tiefgreifende Veränderungen vollziehen, durch die die Beziehungen zwischen Staat und Bürgern neu konfiguriert werden (Saskia Sassen). In letzter Zeit jedoch konzentrieren sich die Wissenschaftler auf die Untersuchung von Grenzen und geschlossenen Räumen als Korrektiv zur Vorherrschaft der Mobilität, mit dem Argument, dass eine gänzlich grenzenlose und ent-territorialisierte Welt nicht vorstellbar ist, weil die Grundordnung sozialer Gruppen und Gesellschaften Kategorien und Unterteilungen erfordert. Das zentrale Augenmerk dieses Aufsatzes liegt auf den Grenzziehungs- und Einordnungsprozessen in den Bildungssystemen der Gegenwart, mit der Hypothese, dass die Vertreter der vergleichenden Erziehungswissenschaft – deren intellektuelles Hauptinteresse es ist, zu verstehen, wie (unterschiedliche) Bildungsprozesse in Zeit, Raum und Gesellschaft und über deren Grenzen hinweg (re-)produziert werden – erheblich größeren Einfluss auf die sich gegenwärtig vollziehenden Umgestaltungsprozesse gewinnen werden.
Resumen
Las nuevas políticas espaciales de (re)delineamiento de fronteras y (re)ordenamiento de la relación Estado-ciudadano – Una de las consecuencias de más de tres décadas de transformación social y política a escala mundial, un resultado de procesos que comúnmente se señala como globalización, ha sido la aparición de un lenguaje conceptual complejo (y a primera vista, contradictorio) en las ciencias sociales que busca cómo captar estos desarrollos. A lo largo de los años noventa, teóricos comenzaron a enfatizar un mundo en movimiento, utilizando conceptos tales como "modernidad líquida" (Zygmunt Bauman) para señalar los rápidos y profundos cambios que se producían en las estructuras sociales, relaciones y espacialidades de sociedades (Neil Brenner), que reconfiguran las relaciones Estado-ciudadano (Saskia Sassen). Últimamente, sin embargo, los investigadores se concentran en el estudio de fronteras y contenedores como correctivo de la preocupación sobre la movilidad, argumentando que no es posible imaginar un mundo desprovisto de fronteras y desterritorializado, puesto que el ordenamiento básico de los grupos sociales y de las sociedades necesita categorías y compartimientos. Este trabajo enfoca la atención en procesos de delineamiento de fronteras y ordenamiento en los sistemas de educación contemporáneos, planteando la posibilidad que tienen los educadores comparativos, cuyo principal proyecto intelectual es entender cómo (diferentes) procesos de educación son (re)producidos dentro y a lo largo del tiempo, del espacio y de las sociedades, de abordar de forma mucho más consistente las transformaciones que están teniendo lugar.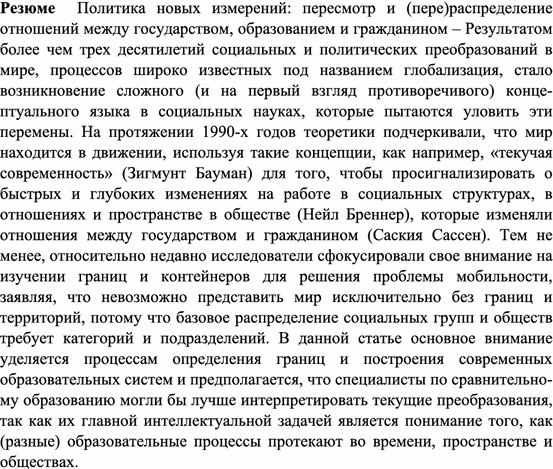 Notes
Acknowledgments
I would like to thank the organisers, particularly Professor Fatma Gök and her team, of the 14th World Congress of Comparative Education Societies, held at the University of Bogaziçi, Istanbul, June 2010, for the invitation to present this keynote address. Thank you, also, to the conference participants who engaged me in conversations around these issues, and to the anonymous reviewers for their valuable comments.
Copyright information
© Springer Science+Business Media B.V. 2011