Mouths Wide Shut: Gender-Quiet Teenage Males on Gender-Bending, Gender-Passing and Masculinities
Abstract
Through individual narratives, three adolescent males of colour reflect on their fluid masculinities in relation to ethnicity, spirituality and sexuality. The self-described gender benders examine their complex relationships and hybrid identities, which cross the various boundaries of heteronormativity routinely legitimatised through peer norms and educational practices. They voice experiences and gender performances in context of the reshaping of the school's official and unofficial heterosexist climate in which gender-bending males are often marginalised.
Keywords
Safe Space 
Multiple Masculinity 
Gender Expression 
Gender Performance 
Male Privilege 
These keywords were added by machine and not by the authors. This process is experimental and the keywords may be updated as the learning algorithm improves.
Résumé
BOUCHE GRANDE FERMÉE : LE SILENCE DES ADOLESCENTS SUR LE MÉLANGE DES IDENTITÉS SEXUELLES (GENDER-BENDING), L'APPARENCE SEXUELLE ET LES MASCULINITÉS – À travers des rÉcits individuels, trois adolescents de couleur se penchent sur leur masculinitÉ diffuse par rapport À leur ethnicitÉ, spiritualitÉ et sexualitÉ. Ces gender benders, comme ils se dÉsignent eux-mêmes, analysent leurs relations complexes et leurs identitÉs hybrides, qui franchissent les diverses limites de l'hÉtÉronormativitÉ, couramment lÉgitimÉe par les normes des pairs et les pratiques Éducatives. Ils expriment leurs expÉriences et affirmations sexuelles dans le contexte d'une redÉfinition du climat scolaire hÉtÉrosexiste, officiel et inofficiel, dans lequel ces garçons sont souvent marginalisÉs.
Zusammenfassung
MIT SCHWEIGENDER BEREDTSAMKEIT: MÄNNLICHE JUGENDLICHE MIT UNENTSCHIEDENER GESCHLECHTSROLLENIDENTITÄT ÜBER DIE AUFWEICHUNG UND DEN WECHSEL VON GESCHLECHTSROLLEN UND ÜBER MÄNNLICHKEIT – Drei mÄnnliche Heranwachsende nichtweißer Hautfarbe reflektieren in eigenen Geschichten Über ihre noch nicht fest umrissene MÄnnlichkeit mit Bezug auf EthnizitÄt, SpiritualitÄt und SexualitÄt. Die Jungen, die sich selbst als Gender bender beschreiben, also als Menschen, die sich den Normen ihrer Geschlechtsrolle zumindest zeitweise entziehen, untersuchen ihre komplexen Beziehungen und WechselidentitÄten, die die unterschiedlichen, meist durch Peer-Verhaltensnormen und Bildungspraxis legitimierten Grenzen der HeteronormativitÄt Überschreiten. Sie erzÄhlen von Erfahrungen und geschlechtsspezifischem Rollenverhalten im Kontext der Verbesserung des offiziellen und inoffiziellen heterosexistischen Schulklimas, in dem mÄnnliche Gender bender oft marginalisiert werden.
Resumen
CON LAS BOCAS BIEN CERRADAS: VARONES ADOLESCENTES, CON UNA ACTITUD TÍPICAMENTE RESERVADA DE SU GÉNERO, SOBRE TRANSGRESIÓN DE GÉNERO, TRANSICIÓN ENTRE GÉNEROS Y MASCULINIDAD – Mediante relatos individuales, tres varones adolescentes de color reflexionan sobre su fluida masculinidad en relaciÓn con etnia, espiritualidad y sexualidad. Ellos, que se autodescriben como transgresores de gÉnero, examinan sus complejas relaciones e identidades hÍbridas que atraviesan los diversos lÍmites de una heteronormatividad sistemáticamente legitimizada por normas de pares y prácticas educativas. Expresan experiencias y comportamientos de gÉnero en el contexto de una redefiniciÓn del clima heterosexista oficial y no oficial de las escuelas, donde los varones transgresores de gÉnero frecuentemente son marginados.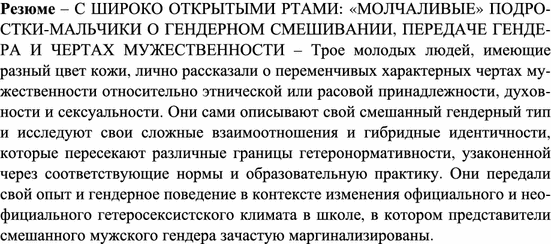 Copyright information
© Springer Science+Business Media B.V. 2009