Bone health in patients with inborn errors of metabolism
Abstract
Inborn errors of metabolism encompass a wide spectrum of disorders, frequently affecting bone. The most important metabolic disorders that primarily influence calcium or phosphate balance, resulting in skeletal pathology, are hypophosphatemic rickets and hypophosphatasia. Conditions involving bone marrow or affecting skeletal growth and development are mainly the lysosomal storage disorders, in particular the mucopolysaccharidoses. In these disorders skeletal abnormalities are often the presenting symptom and early recognition and intervention improves outcome in many of these diseases. Many disorders of intermediary metabolism may impact bone health as well, resulting in higher frequencies of osteopenia and osteoporosis. In these conditions factors contributing to the reduced bone mineralization can be the disorder itself, the strict dietary treatment, reduced physical activity or sunlight exposure and/or early ovarian failure. Awareness of these primary or secondary bone problems amongst physicians treating patients with inborn errors of metabolism is of importance for optimization bone health and recognition of skeletal complications.
Keywords
Osteopenia 
Osteoporosis 
Inborn error of metabolism 
Lysosomal storage disorder 
Skeletal dysplasia 
Bone metabolism 
1

Introduction

Bone is frequently affected by inborn errors of metabolism. Some disorders primarily affect bone and present with prominent skeletal features such as the mucopolysaccharidoses, while in other disorders the alterations, such as decreased bone mass, may be secondary to nutritional deficiencies as a consequence of strict diets, inflammatory processes, hypogonadism and/or drugs, especially anti-epileptic treatments [1]. Mirroring the range of pathophysiological mechanisms involved, therapeutic approaches will be different for the wide range of disorders. However, some generalizations can be made: in all conditions, physicians should be aware of general measures to optimize bone health such as adequate intake of calcium/phosphate and vitamin D and optimal physical activity. In patients with cognitive dysfunction, the latter can be very challenging. Early identification and management of potential risk factors is essential for skeletal health in adulthood.

In this article, we discuss primary and secondary involvement of the bone in inborn errors of metabolism. The first group includes those primarily affecting the bone marrow, mineral component or cartilage, in particular the lysosomal storage disorders, hypophosphatasia and hereditary hypophosphatemic rickets (Table

1

, Fig.

1

). The second group encompasses mainly disorders of aminoacid metabolism such as phenylketonuria, lysinuric protein intolerance and homocysteinuria (Table

2

).

Table 1

Inborn errors of metabolism primarily affecting the bone
 

Symptoms

Disorder

Additional signs

Inborn errors of calcium and phosphorus homeostasis

Short stature, lower extremity deformities;

Hereditary hypophosphatemic rickets

Fatigue and weakness decreased plasma phosphate

Perinatal: respiratory distress, hypotonia

Older:rachitis-like features, chronic pain, recurrent fractures

Hypophosphatasia

Calcific deposits; decrease plasma bone specific alkaline phosphatase

Involvement of bone marrow

Bone pain, bone crises, pathological fractures, avascular necrosis, osteoporosis

Gaucher disease type 1 or 3;

Hepatosplenomegaly, cytopenia

Arthritis, osteopenia

Niemann Pick A/B

Hepatosplenomegaly, cytopenia, interstitial lung disease

Mucopolysaccharidoses and mucolipidoses

Dysostosis multiplex Short stature

Joint stiffness or laxity (MPS IV)

MPSes and mucolipidosis type II and III

Specific facial features and skull shape, abdominal and inguinal hernias (MPSes), corneal clouding, carpal tunnel syndrome, ENT problems (MPSes), cognitive decline (MPS IH/HS, MPS II, ML II)

Miscellaneous

Osteopetrosis

Pycnodysostosis

Short stature, pathological fractures

Dysostosis multiplex

Mannosidosis

Psychiatric symptoms, corneal clouding or cataract, hearing loss, immune deficiencies, myopathy.

Progressive deformation of the spine and arthrosis of the large joints

 

Alkaptonuria

Genitourinary tract stones, cardiac valve disease, dark urine, pigmentation of the auricle and sclera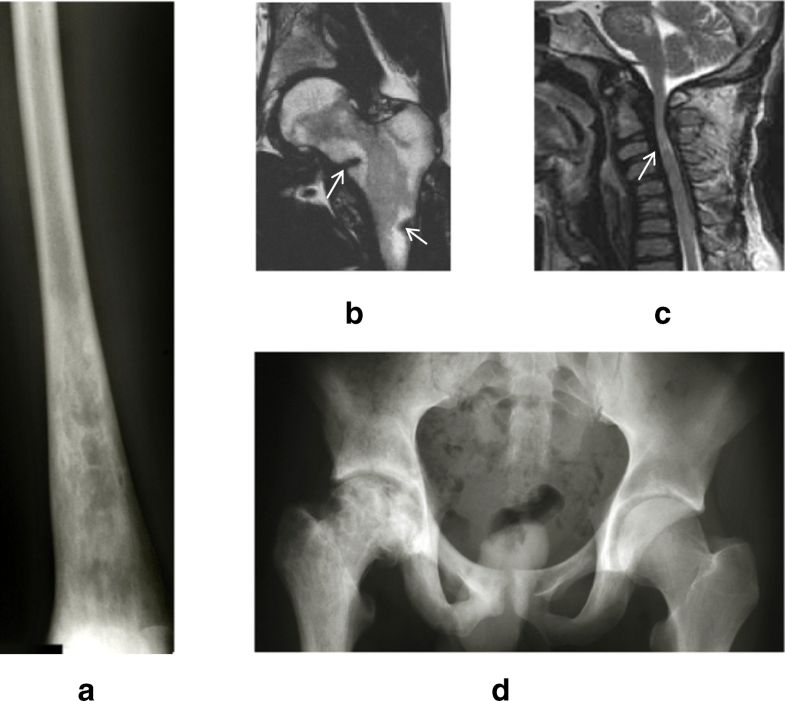 Table 2
Inborn errors of metabolism with secondary bone disease
Skeletal symptom/sign

Disorder

Additional symptoms

Osteoporosis

All inborn errors of metabolism that require strict dietary treatment

Miscellaneous; frequently neurological symptoms

Galactosemia

Cognitive impairment, primary ovarian failure, cataract*

Phenylketonuria

Cognitive impairment in untreated patients#

Homocystinuria

Marfanoid habitus, kyphosis, lens luxation, cognitive impairment

Osteoporosis

Pathological fractures

Lysinuric Protein Intolerance

Protein avoidance, gastrointestinal symptoms hyperammonaemia, lung disease

Wilson disease

Liver disease and /or neurological and psychiatric manifestations

GSD type II (Pompe disease)

Muscle weakness, secondary respiratory impairment
Finally, diagnostic strategies and general recommendations are provided.
2

Primary involvement of the skeleton
3

Secondary involvement of the skeleton

Several inherited metabolic disorders have been reported to be associated with reduced bone density (summarized in Table 2). Factors contributing to the reduced mineralization in these disorders can be the disease itself (e.g. lysinuric protein intolerance), dietary treatment (all inborn errors of protein metabolism), hypogonadism (e.g. galactosemia) and/or low vitamin D status due to reduced sunlight exposure(e.g. erythropoietic protoporphyria).
4

Diagnosis: When to suspect an inborn error of metabolism

In this section, diagnostic clues to uncover an underlying inborn error of metabolism are discussed for patients presenting with skeletal symptoms. Hence this refers to the first group discussed in this article: those with primary involvement of the skeleton. In clinical practice, patients will be referred to a specialist when they have skeletal deformities, retarded growth or both. This is particularly the case for children. In adults, more frequently subtle deformities, pain or fractures can be initial symptoms of an underlying metabolic defect. Hence, in some attenuated phenotypes, the diagnostic delay can be very long. In the current era of rapidly expanding genetic screening, whole exome sequencing may occur nowadays at an earlier stage. However, these techniques are not readily available in every center. In addition, variants of unknown significance may be discovered, which implicates that a combined approach, using important clinical, biochemical, radiological and other tools are needed for a correct diagnosis [97]. To improve awareness for metabolic disorders amongst the high number of acquired and inherited skeletal dysplasias and other factors that may affect bone, a brief summary of clues to a diagnosis of inborn errors of metabolism will be discussed (summarized in Tables 1 and 2).
4.1

Additional clinical signs or symptoms

Within the group of lysosomal storage disorders, Gaucher disease is an example of a disorder that may present with pain as a first symptom. Although in most cases splenomegaly or cytopenia are the first symptom, in rare instances patients may come to medical attention because of a skeletal problem. Severe bone crises may occur, as well as avascular necrosis of the femoral head [17]. Additional signs are typical radiographic images such as Erlenmeyer flask deformities of the femurs. Both in Gaucher disease and pycnodysostosis, pathological fractures are reported. In acid sphingomyelinase deficiency, skeletal disease is much less prominent, but arthropathy may occur. The mucopolysaccharidoses have as most prominent features the dysplasia of the skeleton, but may also also present as a first sign in attenuated phenotypes with femoral head abnormalities resembling avascular necrosis [98]). True avascular necrosis of the femoral head is more frequent in MPS III, Sanfilipo disease [99]. Early arthropathy is common, and is also the main symptom of skeletal disease in the mucolipidoses. Joint stiffness and carpal tunnel syndrome are frequent symptoms of ML III, which resembles features of MPS I and VI. In mild MPS cases, suchs as MPSI-Scheie, arthropathy of the hands may mimick rheumatological disease [100]. Arthropathy is also common in alkaptonuria and hypophosphatasia. In the latter, chronic pain may also be the result of myopathy [4]. Abnormalities of the spine can be found in Gaucher disease (pathological fractures, crises, kyphosis) and in MPS disorders (dysplasia, kypohosis, scoliosis). Osteoporosis is rarely an isolated finding and unlikely to be a presenting symptom.

Thus, in patients with joint stiffness, early arthropathy, rheumatoid factor negative arthritis, femoral head necrosis, unexplained bone pain, radiographical evidence of marrow expansion or skeletal dysplasia, especially in the presence of other features such as abnormal growth, underlying metabolic disorders should be part of the differential diagnosis.
4.2

Biochemistry

The presence of very low levels of bone-specific alkaline phosphatase and calcific deposits are a clue to the diagnosis of hypophosphatasia [11]. In hereditary hypophosphatemic rickets hypophosphatemia and low-normal circulating 1,25-dihydroxyvitamin D [1,25(OH)2D] levels are typical biochemical findings. Serum alkaline phosphatase (ALP) activity can be elevated in children and also sometimes in adult patients. Especially in patients with mild phenotypes, a low 25-vitamin D level with elevated ALP will be easily mistaken for vitamin D deficiency. The low phosphate level is the clue to the diagnosis in this case. In all other metabolic disorders presenting with skeletal features, routine biochemistry is usually normal.
4.3

Genetics

In addition to the diagnostic clues described above, appropriate genetic testing should always follow for confirmation of the diagnosis, although in some cases, enzymatic testing is the gold standard for diagnosis (e.g. in the lysosomal storage disorders). Genetic counseling is essential to find other affected family members, assist in decision making for family planning and in some cases to be able to predict disease outcome.
5

Therapy and management

Skeletal symptoms, in the form of dysplasia, arthropathy and/or reduced mineral density are part of the symptomology of a large number of inborn errors of metabolism. Due to better targeted therapies, as well as supportive care, more patients survive into adulthood and in many cases these skeletal symptoms become a more prominent feature of these disorders. This makes awareness of these skeletal symptoms as well as the options for management of the accompanying complaints all the more important.

Factors positively influencing healthy bone formation in the general population are adequate intake of calcium and vitamin D, preventing underweight, avoiding tobacco and excessive alcohol use and performance of weight bearing exercise. Their importance needs to be emphasized in the care of patients suffering from IEMs, in whom some of these aspects may provide a challenge. In case of primary ovarian failure (galactosemia) or hypogonadism (e.g. in glycogen storage disorder type I) appropriate hormone replacement therapy should be started to prevent osteopenia or osteoporosis. The role of bisphosphonate therapy in the treatment of patients with IEMs is not well established and currently the best advice is to treat osteopenia and/or osteoporosis according to general guidelines. In hereditary hypophosphatemic rickets treatment with active vitamin D and phosphate in childhood is important.

For several disorders, disease specific therapy with an effect on bone metabolism is or will become available, e.g. Asfotase alfa for hypophosphatasia, anti-IGF23 for hypophosphatemic rickets and Nitisinone for alkaptonuria. The long term effect of these drug on the skeletal manifestation of these disorders remains to be established. Pain management, physiotherapy and well timed surgical interventions, executed by a team experienced in treating these complex multisystem disorders, remain the cornerstone of disease management and their importance in maintaining mobility and improving quality of life should not be underestimated.
Notes
Compliance with ethical standards
Conflict of interest
Mirjam Langeveld and Carla Hollak have no conflict of interests concerning any aspectof the submitted work. Outside of the submitted work, they are involved in pre-marketing studies with Genzyme, Protalix and Idorsia. Financial arrangements are made through AMC Research BV. No fees, travel support or grants are obtained from the Pharmaceutical Industry.
Ethical approval
This article does not contain any studies with human participants performed by any of the authors.
References
1.

2.

3.

4.

5.

6.

7.

8.

9.

10.

11.

Ruppe MD. X-Linked Hypophosphatemia. In: Adam MP, Ardinger HH, Pagon RA, Wallace SE, Bean LJH, Stephens K et al., editors. GeneReviews((R)). Seattle (WA) 1993. Available from

http://www.ncbi.nlm.nih.gov/books/NBK83985/

PubMedPMID:22319799. Accessed 1 June 2018.

12.

13.

14.

Rothenbuhler A, Esterle L, Gueorguieva I, Salles JP, Mignot B, Colle M, et al. Two-year recombinant human growth hormone (rhGH) treatment is more effective in pre-pubertal compared to pubertal short children with X-linked hypophosphatemic rickets (XLHR). Growth Hormon IGF Res. 2017;36:11–5.

 

https://doi.org/10.1016/j.ghir.2017.08.001

.

CrossRef

Google Scholar

15.

16.

17.

18.

Schuchman EH, Wasserstein MP. Types a and B Niemann-pick disease. Pediatr Endocrinol Rev. 2016;13(Suppl 1):674–81.

PubMed

Google Scholar

19.

20.

21.

22.

23.

24.

Beck M, Braun S, Coerdt W, Merz E, Young E, Sewell AC. Fetal presentation of Morquio disease type a. Prenat Diagn. 1992;12(12):1019–29.

CrossRef

PubMed

Google Scholar

25.

26.

27.

Tomatsu S, Yasuda E, Patel P, Ruhnke K, Shimada T, Mackenzie WG, et al. Morquio a syndrome: diagnosis and current and future therapies. Pediatr Endocrinol Rev. 2014;12(Suppl 1):141–51.

PubMed

PubMedCentral

Google Scholar

28.

29.

30.

31.

32.

33.

34.

35.

36.

37.

38.

39.

40.

41.

42.

43.

44.

Bedilu R, Nummy KA, Cooper A, Wevers R, Smeitink J, Kleijer WJ, et al. Variable clinical presentation of lysosomal beta-mannosidosis in patients with null mutations. Mol Genet Metab. 2002;77(4):282–90.

Google Scholar

45.

Gelb BD, Shi GP, Chapman HA, Desnick RJ. Pycnodysostosis, a lysosomal disease caused by cathepsin K deficiency. Science. 1996;273(5279):1236–8.

CrossRef

PubMed

Google Scholar

46.

47.

48.

49.

50.

51.

Introne WJ, Gahl WA. Alkaptonuria. In: Adam MP, Ardinger HH, Pagon RA, Wallace SE, Bean LJH, Stephens K et al., editors. GeneReviews((R)). Seattle (WA) 1993. Available from

http://www.ncbi.nlm.nih.gov/books/NBK1454/

PubMed PMID: 20301627. Accessed 1 June 2018.

52.

53.

54.

Ranganath LR, Milan AM, Hughes AT, Dutton JJ, Fitzgerald R, Briggs MC, et al. Suitability of Nitisinone in Alkaptonuria 1 (SONIA 1): an international, multicentre, randomised, open-label, no-treatment controlled, parallel-group, dose-response study to investigate the effect of once daily nitisinone on 24-h urinary homogentisic acid excretion in patients with alkaptonuria after 4 weeks of treatment. Ann Rheum Dis. 2016;75(2):362–7.

 

https://doi.org/10.1136/annrheumdis-2014-206033

.

CrossRef

PubMed

Google Scholar

55.

56.

57.

58.

59.

60.

61.

62.

Mudd SH, Skovby F, Levy HL, Pettigrew KD, Wilcken B, Pyeritz RE, et al. The natural history of homocystinuria due to cystathionine beta-synthase deficiency. Am J Hum Genet. 1985;37(1):1–31.

Google Scholar

63.

64.

65.

66.

Yap S, Naughten E. Homocystinuria due to cystathionine beta-synthase deficiency in Ireland: 25 years' experience of a newborn screened and treated population with reference to clinical outcome and biochemical control. J Inherit Metab Dis. 1998;21(7):738–47.

CrossRef

PubMed

Google Scholar

67.

68.

69.

70.

Lee PJ, Patel JS, Fewtrell M, Leonard JV, Bishop NJ. Bone mineralisation in type 1 glycogen storage disease. Eur J Pediatr. 1995;154(6):483–7.

CrossRef

PubMed

Google Scholar

71.

72.

Rake JP, Visser G, Huismans D, Huitema S, van der Veer E, Piers DA, et al. Bone mineral density in children, adolescents and adults with glycogen storage disease type Ia: a cross-sectional and longitudinal study. J Inherit Metab Dis. 2003;26(4):371–84.

CrossRef

PubMed

Google Scholar

73.

74.

Melis D, Pivonello R, Cozzolino M, Della Casa R, Balivo F, Del Puente A, et al. Impaired bone metabolism in glycogen storage disease type 1 is associated with poor metabolic control in type 1a and with granulocyte colony-stimulating factor therapy in type 1b. Horm Res Paediatr. 2014;81(1):55–62.

 

https://doi.org/10.1159/000351022

.

CrossRef

PubMed

Google Scholar

75.

76.

77.

78.

79.

80.

81.

82.

83.

84.

Simell O, Perheentupa J, Rapola J, Visakorpi JK, Eskelin LE. Lysinuric protein intolerance. Am J Med. 1975;59(2):229–40.

CrossRef

PubMed

Google Scholar

85.

86.

87.

Parto K, Penttinen R, Paronen I, Pelliniemi L, Simell O. Osteoporosis in lysinuric protein intolerance. J Inherit Metab Dis. 1993;16(2):441–50.

CrossRef

PubMed

Google Scholar

88.

89.

90.

91.

92.

93.

94.

95.

96.

97.

98.

99.

100.

Cimaz R, Vijay S, Haase C, Coppa GV, Bruni S, Wraith E, et al. Attenuated type I mucopolysaccharidosis in the differential diagnosis of juvenile idiopathic arthritis: a series of 13 patients with Scheie syndrome. Clin Exp Rheumatol. 2006;24(2):196–202.

Google Scholar
Copyright information
© The Author(s) 2018
Open Access This article is distributed under the terms of the Creative Commons Attribution 4.0 International License (http://creativecommons.org/licenses/by/4.0/), which permits unrestricted use, distribution, and reproduction in any medium, provided you give appropriate credit to the original author(s) and the source, provide a link to the Creative Commons license, and indicate if changes were made.