Disorders of mitochondrial long-chain fatty acid oxidation and the carnitine shuttle
Abstract
Mitochondrial fatty acid oxidation is an essential pathway for energy production, especially during prolonged fasting and sub-maximal exercise. Long-chain fatty acids are the most abundant fatty acids in the human diet and in body stores, and more than 15 enzymes are involved in long-chain fatty acid oxidation. Pathogenic mutations in genes encoding these enzymes result in a long-chain fatty acid oxidation disorder in which the energy homeostasis is compromised and long-chain acylcarnitines accumulate. Symptoms arise or exacerbate during catabolic situations, such as fasting, illness and (endurance) exercise. The clinical spectrum is very heterogeneous, ranging from hypoketotic hypoglycemia, liver dysfunction, rhabdomyolysis, cardiomyopathy and early demise. With the introduction of several of the long-chain fatty acid oxidation disorders (lcFAOD) in newborn screening panels, also asymptomatic individuals with a lcFAOD are identified. However, despite early diagnosis and dietary therapy, a significant number of patients still develop symptoms emphasizing the need for individualized treatment strategies. This review aims to function as a comprehensive reference for clinical and laboratory findings for clinicians who are confronted with pediatric and adult patients with a possible diagnosis of a lcFAOD.
Keywords
Mitochondrial long-chain fatty acid oxidation 
ß-oxidation 
Carnitine transport 
Inborn errors of metabolism 
1

Introduction

Hypoglycemia is a common, and potentially dangerous, sign in medical practice, with an extensive number of etiologies, especially in the neonatal period. When hypoglycemia is accompanied by a low concentration, or even absence, of ketone bodies in plasma and urine, hyperinsulinism and disorders of carnitine transport and mitochondrial fatty acid oxidation, including long-chain fatty acid oxidation disorders (lcFAODs), may be involved as cause. Plasma levels of free fatty acids (FFAs) are low in hyperinsulinism due to a suppression of lipolysis, while FFAs are generally high during hypoglycemia caused by lcFAODs. In lcFAODs, FFAs are mobilized during fasting but cannot be oxidized due to an autosomal recessive inherited deficiency of one of the mitochondrial ß-oxidation enzymes. Hypoglycemia, however, is only one of the signs in lcFAODs. Before lcFAODs were included in newborn screening (NBS) panels, a considerable number of patients was diagnosed in adulthood and these patients typically presented with different clinical presentations compared to patients who presented during childhood. Following the inclusion of lcFAODs in NBS panels in many countries worldwide, the number of patients diagnosed has significantly increased and the clinical spectrum has expanded, necessitating new algorithms for choosing the optimal therapeutic strategy. This review aims to serve as a comprehensive reference for clinical and laboratory findings for those who are confronted with pediatric and adult patients with a possible diagnosis of a mitochondrial lcFAOD.
2

Mitochondrial long-chain fatty acid oxidation

Mitochondrial fatty acid oxidation is an important pathway for maintaining energy homeostasis. Especially during fasting, when glucose and glycogen stores are low, fatty acid oxidation (FAO) is a significant source of energy provision in the form of adenosine triphosphate (ATP). The majority of fatty acids are stored in the body, in particular in adipose tissue, as long-chain triglycerides (LCT). As blood glucose levels drop, triglycerides in adipose tissue are hydrolyzed and free fatty acids (FFAs) are mobilized in the blood stream and become available for other tissues [

1

,

2

]. The FFAs enter the cell via fatty acid transport systems (FAT/CD36) (Fig.

1

). Before degradation or elongation can take place, FFAs need to be activated to acyl-coenzyme A (-CoA) esters by one of a variety of different chain-length-specific synthetases localized in distinct subcellular compartments [

3

]. Medium-chain fatty acids can freely diffuse into mitochondria, whereas long-chain acyl-CoAs cannot. Instead, long-chain fatty acids are esterified with carnitine in the cytoplasm and then are transported by the carnitine shuttle. In this shuttle, the CoA group is first exchanged for carnitine in a reaction catalyzed by carnitine palmitoyltransferase 1 (CPT1), forming acylcarnitine. CPT1 is an important regulator of FAO as it is sensitive for inhibition by malonyl-CoA, formed by carboxylation of the product of fatty acid oxidation, acetyl-CoA. The acylcarnitines are imported into the mitochondrion by carnitine acylcarnitine translocase (CACT) in exchange for a free carnitine molecule. Next, the intramitochondrial acylcarnitines are reconverted to acyl-CoAs by carnitine palmitoyltransferase 2 (CPT2). The mitochondrial acyl-CoAs can subsequently be used for energy production that occurs via degradation by a series of enzymes with different chain-length specificity. The first step concerns the dehydrogenation of acyl-CoAs by different acyl-CoA dehydrogenases. In humans, the key enzymes catalyzing this step for the different chain lengths of fatty acids are very long-chain acyl-CoA dehydrogenase (VLCAD), medium-chain acyl-CoA dehydrogenase (MCAD) and short-chain acyl-CoA dehydrogenase (SCAD) [

4

]. For long-chain acyl-CoAs (chain length C14-C18), VLCAD is the main enzyme [

5

]. In rodents, the enzyme long-chain acyl-CoA dehydrogenase (LCAD) can take over part of the VLCAD function, but in humans LCAD makes little contribution to lcFAO [

6

]. Indeed, nine patients that were originally reported as LCAD-deficient, diagnosed by a reduction in palmitoyl-CoA degradation [

7

], were reported to have normal LCAD protein levels on western blot [

8

] and upon subsequent analyses many were in fact VLCAD-deficient [

9

]. Following the initial dehydrogenation, the resulting long-chain enoyl-CoAs undergo hydration, a second dehydrogenation step, and finally thiolytic cleavage catalyzed by mitochondrial trifunctional protein (MTP) [

10

]. For degradation of fatty acids with shorter chain length mitochondria have different enzymes which are outside the scope of this review but are described elsewhere [

11

]. The MTP enzyme complex harbors activity for (a) long-chain enoyl-CoA hydratase (LCEH), (b) long-chain-(S)-3-hydroxyacyl-CoA-dehydrogenase (LCHAD), and (c) long-chain-3-ketoacyl-CoA thiolase (LCKAT). These concerted activities lead to the formation of a molecule of acetyl-CoA and a shortened acyl-CoA with two carbons less. The acetyl-CoA can enter the tricarboxylic acid (TCA) cycle for production of reducing equivalents for oxidative phosphorylation resulting in ATP production, or may enter the ketone body synthesis pathway in the liver. The heart mostly depends on FAO (60–90%), even when glucose levels are high [

12

]. In contrast, the brain mostly relies on the oxidation of glucose and ketone bodies. However, there is evidence of FAO in astrocytes derived from rat brain and expression of FAO enzymes in other parts of the rat brain as well as in neural cells from human fetuses [

13

,

14

,

15

].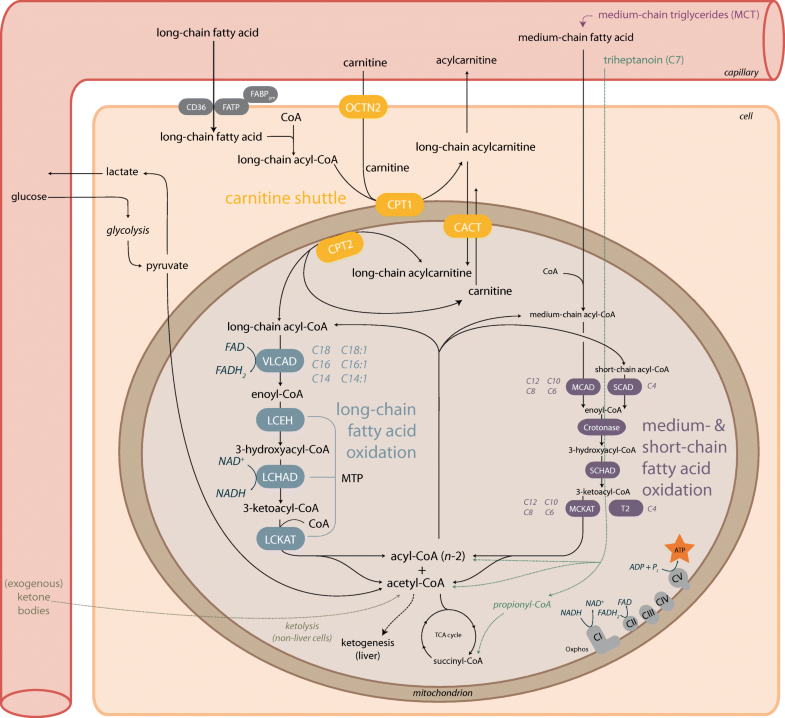 3

Clinical signs and symptoms

Inherited disorders for many of the enzymes of the FAO cascade and carnitine shuttle have been described in the past decades [16, 17, 18, 19]. These disorders give rise to a variety of clinical features especially in organs that rely on energy production by FAO, such as the heart, skeletal muscle and liver. Signs and symptoms can manifest as early as a few hours after birth, but may also only appear during adulthood, with a variation in clinical severity between patients even within the same family [20, 21, 22, 23, 24, 25, 26]. Patients with severe phenotypes can present in infancy with hypoglycemia and lactic acidosis. In rare cases, patients also have low levels of ketones, which might therefore be misinterpreted as respiratory-chain defects [27].

The clinical presentation of lcFAODs is aspecific, but a characteristic feature of the signs and symptoms in lcFAODs is the fact that they can be provoked, or aggravated, by energy requiring states such as fasting, prolonged exercise, illness, fever or a combination of these factors. The most common clinical presentations in lcFAODs are hypoketotic hypoglycemia, cardiomyopathy and myopathy. These presentations occur in combination but also isolated:
Hypoketotic hypoglycemia, sometimes resulting in convulsions, coma and brain damage, is most often seen in infancy and the early years of childhood. Hypoketotic hypoglycemia is often observed in combination with hepatomegaly, elevated transaminases, and hyperammonemia. Hepatic dysfunction is described in patients during episodes of metabolic derangement [28] and can be fatal. Chronic liver dysfunction is uncommon [23, 24, 25].

Cardiomyopathy, is most often seen in the neonatal period or early childhood, but can also develop under catabolic conditions like fasting or illness later in life. The outcome can be fatal, especially in infancy. Hypertrophy of the left ventricular wall can be observed initially, which can progress to dilated cardiomyopathy in advanced disease with reduced ejection fraction. Sometimes cardiomyopathy is accompanied by pericardial effusion. Remarkably, the cardiomyopathy can be completely reversed after treatment with medium-chain triglycerides (MCT) or the odd-chain triglyceride triheptanoin [29, 30]. Rhythm disturbances have also been reported in all lcFAODs except CPT1A deficiency, and can occur with, but also without, the presence of cardiomyopathy [20, 31].

Myopathy, by which we refer to any muscular sign or symptom, are common in lcFAOD patients. Patients may present with fatigue as myalgia, muscle weakness, exercise intolerance, myoglobinuria and recurrent rhabdomyolysis. Myopathy typically starts in puberty or adulthood, but can be observed at a younger age. Often myopathy is provoked by endurance-type exercise [23, 24, 25] but can also be seen after anesthesia or viral illness.
Distinctive features of the separate lcFAOD are discussed in Section 5.
4

Diagnostic approach for long-chain fatty acid oxidation disorders
4.1

Laboratory testing

When a patient is suspected of having an lcFAOD based on clinical signs and symptoms, the first laboratory test of choice is measurement of acylcarnitine levels in blood. It is assumed that the level of acylcarnitines in blood mirrors the accumulating acyl-CoA species inside mitochondria which cause the carnitine shuttle to operate in the reverse fashion [

32

]. CPT2 converts accumulating intramitochondrial acyl-CoAs to acylcarnitines. These are then transported back to the cytoplasm via CACT and out of the cell into the blood (Fig.

1

) [

33

]. With the development of highly sensitive techniques based on mass spectrometry to determine acylcarnitine profiles in blood, urine or dried blood spots (DBS), a fast screening method for lcFAOD has become available [

34

,

35

]. Abnormalities in the acylcarnitine profile are more pronounced during times of metabolic derangement but the acylcarnitine profile can be normal in patients when they are well [

36

,

37

,

38

,

39

]. This complicates the diagnosis, since false negative results can occur [

40

]. In addition to analysis in blood and urine, acylcarnitine profiling can also be done in cultured fibroblasts after a fatty acid loading test [

41

]. Most of the lcFAODs result in a distinctive acylcarnitine profile depending on which of the lcFAO enzymes is deficient (Table

1

). Overall lcFAO activity can also be measured in fibroblasts; a whole cell assay, using radiolabeled fatty acids as a substrate [

48

,

49

]. In addition, the activity of specific enzymes can be measured in lymphocytes or in skin fibroblasts, as these cell types express all lcFAO enzymes [

5

]. After confirmation of the enzyme deficiency, mutation analysis can uncover the underlying molecular defect in the gene coding for the mitochondrial lcFAO protein [

50

]. With the rapid development of quicker and low-cost sequencing tools, it is tempting to directly proceed to gene panel analysis or targeted sequencing after finding an abnormal acylcarnitine profile. Especially since the enzymatic assays are costly, laborious and only performed in a limited number of centers. It is likely that indeed genetic testing will become the first step in the diagnostic process. However, regularly new mutations and variants of unknown significance (VUS) are identified, requiring functional studies such as enzyme activity measurements or cellular flux analysis for confirmation of the diagnosis and characterization [

51

]. In addition, prognostic markers are still needed to predict outcome and define personalized treatment strategies [

52

].

Table 1

Acylcarnitine characteristics for lcFAODs
| Deficient enzyme | Acylcarnitine profile changes | Primary marker (NBS) | References |
| --- | --- | --- | --- |
| OCTN2 | C0↓ | C0↓ | [42] |
| CPT1A | C0↑,C2↓, acylcarnitine↓ | C0/(C16 + C18)↑ | |
| CACT | C16↑, C18↑, C18:1↑, C18:2↑ | (C16 + C18:1)/C2↑ | [41] |
| CPT2 | C16↑, C18↑, C18:1↑, C18:2↑ | (C16 + C18:1)/C2↑ | [45] |
| VLCAD | C12↑, C14↑, C14:1↑, C16↑, C18↑ | C14:1/C2↑ | |
| MTP/LCHAD | C18OH↑, C16OH↑, C16↑, C14OH↑ | C16OH↑, C18OH↑ | [47] |
4.2

Newborn screening

LcFAODs are included in NBS panels in many countries, enabling prompt treatment and precautions to avoid catabolism [53, 54]. As described above, all lcFAODs can be identified by specific acylcarnitine profiles in DBS [43, 55] (Table 1). The use of DBS for screening has several advantages over screening in plasma: only a minor amount of blood is required, and it can be easily collected, shipped and stored. Cut-off values for acylcarnitines and free carnitine in DBS vary internationally; reference ranges are collected in the Region 4 Stork (R4S) project [43]. Although DBS is good matrix for detecting most lcFAODs, acylcarnitine levels in CPT2-deficient patients can be in the normal range [56]. The use of ratios of acylcarnitines improves sensitivity [46, 57]. For example for VLCAD deficiency, the ratio of tetradecenoylcarnitine (C14:1) over acetylcarnitine (C2) resulted in less false-negative results when compared to C14:1 as the only marker [46, 57]. A potential disadvantage of a more sensitive screening is that it will likely also result in identification of asymptomatic individuals who may never develop clinical symptoms. The benefit of screening for these patients is not yet clear since their risk of developing symptoms in the future is yet unknown [55, 58]. Since the introduction of NBS, several studies reported follow-up data of VLCAD-deficient patients diagnosed by NBS who were asymptomatic at time of screening and remained so for the follow-up period of the study [21, 59, 60, 61]. However, despite NBS and subsequent early diagnosis and treatment, some patients still develop severe symptoms, including fatal metabolic derangements [21, 62, 63].
5

Overview of different long-chain fatty acid oxidation disorders
5.1

Disorders of carnitine transport
5.1.1

Primary carnitine deficiency / organic cation transporter 2 (OCTN2) deficiency / carnitine transporter disorder (CTD)
5.1.2

Carnitine Palmitoyl transferase type 1A (CPT1A) deficiency
5.1.3

Carnitine-acylcarnitine translocase (CACT) deficiency
5.1.4

Carnitine Palmitoyl transferase type 2 (CPT2) deficiency
Clinical presentation
Patients with CPT2 deficiency can present with hypoglycemia, cardiomyopathy and muscular signs and symptoms [23, 24, 106]. Similar to other lcFAODs, muscular symptoms are more prominent in adulthood or adolescence and liver-related signs and symptoms are generally seen in early childhood, but patients can present with both in different stages of life. Yet, CPT2 deficiency is often referred to as either the adult/benign form or the neonatal form, suggesting these are separate identities. In contrast to other lcFAODs, congenital malformations, such as dysmorphic features, renal cysts, intracerebral and intrahepatic calcifications have been reported in several cases that suffered from the lethal neonatal form [107, 108, 109, 110]. However, the majority of patients in literature presents in adolescence or adulthood with myopathy as first complaint [106]. Combined results of NBS programs in Australia, Germany and USA report an incidence of 1:750,000–1:2,000,000 [55], but numbers on prevalence are scarce since CPT2 deficiency has not been introduced in most NBS panels. However, many families have been reported in literature and over 300 patients have been described.
Acylcarnitine profile
CPT2 activity completes the carnitine cycle, by reconverting the acylcarnitines to acyl-CoA esters in mitochondria. The acylcarnitine profile of CPT2-deficient patients is identical to that of CACT patients, i.e. accumulation of C16-, C18- and C18:1-carnitine.
Enzymatic activity
The reaction catalyzed by CPT2 is reversible and can be measured in the forward or backward direction. In the radioisotope exchange assay, the incorporation of labeled carnitine in palmitoyl-carnitine is reflecting (backward) CPT2 activity [111, 112]. Methods to measure the physiological forward reaction have also been developed. Fibroblasts or lymphocytes are incubated with palmitoyl-carnitine, and formed palmitoyl-CoA is measured using (ultra)high performance liquid chromatography ((U)HPLC) in a medium where CPT1 is blocked in the presence of Triton X-100 [5]. For the common c.338C > T (p.S113 L) mutation overall lcFAO flux in fibroblasts can be normal at 37 °C culture conditions whereas at 41 °C the activity was clearly reduced in patient fibroblasts compared to controls [113]. Residual level of long-chain fatty acid oxidation in CPT2-deficient fibroblasts appears to be related to severity of disease [114, 115].
Molecular analysis
Around 60 mutations in the CPT2 gene (OMIM 600650) have been identified, of which most are private mutations. The c.338C > T (p.S113 L) mutation is associated with the more attenuated muscular phenotype and is relatively common with an allele frequency of up to 90% in different cohorts of patients [106, 116, 117].
5.2

Disorders of mitochondrial long-chain fatty acid oxidation
5.2.1

Very long-chain acyl-CoA dehydrogenase (VLCAD) deficiency
5.2.2

Mitochondrial trifunctional protein (MTP) deficiency/long-chain 3-Hydroxyacyl-CoA dehydrogenase (LCHAD) deficiency/long-chain 3-Ketoacyl-CoA Thiolase (LCKAT) deficiency
7

Conclusions and future perspectives

With the inclusion of lcFAODs in many newborn screening programs and improvement of diagnostic techniques more patients are diagnosed but the clinical severity varies between patients. Consequently the need for prognostic markers to predict outcome is rising. In terms of treatment, up until now, dietary strategies are the best therapeutic option, but there are several other potential treatments under investigation. Nevertheless, confirmation of effectiveness of new treatments for lcFAOD is challenging, since outcome parameters to measure functional improvement are hard to find, and because it is challenging or even impossible to collect large cohorts of patients for all lcFAODs.
Notes
Compliance with ethical standards
Conflict of interest
The authors declare that they have no conflict of interest related to this work.
Copyright information
© The Author(s) 2018
Open Access This article is distributed under the terms of the Creative Commons Attribution 4.0 International License (http://creativecommons.org/licenses/by/4.0/), which permits unrestricted use, distribution, and reproduction in any medium, provided you give appropriate credit to the original author(s) and the source, provide a link to the Creative Commons license, and indicate if changes were made.