Abstract
The oscillatory behavior during CO oxidation over Cu foil has been observed in the temperature range of 350–750 °C. The oscillatory behavior occurred in CO excess similar to the well-known oscillations during CO oxidation over Ni and Co, but in contrast to the oscillations over Pt, Pd, Ir, and Ru. The periodic variation in oxygen imbalance together with variation in color changes during the oscillations and ex situ XRD measurements indicate that the oscillations were closely connected with the reversible oxidation of Cu to Cu2O. The oscillations were accompanied by propagation of oxidation and reduction wavefronts.
This is a preview of subscription content, log in to check access.
Access options
Buy single article
Instant access to the full article PDF.
US$ 39.95
Price includes VAT for USA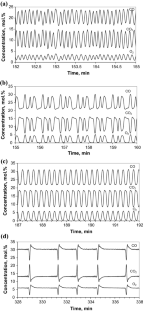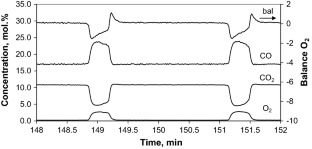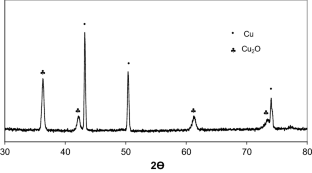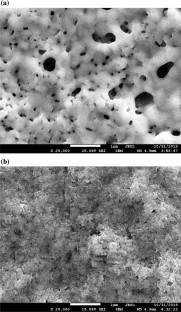 References
1.

Jiann-Horng Lin, Guliants V (2011) ChemCatChem 3:1426.

2.

Caldas PCP, Gallo JMR, Lopez-Castillo A, Zanchet D, Bueno JMC (2017) ACS Catal 7:2419

3.

Wachs IE, Madix RJ (1978) J Catal 53:208

4.

Szanyi J, Goodman DW (1993) Catal Lett 21:165

5.

Jernigan GG, Somorjai GA (1994) J Catal 147:567

6.

Domagala ME, Campbell CT (1991) Catal Lett 9:65

7.

Xu F, Mudiyanselage K, Baber AE, Soldemo M, Weissenrieder J, White MG, Stacchiola DJ (2014) J Phys Chem C 118:15902

8.

Eren B, Lichtenstein L, Wu CH, Bluhm H, Somorjai GA, Salmeron M (2015) J Phys Chem C 119:14669

9.

Bikaljevic D, Rameshan R, Köpfle N, Götsch T, Mühlegger E, Schlögl R, Penner S, Memmel N, Klötzer B (2019) Appl Catal A 572:151

10.

Svintsitskiy DA, Kardash TY, Stonkus OA, Slavinskaya EM, Stadnichenko AI, Koscheev SV, Chupakhin AP, Boronin AI (2013) J Phys Chem C 117:14588

11.

Amariglio A, Benaly O, Amariglio H (1989) J Catal 118:164

12.

Werner H, Herein D, Schulz G, Wild U, Schlögl R (1997) Catal Lett 49:109

13.

Eckert E, Hlavacek V, Marek M (1973) Chem Eng Commun 1:95

14.

Bychkov VY, Tulenin YP, Gorenberg AY, Sokolov S, Korchak VN (2014) Appl Catal A 485:1

15.

Bychkov VY, Tulenin YP, Slinko MM, Gordienko YA, Korchak VN (2018) Catal Lett 148:653

16.

Bychkov VY, Tulenin YP, Slinko MM, Gorenberg AY, Shashkin DP, Korchak VN (2019) Reac Kinet Mech Cat. https://doi.org/10.1007/s11144-019-01673-y

17.

McAdam DJ, Geil JW, Geil GW (1942) J Res Natl Bur Stand 28:593

18.

Yang F, Choi Y, Liu P, Hrbek J, Rodriguez JA (2010) J Phys Chem C 114:17042

19.

Baber AE, Xu F, Dvorak F, Mudiyanselage K, Soldemo M, Weissenrieder J, Senanayake SD, Sadowski JT, Rodriguez JA, Matolín V, White MG, Stacchiola DJ (2013) J Am Chem Soc 135:16781

20.

Makeev AG, Peskov NV, Semendyaeva NL, Slinko MM, Bychkov VY, Korchak VN (2019) Chem Eng Sci 207:644

21.

Sales BC, Turner JE, Maple MB (1982) Surf Sci 114:381
Acknowledgements
This work was supported by the Russian Foundation for Basic Research (Grant No. 19-03-00096 A) and Grant V.46.13, 0082-2014-007N AAAA-A18-11802089010503.
Additional information
Publisher's Note
Springer Nature remains neutral with regard to jurisdictional claims in published maps and institutional affiliations.
Electronic supplementary material
Below is the link to the electronic supplementary material.
About this article
Cite this article
Bychkov, V.Y., Tulenin, Y.P., Gorenberg, A.Y. et al. Study of self-oscillations during CO oxidation over Cu foil. Reac Kinet Mech Cat 129, 57–64 (2020). https://doi.org/10.1007/s11144-019-01718-2
Received:

Accepted:

Published:

Issue Date:
Keywords
Self-oscillations

CO oxidation

Cu

Surface waves