Abstract
The different forms of Ca (CaCl2 and Ca(OH)2) poisoned manganese and cerium oxides supported on TiO2 catalysts were prepared by impregnation method and used for selective catalytic reduction (SCR) of NO with NH3. The Ca poisoning effects were investigated by many characterization methods including N2 adsorption/desorption, X-ray diffraction, X-ray photoelectron spectroscopy, H2-temperature programmed reduction and NH3-temperature programmed desorption techniques. The results showed that the addition of Ca led to greatly decrease of catalytic activity of catalysts and the catalytic activity was ranked in the order: CaCl2 poisoned catalyst < Ca(OH)2 poisoned catalyst < fresh catalyst, which indicated that the poisoning effect of different forms of Ca was different and the deactivation caused by CaCl2 was more serious. The characterization results demonstrated the addition of Ca greatly decreased the specific surface area of catalysts, the contents of surface active species (Mn4+ and Ce3+), the amounts of weak Brønsted acid sites and the low-temperature redox ability, especially for the CaCl2 poisoned catalyst, all of which led to the weaken of the catalytic activity of catalysts.
This is a preview of subscription content, log in to check access.
Access options
Buy single article
Instant access to the full article PDF.
US$ 39.95
Price includes VAT for USA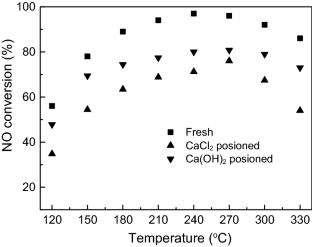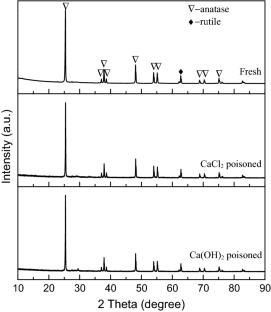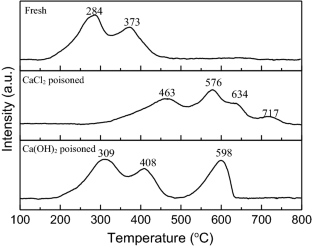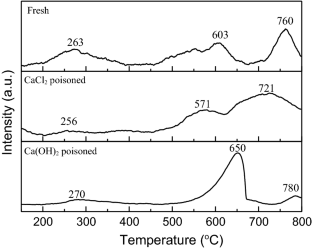 References
1.

Li X, Feng J, Xu Z, Wang J, Wang Y, Zhao W (2019) React Kinet Mech Catal 128:163–174

2.

Li F, Xie J, Cui H, Gong P, He F (2018) React Kinet Mech Catal 125:647–661

3.

Li W, Guo R, Wang S, Pan W, Chen Q, Li M, Sun P, Liu S (2016) Fuel Process Technol 154:235–242

4.

Jiang SY, Zhou RX (2015) Fuel Process Technol 133:220–226

5.

Zhu L, Zhang L, Qu H, Zhong Q (2015) J Mol Catal A 409:207–215

6.

Feng B, Wang Z, Sun Y, Zhang C, Tang S, Li X, Huang X (2016) Catal Commun 80:20–23

7.

Mu W, Zhu J, Zhang S, Guo Y, Su L, Li X, Li Z (2016) Catal Sci Technol 6:7532–7548

8.

Wang X, Li X, Zhao Q, Sun W, Tade M, Liu S (2016) Chem Eng J 288:216–222

9.

Xiong Z, Wu C, Hu Q, Wang Y, Jin J, Lu C, Guo D (2016) Chem Eng J 286:459–466

10.

Yang S, Qi F, Xiong S, Dang H, Liao Y, Wong PK, Li J (2016) Appl Catal B 181:570–580

11.

Fang D, Xie J, Hu H, Yang H, He F, Fu Z (2015) Chem Eng J 271:23–30

12.

Hwang S, Jo SH, Kim J, Shin MC, Chun HH, Park H, Lee H (2015) React Kinet Mech Catal 117:583–591

13.

Wang X, Zhou J, Jiang C, Wang J, Gui K, Thomas HR (2019) Korean J Chem Eng 36:1991–1999

14.

Li X, Li X, Li J, Hao J (2017) Chem Eng J 317:70–79

15.

Li X, Liu C, Li X, Peng Y, Li J (2017) Catal Commun 100:112–116

16.

Chen L, Li J, Ge M (2011) Chem Eng J 170:531–537

17.

Li X, Li X, Chen J, Li J, Hao J (2016) Catal Commun 87:45–48

18.

Yang X, Zhao B, Zhuo Y, Gao Y, Chen C, Xu X (2011) Environ Sci Technol 45:1147–1151

19.

Li X, Li X, Yang RT, Mo J, Li J, Hao J (2017) Mol Catal 434:16–24

20.

Chen Q, Guo R, Wang Q, Pan W, Yang N, Lu C, Wang S (2016) J Taiwan Inst Chem Eng 64:116–123

21.

Liu S, Guo R, Wang S, Pan W, Sun P, Li M, Liu S (2017) J Taiwan Inst Chem Eng 78:290–298

22.

Zhang X, Wang J, Song Z, Zhao H, Xing Y, Zhao M, Zhao J, Ma Z, Zhang P, Tsubaki N (2019) Mol Catal 463:1–7

23.

Li Q, Li X, Li W, Zhong L, Zhang C, Fang Q, Chen G (2019) Chem Eng J 369:26–34

24.

Zhan S, Zhang H, Zhang Y, Shi Q, Li Y, Li X (2017) Appl Catal B 203:199–209

25.

Chen K, Chen R, Cang H, Mao A, Tang Z, Xu Q (2018) Environ Technol 39:1753–1764

26.

Jiang L, Liu Q, Ran G, Kong M, Ren S, Yang J, Li J (2019) Chem Eng J 370:810–821

27.

Wang D, Luo J, Yang Q, Yan J, Zhang K, Zhang W, Peng Y, Li J, Crittenden J (2019) Environ Sci Technol 53:6937–6944

28.

Xu H, Li Y, Xu B, Cao Y, Feng X, Sun M, Gong M, Chen Y (2016) J Ind Eng Chem 36:334–345

29.

Guo R, Sun X, Liu J, Pan W, Li M, Liu S, Sun P, Liu S (2018) Appl Catal A 558:1–8

30.

Chen H, Xia Y, Huang H, Gan Y, Tao X, Liang C, Luo J, Fang R, Zhang J, Zhang W, Liu X (2017) Chem Eng J 330:1195–1202

31.

Ma Y, Zhang D, Sun H, Wu J, Liang P, Zhang H (2018) Ind Eng Chem Res 57:3187–3194

32.

Li W, Zhang C, Li X, Tan P, Zhou A, Fang Q, Chen G (2018) Chin J Catal 39:1653–1663

33.

Wu Z, Jin R, Liu Y, Wang H (2008) Catal Commun 9:2217–2220

34.

Zhuang K, Zhang Y, Huang T, Lu B, Shen K (2017) J Fuel Chem Technol 45:1356–1364

35.

Jia B, Guo J, Luo H, Shu S, Fang N, Li J (2018) Appl Catal A 553:82–90
Acknowledgements
We gratefully acknowledge the financial support from the National Natural Science Foundation of China (51276039), the Natural Science Foundation of the Jiangsu Higher Education Institutions of China (17KJB610005), the Jiangsu Government Scholarship for Overseas Studies (JS-2018), and a project funded by Nanjing Xiaozhuang University (2019NXY46).
Ethics declarations
Conflict of interest
The authors declare that there is no conflict of interest regarding the publication of this paper.
Additional information
Publisher's Note
Springer Nature remains neutral with regard to jurisdictional claims in published maps and institutional affiliations.
Electronic supplementary material
Below is the link to the electronic supplementary material.
About this article
Cite this article
Wang, X., Zhou, J., Wang, J. et al. The effect of different Ca precursors on the activity of manganese and cerium oxides supported on TiO2 for NO abatement. Reac Kinet Mech Cat 129, 153–164 (2020). https://doi.org/10.1007/s11144-019-01714-6
Received:

Accepted:

Published:

Issue Date:
Keywords
Ca poisoning

Precursor

NH3-SCR

NO abatement