Abstract
A number of alumina supports were synthesized by using a homogeneous sol–gel precipitation technique. The role of organic additive and its effect on surface active sites as well as textural properties have been analyzed. The support was characterized by N2 adsorption–desorption, X-ray diffraction (XRD). fourier transform infrared spectroscopy (FTIR), scanning electron microscopy (SEM), and thermal gravimetric and differential scanning calorimetry analysis (TGA/DSC). The surface functional group characterization was carried out by using isopropanol (IPA) as a probe molecule for the acid–base site identification. The solid was used as support for a catalyst and to compare active metal site genesis as a supported catalyst where thiophene reaction was carried out, and activity was compared with the commercial alumina support. The characterization results indicated that the pore enlarging agent (poly (ethylene) glycol, PEG) improve not only textural properties but also significantly modified surface properties, which was evident during the hydrodesulfurization (HDS) of thiophene.
This is a preview of subscription content, log in to check access.
Access options
Buy single article
Instant access to the full article PDF.
US$ 39.95
Price includes VAT for USA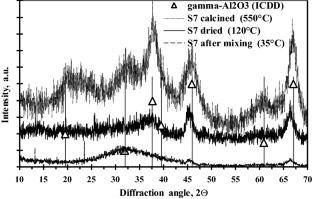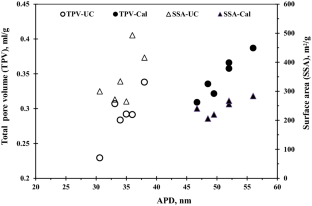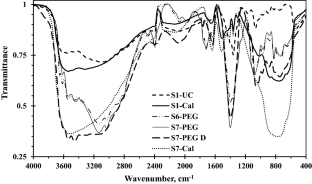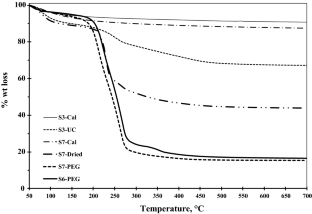 References
1.

Rana MS, Ancheyta J, Maity SK, Marroquin G (2008) Int J Oil Gas Coal Technol 1(3):250

2.

Ancheyta J, Rana MS, Furimsky E (2005) Catal Today 109(1):3

3.

Rana MS, Samano V, Ancheyta J, Diaz JAI (2007) Fuel 86:1216

4.

Dhar GM, Srinivas BN, Rana MS, Kumar M, Maity SK (2003) Catal Today 86(1–4):45

5.

Speight JG (2014) The chemistry and technology of petroleum, 5th edn. Boca Raton, CRC Press

6.

Riazi MR, Rana MS, Pena JD (2013) Chapter 3: in Petroleum Refining and Natural Gas Processing ASTM Manual 58. West Conshohocken, ASTM International Edt, pp 33–78

7.

Rana MS, Ancheyta J, Rayo P, Maity SK (2004) Catal Today 98:151

8.

Leyva C, Rana MS, Trejo F, Ancheyta J (2007) Ind Eng Chem Res 46:7448

9.

Luck F (1991) Bull Des Soc Chim Belg 100(11–12):781

10.

Cejka J (2003) Appl Catal A 254:327

11.

Badoga S, Sharma RV, Dalai AK, Adjaye J (2015) Appl Catal A 489:86

12.

Brinker CJ, Scherer GW (1990) Sol–Gel science: the physics and chemistry of sol–gel processing. Academic, New York

13.

Tousi R-SS, Szpunar JA (2013) Int J Hydrogen Energy 38(2):795

14.

Ananthakumar S, Manohar P, Warrier KGK (2004) Ceram Int 30(6):837

15.

Araki J, Wada M, Kuga S (2001) Langmuir 17(1):21

16.

Zheng Y, Song J, Xu X, He M, Wang Q, Yan L (2014) Ind Eng Chem Res 53:10029

17.

Bingre R, Louis B, Nguyen P (2018) Catalysts 8:163

18.

Ward DA, Ko EI (1996) Ind Eng Chem Res 34:421

19.

Zhu Z, Liu H, Sun H, Yang D (2009) Microporous Mesoporous Mater 123(1–3):39

20.

Lambert CK, Gonzalez RD (1999) Mater Lett 38(2):145

21.

Su A, Zhou Y, Yao Y, Yang C, Du H (2012) Microporous Mesoporous Mater 159:36

22.

Liu X, Truitt RE (1997) J Am Chem Soc 119(41):9856

23.

Liu X (2008) J Phys Chem C 112(13):5066

24.

Acikgoz M, Harrell J, Pavanello M (2018) J Phys Chem C 122(44):25314

25.

Zeng WM, Gao L, Guo JK (1998) Nanostruct Mater 10(4):543

26.

Kumagai M, Messing GL (1985) J Am Ceram Soc 68(9):500

27.

Varma HK, Mani TV, Damodaran AD, Warrier KG, Balachandran U (1994) J Am Ceram Soc 77(6):1597

28.

Padmaja P, Pillai PK, Warrier KGK, Padmanabhan M (2004) J Porous Mater 11(3):147

29.

Brunauer S, Emmett PH, Teller E (1938) J Am Chem Soc 60:309

30.

Trimm DL, Stanislaus A (1986) Appl Catal 21:215

31.

Halabi MA, Stanislaus A, Al-Zaid H (1993) Appl Catal A 101:117

32.

Ying ZS, Gevert B, Otterstedt JE, Sterte J (1995) Ind Eng Chem Res 34(5):1566

33.

Knozinger H, Ratnasamy P (1978) Catal Rev Sci Eng 17:31

34.

Chu M, Rahaman MN, De Jonghe LC, Brook RJ (1991) J Am Ceram Soc 74(6):1217

35.

Ananthakumar S, Krishnapriya G, Damodaran AD, Warrier KGK (1998) Mater Lett 35(1–2):95

36.

Haghnazari N, Abdollahifar M, Jahani F (2014) J Mex Chem Soc 58(2):95–98

37.

Li G, Liu Y, Liu D, Liu L, Liu C (2010) Mater Res Bull 45(10):1487

38.

Xue L, Wei J, Zhang D, Li X, Liu X (2015) J Porous Mater 22(4):1119

39.

Landry CC, Pappe N, Mason MR, Apblett AW, Tyler AN, MacInnes AN, Barron AR (1995) J Mater Chem 5:331

40.

Koch W, Friedlander SK (1990) J Colloid Interface Sci 140(2):419

41.

Zhou Y, Pervin F, Biswas MA, Rangari VK, Jeelani S (2006) Mater Lett 60(7):869

42.

Wu SH, Wang FY, Ma CCM, Chang WC, Kuo CT, Kuan HC (2001) J Chen Mater Lett 49(6):327

43.

Trejo F, Rana MS, Ancheyta J (2011) Ind Eng Chem Res 50(5):2715

44.

Nguefack M, Popa AF, Rossignol S, Kappenstein C (2003) Phys Chem Chem Phys 5:4279

45.

Raybaud P, Digne M, Iftimie R, Wellens W, Euzen P, Toulhoat H (2001) J Catal 201:236

46.

Nasser H, Redey A, Yuzhakova T, Toth ZN, Ollár T (2007) React Kinet Catal Lett 92(2):329–335

47.

Kaluza L, Karban J, Gulkova D (2019) React Kinet Mech Catal 127(2):887–902

48.

Varga Z, Szarvas T, Tetenyi P, Hancsok J, Ollar T (2017) React Kinet Mech Catal 124(1):61–74
Additional information
Publisher's Note
Springer Nature remains neutral with regard to jurisdictional claims in published maps and institutional affiliations.
Electronic supplementary material
Below is the link to the electronic supplementary material.
About this article
Cite this article
AlSairafi, S.H., AlNajdi, N., AlSheeha, H. et al. Synthesis of alumina support and effect of its properties on thiophene hydrodesulfurization. Reac Kinet Mech Cat 129, 297–313 (2020). https://doi.org/10.1007/s11144-019-01706-6
Received:

Accepted:

Published:

Issue Date:
Keywords
Sol–gel synthesis

Boehmite

Surface properties

Isopropanol dehydration

HDS