Abstract
Pomegranate (Punica granatum) is known to contain polyphenols with many potential health benefits, including anti-tumoral, anti-inflammatory, and anti-microbial properties. It has been used in popular medicine for cancer treatment, which still represents the major cause of cancer-related deaths in men worldwide. Importantly, pomegranate peels are valuable by-products of the food industry that are rich in polyphenols. Here we report a comparison between juice and peel aqueous extracts in prostate cancer DU-145 and PC-3 cell lines. Both extracts were able to inhibit the proliferation, migration and colony formation of those cells, although peel extracts presented more robust effects compared to juice. Besides, the growth-related mTOR/S6K signaling pathway presented strong inhibition after pomegranate extracts treatment. This study presents evidence that both juice and isolated peel extracts from promegate fruit have important anti-cancer effects against prostate cancer cells, modulating the mTOR/S6K signaling pathway.
This is a preview of subscription content, log in to check access.
Access options
Buy single article
Instant access to the full article PDF.
US$ 39.95
Price includes VAT for USA
Subscribe to journal
Immediate online access to all issues from 2019. Subscription will auto renew annually.
US$ 99
This is the net price. Taxes to be calculated in checkout.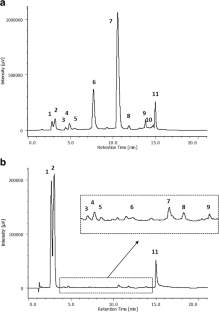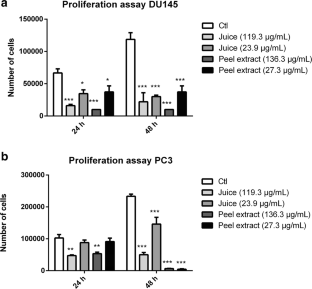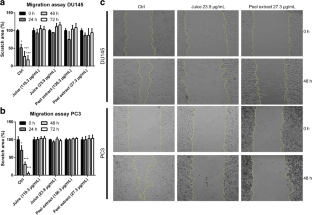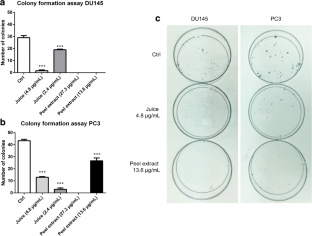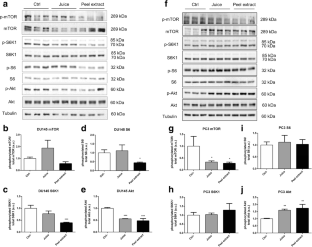 Abbreviations
mTOR:

Mammalian Target Of Rapamycin

FBS:

Fetal bovine serum

PLC:

High-Performance Liquid Chromatography

TRAMP:

Transgenic adenocarcinoma of the mouse prostate
References
1.

Bashir MN (2015) Epidemiology of prostate cancer. Asian Pac J Cancer Prev 16:5137–5141

2.

Tavares MR, Pavan ICB, Amaral CL et al (2015) The S6K protein family in health and disease. Life Sci 131:1–10. https://doi.org/10.1016/j.lfs.2015.03.001

3.

Amaral CL, Freitas LB, Tamura RE, Tavares MR, Pavan IC, Bajgelman MC, Simabuco FM (2016) S6Ks isoforms contribute to viability, migration, docetaxel resistance and tumor formation of prostate cancer cells. BMC Cancer 16:602. https://doi.org/10.1186/s12885-016-2629-y

4.

Tan HK, Moad AIH, Tan ML (2014) The mTOR signalling pathway in cancer and the potential mTOR inhibitory activities of natural phytochemicals. Asian Pac J Cancer Prev 15:6463–6475

5.

Zhang Q-Y, Wang F-X, Jia K-K, Kong L-D (2018) Natural product interventions for chemotherapy and radiotherapy-induced side effects. Front Pharmacol 9:1253. https://doi.org/10.3389/fphar.2018.01253

6.

Bassiri-Jahromi S (2018) Punica granatum (pomegranate) activity in health promotion and cancer prevention. Oncol Rev 12:345. https://doi.org/10.4081/oncol.2018.345

7.

Sharma P, McClees SF, Afaq F (2017) Pomegranate for prevention and treatment of cancer: an update. Molecules 22(1):pii:E177. https://doi.org/10.3390/molecules22010177

8.

Wang L, Martins-Green M (2014) Pomegranate and its components as alternative treatment for prostate cancer. Int J Mol Sci 15:14949–14966. https://doi.org/10.3390/ijms150914949

9.

Turrini E, Ferruzzi L, Fimognari C (2015) Potential effects of pomegranate polyphenols in cancer prevention and therapy. Oxidative Med Cell Longev 2015:938475. https://doi.org/10.1155/2015/938475

10.

Vini R, Sreeja S (2015) Punica granatum and its therapeutic implications on breast carcinogenesis: a review. Biofactors 41:78–89. https://doi.org/10.1002/biof.1206

11.

Tomás-Barberán FA, González-Sarrías A, García-Villalba R et al (2017) Urolithins, the rescue of "old" metabolites to understand a "new" concept: metabotypes as a nexus among phenolic metabolism, microbiota dysbiosis, and host health status. Mol Nutr Food Res 61(1). https://doi.org/10.1002/mnfr.201500901

12.

Naiki-Ito A, Chewonarin T, Tang M et al (2015) Ellagic acid, a component of pomegranate fruit juice, suppresses androgen-dependent prostate carcinogenesis via induction of apoptosis. Prostate 75:151–160. https://doi.org/10.1002/pros.22900

13.

Singleton VL, Orthofer R, Lamuela-Raventós RM (1999) [14] analysis of total phenols and other oxidation substrates and antioxidants by means of folin-ciocalteu reagent. 299:152–178

14.

Benzie IF, Strain JJ (1996) The ferric reducing ability of plasma (FRAP) as a measure of "antioxidant power": the FRAP assay. Anal Biochem 239:70–76. https://doi.org/10.1006/abio.1996.0292

15.

Rostagno MA, Manchón N, D'Arrigo M et al (2011) Fast and simultaneous determination of phenolic compounds and caffeine in teas, mate, instant coffee, soft drink and energetic drink by high-performance liquid chromatography using a fused-core column. Anal Chim Acta 685:204–211. https://doi.org/10.1016/j.aca.2010.11.031

16.

Sreekumar S, Sithul H, Muraleedharan P, Azeez JM, Sreeharshan S (2014) Pomegranate fruit as a rich source of biologically active compounds. Biomed Res Int 2014:686921. https://doi.org/10.1155/2014/686921

17.

Mastrodi Salgado J, Baroni Ferreira TR, de Oliveira BF, Dos Santos Dias CT (2012) Increased antioxidant content in juice enriched with dried extract of pomegranate (Punica granatum) peel. Plant Foods Hum Nutr 67:39–43. https://doi.org/10.1007/s11130-011-0264-y

18.

Khwairakpam AD, Bordoloi D, Thakur KK, Monisha J, Arfuso F, Sethi G, Mishra S, Kumar AP, Kunnumakkara AB (2018) Possible use of Punica granatum (pomegranate) in cancer therapy. Pharmacol Res 133:53–64. https://doi.org/10.1016/j.phrs.2018.04.021

19.

Fischer UA, Carle R, Kammerer DR (2011) Identification and quantification of phenolic compounds from pomegranate (Punica granatum L.) peel, mesocarp, aril and differently produced juices by HPLC-DAD-ESI/MS(n). Food Chem 127:807–821. https://doi.org/10.1016/j.foodchem.2010.12.156

20.

Bettuzzi S, Brausi M, Rizzi F, Castagnetti G, Peracchia G, Corti A (2006) Chemoprevention of human prostate cancer by oral administration of green tea catechins in volunteers with high-grade prostate intraepithelial neoplasia: a preliminary report from a one-year proof-of-principle study. Cancer Res 66:1234–1240. https://doi.org/10.1158/0008-5472.CAN-05-1145

21.

Li G, Rivas P, Bedolla R, Thapa D, Reddick RL, Ghosh R, Kumar AP (2013) Dietary resveratrol prevents development of high-grade prostatic intraepithelial neoplastic lesions: involvement of SIRT1/S6K axis. Cancer Prev Res (Phila) 6:27–39. https://doi.org/10.1158/1940-6207.CAPR-12-0349

22.

Liu H, Zeng Z, Wang S, Li T, Mastriani E, Li QH, Bao HX, Zhou YJ, Wang X, Liu Y, Liu W, Hu S, Gao S, Yu M, Qi Y, Shen Z, Wang H, Gao T, Dong L, Johnston RN, Liu SL (2017) Main components of pomegranate, ellagic acid and luteolin, inhibit metastasis of ovarian cancer by down-regulating MMP2 and MMP9. Cancer Biol Ther 18:990–999. https://doi.org/10.1080/15384047.2017.1394542

23.

Albrecht M, Jiang W, Kumi-Diaka J, Lansky EP, Gommersall LM, Patel A, Mansel RE, Neeman I, Geldof AA, Campbell MJ (2004) Pomegranate extracts potently suppress proliferation, xenograft growth, and invasion of human prostate cancer cells. J Med Food 7:274–283. https://doi.org/10.1089/jmf.2004.7.274

24.

Dubrovska A, Kim S, Salamone RJ, Walker JR, Maira SM, García-Echeverría C, Schultz PG, Reddy VA (2009) The role of PTEN/Akt/PI3K signaling in the maintenance and viability of prostate cancer stem-like cell populations. Proc Natl Acad Sci USA 106:268–273. https://doi.org/10.1073/pnas.0810956106

25.

Banerjee N, Kim H, Talcott S, Mertens-Talcott S (2013) Pomegranate polyphenolics suppressed azoxymethane-induced colorectal aberrant crypt foci and inflammation: possible role of miR-126/VCAM-1 and miR-126/PI3K/AKT/mTOR. Carcinogenesis 34:2814–2822. https://doi.org/10.1093/carcin/bgt295

26.

Kim H, Banerjee N, Ivanov I, Pfent CM, Prudhomme KR, Bisson WH, Dashwood RH, Talcott ST, Mertens-Talcott SU (2016) Comparison of anti-inflammatory mechanisms of mango (Mangifera indica L.) and pomegranate (Punica granatum L.) in a preclinical model of colitis. Mol Nutr Food Res 60:1912–1923. https://doi.org/10.1002/mnfr.201501008

27.

Guo H, Zhang D, Fu Q (2016) Inhibition of cervical cancer by promoting IGFBP7 expression using ellagic acid from pomegranate peel. Med Sci Monit 22:4881–4886

28.

Adhami VM, Siddiqui IA, Syed DN, Lall RK, Mukhtar H (2012) Oral infusion of pomegranate fruit extract inhibits prostate carcinogenesis in the TRAMP model. Carcinogenesis 33:644–651. https://doi.org/10.1093/carcin/bgr308

29.

Wang Y, Chen B, Longtine MS, Nelson DM (2016) Punicalagin promotes autophagy to protect primary human syncytiotrophoblasts from apoptosis. Reproduction 151:97–104. https://doi.org/10.1530/REP-15-0287

30.

Cunningham D, You Z (2015) In vitro and in vivo model systems used in prostate cancer research. J Biol Methods 2(1):pii:e17. https://doi.org/10.14440/jbm.2015.63

31.

Litvinov IV, Antony L, Dalrymple SL, Becker R, Cheng L, Isaacs JT (2006) PC3, but not DU145, human prostate cancer cells retain the coregulators required for tumor suppressor ability of androgen receptor. Prostate 66:1329–1338. https://doi.org/10.1002/pros.20483

32.

Jayakumar S, Kunwar A, Sandur SK, Pandey BN, Chaubey RC (2014) Differential response of DU145 and PC3 prostate cancer cells to ionizing radiation: role of reactive oxygen species, GSH and Nrf2 in radiosensitivity. Biochim Biophys Acta 1840:485–494. https://doi.org/10.1016/j.bbagen.2013.10.006

33.

González-Sarrías A, Giménez-Bastida JA, García-Conesa MT et al (2010) Occurrence of urolithins, gut microbiota ellagic acid metabolites and proliferation markers expression response in the human prostate gland upon consumption of walnuts and pomegranate juice. Mol Nutr Food Res 54:311–322. https://doi.org/10.1002/mnfr.200900152
Acknowledgements
This research has been funded by The São Paulo Research Foundation (grant numbers: FMS, 2012/13558-7 and 2018/14818-9; AECA, 2015/07299-7; RMNB, 2016/06457-0; MAR, 2013/04304-4; fellowship numbers: ICBP, 2015/003111; LBF, 2013/13002-1) and from CNPq (FMS, 447553/2014-3; MAR, 303568/2016-0).
Ethics declarations
Conflict of Interest
The authors declare that they have no conflict of interest.
Additional information
Publisher's Note
Springer Nature remains neutral with regard to jurisdictional claims in published maps and institutional affiliations.
About this article
Cite this article
Chaves, F.M., Pavan, I.C.B., da Silva, L.G.S. et al. Pomegranate Juice and Peel Extracts are Able to Inhibit Proliferation, Migration and Colony Formation of Prostate Cancer Cell Lines and Modulate the Akt/mTOR/S6K Signaling Pathway. Plant Foods Hum Nutr (2019). https://doi.org/10.1007/s11130-019-00776-0
Keywords
Pomegranate

Peel extracts

Ellagic acid

Prostate cancer

mTOR

Cell signaling