Abstract
Folates (B vitamins) are essential for the proper function of many bodily processes. Although a rich natural source are vegetables, the literature lacks data on the effect of the pre-treatment and freezing technologies used in vegetable processing and frozen storage time on the folate content in these materials. Moreover, since folates are very unstable nutrients, the amount available in processed and stored foods can be significantly lower than in raw products. In tested vegetables (green beans, yellow beans, peas, cauliflower, broccoli and spinach), one folate form was identified, 5-methyltetrahydrofolate (5-CH3-H4folate). It was observed that pre-treatment and freezing technology significantly (p < 0.05) decreased 5-CH3-H4folate content only in vegetables with the largest degree of fragmentation (cut and briquetted spinach) and the smallest size (peas). In all analyzed samples, the 5-CH3-H4folate content decreased with the time of frozen storage. In frozen cauliflower, the 5-CH3-H4folate loss exceeded 95 % compared to the fresh product just after the third month of frozen storage. Meanwhile, in green and yellow beans, significant 5-CH3-H4folate losses (at the level of 75 % and 95 %, respectively) were observed no earlier than after the 9th month of frozen storage.
This is a preview of subscription content, log in to check access.
Access options
Buy single article
Instant unlimited access to the full article PDF.
US$ 39.95
Price includes VAT for USA
Subscribe to journal
Immediate online access to all issues from 2019. Subscription will auto renew annually.
US$ 99
This is the net price. Taxes to be calculated in checkout.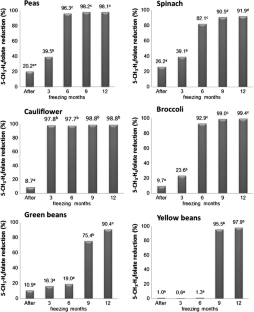 References
1.

Czeizel AE, Duda I (1992) Prevention of the first occurrence of neural tube defects by periconceptional vitamin supplementation. N Engl J Med 327:32–35

2.

Rampersaud GC, Kauwell GP, Bailey LB (2003) Folate: A key to optimizing health and reducing disease risk in the elderly. J Am Coll Nutr 22(1):1–8

3.

Green-Raleigh K, Carter H, Mulinare J, Prue C, Petrini J (2006) Trends in folic acid awareness and behavior in the United States: The Gallup Organization for the March of Dimes Foundation Surveys, 1995–2005. Matern Child Health J 10:177–182

4.

Arcot J, Shrestha A (2005) Folate: Methods of analysis. Trends Food Sci Technol 16:253–266

5.

Gujska E, Michalak J, Klepacka J (2009) Folates stability in two types of rye breads during processing and frozen storage. Plant Foods Hum Nutr 64(2):129–134

6.

Johansson M, Furuhagen C, Frolich W, Jägerstad M (2008) Folate content in frozen vegetarian ready meals and folate retention after different reheating methods. LWT-Food Sci Technol 41:528–536

7.

Phillips K, Wunderlich K, Holden J, Exler J, Gebhardt S, Haytowitz D, Beecher G, Doherty R (2005) Stability of 5-methyltetrahydrofolate in frozen fresh fruits and vegetables. Food Chem 92:587–595

8.

Xuea S, Ye X, Shi J, Jiang Y, Liu D, Chen J, Shi A, Kakuda Y (2011) Degradation kinetics of folate (5-methyltetrahydrofolate) in navy beans under various processing conditions. LWT-Food Sci Technol 44:231–238

9.

Jägerstad M, Jastrebova J, Svensson U (2004) Folates in fermented vegetables—A pilot study. LWT-Food Sci Technol 37:603–611

10.

Forssén K, Jägerstad M, Wigertz K, Witthöft C (2000) Folates and dairy products: A critical update. J Am Coll Nutr 19(2):100–110

11.

Stea TH, Johansson M, Jägerstad M, Frolich W (2006) Retention of folates in cooked, stored and reheated peas, broccoli and potatoes for use in modern large-scale service systems. Food Chem 101:1095–1107

12.

Mullin WJ, Wood DF, Howsam SG (1982) Some factors affecting folacin content of spinach, swiss chard, broccoli and brussels sprouts. Nutr Rep Int 26:7–16

13.

The Polish Committee for Standardization (PKN) (1990) PN -90/A-75101/03 Fruit and vegetable products. Determination of dry matter content by gravimetric method

14.

Konings E (1999) A validated liquid chromatographic method for determining folates in vegetables, milk powder, liver, and flour. J AOAC Int 82(1):119–127

15.

Blakley R (1969) The biochemistry of folic acid and related pteridines. North-Holland Publ. Co., Amsterdam

16.

Jastrebova J, Witthöft C, Granath A, Svensson U, Jägerstad M (2003) HPLC determination of folates in raw and processed beetroots. Food Chem 80:579–588

17.

Hartmann C, Smeyers-Verbeke J, Massart DL, McDowall RD (1998) Validation of bioanalytical chromatographic methods. J Pharmaceut Biomed Anal 17:193–218

18.

Hawkes JG, Villota R (1989) Folates in foods: Reactivity, stability during processing, and nutritional implications. Crit Rev Food Sci Nutr 28:439–538

19.

DeSouza S, Eitenmiller RR (1986) Effects of processing and storage on the folate content of spinach and broccoli. J Food Sci 51:626–628

20.

Dang J, Arcot A, Shrestha A (2000) Folate retention in selected processed legumes. Food Chem 68:295–298

21.

Puupponen-Pimiä R, Hakkinen S, Aarni M, Suortti T, Lampi M, Eurola M (2003) Blanching and long-term freezing affect various bioactive compounds of vegetables in different ways. J Sci Food Agric 83:1389–1402

22.

Kunachowicz H, Nadolna I, Przygoda B, Iwanow K (2005) Tables of composition and nutritional value of foods. Wydawnictwo Lekarskie PZWL, Warsaw

23.

Hoppner K, Lambi B (1993) Folate retention in dried legumes after different methods of meal preparation. Food Res Int 26:45–48

24.

Gregory JF III (1989) Chemical and nutritional aspects of folate research: Analytical procedures, methods of folate synthesis, stability, and bioavailability of dietary folates. Adv Food Nutr Res 33:1–101

25.

Tamura T (1998) Determination of food folate. J Nutr Biochem 9:285–293

26.

Vahteristo L, Lehikoinen K, Ollilainen V, Varo P (1997) Application of an HPLC assay for the determination of folate derivatives in some vegetables, fruits and berries consumed in Finland. Food Chem 59(4):589–597

27.

Öhrvik V, Witthöft C (2008) Orange juice is a good folate source in respect to folate content and stability during storage and simulated digestion. Eur J Nutr 47:92–98
Acknowledgment
This work was supported by the Polish Committee for Scientific Research, Grant No 1288/B/P01/2010/38
About this article
Cite this article
Czarnowska, M., Gujska, E. Effect of Freezing Technology and Storage Conditions on Folate Content in Selected Vegetables. Plant Foods Hum Nutr 67, 401–406 (2012). https://doi.org/10.1007/s11130-012-0312-2
Keywords
Folate

Vegetables

Freezing

Storage

HPLC