A Review on Pharmacological Activities and Utilization Technologies of Pumpkin
Abstract.
Dietary plants and herbal preparations have been traditionally used as medicine in developing countries and obtained a resurgence of use in the United States and Europe. Research carried out in last few decades has validated several such claims of use of traditional medicine plants. Popularity of pumpkin in various systems of traditional medicine for several ailments (antidiabetic, antihypertensive, antitumor, immunomodulation, antibacterial, antihypercholesterolemia, intestinal antiparasitia, antiinflammation, antalgic) focused the investigators' attention on this plant. Considerable evidence from several epidemiological studies concerning bioactivities leads have stimulated a number of animal model, cell culture studies and clinical trials designed to test this pharmacological actions. In addition, it was found that technologies such as germination and fermentation could reduce antinutritional materials and affect the pharmacological activities of pumpkin. This review will focus on the main medicinal properties and technologies of pumpkin, and point out areas for future research to further elucidate mechanisms whereby this compound may reduce disease risk.
Key words:
Pharmacological activities 
Pumpkin 
Review 
Technologies 
Traditional medicine 
Introduction
The use of dietary plants and herbal preparations as alternative medicine has recently received considerable attention in the United States and Europe. There is an estimation that 12.1% of adults in the United States used herbal medicines in 1997 [1]. In 2001, $17.8 billion was spent on dietary supplements, 23.6% of it for herbal remedies [2]. In addition, in America, herbal medicines are regulated as dietary supplements and hence can be marketed without prior approval by the Food and Drug Administration (FDA) [3]. In developing countries–all over the world–80% of population continues to use traditional medicine in primary medical problems [4]. In the past decade, research has been focused on scientific evaluation of dietary plants and preparations of plant origin. Pumpkin is one such plant that has been frequently used as functional food or medicine.
The pumpkin belongs to the family Cucubitaceae. It is comprised of Cucurbita moschata, C. Pepo, C. Maxima, C. Mixta, C. Ficifolia and Telfairia occidentalis Hook. Three of these, Cucurbita pepo L., Cucurbita maxima Duchesne, and Cucurbita moschata Duchesne represent economically important species cultivated worldwide and have high production [
5
,
6
,
7
]. In Austria and adjacent countries, pumpkins have been grown for production of oil for about 3 centuries [
8
]. Several reviews were described from different points of view. Paris provides a entire overview of the classification of various types of squash and pumpkins within the species C. pepo [
9
]. A comprehensive description of fruit of both wild and domesticated forms of Cucurbita and a critical reviews on physiological aspects of productivity and quality in squash and pumpkins were provide by Decker-Walters and Walters [
10
] and J. Brent Loy [
11
], respectively.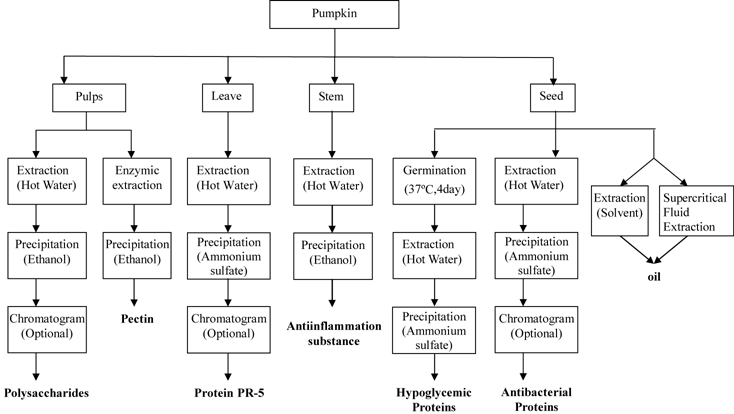 Pumpkin is a dicotyledonous seed vegetable and consists of a flexible succulent stem with trifoliate leaves, an annual climber growing to 0.6 m by 5 m at a fast rate (http://www.pfaf.org/database/plants.php?Cucurbita+moschata). At maturity it gives rise to flowers and fruits, which have numerous seeds. Because embryo dry material is 40 to 50% lipids [12, 13, 14] and 30 to 37% proteins [14, 15], pumpkin seeds are a high-energy source and are consumed throughout the world with increasing in popularity. Because the seed coat comprises about 20% of the seed weight of C. pepo [16], and in C. maxima, even a much larger proportion of the seed, new technologies were sought to utilize in oil seed pumpkins. At about the turn of the twentieth century, a thin seed coat variant was discovered and subsequently applied in oil seed pumpkins because of the greater efficiency in oil recovery. In addition, pumpkin seeds are also a good source of the elements K, P, Fe and β-carotene [17, 18].
Pumpkin is cultivated throughout the world for use as vegetable as well as medicine. It has been used traditionally as medicine in many countries such as China, Yugoslavia, Argentina, India, Mexico, Brazil and America [19, 20, 21]. Some of its common uses in most countries are for diabetes and treating internally as well as externally for management of worms and parasites. However, it is commonly consumed as vegetable.
Its popular medicinal uses have focused research so far and the last few decades that have been carried out on pumpkin, using modern tools, and credited pumpkin with antidiabetic, antihypertension, antitumor, immunomodulation, antibacteria, antihypercholesterolemia, intestinal antiparasitia, antiinflammation and antalgic. It was found that technologies such as germination and ferment could reduce antinutritional materials and affect the pharmacological activities of pumpkin. This review will focus on the the main medicinal properties of pumpkin, and point out areas for future research to further elucidate mechanisms whereby this compound may reduce disease risk.
Phytochemistry and Technology
Pumpkin contains biologically active components that include polysaccharides, para-aminobenzoic acid, fixed oils, sterol, proteins and peptides [22, 23, 24, 25]. The fruits are a good source of carotenoid and γ-aminobutyric acid [26, 27, 28, 29, 30]. However, the presence of antinutrients in pumpkin seeds which have been shown to have detrimental physiological effects on growing rats and chicks limits its nutritional value and hence limits the usefulness of fresh pumpkin seed as a protein source for human food [31, 32, 33].
Several phytochemicals such as polysaccharides, phenolic glycosides, 13-hydroxy-9Z, 11E-octadecatrienoic acid from the leaves of pumpkin, proteins from germinated seeds, have been isolated [34, 35, 36, 37, 38].
The hypoglycemic chemicals of pumpkin include polysaccharides from the fruit pulp [39, 40, 41], oil from ungerminated seeds and protein from germinated seeds. These chemicals are concentrated in fruits of pumpkin; therefore fruit of pumpkin has shown more pronounced hypoglycemic/antihyperglycemic activity. However, protein possessing hypoglycemic activity was not from ungerminated pumpkin seed [42]. Hypoglycemic activity of polysaccharide isolated from pumpkin containing 8.48% sugar was lower than that from pumpkin containing 4.29% sugar [43].
Antifungal proteins, such as α- and β-moschins (MW: 12 kDa), MAP28 (MW: 28 kDa), MAP2 (MW: 2249D), MAP4 (MW: 4650D), MAP11 (MW: 11696D) and peptide (MW: 8 kDa) are documented [44, 45, 46, 47].
Some technologies affected the function of pumpkin and pumpkin extracts. The major process for recovering pumpkin bioactive materials are summarized in Fig. 1. In order to gain higher yield of pectin from pumpkin pulps, enzymic extraction was adopted and worth being commended [48, 49]. However, The pumpkin pectin obtained by enzymic means did not form gels [50] and previous chemical modification is unsuccessful to improve this pectin preparation's gelling properties [51]. Further work need to continue toward two objectives: (1) search of righter enzymes for preparation of pectin samples; (2) development of methods for chemical modification of pumpkin pectin preparations with a view to improving their gelling properties. Because the lower temperature in the SFE avoids thermal degradation and the low water content limits hydrolitic processes, the application of supercritical fluid (SF), particularly SC-CO2, not introducing organic residues is a good method for extraction of oils from food and vegetables [52]. SC-CO2 extraction was reported to be an effective method for extraction of pumpkin oils. It is helpful to keep the pharmacological activities of pumpkin oils [53].
Germination and fermentation were important methods to improve the use of pumpkin. Fermentation significantly (P ;< ;0.05) increased crude protein and in vitro protein digestibility meanwhile decreased polyphenol and phytic acid contents of the seeds and improved the funcational properties of pumpkin products [54, 55, 56, 57]. It was reported that the nutritional quality of fluted pumpkin seeds improved following a 5-days fermentation period. Germination can vary the amino acid and carbohydrate constitutes and hence reduce blood glucose [42, 58, 59, 60, 61, 62]. However, Addition of flour from germinated pumpkin seeds to wheat flour had a detrimental effect on loaf volume, bread color and texture [63]. In addition, Shishigatani pumpkin possessed bio-antimutagenicity in the chloroform and ethyl acetate fractions, but common pumpkin did not [64]. Boiled pumpkin juice significantly suppressed the incidence of aberrant cells while fresh pumpkin juice enhanced it [65].
Pharmacological Properties of Pumpkin
Conclusion and Suggestions for Future Research
Over the years scientists have researched many pharmacological actions and potential uses of pumpkin and its extracts. Clearly, there is still a lot to learn about the health effects of this plant. Further studies are required to gain a better understanding of the role of pumpkin extracts in protecting against disease.
Concentrated fruit or seed extracts and purified chemical can be found in various herbal preparations (capsules and liquid). Pumpkin preparations are becoming more widely available in the China as well as rest of the world and are employed by practitioners of natural health for treatment of diabetes. Role of pumpkin in diabetes is of paramount importance as this plant serves various purposes in these patients–reducing blood sugar, increasing the insulin level and decreasing branched chain amino acid. Most importantly it is cheap and easily available in developing countries. However, standardization of pumpkin and its antidiabetic component followed by a controlled clinical trial is needed.
Preliminary studies (in vitro as well as in vivo) of crude pumpkin extract against several cancers suggests that it have anticancer potential, however, presently further studies are needed.
Pumpkin extracts were reported to possess the broad-spectrum antimicrobial activity. In developing countries, both pumpkin and AIDS are ubiquitous, it could bring enormous hope to the suffering and it can be advocated as a dietary aid.
Polysaccharides including protein-bound polysaccharides are the bioactive materials of pumpkin. However, the structure property and relation between the structure and the function are not clear. The relationship between the contents of amino acids and hypoglycemic activity of protein-bound polysaccharides need further work to prove.
Because of reduction of antinutrients, technologies such as germination and fermentation are worth advocating. New bioactivity of germinated pumpkin seeds would be paid more attention. As special effective catalyst, enzyme is helpful to extract the bioactive substances from plant. Enzyme-assisted extraction of pumpkin oil or protein is good for research. The ultrasound treatment can significantly affect two types of physical phenomena: diffusion through the cell walls and washing out (rinsing) the cell contents once the walls are broken, involved in the extraction mechanism. To contribute toward industrialized utilization of pumpkin products, it is necessary to study ultrasound-assisted extraction of bioactive materials in pumpkin.
Notes
Acknowledgements
We gratefully acknowledge the financial support received in the form of a research grant (Project No: 30571298) from the National Natural Science Foundation of China.
Copyright information
© Springer Science+Business Media, Inc 2006