The anatomy of government failure
Commissioned Editorial Commentary
Abstract
Government failure is a much bigger problem than its contemporary treatment implies. Setting aside natural disasters, most of the great catastrophes of human history have been government failures of one sort or another. We argue that many so-called market failures are government failures because government defines the institutions in which markets succeed or fail. The concept of government failure has been trapped in the cocoon of the theory of perfect markets. Narrowly defined deviations from market perfection have been designated market failures, for which government corrections may or may not really be a solution. Government failure in the contemporary context means failing to resolve a classic market failure. We propose an alternative approach for evaluating whether government fails: the Pareto standard. If an available Pareto improvement is not chosen, or is not implemented, that is a government failure. We organize government failure into two types: substantive and procedural. Substantive failures include the inability or unwillingness to maintain order, to maintain sound fiscal and monetary policies, and to reduce risks of transaction costs, which we classify as corruption, agency and rent-seeking. Procedural failures are inadequacies of available social choice mechanisms, causing collective decisions to be arbitrary, capricious, or manipuated. We conclude with some reflections on human rationality and the implications of behavioral economics.
Keywords
Market failure 
Government failure 
Competitive equilibrium theory 
Collective choice mechanisms 
JEL Classification
A10 
A12 
D02 
D6 
H1 
1

Introduction
1.1

Overview

Aside from natural disasters like tornadoes, floods, and earthquakes, the greatest catastrophes of human history have been institutional failures for which government, or the state, carries the basic responsibility. We call these "government failures." Government failures are more frequent, and frankly more fundamental, than the "market failure" problems on which many economists focus.

Government failure has an intuitive meaning. For example, World War I and Mao's Great Leap Forward both were government failures, because their consequences were (predictably) perverse, but were initiated by governments anyway, leading to enormous destruction and loss of life.1 Our standard of failure, then, is not just whether state action achieves its object, but also whether that object is consistent with justifications of political authority that rest on solving problems of collective action. More simply, government may fail to do things it should do, or government may do things it should not do.

This approach differs from the subordinate treatment government failure receives in most contemporary economics. That treatment begins with a theory of perfect markets, follows with a theory of market failures, and follows that with conjectures about actions government might take to resolve the market failure. By that reasoning, government failure occurs when state interventions exacerbate, or simply fail to resolve, a market failure.

Such a focus on markets is not wholly misplaced, of course. Price systems can and do play an important role in coordinating economic activity, and in improving human well-being. They sometimes fail in a way that is captured accurately by the theory of market failure.2 But whether markets succeed or fail, they operate in a larger context of institutional rules that are set up and enforced by government. Markets may fail because governments interfere too much, regulate too little, or act badly, distorting the processes of production and exchange.

Public discourse sometimes touches market failures and government failures construed more broadly. In our view, such discussions often posit a false dichotomy—more government versus more markets—in ways that are influenced superficially by ideology and political values. For example, little agreement has emerged about whether the recent financial crisis (2007–2009) was a government failure or a market failure. In our view, it was a system failure, with elements of both. But if our claim that government defines the rules under which markets operate is valid, then the government failure is causally prior. The real question is not whether we need more or less regulation, but how the rules of the game should be structured in terms of incentives, property rights, and constraints.

The underlying problem is that government must be strong enough to maintain order, and to pass and then enforce laws and property rights systems that encourage coordination and solutions to collective action problems.3 Governments that fail are generally both too big, and too small, at the same time. By doing too much, attention and resources are spread too thinly across too many activities. But then regulations or policies that should serve important functions receive too little enforcement emphasis. Perhaps worst of all, other regulations created out of momentary political alignments or reactions to emergencies—regulations that have long outlived their original purpose—survive because citizens or industries have become dependent on the protection of artificial rents.

For these reasons, our approach begins with the simplest realistic choice setting. We will assume that a "dictator"—a unitary actor with well-defined objectives for solving collective problems—is in charge of the state. We then evaluate outcomes using the Pareto criterion, which anchors our approach in the grand tradition of competitive equilibrium theory (CET) in economics. CET is a theory of market success, and a benchmark for comparison. There is, as far as we know, no analogous theory of government success to use as a benchmark. But allowing a dictator to strive to limit outcomes to Pareto optima, and then to allow the selection among Pareto optima using side payments or compensation allows an (idealized) metric that identifies government failures with considerable analytic precision.

Our "dictator" is an analytic device used to solve three different problems: incentives, information, and capacity. As a consequence, dictators are variously assumed to be (respectively) benevolent, omniscient, or omnipotent.

Benevolence means that the goals are social as well as individual well-being, and in this paper, we will use the Pareto standard--with compensation--to define benevolence. Policies that fail to achieve this result are then government failures. We will posit the existence of a benchmark we will call the "Optimal Pareto Optimum" (OPO) and assume that achieving the OPO is the dictator's objective.4

Omniscience is another matter. In our view, no one person—benevolent or not—could possibly have all the relevant knowledge about values, demand, and supply, to maximize welfare. One version of this question is the famous "socialist calculation debate," settled for many people by Hayek's (1945) equally famous argument that only markets can provide a robust discovery process to aggregate dispersed knowledge. This may be true, and in fact that could be a reason why a benevolent dictator might choose to use markets as a practical (though imperfect) substitute for omniscience or synoptic knowledge. But it is not necessary to argue that markets can solve the problem to assert that a dictator cannot solve the problem, at least not alone. No central authority could be omniscient, so even a benevolent dictator must choose among institutional arrangements as a means of eliciting and aggregating information (Hayek 1945, Myerson 1979).

Omnipotence is as problematic as omniscience. In a large and complex society, even a benevolent dictator needs the help of agents in implementing Pareto optimal policies. But it is fatally unrealistic to think that her benevolent policies will be carried out as intended. Some agents may be corrupt, or shirk because they are lazy or do not share the benevolent leader's goals, or may redirect their energies toward rent-seeking—all likely sources of government failure.

It is useful to pause to consider what now might be called "The Tullock Objection," or the assumption that people in the public sector (elected officials, bureaucrats, interest groups, voters, and so on) are motivated by anything other than self-interest.5 In simple terms, there is no such thing as a "benevolent dictator." Buchanan started this "objection" when he (re)discovered Knut Wicksell in the University of Chicago's Harper Library in 1947. Buchanan read German, and when he found "A New Principle of Just Taxation" he said that he felt as if "the scales had fallen from my eyes" (Buchanan 2001). Wicksell (1896, p. 82 emphasis added) said:
[W]ith very few exceptions, the whole theory of [public finance] still rests on the now outdated political philosophy of absolutism. The theory now seems to have retained the assumptions of its infancy…when absolute power ruled most of Europe…

Even the most recent manuals on the science of public finance frequently leave the impression of enlightened and benevolent despotism…
Public choice has developed this insight, particularly in the work of Gordon Tullock, by relying on the assumption of behavioral symmetry, meaning that elected officials and bureaucrats are no worse, but no better, than private citizens, because they are no different. Public officials are no more benevolent than anyone else, and therefore the idea of a central authority that seeks single-mindedly to advance the public interest is fanciful.6
Nonetheless, we adopt the convention of a benevolent dictator. One reason is that the assumption remains common, more than a century after Wicksell's objections and 50 years since attempts at refutation by development of the Public Choice literature. The central reason is not that we think that the benevolent dictator approach is useful or verisimilous. Instead, assuming a benevolent dictator allows us to finesse the problems of collective choice that plague any group endeavor, as those are not our main focus. To put it another way, even if the patently absurd assumption of a benevolent dictator is granted, the failures of government we catalog all still occur, and are in fact unavoidable.
1.2

Why the Pareto criterion is appropriate as a benchmark

The "Pareto criterion" allows the comparison of different social states of the world based on the evaluations of individuals. The difficulty in selecting "good" policies is both ethical and practical; the Pareto criterion gives primacy to individual judgments about what is better or worse, and asks if there are some moves on which we can all agree.
Pareto improvements are based on a comparison between two alternatives, the status quo Q and a feasible new social state S. We say S is "Pareto superior" to Q if everyone in the society prefers S to Q (strong form) or if at least one person prefers S to Q and no one prefers Q to S (weak form).

Pareto optimality is based on a comparison between a status quo Q and any other alternative S. We say Q is "Pareto optimal" if there exists no feasible S that is a Pareto improvement over Q
Pareto comparisons have three key elements, and a proviso
7
:
1.

Autonomy: The process defers to the individual's subjective judgments about better or worse. If the individual believes herself to be better off, she is, and in the absence of other compelling facts that belief is given deference.8 So no one has to answer "why" or give reasons. Instead, the utility function of the individual is the judge. In practical terms, autonomy requires actual consent to proposals that are believed to "improve" the welfare of the individual.

 

2.

Unanimity: The Pareto criterion is a means of obtaining consent to public or collective decisions. The strong form requires that all people in the society agree that they are better off. The weak form requires only that no one is worse off, in line with Mill's "Harm Principle" (Mill 2002).

 

3.

Compensation: Pareto comparisons suffer from the weakness that no one must be harmed. But many comparisons create total benefits far larger than the relatively small costs they create. This suggests augmenting Pareto comparisons with side payments or compensation. Importantly, this suggests a means of adjudication among Pareto optima, because some Pareto optima are "better" (create more total value) than others. That is, if the benefits to choosing S (for the gainers) are large enough to create a surplus value that allows the compensation of those who prefer Q (who would, in effect, "lose" by moving from Q to S), unanimity can still be achieved. The gainers compensate the losers, and the result is a Pareto improvement, because (after the compensation is paid) everyone prefers S to Q. This "compensation-augmented Pareto comparison" suggests the existence of at least one "Optimal Pareto Optimum" or OPO. The OPO is that Pareto optimum compared to which no Pareto improvement is possible, even allowing compensation (and assuming, because of the actions of the benevolent dictator, no hold-up or other strategic bargaining tactics.)9

Proviso: There is an obvious, and potentially crippling, tension between autonomy and compensation.10 As we will see there are objections to the notion that someone else can accurately gauge what a citizen values and how that trades off for compensation. Further, there are bargaining problems because the citizen might be better off but hoping to "hold up" the process by refusing to give actual consent. Thus, there are at least three problems: (a) information; (b) incommensurability; and (c) hold-up. Each of these problems might legitimately prevent agreement. But we are only going to consider the information problem, and investigate the extent to which different mechanisms are effective "discovery processes." That is, we will assume that all (relevant) issues are commensurable, making compensation possible, and we will assume that people are cooperative and willing to accept a proposed solution (if it is in fact better from their perspective) even if strategic hold-up might give them an even better outcome. The reason for this proviso is obvious, we hope: even if these (significant) simplifications are allowed, governments still fail. Without these simplifications, failure can be systemic and catastrophic.

 
1.3

Outline: substance, process, and behavior

We apply this apparatus to the problem of government failure in three steps. The first step is explained in Sect. 2: substantive government failure, or the failure to solve basic problems of organization and credible commitment. In these instances, which we examine in the first major section of the paper, we consider problems of organizing a functional system of governance, to make credible commitments to control debt or the temptation to debase the currency, and to control rent-seeking. All of these problems, if unsolved, leave the society at an outcome that is not Pareto optimal. In practical terms, this means that at least one feasible alternative exists that could make every member of the society better off, and yet the change is not made.11

This is precisely the logic of the Hobbesian "war of all against all" (Hobbes 2012). In the absence of any order, no investment, property, or law is worthwhile. Everyone in the society would be better off agreeing to some system that offers governance, predictability, and freedom from coercion by outsiders or other citizens, so we look at the "absence of order." If the state cannot impose predictable rule of law without corruption, then state activities are diverted from securing order and producing basic public goods to lining the pockets of officials, so we look at "transaction costs" such as corruption, agency, and rent-seeking.

If the society secures a foundational and workable consensus on the substance of governance—a "constitution"—then the problem of escaping Hobbes' "state of nature" is solved, and some Pareto optimum is selected. The failure to reach a Pareto optimum is therefore how we define substantive government failure.12

The problem of procedure is quite different. Procedure is the problem of choosing the "best" from among a set of Pareto optima. As Hardin (1990) argued, this step requires justifying the procedures to be used by an actual polity. To gain analytic purchase on this problem, we employ a simplifying procedure: imagine that only two Pareto optima are on the table, one of which is better than the other under the "potential Pareto with compensation" comparison. That is, allowing for cardinal utilities and side payments, one of the two Pareto optima being considered is better than the other.

We investigate whether any of five general categories of procedures—voting, interest group pluralism, pricing-exchange processes, bargaining, or cost-benefit analysis—can be expected consistently to select the correct answer.13 It is important to note that we do not consider this decision context to be realistic; quite the contrary. Our goal is to assume away the Arrovian problems of social choice (by having only two alternatives) and problems of ethics, ideology, and political intransigence (by having cardinal utilities, considering only compensable issues selected by purely rational agents, and allowing side payments). What we find is that even in these artificially favorable circumstances all five categories of procedures fail to select the OPO.

In Sect. 4, we consider some extensions and possibilities for the elaboration of government failures under more realistic assumptions about human behavior. These observations are necessarily more suggestive than dispositive, because work in psychology and behavioral economics has only begun to illuminate the problems of decisions and collective action and the limits of even the best procedures to produce the desired outcomes.
2

Substantive government failure
2.1

Justifying the state

It useful at the outset to summarize the justification for the existence and centrality of the state in society. Economists tend to think of markets as institutions for maximizing social welfare. But there is nothing "social" about maximization: Robinson Crusoe faced maximization problems when he was alone on his island. On Thursday (i.e., before Friday), Crusoe had to decide whether to build a shelter, find food, find water, or rest. The optimum choice among alternative activities meant the difference between life and death. Consider Crusoe's account:
I was not idle…I considered the keeping up a breed of tame creatures thus at my hand would be a living magazine of flesh, milk, butter, and cheese for me as long as I lived in the place, if it were to be 40 years… [I also grew grapes], which I never failed to preserve very carefully…they were not only agreeable, but medicinal, wholesome, nourishing, and refreshing to the last degree…

But now I come to a new scene of my life. It happened one day, about noon, going towards my boat, I was exceedingly surprised with the print of a man's naked foot on the shore, which was very plain to be seen on the sand. I stood like one thunderstruck…

I came home to my fortification, not feeling, as we say, the ground I went on, but terrified to the last degree, looking behind me at every two or three steps, mistaking every bush and tree, and fancying every stump at a distance to be a man. (Defoe 1968, chap. XI)
When Crusoe later encountered Friday, their first problem was to arrive at a "bargain" wherein neither would kill the other. Markets are premised on a particular form of cooperation called exchange (which is a social act) rather than solely promoting optimization (which is an individual act, as made clear by Crusoe's choices of growing grapes and keeping goats). But for precisely that reason, markets require a prior—though perhaps unspoken—social agreement that we not kill each other, and (possibly) in addition that we will cooperate for mutual defense.14
The justification for cooperative agreement is thus prior to markets, at least in terms of the way we usually think of markets as institutions for reducing the transactions costs of impersonal exchange. Purely voluntary bilateral contracts among individuals cannot solve the problem of circumscribing coercion, and voluntary multilateral contracts are much too costly to negotiate and enforce, at least not over large areas and over long time spans. Consequently, collective institutions for controlling coercion are a necessary pre-condition for the very existence of the kind of enforceable voluntary contracts that markets simply assume. Buchanan's (1987) metaphor of "politics as exchange" suggests that groups can constitute agreements that are Pareto-superior cooperative solutions to the failure of decentralized bilateral transactions.
But this means that Hobbes was right in an important sense. Coercive institutional arrangements exist that are Pareto improvements over a 'state of nature' wherein no state institutions are in place. And, as Brennan and Buchanan (
1985
) note, these rules can become nearly self-enforcing, and therefore much cheaper to enforce, if they are followed and internalized.  F. A. Hayek, no fan of the state, concedes as much when he says:
The question is … what properties [social] rules must possess so that the separate actions of the individuals will produce an overall order. Some such rules all individuals of a society will obey because …they will be part of their common cultural tradition. But there will be still others which they may have to be made to obey, since although it would be in the interest of each to disregard them, the overall order on which the success of their actions depends will arise only if these rules are generally followed. (Hayek 1973, vol. I, p. 45; emphasis added)
But even if we accept the existence of at least one (unknown) Pareto-improving governance structure, all that would establish is that some form of state can be justified. Which form? And once the state exists, what should it do, and how can the state be induced to do that? What should it not do, and how can it be prevented from doing that? There is an obvious logical contradiction in claiming that since some (unspecified, possibly unique) governance structure can justified that therefore any state is better than a state of nature. What is needed, and what we propose here, is a guide to choosing among feasible Pareto optima.
That choice will be implied by the capacity of varieties of actual institutions to choose what we will call the Optimal Pareto Optimum (or, again, the OPO). One virtue of this approach, in our view, is that even under these strikingly restrictive (and advantageous) assumptions about the decision context government still exists. But another is that it is closely related to the approach traditionally taken to defining "market failure." The concept of market failure goes well back into the nineteenth century, with John Stuart Mill, Henry Sidgwick and Arthur C. Pigou (Medema 2009, chaps. 2 and 3). As Ledyard (2008) put it, "The best way to understand market failure is first to understand market success." The problem is that "market success" cannot be defined without a set of implicitly assumed, usually unnoticed, assumptions about the existence of a functioning state.
There are exceptions, of course. A. C. Pigou is (rightly) seen as an ur-text for the argument that the state might be able to improve policy outcomes, given market failures. But he was far from naïve about the limits of government action (Pigou
1912
, pp. 247–248):
It is not sufficient to contrast the imperfect adjustments of unfettered private enterprise with the best adjustments that economists in their studies can imagine. For we cannot expect that any State authority will attain, or even whole-heartedly seek, that ideal. Such authorities are liable alike to ignorance, to sectional pressure, and to personal corruption by private interest. A loud-voiced part of their constituents, if organized for votes, may easily outweigh the whole.
Later, in "State Action and Laissez-Faire," Pigou (
1935
, p. 124) again sounded a note of caution
15
:
In order to decide whether or not State action is practically desirable, it is not enough to know that a form and degree of it can be conceived, which, if carried through effectively, would benefit the community. We have further to inquire how far, in the particular country in which we are interested and the particular time that concerns us, the government is qualified to select the right form and degree of State action and to carry it through effectively.
Nonetheless Pigou argues that the distinction between states and markets is fundamentally misleading, because the state comes first:
No defender of so-called laissez-faire desires that the state should do absolutely nothing in matters relevant to economic life. The most ardent believer in the economic harmonies, that are supposed to flow from the unimpeded pursuit by individuals of their private interests, argues that these harmonies will not emerge unless robbery at arms is restrained by law, fraud repressed, and contracts which have been formally accepted enforced. (Pigou 1935, p. 109).
In our "anatomy" of procedural government failure, we identify three problems that all governments, authoritarian and democratic systems alike, have to solve: the absence of order, abuse of the purse, and the failure to control transaction costs. Those in political power may or may not care whether their societies suffer these problems. But states that exhibit these failures will be weakened, and are more vulnerable to revolution or external threat than they would be otherwise. More importantly, for our purposes, such failures make states "failures," in the sense of failing to achieve the optimal Pareto optimum that justified their creation and continued existence.
2.2

The absence of order

The logic of Hobbes (

1651

) is that even a Leviathan state, an autocratic monarch with unlimited power, would be better than no government at all. In a similar vein, Huntington (

1968

, p. 1, emphasis added) has said that:
The most important political distinction among countries concerns not their form of government but their degree of government. The differences between democracy and dictatorship are less than the differences between those countries whose politics embodies consensus, community, legitimacy, organization, effectiveness, stability, and those countries whose politics is deficient in these qualities
Huntington included the USSR with the United States in the former group, countries that are extensively governed by a kind of consensus. But he was wrong: The collapse of the Soviet Union suggests that repression masked severe deficiencies in "consensus, community, legitimacy, organization, effectiveness and stability." The United States itself may not have the "degree" of government it seemed to have in 1968.
Nonetheless, we endorse Huntington's point: the absence or extreme weakness of government is a failure, a failure that has profound implications for the way people are able to live their lives. It may be possible, in principle and some cases in historical fact, for an anarchist group to govern itself through consensus on the obligations and limits of citizenship, to organize itself, and to maintain stability (Taylor 1982 gives examples). Such situations are rare in the contemporary world, and—for whatever reason—have not survived long when they do exist.16 Thus, when we say "governance" we will be considering government by state institutions, and when we say "government failure" we will mean the failure of state institutions.
It is common to argue whether the state is "too strong" or "too weak." But this is a misleading dichotomy. The citizens have selected certain competencies or jurisdictions for the state to exercise power, usually a monopoly on the legitimate use of force. In that context, the state must be strong enough to carry out its functions within those competencies, but much too weak—because of institutional restraints—for its powers to metastasize outside the jurisdiction legitimated by citizen consent (in a democracy) or established custom and convention (in a stable autocracy). A state that lacks either institutional powers or practical capacity within its core jurisdictions suffers the most fundamental government failure: the absence of order. These are failed states.17
In their book on Failed States and Institutional Decay (2013), Ezrow and Frantz advocate a focus on the quality of state institutions, which they classify as administrative, judicial, security, and political. Good institutions promote political stability and economic performance. For "high quality" administrative institutions they advocate meritocratic recruitment and promotion, and autonomy (among other things). For high quality judicial institutions, they advocate independence, integrity, and transparency. For high quality security institutions, they advocate professionalism and a centralized military command with professional norms of deference to civilian authority. Ezrow and Frantz (2013, chaps. 4–7 and Conclusion) do not advocate any features as characteristic of high quality political institutions, because they suggest that no features of such institutions uniformly promote political stability and good economic performance.
An element of conventional wisdom in political economy is that limitations on government are a fundamental requirement for economic growth. Still, as Huntington (1968, p. 8) put it, "authority must exist before it can be limited." Hanson (2014) distinguishes investment-led growth, in which a strong state may be necessary for building an industrial base, from innovation-led growth, where institutional veto players may be more constructive. Hanson argues that at early stages of development, state authority is more important than constraints on rulers for promoting total factor productivity and growth than it is when states are closer to the technological frontier, when constraints become more important.
The absence of a government with the capacity to provide for the security and well-being of its citizens is the most basic government failure. And it is, to use the terminology of Weimer and Vining, a passive failure, but a passive failure so catastrophic as to make the state unsustainable as a distinct political and geographic entity.
18
As Weimer and Vining (
2011
, p. 206) put it:
[Passive failure] can include outcomes that are attributable to the government not diagnosing market failures correctly as well as situations in which the lack of intervention derives from more concrete causes, such as the active influence of organized interest groups that successfully block efforts to correct market failure.
Some such failures to act may be sustainable, at least in the short run. For example, an effort at pollution control that is blocked by supporters of the emitting industry simply imposes net economic costs that could have been avoided by government action. But passive government failure can extend to a breakdown in the collection of taxes, the failure to pay for and organize police and military protection, and an inability to maintain basic infrastructure. Failed states have economic costs.
A number of theorists recently have addressed the problem of government failure at the level of systemic collapse. Diamond (2005) argues that what he calls "collapse" hinges on institutions that fail to solve collective actions, and may even create negative feedback loops. More recently, Acemoglu and Robinson (2012) argue that a strong central government is a prerequisite for growth and prosperity. They put a nearly exclusive emphasis on institutions, with a focus on institutions that reward innovation and produce shared prosperity. They are skeptical of the "geographic determinism" explanations given by Diamond, and argue that the most important feature of institutions is whether they create sustainable prosperity and a shared sense of cultural success over long periods.
Scott (1998, 2009) takes a more pessimistic view. He believes that two tendencies are evident in the pattern of state development over time. The first is the consolidation of power in the central government. The second is the general weakening and decline of highly centralized states, echoing in some ways Olson (1982). He claims that "high modernist ideology" focuses on centralizing state power at the expense of the factors that made societies grow and prosper in the first place. Scott (1998, pp. 88–89) argues that, to the extent that these two factors are observed in all governments over time, there is a focus on rules, procedures, and bureaucracy that suppresses what he calls "the indispensable role of practical knowledge, informal processes, and improvisation in the face of unpredictability."
2.3

Abuse of the purse

Governments have spending obligations that can range from small to large, depending on the values and beliefs of those who control the government. Governments can cover the spending with taxes, borrowing, or monetization. Having a monopoly of legitimate force, governments can tax their citizens, and they can borrow from them as well as from other potential creditors outside their boundaries. Prudence and rule of law substantially reduce the interest rate required for borrowing, and the ability to raise taxes through voluntary compliance likewise makes it possible for states to borrow now against that implied revenue source in the future.19

Governments may or may not follow a "fiscal constitution" defining conditions under which it is appropriate to borrow rather than tax.20 The risks of too much borrowing include "debt intolerance," which "is a syndrome in which weak institutional structures and a problematic political system make external borrowing a tempting device for governments to employ to avoid hard decisions about spending and taxing" (Reinhart and Rogoff 2009, p. 21). One possible result from this syndrome is default, and an inability to borrow in the future.

Of course, this discussion has presumed—implausibly—that the value of money remained constant over time. But the capacity of nations to depreciate their currencies is an additional danger. In fact, debasement of the currency is simply another means of indulging fiscal indiscipline. A government that inflates its currency can "repay" its debts with less actual value than what it borrowed originally. This was possible under metallic standards—for example, a gold standard or silver standard—by reducing the amount of precious metal in the currency (Reinhart and Rogoff 2009). Bernholz (2003) shows that in general, inflation has been lowest in metallic regimes, and highest in fiat money regimes. Selgin and White (1987) give an even less optimistic view of the effects of fiat money.

But this historical fact–more fiat money, more inflation–confuses cause with effect. A scrupulously maintained gold standard indicates a commitment to sound money, not vice versa. Exactly the same result could be obtained with fiat money system under a tightly enforced monetary constitution, if a monetary constitution could be tightly enforced. And lacking a commitment to a monetary constitution, a gold standard is no protection, because the value of gold, or—what amounts to the same thing—the amount of gold contained in or backing the currency, could be adulterated or manipulated. The key is not the composition of the currency, but the commitment of the government authority to sound money.

Failed states are unable to solve the time inconsistency problem, and either borrow excessively or monetize debt excessively in the short run in a way that ultimately denies access to loans at risk free interest rates. Abuse of the purse is more than a technical failing, implying a failure of the state to be able to finance basic services such as defense and enforcement of property rights.
2.4

Transaction costs

There are many generic failures that can happen in either democratic or autocratic governments at the level of implementation and enforcement. Corruption, agency loss, and rent seeking are problems that involve transaction costs, extortion, or strategic contracting problems in one way or another. This problem highlights again our claim that governments are logically prior to markets, in the sense that institutions create the set of rights and the transaction costs involved in exchanging rights and the predictability of rewards that determine the vitality of a political economy.

The simplest of these failures is corruption, which, in a governmental context, is the private use of public resources by the government officials in control of those resources. Corruption can range from direct embezzlement of government funds to the solicitation of bribes in return for government contracts or public policies. Such corruption usually is unambiguously bad (because corruption is Pareto inferior to rule of law), and it is almost always—by definition—technically illegal, though it may be winked at or even encouraged by the authorities.21

Agency loss occurs in a governmental context when an agent substitutes his or her goals for those of the principal. Agency loss can range from simple shirking of duties to substitution of the preferences of the agent for the goals of the principal. An example of this is government regulation of industry, when the regulators become more sympathetic with the regulated industries than with the proponents of regulation (Stigler 1971). But agency loss can also result from an unwillingness to devote effort or impose needed reforms, as with the problems the United States has recently has had with the Veteran's Administration hospital system, or with the failure of the Department of Health and Human Services to prepare adequately for the web interface problems in signing up for Obamacare. These problems may be a lack of capacity in some nations, but in the U.S. case, it appears that the failure primarily was a lack of implementation and political will. Benefits of progress that seem substantial in principle can be entirely consumed by agency costs.

The baseline for rent seeking is more subtle than that for corruption or agency loss, but at root it involves competing for a resource that already exists. Rents are defined as "rewards and prizes not earned or not consistent with competitive market returns" (Congleton et al. 2008, p. 1). As Buchanan (1983) points out, the more government intrudes into directing resources in society rather than protecting individual rights and enforcing contracts, the more opportunities there will be for rent seeking. The point is that efforts to secure benefits that are defined by government in excess of the competitive market returns implied by the opportunity costs of the resources in question will fail to produce benefits, and can impose substantial net social costs.
2.5

Substantive government failure

The theme of the "failures" outlined in this section is the inability of actual states under some circumstances to achieve Pareto optimal solutions to problems of cooperation. The three large scale failures described here, the failure to maintain basic order, failure to manage the purse, and failure to manage institutions that reduce transaction costs of exchange, all prevent citizens from achieving feasible cooperative results.

To the extent that the facilitation of capturing the gains from cooperation is, in our account, the justification for the creation and existence of the state, the failure to achieve a Pareto optimum is the most fundamental kind of failure. In a sense, the difficulties we have discussed here are meta-problems, failures so fundamental that the very justification of political authority is impeached. In the next section, we take up the problem of procedure, assuming that the problems discussed here have been solved, or at least are controlled. Procedures are means for choosing among Pareto optima, when citizens disagree about which outcome is preferable. Choosing procedures is one of the fundamental problems of politics.
3

Procedural government failures
3.1

Theoretical problems of governance: five mechanisms for choosing and implementing policy in real states

Governments make choices for society using some collective choice rule. Democracies use some form of voting procedure, and authoritarian governments, even the narrowest dictatorships, are likely to use some system of weighting the welfare, productivity, and value of different segments of the population.22 Then it is the nature of government choice that the single policy or rule selected is binding on all: one defense budget, one national flag, and so on.

Exceptions arise if rules or policies are segmented. In the case of federal systems, disjoint subsidiary units may have different rules; less benignly, government may discriminate among races, castes, or regions, selecting some subset of citizens to tax, or oppress, compared to others whom the rules privilege.

But these exceptions are complications of the general observation that governments must choose polices or budgets and that then this budget applies to the entire geographic area relevant to that choice. Discrimination based on morally arbitrary or purely invidious difference might be categorized as a separate kind of "government failure" on its own, but we will not discuss it further here. Our approach has been to place government institutions in the most favorable light possible, and then to make comparisons based on the Pareto criterion, assuming the "dictator" is not racist or evil.

So, ruling out purely harmful or discriminatory government actions, we describe five mechanisms or algorithms for making collective decisions. And, again, even authoritarian states may use at least one of these mechanisms, unless the state is ruled purely by the random whim of the autocrat. Still, rule by autocrats is likely to be idiosyncratic, almost by definition.
3.1.1

Democracy

Democracy, in our view, has two essential—and possibly conflicting—features: popular rule based on voting to elicit the "will of the people," and limitations on governments' ability to control or coerce individuals, even if that is the will of the people as revealed by the voting rule. In this sense, democracy is any of a broad class of institutions that allow groups of people to achieve a balance, avoiding both the absence of order and the government failures of excessive or coercive action listed in the previous section. Elections, for example, allow a group to choose a leader to achieve the gains of cooperation in providing public goods (Samuelson 1954; Strotz 1958; North et al. 2012), while also affording an opportunity to get rid of bad leaders, without violence or revolution. Constitutional limitations on government block bad policies or the metastasis of coercive power into aspects of private lives to which citizens have not given their consent. Obviously, neither elections nor constitutions are foolproof.

The first two mechanisms or procedures we consider—voting and interest group pluralism—are standard political decision mechanisms of democracy. We consider these to be "centralized" mechanisms, because even though the unit of the choice—the individual voter or interest group—is capable of independent judgment and registers an independent preference, the result is a single choice for the entire group. In some cases, such as choosing a defense budget or a speed limit, this single choice for all citizens may make sense. In other cases, such as restaurant menus, reading or television viewing choices, or the decoration and layout of homes, decentralized and individual choices may be preferable.
3.1.2

Generic mechanisms

The next two procedures (decentralized price-signaling and bargaining) are generic ways in which a democratic or authoritarian society can make decisions that approximate Pareto improvement on a disaggregated basis, rather than making top–down decisions for the whole society. An autocratic government could choose—as appears to be the case now in Singapore, or for decades in Hong Kong, before the changeover, for example—to use market processes as the result of a conscious choice to protect property rights and control corruption. Alternatively, a system of "bargaining" among elites, either as members of a "Politburo" or aristocracy or among powerful warlords or barons, might either be chosen or simply emerge as a conventional means of making allocation decisions. One might argue that markets and bargaining "just happen," of course. But the efficiency and stability of such a system depends heavily on the ability of the government to make credible commitments to respect the results and protect property rights.

We will also categorize as bargaining such small group reflective decision mechanisms as "deliberative democracy." The style of bargaining differs, of course, in that participants are trying to persuade others to take account of other principles or ethical considerations, but the essence of bargaining is that participants change or at least adjust their positions in response to "offers" by others.23
3.1.3

Technocracy

The final mechanism, cost-benefit analysis, is a technocratic solution that cuts across economics and politics. The premise of cost-benefit as an approach to allocation decisions is to add up the total benefits to the gainers, and then subtract the total costs to the losers. Cost-benefit may well be observed in any bureaucratic setting, in either democracies or autocracies, privileging the (possibly flawed) estimates by experts over the (possibly flawed) judgments of individuals in decentralized settings or preference aggregation mechanisms such as voting.
3.2

The nature of the comparison
3.2.1

Centralized, decentralized, and hybrid mechanisms

The comparison is conducted under artificially favorable conditions, as it is useful to ignore the classical problems of collective choice that arise with ordinal, subjective utilities and multiple alternatives.24 We limit the alternatives to two Pareto optimal choices, and assume cardinal, interpersonally comparable, utilities, not because these assumptions are plausible but because these assumptions allow us to focus on the intrinsic flaws in choice mechanisms even under artificially favorable conditions. More simply, what we illustrate is that government fails regardless of which of the five choice mechanisms is selected, even if the social choice problem is assumed away.

To clarify the nature of the comparison we wish to make among the five alternative mechanisms for choosing or organizing cooperative human activity, we present a Venn diagram in Fig. 

1

.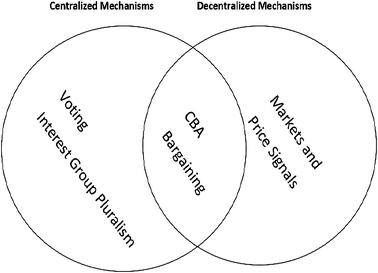 We stipulate, as a starting point, from the previous section, the desirability of achieving Pareto optima. After all, if a social choice process selects an outcome that is not Pareto optimal then some or all members of the society can be made better off without harming anyone else. The real problem, which economists have tried to avoid, is the selection among Pareto optima when people disagree about the "best" outcome. But this is a problem which has a solution, if one accepts the utilitarian calculus of adding up gains to the gainers and losses to the losers.25
Public or collective choice is characterized by processes that admit of only one choice from among many (such as a speed limit, a defense budget, a policy on same-sex marriage) which then must be obeyed by all in a given jurisdiction. Consequently, almost all choices involve (depending on the status quo or reversion point) an improvement for some people and harm for others. The Pareto criterion, as such, has nothing to say about such problems. But society has to choose something, and some ways of choosing are better than others, in particular circumstances.
In asking the question this way, we are connecting to a pre-Arrovian tradition in welfare economics. In some ways, the Arrow Impossibility result, and subsequent work in social choice, has been a diversion. The older debate in social science was over the relative performance of different collective choice mechanisms, given a benchmark for comparison. The best known work in this area was that by Bergson (1938) and Samuelson (1947).26 The "market failure" (Bator 1958) view was on a parallel track, premised on a comparison with an optimal Pareto optimum. When market processes fell short of this, state regulatory action was required.
A second set of results, often simply ignored by "market failure" view, was the earlier "socialist calculation" debate of the 1930s and 1940s. Oskar Lange and Abba Lerner (among others, Lange and Taylor 1938; Lerner 1944) argued that it was possible to "solve" the problem of allocating resources so as to achieve a Pareto optimum. Further, since the government could also redistribute benefits, it was possible to achieve the optimal Pareto optimum. Ludwig von Mises and F. A. Hayek (again, among others; von Mises 1920; Hayek 1945), argued that the problem was not just difficult, but actually unsolvable, without unrestricted market processes to give accurate and dynamically updated price signals.27 These "Austrian" objections are shunted aside in an approach that focuses on "market failure," but come back into focus when government failure is the object of analysis.
3.2.2

Cardinal utilities, compensable choices

The approach we propose is restricted to policies that are compensable, or for which trade-offs exist for the citizen. This is not always true, of course. If a person thinks abortion is morally wrong, it is unlikely she will accept side payments or compensation to drop this belief. This sort of "all or nothing" issue resists compromise, and is singularly ill-suited to treatment by the usual tools of economists.

It is possible to consider even incompensable policies in consequentialist terms, of course. Donohue and Levitt (2001) argued that a substantial material benefit flowed from legalizing abortion, because crime rates fell quite sharply after Roe v. Wade in 1973. More importantly, crime rates fell most, cross-sectionally, in states that had the highest rates of abortion.

This "result," even if it is completely correct, is simply irrelevant to the concerns of abortion opponents. The objection to abortion is not that it has bad consequences for the society. The objection is that abortion has bad consequences for the fetus, and for the moral character of the mother and the health care workers committing the—as opponents see it—murder.

What activities might be compensable? We are thinking of mostly economic decisions: given that a road is going to be built, should we use route A or route B? In each case, eminent domain will be used to take property for a public purpose, and the owners will receive compensation, though less than they might demand to sell their property on the private market.

Alternatively, we might be thinking of basic regulations. Suppose the group is faced with a choice between two speed limits, again A and B. In this case, no compensation for the "losers" is usually offered. But it is possible to imagine achieving unanimous consent by offering compensation, provided the gains to the gainers exceed the losses to the losers in material terms. The problem is made more difficult by the necessity of specifying a status quo (the present policy, which if unchanged is preserved) or a reversion point (the alternative policy that will be selected if the groups fails to come to an agreement (Romer and Rosenthal 1978, 1979).

Economists generally have taken one of two approaches to solving the problem. First, they have assumed that the status quo is not a Pareto optimum, and then discussed means of moving to "the" Pareto optimum." In the case of speed limits, we might start with "Zero." That is, no cars are allowed to move. This is terribly inefficient. Then it is easy to imagine that someone proposes "Thirty." Everyone prefers 30 to 0, and a Pareto improvement is achieved. It is quite likely that some choosers want a higher speed limit, but others may prefer a lower speed limit. Therefore, no other Pareto improvements are possible, compared to the new status quo point of 30 mph, and the choice is settled. But the same could be said for moving from zero to 25, or from zero to 40.  Almost any collective decision is better than a bad reversion point. But that doesn't mean that any collective decision is an OPO.

The second approach is to specify something like a social welfare function (SWF). This approach—once discredited after the results published by Arrow (1963) and others—is making a strong comeback. It is simply assumed that there is some coherent and mathematically tractable means of comparing alternatives on purely utilitarian grounds. Besley (2006), for example, cites Sen (1977) as a justification for assuming that a SWF exists and is known by the state and will be used by the state to make choices. All that is necessary is utilitarianism: "If interpersonal comparisons are allowed, social welfare functions can be derived which satisfy Arrow's axioms" (Besley 2006, p. 21).

The claim is true, but the assumption of utilitarianism is not innocuous. What is meant is that if two alternatives A and B are available, then "we" know that A is better even though some people prefer B. Further, once "we" have the SWF, this knowledge is ex ante and objective; no additional information is required. Given two alternatives, one can be selected.
3.3

An example: choosing among Pareto optima

To make the problem clear, we consider a "toy" example, a group of people choosing between two alternatives. We will consider a setting wherein the starting/reversion point is not Pareto optimal, and the group must choose between two Pareto optima, each better (by definition) than the starting point. Consider Fig. 

2

, which depicts the situation, with the amount of Good 1 produced on the horizontal axis, the amount produced of Good 2 on the vertical axis, and the "Production Possibilities Frontier" marked in the heavy

dashed

line.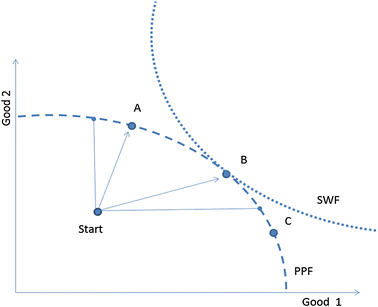 This familiar diagram "shows" that two alternatives, points A and B, are clearly better, for everyone, than Start. A third alternative, C, might be better than Start, but it would depend on how people trade off Good 1 against Good 2. Some people might prefer the extra Good 1, and would be willing to give up the amount of Good 2 required to move from A, or B, to C. But others might not. The SWF is used to choose for the society, because it can make interpersonal utility comparisons.
The SWF (actually the relevant indifference curve of the SWF) in Fig. 2 is the heavy dotted line. The SWF—because it can make interpersonal utility comparison—summarizes all the individual tradeoffs faced by each member of the society, adds up all goods and the utilities, and reveals that alternative B is the best Pareto optimum. A is Pareto superior to Start, and B is Pareto superior to Start, but B is socially preferred to A, because the SWF says so.
The problem is that the SWF is oracular; it is not obvious how real institutions might generate values for this sort of interpersonal welfare comparison. To make this clearer, let's assume that the group has somehow already selected outcome "A," which is on the production possibilities frontier for the society and is therefore Pareto optimal. Of the five citizens, some number prefer a move to "B," and the rest prefer to remain at "A" (no one is indifferent). What should they do? If they actually had a SWF, the answer would be "move to B." But how might the information that could be used to reach such a conclusion be gathered?
The answer in the social choice literature is to assume (a) that "we" know all preferences, of all individuals, and (b) that—as Sen and Besley suggest—interpersonal utility comparisons are allowed. We do something like this all the time, in effect, by using public policies to answer "needs" using money taken in taxes from others. Or when we build roads or dams, or when we impose regulations requiring motorcycle riders to wear helmets. In every case, we are weighing the harms, and benefits to different people, and trying to choose the policy that maximizes the sum of the benefits after subtracting the sum of the harms.
The problem is that the first assumption—perfect information about preferences and the consequences of policies—is absurd. Rather than assuming a SWF as an input to the policy process, real policy processes are imperfect attempts to elicit the information that would make approximating a SWF possible, as an output. Information is the result of various (imperfect) discovery procedures, not something we can assume policymakers have at the outset.
This suggests a highly simplified SWF, one that uses a cardinal measure of interpersonally comparable utility. Economists use a variety of names for this concept: willingness to pay, consumer surplus, producer surplus, and so on. Consequently, we will define the units of satisfaction as "dollar-utiles," based on the willingness to pay of the participants. For any two points A and B, an individual either prefers A, prefers B, or likes them equally well. And if A is preferred to B, then "willingness to pay" tells us by exactly how many dollars A is better, for that individual.28
3.4

Five alternative mechanisms
3.5

Overview

This section has examined five procedures for choosing and implementing one rather than another Pareto optimum. Such procedures are partly "discovery" processes, since the correct answer may not be known in advance. But procedures are also themselves policy choices, because some are likely to perform more reliably than others in different circumstances.

What we have argued is that the five procedures (voting, pluralism, markets, bargaining, and CBA) each have fundamental flaws that prevent it from being a universal solution. More simply, government procedures fail, in the sense that outcomes deviate from the optimal Pareto optimum systematically. We have embedded "markets" as one possible choice of the government authority to give market failure its due place among procedures that are imperfect. But in making this comparison we highlight the fact that market failures derive from the same essential problems, and for analogous reasons, as other types of failures of procedures.
4

Realism in behavioral premises
5

Final words

The concept of government failure is a much bigger problem than its contemporary treatment has admitted. The concept has been trapped in the cocoon of competitive equilibrium theory. CET is one of the greatest achievements of the social sciences, but "failures" using CET as a benchmark do not do justice to either the damage that unconstrained government can do, or the importance of effective government for well-working markets, not to speak of general well-being. Whether the cocoon produces a beautiful butterfly or a destructive moth, we hope that we can now move beyond a simplistic "government failure is the failure to correct market failures" approach.  

We began by asserting that many of the greatest catastrophes of human history have been government failures. While our examples were illustrative rather than comprehensive, our point is that government failure is a sufficiently important problem to be considered in its own right, rather than as derivative of, and secondary to a theory of perfect markets.

We have laid the groundwork in three steps for a conception of government failure that does not depend on even the theoretical existence of market perfection. The first step was a basic list of substantive failures that all governments may yield to if they do not cultivate and maintain appropriate institutions. These institutions can be formal, written rules, or unwritten practices that constitute the "rules of the game." Their purpose is to assure that government is strong enough to preserve order and liberty, to discipline the temptations to have an irresponsible and unsustainable fiscal and monetary policy, or to use public power for private purposes. This list is not exhaustive, and it concentrates on risks that are systematic and continuing rather than situational.

The second step was to show the limitations of a comprehensive set of procedural alternatives for making collective decisions. We extended Arrow's basic distinction between government and markets into five more precise procedures for choosing among alternatives: voting, interest groups, markets, bargaining, and cost-benefit analysis. We assumed away two major problems of social choice: the problem of cyclical majorities, by narrowing the alternatives to two, and the problem of interpersonal comparison of utility, by assigning cardinal utilities. With these unrealistic assumptions, we showed that all five mechanisms still had crippling limitations. They either arbitrary outcomes or they break down with the participation of large numbers.

Third, we have acknowledged the validity of the critique of the classical model of consumer choice and markets process arising from new work in behavioral economics and psychology. Human beings are only partly rational, in the literal sense that only parts of our brains, and only a segment of our decisions, fit that model. The calculating and reasoning part of us coexists with another part that is more instinctive and emotional. Moreover, there is reason to believe that the rational side of human behavior and choice is influenced if not driven by the more instinctive and emotional side. These basic facts, along with some more narrowly defined patterns of behavior like loss aversion and vulnerability to heuristics and framing, make individual choices and decisions less dependable and more manipulable than has commonly been assumed in fields influenced by rational choice models. But our answer is that this critique, while valid, applies with equal and probably greater force to models of "rational" choice in politics. If consumers are too limited cognitively to choose toasters, why are voters able to choose detailed programs for picking winners and losers in the economy of the future? If markets are flawed, politics is flawed for the same reasons, and with more risky consequences.

Ultimately, the conclusion one might draw from the work we have reviewed here is that it is a mistake to think of questions of policy and regulation as "more" government versus "less" government. It is possible for government to fail either by doing too little or by doing the wrong things with great energy and efficiency. Given the possible permutations of the varieties of problems we have identified, it may seem surprising that government does not fail more than it does. But that suggests a more optimistic note: like market failures, the problems we have identified are potential problems, and in many cases the "problems" we have talked about are simply answers to questions such as "Why does a particular institutional arrangement exist, and not some other arrangement?" Government institutions, like market institutions, may well be solutions to problems that no one understands until decades later. Our hope is that a more complete anatomy of the potential failures of governments in the abstract will spur a deeper understanding of political institutions in the real world of political economy.
Notes
Acknowledgments
With apologies to Francis M. Bator (1958) regarding the title. Earlier versions of this paper were presented at the 2012 meetings of the Public Choice Society, the 2014 meetings of the Association for Public Economic Theory, the 2014 meetings of the American Political Science Association, and faculty seminars at the University of Georgia, Stanford Law School, Instituo Bruno Leoni, Milan, Italy, Australian National University in Sydney, and Masaryk University in Brno, Czech Republic. We acknowledge helpful comments of Christopher Achen, Scott Ainsworth, Jonathan Anomaly, Larry Bartels, Michael Becher, Peter Boettke, Geoffrey Brennan, Brett Carter, Keith Dougherty, Robert Grafstein, Sean Ingham, Libby Jenke, Christopher Johnston, David Levy, Leonidas Montes, Sam Peltzman, Richard Salsman, Thomas Schwartz, William Shughart, Georg Vanberg, David Weimer, Barry Weingast, Samuel Wilson, Stanley Winer, and Leonidas Zelmanovitz on previous drafts or in useful discussions. We offer particular thanks to Carl Simon, who spent hours listening to early versions and helping us make more sense. But the interpretations offered here, as well as the errors, are the authors' alone.
Copyright information
© Springer Science+Business Media New York 2015