Abstract
Relatively few prevention trials have had long-term follow-up to determine if immediate impact translates to and explains long-term impact. The present report summarizes the long-term influence (measured when students are near the end of high school) of the SAFEChildren preventive intervention, which was applied during first grade. This program aims to facilitate and support developmental management, school-family connection, and social support among neigbhors through family groups and student tutoring and is focused on familes raising children in inner-city neighborhoods. Of the 424 families randomly assigned prior to first grade to intervention or no-intervention control, outcome data on at least one outcome was obtained for 375 (88.4%). Results indicate no long-term direct effects and a single mediated effect, with those in the intervention less likely to engage in risky sexual practices. Similar but non-significant trends were found for alcohol use and violence. These mixed results may suggest that family focused intervention that is relatively brief is not adequate to protect against multiple and ongoing developmental risk that arises in such communities. The limited impact is discussed in light of the uncertainty of subsequent condition on initial preventive benefits and the developmental ecology of the inner city. Implications for preventive intervention programming and for long-term evaluation are also addressed.
This is a preview of subscription content, log in to check access.
Access options
Buy single article
Instant unlimited access to the full article PDF.
US$ 39.95
Price includes VAT for USA
Subscribe to journal
Immediate online access to all issues from 2019. Subscription will auto renew annually.
US$ 99
This is the net price. Taxes to be calculated in checkout.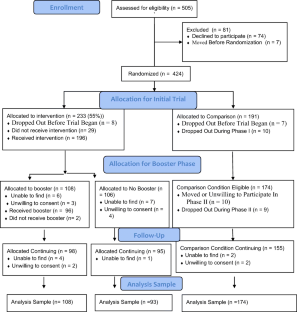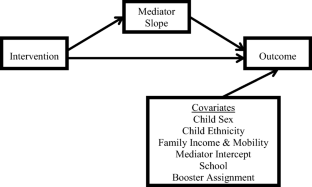 References
Adler, N. E., & Newman, K. (2002). At the intersection of health, health care and policy. Health Affairs, 21, 60–76. https://doi.org/10.1377/hlthaff.21.2.60.

Ardelt, M., & Eccles, J. S. (2001). Effects of mothers' parental efficacy beliefs and promotive parenting strategies on inner-city youth. Journal of Family Issues, 22, 944–972.

Belfield, C. R., Nores, M., Barnett, S., & Schweinhart, L. (2006). The High/Scope Perry Preschool Program: Cost-benefit analysis using data from the age-40 followup. Journal of Human Resources, 40(1), 162–190.

Bradshaw C. P., Zmuda J. H., Kellam S. G., & Ialongo N. S., (2009). Longitudinal impact of two universal preventive interventions in first grade on educational outcomes in high school. Journal of Educational Psychology, 101 (4), 926–937

Campbell, F. A., Ramey, C. T., Pungello, E., Sparling, J., & Miller-Johnson, S. (2002). Early childhood education: Young adult outcomes from the Abecedarian Project. AppliedDevelopmental Science, 6, 42–57.

Castellanos-Ryan, N., Seguin, J. R., Vitaro, F., Parent, S., & Tremblay, R. E. (2013). Impact of a 2-year multimodal intervention for disruptive 6-year-olds on substance use in adolescence: Randomized controlled trial. The British Journal of Psychiatry, 203, 1–8. https://doi.org/10.1192/bjp.bp.112.123182.

Chicago Board of Education (2010). Student Code of Conduct for the 2010-2011 School Year. Chicago, IL: Chicago Public Schools.

Conduct Problems Prevention Research Group. (1999). Initial impact of the Fast Track prevention trial for conduct problems: II. Classroom effects. Journal of Consulting and Clinical Psychology, 67, 648-657

Conduct Problems Prevention Research Group. (2011). The effects of the fast track preventive intervention on the development of conduct disorder across childhood. Child Development, 82, 331–345. https://doi.org/10.1111/j.1467-8624.2010.01558.x.

Conger, R. D., Conger, K. J., & Martin, M. J. (2010). Socioeconomic status, family processes, and individual development. Journal of Marriage and the Family, 72, 685–704. https://doi.org/10.1111/j.1741-3737.2010.00725.x.

Desimone, L. (1999). Linking parent involvement with student achievement: Do race and income matter? Journal of Educational Research, 93, 11–30.

Elliott, D., Huizinga, D., & Ageton, S. (1985). Explaining delinquency and drug use. Beverly Hills, CA: Sage.

Gaylord-Harden, N. K., Barbarin, O., Tolan, P. H., & Murray, V. M. (2018). Understanding development of African American boys and young men: Moving from risks to positive youth development. The American Psychologist, 73, 753–767. https://doi.org/10.1037/amp0000300.

Gorman-Smith, D., Tolan, P. H., & Henry, D. (2005). Promoting resilience in the inner city: Families as a venue for protection, support, and opportunity. In R. D. Peters, B. Leadbeater, & R. J. McMahon (Eds.), Resilience in children, families, and communities: Linking context to practice and policy (pp. 137–155). New York,: Kluwer Academic/Plenum Publishers. https://doi.org/10.1007/0-387-238247_9.

Harris, K. M. (2013). The add health study: Design and accomplishments. Carolina Population Center, University of North Carolina at Chapel Hill Available at http://www.cpc.unc.edu/projects/addhealth/data/guides/DesignPaperWIIV.pdf. Accessed 15 June 2007.

Hawkins, J. D., Kosterman, R., Catalano, R. F., Hill, K. G., & Abbott, R. D. (2008). Effects of social development intervention in childhood 15 years later. Archives of Pediatrics & Adolescent Medicine, 162(12), 1133–1141. https://doi.org/10.1001/archpedi.162.12.1133.

Hayes, A. F. (2009). Beyond Baron and Kenny: Statistical mediation analysis in the new millennium. Communication Monographs, 76, 408–420.

Johnston, L. D., O'Malley, P., & Bachman, J. N. (1999). Monitoring the future scales. Washington, DC: US Department of Health and Human Services, U.S. Government Printing Office.

Kellam, S. G., Brown, C. H., Poduska, J. M., Ialongo, N. S., Wang, W., Toyinbo, P., et al. (2008). Effects of a universal classroom behavior management program in first and second grades on young adult behavioral, psychiatric, and social outcomes. Drug and Alcohol Dependence, 95, 1–28.

McGrew, K. S., & Woodcock, R. W. (2001). Technical manual. Woodcock-Johnson III. Itasca, IL: Riverside Publishing.

McLoyd, V.C. (1990). The impact of economic hardship on Black families and children: Psychological distress, parenting, and socioemotional development. Child Development, 61 (2), 311-346.

Muthén, L. K., & Muthén, B. O. (2007). Mplus user's guide (5th ed.). Los Angeles,: Muthén & Muthén.

O'Connell, M. E., Boat, T., & Warner, K. E. (2009). Preventing mental, emotional, and behavioral disorders among young people: Progress and possibilities. Washington, DC: National Academies Press (US) ISBN-13: 978-0-309-12674-8.

Olds, D. L., Kitzman, H. J., Cole, R. E., Hanks, C. A., Arcoleo, K. J., et al. (2010). Enduring effects of prenatal and infancy home visiting by nurses on maternal life course and government spending: Follow-up of a randomized trial among children at age 12 years. Archives of Pediatrics & Adolescent Medicine, 164, 419–424.

Pasalich, D. S., Witkiewitz, K., McMahon, R. J., & The Conduct Problems Prevention Research Group. (2016). Indirect effects of the fast track intervention on conduct disorder symptoms and callous-unemotional traits: Distinct pathways involving discipline and warmth. Journal of Abnormal Child Psychology, 44, 587–597.

Petras, H., Kellam, S. G., Brown, C. H., Muthen, B. O., Ialongo, N. S., & Poduska, J. M. (2008). Developmental epidemiological courses leading to antisocial personality disorder and violent and criminal behavior: Effects by young adulthood of a universal preventive intervention in first- and second-grade. Drug and Alcohol Dependence, 95, 45–59.

Reynolds, A. J., Temple, J. A., Robertson, D. L., & Mann, E. A. (2001). Long-term effects of an early childhood intervention on educational achievement and juvenile arrest: A 15-year follow-up of low-income children in public schools. Journal of the American Medical Association, 285, 2339–2346.

Sandler, I. N., Schoenfelder, E. N., Wolchik, S. A., & MacKinnon, D. P. (2011). Long term impact of prevention programs to promote effective parenting: Lasting effects but uncertain processes. Annual Review of Psychology, 62, 299–329.

Stormshak, E. A., DeGarmo, D. D., Chronister, K. M., & Caruthers, A. (2018). The impact of family-centered prevention on self-regulation and subsequent long-term risk in emerging adults. Prevention Science, 19(4), 549–558.

Swanson, C. (2009). Closing the gap: Cities in crisis, educational and economic conditions in America's largest cities. Cambridge, MA: Editorial Projects in Education, Inc.

Tolan, P. H. (2002). Family-focused prevention research: 'tough but tender'. In H. A. Liddle, D. A. Santisteban, R. F. Levant, & J. H. Bray (Eds.), Family psychology: Science-based interventions (pp. 197–213). Washington, DC: American Psychological Association. https://doi.org/10.1037/10438-010.

Tolan, P. H., Gorman-Smith, D. & Henry, D. (2003). The developmental-ecology of urban males' youth violence. Developmental Psychology, 39, 274–291.

Tolan, P. H., Gorman-Smith, D., & Henry, D. (2004a). Supporting families in a high-risk setting: Proximal effects of the SAFEChildren preventive intervention. Journal of Consulting and Clinical Psychology, 72, 855–869. https://doi.org/10.1037/0022-006X.72.5.855.

Tolan, P. H., Sherrod, L. R., Gorman-Smith, D., & Henry, D. B. (2004b). Building protection, support and opportunity for inner-city families. In A. L. Solarz (Ed.), Investing in children, youth, families, and communities: Strengths-based research and policy (pp. 193–211). Washington, DC: American Psychological Association.

Tolan, P. H., Gorman-Smith, D., Henry, D., & Schoeny, M. (2009). The benefits of booster interventions: Evidence from a family-focused prevention program. Prevention Science, 10, 287–297. https://doi.org/10.1007/s11121-009-0139-8.

Tolan, P. H., Murry, V. M., Diaz, A., & Seidel, R. (2017). Identifying and implementing opportunities to realize health equity through a life span lens and legal policy research. In K. Bogard, V. M. Murry, & C. Alexander (Eds.), Perspectives on health equity and social determinants of health (pp. 25–40). Washington, DC: National Academy of Medicine.

White, H. R. & Labouvie, E. W. (1989). Towards the assessment of adolescent problem drinking. Journal of Studies on Alcohol, 50, 30–37.

Wilson, W. J. (1987). The truly disadvantaged: The inner city, the underclass, and public policy. Chicago: University of Chicago Press.
Ethics declarations
Conflict of Interest
The authors declare that they have no conflict of interest.
Ethical Approval
All procedures performed in studies involving human participants were in accordance with the ethical standards of University of Illinois' IRB and with the 1964 Helsinki declaration and its later amendments or comparable ethical standards.
Informed Consent
Informed consent was obtained from all individual participants included in the study.
Additional information
Publisher's Note
Springer Nature remains neutral with regard to jurisdictional claims in published maps and institutional affiliations.
About this article
Cite this article
Tolan, P., Schoeny, M., Gorman-Smith, D. et al. Family Support and Connection Groups: Long-Term Benefits for Inner-City Children?. Prev Sci 21, 109–119 (2020) doi:10.1007/s11121-019-01051-z
Keywords
Family intervention

Long term impact

Inner-city population