Adaptation and Fidelity: a Recipe Analogy for Achieving Both in Population Scale Implementation
Abstract
Balancing adherence to fidelity of evidence-based programs and adaptation to local context is one of the key debates in the adoption and implementation of effective programs. Concern about maintaining fidelity to achieve outcomes can result in replication of research-based models that can be a poor fit with the real world. Equally, unplanned adaptation can result in program drift away from the core elements needed to achieve outcomes. To support implementation of the Maternal Early Childhood Sustained Home-visiting (MECSH) program in multiple sites in three countries, an analogy was developed to identify how both fidelity and adaptation can be managed and successfully achieved. This article presents the Commonsense Cookery Book Basic Plain Cake with Variations recipe analogy to articulate the dual requirements of both fidelity and adaptation to achieve quality implementation of the MECSH program. Components classified by the analogy include identification of core ingredients, methods, and equipment that contribute to fundamental outcomes and fidelity to the evidence-based program, and a planned, collaborative approach to identification of needed variations to suit locally sourced capacity, needs, and tastes. Quality is achieved by identifying and measuring the core ingredients and the variations. Sourcing local ingredients and honoring of context support sustainability of quality practice. Using this analogy has assisted adopters of the MECSH program to understand that effective implementation requires uncompromised commitment to expectations of fidelity to the core components and methods; planned, proactive adaptation; systematic monitoring of both core program and agreed variations; and local ownership and sustainability.
Keywords
Adaptation 
Fidelity 
Evidence-based practice 
Implementation 
Sustainability 
Analogy 
Introduction: Balancing Fidelity and Adaptation
Achieving a balance of fidelity and adaptation is one of the key debates in implementing evidence-based programs beyond the research paradigm. Fidelity, that is "the extent to which delivery of an intervention adheres to the protocol or program model originally developed" (Mowbray, Holter, Teague, and Bybee 2003, p. 315) and adaptation, that is, modification of a program to suit a particular context (Castro, Barrera, and Martinez 2004) are generally viewed as conflicting or competing drivers (Aarons et al. 2012; US Department of Health and Human Services 2002). This paper presents the "Basic Plain Cake with Variations" commonsense recipe as an analogy for resolving the fidelity versus adaptation debate. In this paper, in keeping with the aim of the cookbook after which the analogy is named, commonsense represents "good sense and sound judgment in practical matters" (Common sense 2015, para. 1), where such judgment is objectively based on technical, theoretical, and rigorously demonstrated (and learnable) evidence (recipes), rather than subjective or individual views (Kant 1914). The analogy was developed to support an understanding of the processes undertaken in achieving both adaptation to local context and model fidelity of the Maternal Early Childhood Sustained Home-visiting (MECSH) program in its adoption and implementation in 18 sites in Australia, UK, and South Korea.
The MECSH intervention is a structured program of sustained nurse home visiting for families at risk of poorer maternal and child health and development outcomes. It was developed and trialed in south western Sydney, Australia, and has been demonstrated to be an effective intervention for vulnerable and at-risk mothers (Kemp et al.
2011
,
2013
; US Department of Health and Human Services
2014
). The goals of the MECSH program are to: improve transition to parenting by supporting mothers through pregnancy; improve maternal health and well-being by helping mothers to care for themselves; improve child health and development by helping parents to interact with their children in developmentally supportive ways; develop and promote parents' aspirations for themselves and their children; and, improve family and social relationships and networks by helping parents to foster relationships within the family and with other families and services. To achieve these goals, delivery of the MECSH program includes the following five components:
1.

Supporting mother and child health and well-being, including observation and support of child, maternal and family health and development, parent-infant interaction, and provision of primary health care and health education;

 

2.

Supporting mothers to be future oriented and aspirational for themselves, their child, and family;

 

3.

Supporting family and social relationships within the extended family, with the family's communities and with other health and social services;

 

4.

Additional support in response to need including interventions by the MECSH nurse and additional support accessed through the child and family service system; and,

 

5.

Child development parent education program delivery.

 
Core to the success of the MECSH program is its delivery as part of a universal, comprehensive, integrated approach to services for young children and their families (Daro 2009). The program is delivered by postgraduate trained public health nurses who are embedded, or "meshed", within local child and family health services. As a program embedded in local systems, successful replication required fidelity to the original evidence-based effective program and also adaptation to honor the demands of the local system. Maintaining fidelity while ensuring fit to local context is thus of critical importance to the translation of the MECSH program into new sites within Australia and internationally.
Shen, Yang, Cao, and Warfield (2008, p. 478 emphasis in orginal) suggest that in evidence-based programs where "goals are generally given and fidelity criteria are generally fixed"; fidelity and adaptation are unlikely to be complementary. Fidelity is based on rigid adherence to the original protocol, requiring an "off the shelf" approach that minimizes the need or opportunity for adaptation. The drive for faithful replication of efficacious interventions as "best practice" models creates pressure for implementers to attempt to maximize control of the real world context, with adaptations seen as undesirable and to be prevented or minimized (Aarons et al. 2012; Hill, Maucione, and Hood 2007). Those adopting such a stance argue that fidelity to the original program model outweighs any concern about fit to local context (Moore, Bumbarger, and Cooper 2013), and that adaptation will necessarily, or very likely result in loss of fidelity and failure to replicate the desired outcomes. In such cases "successful implementation of a program is defined by lack of modification to manualized content" (Lee, Altschul, and Mowbray 2008, pp. 290-291). Others have suggested adaptation may not necessarily impact negatively on outcomes and may, in some cases, be advantageous, where the appreciation of the local context can support fidelity, for example through enhanced local commitment, or improved client recruitment and retention (Moore et al. 2013). It is possible to have "hybrid programs" where "core components of the intervention serve as a foundation for the adapted program, while the program also incorporates the values of the target population to aid in refining the core components and to develop new components" (Castro et al. 2004, p. 44).
It is increasingly argued that the debate between maintaining fidelity and adaptation is moot, based on recognition that adaptation is both inevitable and pervasive in translation of efficacious interventions to real-world settings, albeit potentially associated with reduced fidelity and poorer outcomes (Bopp, Saunders, and Lattimore 2013; Moore et al. 2013). Rather, the issue should be one of how to best manage adaptation, that is, plan and regulate the adaptation (Castro et al. 2004). Adaptation can be proactive, purposeful changes to improve fit between the intervention and the context, planned with the intention of retaining fidelity. Adaptation can also be reactive, unplanned changes to the elements of the intervention that are proving difficult to implement or maintain with fidelity in the new context (Castro et al. 2004; Lee et al. 2008; Moore et al. 2013; Stirman, Miller, Toder, and Calloway 2013). Aarons et al. (2012, p. 2 of 9) usefully make the distinction between adaptation and drift. Reactive adaptation may be likely to drift into drift, defined by Aarons as "a misapplication or mistaken application of the model, often involving either technical error, abandonment of core and requisite components, or introduction of counterproductive elements." Having a proactive, planned adaptation (and avoidance of reactive adaptation) may be one way to resolve the tension between fidelity and adaptation (Lee et al. 2008; Moore et al. 2013), as it could be possible to include measures in fidelity monitoring that capture and monitor the impact of the planned adaptations on core fidelity. However, as Stirman et al. (2013, p. 2 of 12) notes, this is rarely considered and "most fidelity instruments do not contain an exhaustive listing of acceptable and proscribed behaviors". Further, there are calls for developers of prevention programs to better articulate and document program activities and processes, including those that cannot be removed (described by Embry and Biglan (2008, p. 78) as "evidence-based kernel[s]"), to support decision-making about acceptable adaptations (Hill and Owens 2013). The Basic Plain Cake with Variations analogy presented in this paper offers a recipe for improved consideration, documentation, and measurement of both core program elements (Basic Plain Cake), which should be replicated with few, if any, changes, and acceptable local adaptations (Variations) that must enhance, but not alter, the core components.
Reflexive Development of an Analogy
A case study of the implementation of the MECSH program is presented as an example of the use of "Basic Plain Cake with Variations" as an analogy for achieving both fidelity and adaptation in implementation of evidence-based programs. Examples "deeply engage our powers of analogy", which assists our understanding by "enabling us to discern previously unseen affinities among singular objects by stepping outside established systems of classification" (Meskin and Shapiro 2014, p. 422). Analogy is a useful device for considering examples and how they may apply from one situation to another (Brewer 2006). This case study and the analogy through which it is analyzed are reflexive in that the case and the analogy were mutually developed as both exemplar and explanation.
Following the demonstrated effectiveness of MECSH in the original trial, a number of other child health services in Australia and internationally expressed interest in implementing the model. MECSH was considered to have potential to address two "gaps" in other well-disseminated home visiting programs: firstly, MECSH is a program for all vulnerable or at-risk mothers, regardless of age, number of children, or stage of pregnancy at program entry, and secondly, it is designed to build the capacity of existing child health nursing services to deliver an evidence-based program embedded within a universal primary health care system (Daro 2009). This contextual embedding meant that MECSH could not be replicated as an exact copy in any new site: adaptation was not just inevitable, but necessary. Nevertheless, model fidelity was paramount to outcome effectiveness for families. To explain this duality when discussing MECSH with potential adopters, language such as "ingredients" and "core methods" were used, and adopters made requests for the MECSH "recipe" for success, which were suggestive of a cook book recipe as a potential analogy for aiding understanding of the program.
The Commonsense Cookery Book
In considering the analogy of a recipe for the fidelity and adaptation of the MECSH program, thought was given to the difference between each adopter baking a cake from local raw ingredients according to an established recipe as differing from an "off the shelf", "takeaway" or "pre-packaged" approach, with the latter analogous to the placement in each site of a replica of the research model and preventing or minimizing adaptation. In contrast to a pre-packaged program, a bake your own recipe for MECSH was needed that accounted for both fidelity (a core recipe) and adaptation (variation to the recipe), and which could be easily followed and understood.
The Commonsense Cookery Book has been the core text for NSW schools for a century (NSW Public School Cookery Teachers' Association
1974
). First published in 1914, it provides basic recipes for beginner cooks. The text includes a recipe for Basic Plain Cake (Fig. 
1
) (NSW Public School Cookery Teachers' Association
1974
, pp. 144–145), which, analogous to the MECSH program, has both a core recipe and planned variations. In adoption of the MECSH program, each site works with the program developer to ensure that all core components of the recipe are compatible with the local environment and can be implemented, as well as to proactively identify the required adaptation to local context (Durlak and DuPre
2008
). The example of the MECSH program was analyzed according to the components of the analogy of the Commonsense Cookery Book Basic Plain Cake recipe.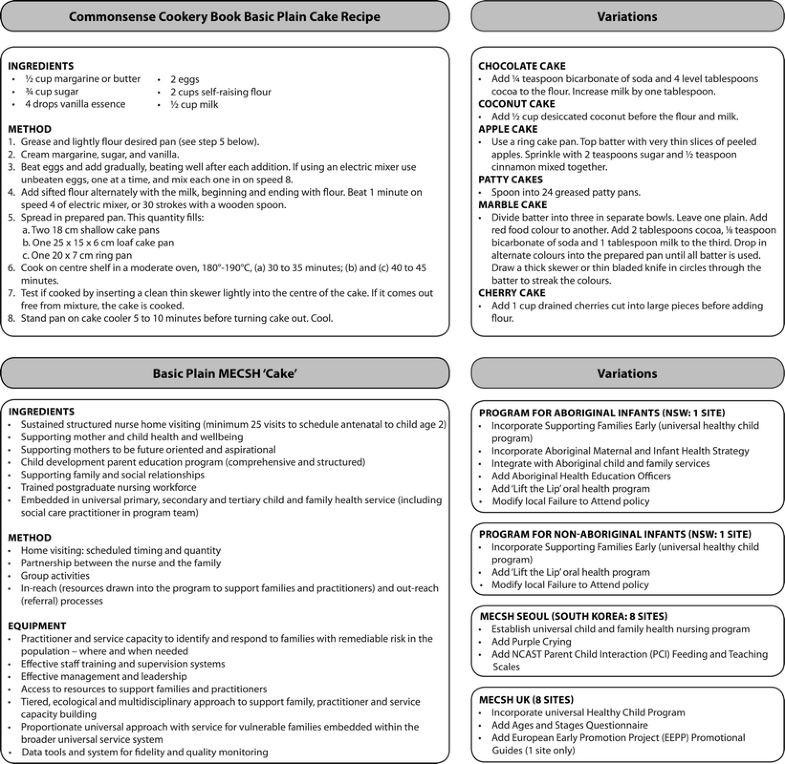 Recipe for Adaptation and Fidelity
The recipe for the Basic Plain MECSH Cake and its current variations is provided in Fig. 
1
. In applying the Basic Plain Cake with Variations recipe analogy to the MECSH program, the following components of the recipe were analyzed and are discussed further below:
In addition, the processes for detailing and undertaking quality measurement of the baked "cake" are discussed.
Core Ingredients
The core ingredients for MECSH are shown in Fig. 
1
. Determining which program ingredients (and methods and equipment) are core was established through:
A pre-trial narrative review of the literature, exploring not only home visiting programs' effectiveness, but also the relationships between program content and outcomes; and identification of underpinning theories and development of a logic model (Aslam and Kemp 2005);

Mid-trial qualitative, quantitative, and mixed-method analyses of intervention processes (Kardamanidis, Kemp, and Schmied 2009; Kemp, Anderson, Travaglia, and Harris 2005; Kemp et al. 2006); and
When exploring the availability of and going "shopping" for the core ingredients in each adopting site, consideration is particularly given to sourcing local ingredients. It is critical for the achievement of outcomes for families receiving the MECSH program that practitioners and families are provided with local resources that fit the program, setting, and population (Meyers, Durlak, and Wandersman 2012). Implementing sites must ensure, in advance, that they can sustainably access the needed ingredients for the intervention (Meyers et al. 2012), and that families can continue to utilize these following completion of the program at child age 2 years, and for subsequent children. For MECSH, this is most commonly achieved by ensuring that the program is a good fit for, and is embedded in, the local environment, and/or, that the local environment has the capacity to alter to ensure fit (Fixsen, Naoom, Blase, Friedman, and Wallace 2005; Meyers et al. 2012).
Ingredients in the recipe are generic, that is, no particular brand is specified. However, for some ingredients, a particular form is required. It is therefore possible, for example, to choose from a number of "brands" of comprehensive, structured child development parent education programs that commence within 1 month after birth and continue for at least 12 months (self-raising flour), but it is not possible to substitute the child development parent education program for a single-focused, unstructured, or shorter term parent education program (plain flour) and expect to achieve the same resultant cake. Similarly, a skilled postgraduate trained public health nursing workforce is a required core ingredient of MECSH. Nurse training has various forms in each site (for example, the workforce is known as Child and Family Health Nurses in New South Wales, and as Health Visitors in the UK), but the workforce must be trained to equivalent competence. MECSH nurses and their supervisors additionally participate in a core program of online and face-to-face MECSH training delivered by MECSH trainers provided under license by the academic and clinical leadership of the program developers.
Core Method
In addition to the core ingredients, successful and effective implementation of the MECSH program requires following the prescribed method. The method not only includes a number of actions (home visiting, group work, nurses working in partnership with the families, and in-reach and out-reach connection to other services and support), but also details the specific requirements of the method. For example, just as the eggs must be added one at a time and beaten well (whether by hand or electric mixer), the home visiting program has a schedule of visits with required content to be delivered at particular times and for an expected duration. Further, just as there is both chemistry behind the need to add the eggs one at a time and beat well to allow the protein to combine with the fat of the butter and also a "tried and tested" method, there is both theory and empirical evidence of effectiveness to support the core MECSH methods.
In this case, as well as trial and praxis evidence, the timing of MECSH visits is based in de Shazer and Berg's solution-focused brief therapy (De Shazer et al. 1986) with regular, scheduled visits of increasing duration between visits to allow families time to develop confidence in solving their own problems and continuing the changes made. Working in partnership with families is based on the demonstrated effectiveness of establishment of respectful parent-nurse partnerships (Davis and Spurr 1998) which are based in inter alia personal construct theory (Kelly 1955), and theories of helping processes (Egan 1982).
Similarly, an essential method of the MECSH program is connecting families with the support of health and human service practitioners and agencies. This includes the usual method of referral to services for families with identified issues, but also the novel method of including multidisciplinary and interagency professionals within an extended program team providing consultation with the nurse home visitors, either individually or in case conferences, to support their delivery of prevention and early intervention programs, as well as brief interventions with families and facilitated referrals to specialist services.
Core Equipment
Usually not listed separately, but integrated throughout, each recipe has equipment, that is, the organizational and system capacity necessary for its execution. Importantly, as analogy for MECSH, in this recipe there are stated equipment options (for example, wooden spoon or electric mixer; cake tins of various sizes). As a program embedded in local systems, the equipment available for use to enable the conduct of the MECSH program will vary by site, but the mechanisms must be able to achieve the required result (an effective program that achieves outcomes for families).
For example, just as the cake mixture may be baked in different size tins, the MECSH program can be delivered by different team structures. In the NSW non-Aboriginal program, there is a specialist nursing team tasked with delivering only the MECSH program to vulnerable and at-risk families. That is, they are not rostered to provide universal services to other families. In other MECSH sites (NSW Aboriginal program, MECSH-UK and South Korea), nurses deliver services to a mixed caseload of both vulnerable and at-risk families to whom they provide MECSH, and other families to whom they provide the universal healthy child program. The extended program team structures also vary: multidisciplinary support is sourced from within the health agency for the NSW Aboriginal and non-Aboriginal programs and similarly in South Korea. However, for MECSH-UK, it is sourced from Children's Centers and through other interagency agreements. The decision about the core nursing and extended program team structures are proactively determined based on local factors such as the availability of nurses and other professionals; the geographic concentration or spread of eligible families; agency, management and supervision structures; and industrial requirements or employment laws.
Often sites required a period of capacity building to source or build the core equipment (and source the core ingredients) needed to support the site's readiness to implement MECSH with fidelity (Elliott and Mihalic 2004; Meyers et al. 2012). Building of organizational capacity is supported by the MECSH licensed technical advisors. For example, to promote population health equity, MECSH requires that the implementing organization has the capacity for all families' needs to be identified through a process of whole population assessment that facilitates proactive service offering of support for families (including MECSH where appropriate), as opposed to families having to act on a referral. In NSW and MECSH-UK programs this was achieved by the sites, supported by the technical advisors, developing risk algorithms that can be applied to existing routine whole population perinatal psychosocial screening processes, whilst, in South Korea, where routine screening services were not already in place, a purpose designed client survey is completed by all pregnant women at other whole population access sites (public health centers).
Critical to the effectiveness of the MECSH "cake" is that the sites have the equipment to gather data and monitor implementation of the program. Fixsen et al. (2005) and Durlak and DuPre (2008) both cite evidence that having the equipment to monitor implementation is associated with larger program effect sizes. Similarly, each site requires effective leadership, management, training delivery and supervision systems to source and support the MECSH workforce (Durlak and DuPre 2008; Fixsen et al. 2005). In some areas existing systems were able to be adjusted to accommodate the MECSH requirements, while in others, such systems needed to be developed. In all sites the training delivery and supervision systems are supported by the MECSH training advisors while local capacity to confidently train and supervise MECSH practice is developed. This is supported by formal training and subsequent train the trainer programs.
Variations
The identified variations to MECSH in each of the current MECSH sites are detailed in Fig. 1. When considering the appropriateness of any proposed variations in adopting sites, thought is given to both the philosophical (Is the variation consistent with the underpinning theories of MECSH?) and logistical (Can the variation be included within the method of the core program and with complementary equipment?) fit with the core Basic Plain MECSH Cake recipe (Moore et al. 2013). Further, when contemplating contextual adaptation, these can be inclusions or additions to the core program to maintain or enhance it, but may also be a requirement for the site to adapt or change their context to be compatible with the philosophy or practical implementation requirements (Elliott and Mihalic 2004). There have also been cases where MECSH has not been implemented due to local lack of core components and an inability to put in place variations to the context to support MECSH.
Variations in MECSH sites implemented to date include those aimed at maintaining or enhancing the core program goals and theory. For example, in South Korea, the development of a universal child health service system was an addition to the MECSH program needed to meet the "embedded program in a universal system" equipment requirement. Other variations are added ingredients designed to meet a local need. For example, the addition of the Lift the Lip oral health program in the NSW Aboriginal and non-Aboriginal programs was in response to documented poor oral health of children in those communities. The addition of Purple Crying to the South Korean program was in response to an identified issue of parents struggling to manage crying babies in the pressure of a dense urban environment.
Variations have also been made to the context. For example, a key ingredient in MECSH is sustained engagement with families including persisting with engagement through periods when families may be under-engaging. The local "failure to attend" policy in the NSW health district served by the Aboriginal and non-Aboriginal MECSH programs required services to discharge clients who miss a number of appointments. An agreed variation was modification of this policy for families served by the MECSH program so nurses could persist in their attempts to engage families. Another key variation is the inclusion of strategies to promote local ownership and engagement and embed the program in local systems. This includes local naming of the program.
In all sites, the decisions about variations are made as much as possible in advance of implementation, and in a reflexive partnership between the site and the MECSH developers' technical advisors, with each contributing their practice-based evidence and evidence-based practice (Green, Ottoson, García, and Hiatt 2009; Proctor et al. 2009). Each site, guided by the MECSH technical advisors, decides what "flavor" their cake will be. Their cake "flavor" is based on both the core recipe, and the organizational and practitioner skill level and current use of evidence-based procedures, to support enhancement, rather than substitution or replacement of existing practice (Chorpita, Becker, and Daleiden 2007). The MECSH technical advisors work intensively with sites to document local policies and practices and assess them for inclusion or adaptation in the MECSH program. The predetermined variations are then documented by the technical advisors and local leadership into a collaboratively produced local addendum to be read in conjunction with the core MECSH Program Manual (Basic Plain Cake recipe). The addendum documents precisely what MECSH is going to consist of in that locality (for example, how families will be identified; training timetable; what form of supervision will be conducted by whom and when; fit with local policies including incorporation of universal policies and practices; agreements and processes for sourcing multidisciplinary and interagency service resources to support families and nurse home visitors).
Where ingredients to be added are flavors known to be complementary, then they are agreed. However, if a proposed new ingredient has not been used in a MECSH recipe previously, implementation processes would include a commitment to testing prior to full scale implementation. For example, prior to implementation in the UK, the MECSH technical team and local service leaders and practitioners collaboratively undertook client focus groups, policy discussions, and case audits to determine whether the UK Healthy Child Programme would fit within the MECSH visiting schedule (and vice versa) and whether the proposed MECSH-UK program would be acceptable to families. This process challenged some practitioners' concepts of the adequacy of their current practice and needed to be carefully managed by identified and supported local MECSH champions and framed in terms of the potential for improvements in access to resources and better services to ensure local "buy-in" and prevent change resistant behaviors (Elliott and Mihalic 2004).
Quality
As the saying goes, "the proof of the pudding is in the eating." In this context, a recipe is only successful to the extent that the resultant product tastes good and as expected, and also can be used to reliably produce a quality cake (that is, the stated program goals are consistently achieved). To ensure the quality and reproducibility of the MECSH "cake," the basic MECSH recipe and its quality control (fidelity) measures are detailed in the core MECSH Program Manual which is common to all MECSH sites internationally, with the proactively identified and planned adaptations (variations) documented in a local addendum to the manual that answers the questions "Precisely what will MECSH look like in [site]?", "How will [site] assess fidelity and quality of the core program and any variations?" and "How will [site] measure that the goals of the program are being achieved (for example: improved rates of breastfeeding at 4 months; children having optimal development at 2 years measured using Ages and Stages Questionnaire)?"
Local adoption and adaptation also requires inclusion of the MECSH fidelity measures in local data systems, through the modification or development of data items and reporting systems. The required implementation fidelity and quality measures for the MECSH program that are reported quarterly by all sites are listed in Fig. 
2
. Each criterion is supported by a number of metrics, performance indicators, and standards that are evaluated both locally and by the MECSH technical advisors in a joint feedback loop. This local embedding and commitment supports the ongoing acceptance by sites of the responsibility to ensure that quality of their MECSH program is maintained. International benchmarking provided by the technical advisors further supports local site quality.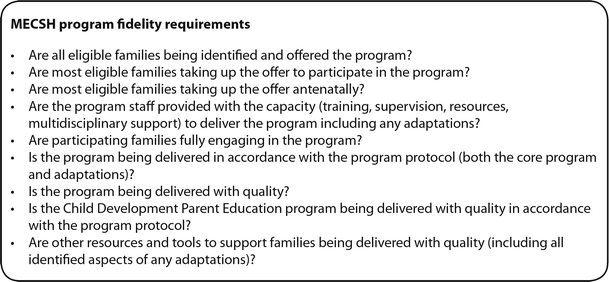 As well as monitoring of fidelity, sites are also responsible for monitoring of the local context for any threats to fidelity. The MECSH technical advisors work intensively with the local providers for a period of three years to both embed quality processes and build organization skill in adaptation decision making (Hill and Owens 2013). Less intensive support from the MECSH technical advisors continues after the initial 3-year implementation, in provision of ongoing feedback on local achievement against fidelity targets, and support for adaptation decision making when local sites are unclear or require confirmation of their decisions. For example, the release of the new Department of Health England Service Specifications for Health Visiting in March 2014 prompted the MECSH-UK sites to review both their addendum and the specifications to identify any policy changes that needed to be included in the addendum and to scrutinize the specifications for any changes that were incompatible with MECSH (none were).
Conclusion
The Basic Plain Cake with Variations analogy and its exemplar of the MECSH program implementation in 18 sites worldwide provides a useful way to understand how fidelity and adaptation can be not only compatible but enhancing of program quality and impact, just as the variations in the Commonsense Cookery Book recipe provide an enriched flavor to the Basic Plain Cake. The analogy has been well accepted and adopted by MECSH funders and service providers, providing an accessible shared language for describing core and local program components and enhancing their understanding of, and ongoing commitment to, quality implementation.
Since its development for MECSH program implementation, the analogy has been used to articulate the core elements and adaptations in services as diverse as volunteer early childhood home visiting, and health-justice partnership services. In the volunteer service, the analogy was used to assist identification of the core and evidence-based elements of, and local variations in practice in three different non-government providers delivering services in seven locations across Australia, resulting in the development of a consistent program (known as Volunteer Family Connect®), which is now being tested in a multi-site randomized controlled effectiveness trial. Similarly, the analogy was used in workshops with developers and providers of medical-legal interventions aimed at preventing exacerbation of health and/or legal problems to assist them to categorize the core components of their health-justice partnership services and develop a common evaluation framework to support consistency in measurement of effectiveness within and between multiple providers, thereby generating a coherent evidence base for their work.
Despite the utility of the "recipe" analogy, care must be taken to ensure that the sound and rigorous evidence-based judgment that characterizes Kant's definition of commonsense is not supplanted by common (that is, intuitive or subjective) sense and unfettered or questionable adaptation. Elliott and Mihalic (2004) note that such conduct could lead to programs becoming ineffective and undermine community confidence in evidence-based programs. Bopp et al. (2013, p. 204), however, argue that "Programs designed to be adaptable (versus those that have strictly defined fidelity criteria) are more likely to be sustained and have public-health impact."
The adaptation and fidelity of MECSH was premised upon some key factors. Firstly, the Basic Plain MECSH Cake needed to be a proven and tested recipe. This was established through the conduct of a trial and independent scrutiny of those results by the HomVEE review (US Department of Health and Human Services
2014
). Secondly, MECSH implementation needed to demonstrate the features of programs that can achieve both fidelity to core components and adaptation to local population characteristics and resources, and quality implementation, which includes three essential components that cannot be compromised:
1.

Clear identification (by developers) and implementation (by organizations) of the essential elements (theory and core components) that allow the program to work (Bopp et al. 2013; Lee et al. 2008; Meyers et al. 2012; US Department of Health and Human Services 2002) – the Basic Plain Cake. This ensures that those organizations taking up the MECSH core recipe undertake "the implementation of core components as designed and demonstrated in the trials": the only requirement for fidelity (Elliott and Mihalic 2004, p. 50).

 

2.

Informed, proactive judgments about adjustments needed to address situational factors, which must be philosophically and logistically compatible with the core theory and components (Bopp et al. 2013; Lee et al. 2008) and their clear documentation (Meyers et al. 2012) – the Variations. Sustainability is further enhanced and adaptation more effective in promoting fidelity when adaptation is mutual, with the program adapting to context and context adapting to support quality implementation of the program (Aarons et al. 2012; Blakely et al. 1987; Elliott and Mihalic 2004).

 

3.

Rigorous, systematic, and sustainable monitoring and evaluation processes to ensure the meeting of predetermined, evidence-based standards for the implementation of both the core program and variations (Meyers et al. 2012), with ongoing external review by the MECSH technical advisors.

 
The Basic Plain Cake analogy has implications for program developers, who are writing the recipe, and organization administrators who are learning to bake the cake using local variations. Program developers will need to clearly articulate the core ingredients, methods and equipment needed for the basic cake, which cannot be removed or changed without loss of program effectiveness (Embry and Biglan 2008), as well as acknowledging the changeable contexts and processes that can be adapted to build on existing practices and promote quality and sustainable implementation (Chorpita et al. 2007). Such knowledge is best developed through collaborative research methods (Hohmann and Shear 2002; Kemp and Harris 2012). Further, program developers need to have mechanisms (such as licensing and/or technical support processes) to be actively engaged in the ongoing adaptation and implementation processes of local users.
Organizational administrators responsible for the commissioning and/or provision of the cake need to commit to the service system developments and organizational learning necessary to accommodate core requirements and engage in ongoing monitoring of quality of the core recipe and variations. This particularly includes ensuring that staff within the service follow the agreed recipe and do not choose to be their own "cook." As noted in the adage that "too many cooks spoil the broth," staff cookery can be associated with individualized adaptation made "without developer consultation; without any knowledge of the theoretical/conceptual rationale for the program; and they typically involve dropping entire components, levels of required training, and dosage levels" as well as adding of incompatible components (Elliott and Mihalic 2004, p. 51). Successful and sustainable implementation and adaptation thus involves means by which program developers and organization administrators work collaboratively over time to establish and sustain the foundation of the core recipe and local resources, skill and practice, to deliver high quality prevention services to vulnerable families.
Building the capacity of sites to follow the basic recipe, create their own MECSH "cake" and reliably "bake" (implement) it, does take time and local commitment to sourcing the ingredients, making equipment available and accurately following the method. When compared with the time and commitment required to plan and implement a core and adapted program, the purchase and installation of pre-packaged, off-the-shelf programs may be attractive, albeit, arguably, less sustainable. Planned adaptation as undertaken in MECSH programs can, in contrast, enhance sustainable fidelity through local ownership and commitment, and fostering local capacity building to support fidelity and quality monitoring processes (Lee et al. 2008). The local naming of the variation promotes ownership and commitment through acknowledgement of regional variation, letting providers and families give the program its own flavor.
The Commonsense Cookery Book Basic Plain Cake with Variations recipe (NSW Public School Cookery Teachers' Association 1974) serves as a useful analogy in assisting adopters of the MECSH program to understand that effective implementation requires commitment to both the program expectations of fidelity to the core components and methods, and planned adaptation and fidelity to agreed variations. Brewer (2006, p. 57) comments that "The legitimacy of the use of exemplars or analogies is ultimately based upon the community of practicing scientists accepting such models." Although reflexively developed with the MECSH program exemplar, the Basic Plain Cake with Variations analogy is also useful for other program developers and evidence-based program adopters seeking quality implementation with both fidelity and adaptation.
Notes
Acknowledgments
I would like to thank the MECSH program investigators and research teams, program funders, and all the members of the home visiting teams implementing MECSH and delivering the intervention to families. I also thank Fiona Byrne for the assistance in the preparation of this paper for publication.
Author's Contribution
LK conceived the idea and prepared the manuscript.
Compliance with Ethical Standards
This article does not contain any studies with human participants performed by any of the authors. For this type of study formal consent is not required.
Conflict of Interest
The author declares that there is no conflict of interest. The author has no personal financial interest in the MECSH program. Lynn Kemp was the MECSH Trial Coordinator. The MECSH® program is a registered trademark of UNSW Australia and from 2016 for the duration of 5 years is being sublicensed to Western Sydney University.
Funding
There was no funding for the preparation of this manuscript. The original MECSH trial was funded by the Australian Research Council (LP0560285), Sydney South West Area Health Service (now known as South Western Sydney Local Health District), the NSW Department of Community Services (now known as the NSW Department of Family and Community Services) and the NSW Department of Health.
Copyright information
© Society for Prevention Research 2016